Project
Robin Winogrond. Urban Design. Landscape Architecture, Zurich with Studio Vulkan Landschaftsarchitektur, Zurich
Zürich Airport Park: The Social Life of a Local Global Neighborhood
Zurich, Switzerland
Public plays
Social infrastructure
Naturehood – wilder and greener
Image: R.Winnogrond. The Beautiful Palette of Users: U.N. Ambassador to Sierra Leone, flying via Zurich, visiting her daughter and new born grandchild who live in a community just next to the Airport Park
Landscape fragment becomes dynamic suburban park: locals, travelers, workers, ecological zones share a new typology of a large-scale neighborhood park
Curious new neighborhoods are coming to life on the urban edge. If neighborhood is a Place of Sharing, the densification of the urban fringe, with its untraditional sites of fascinating diversity, dynamic and contradictions, forces us to examine new hybrid models for neighborhood open space. They must strengthen local identity and sharing, a new sense of scale, identity of place, accessibility and interrelations between humans and with non-living things.
An innovative park owned by the Airport has adapted its infrastructure to connect with surrounding communities. Opened in 2021, the Airport Park employs win-win strategies to create Neighborhood in a highly artificial-natural setting. The dynamic, international infrastructure hub, a large-scale landscape fragment, and valuable ecological zones are juxtaposed with new sensitive, site-specific landscape interventions. These are choreographed to maximize social gathering of various kinds in various site-specific natural settings. This new hybrid park typology is a pilot project for integrating strict natural and forest protection laws and enormous numbers of diverse users. The fascination of the park lies in the tension between these identities: It is a place for leisure and contemplation in which to drift and lose oneself in the contemporary urban landscape.
In a strong and legible figure, the design overlays two central themes: the protected ecological zones and a simple narrative: a phenomenological reading of the site's history expressed in four vertical layers of archaic glacier moraine, planted forests, artificial topography and sky. Two central interventions structure the park: a 200 m diameter tree ring encircles the top of the moraine hill giving the geological formation an iconic presence. Crowning the abstract topographic landscape sculpture of the moraine is the Sky Platform, its fog and reflecting water film turn the sky itself into a physically tangible experience. Movement through the park is structured by two paths, the Woodland Loop and the Sky Loop. A series of woodland interventions, The Woodland Pavilion, The Fire Ring, Yoga Mats and Wildwood Plaza, offer immersive forest experiences. A new interpretation of the iconic 1904 Adirondack Chair can be moved by the users to gather and enjoy views of the Alps and surrounding periphery. Working together with a team of ecological and woodland experts, the biodiversity of wetlands, fields and forests was maintained and increased.
Impact
1. Locals, travelers and employees, intermingle with no hierarchy, unusual for privately owned and managed open spaces
2. Diverse places for appropriation become catalysts of imagination
3. Atmospheric density, the ability of a place to go under our skin. What I call in my projects In Search of Geographical Re-enchantment
4. Forming community at the suburban landscape scale
5. A new form of global / local urban nature / landscape and open space design
6. Observing strict ecological and forestry laws, increasing biodiversity in a park for thousands of daily visitors. A win-win out of apparently contradictory demands of nature, ecological protection, recreation, and forestry
7. Contradictions / paradoxes of the periphery form the basis of design, are not hidden or removed
8. Interdisciplinary team of experts
9. A phenomenological approach to open space design creates powerful personal experiences of natural phenomena in the city, yet are site-specific, embedded in local context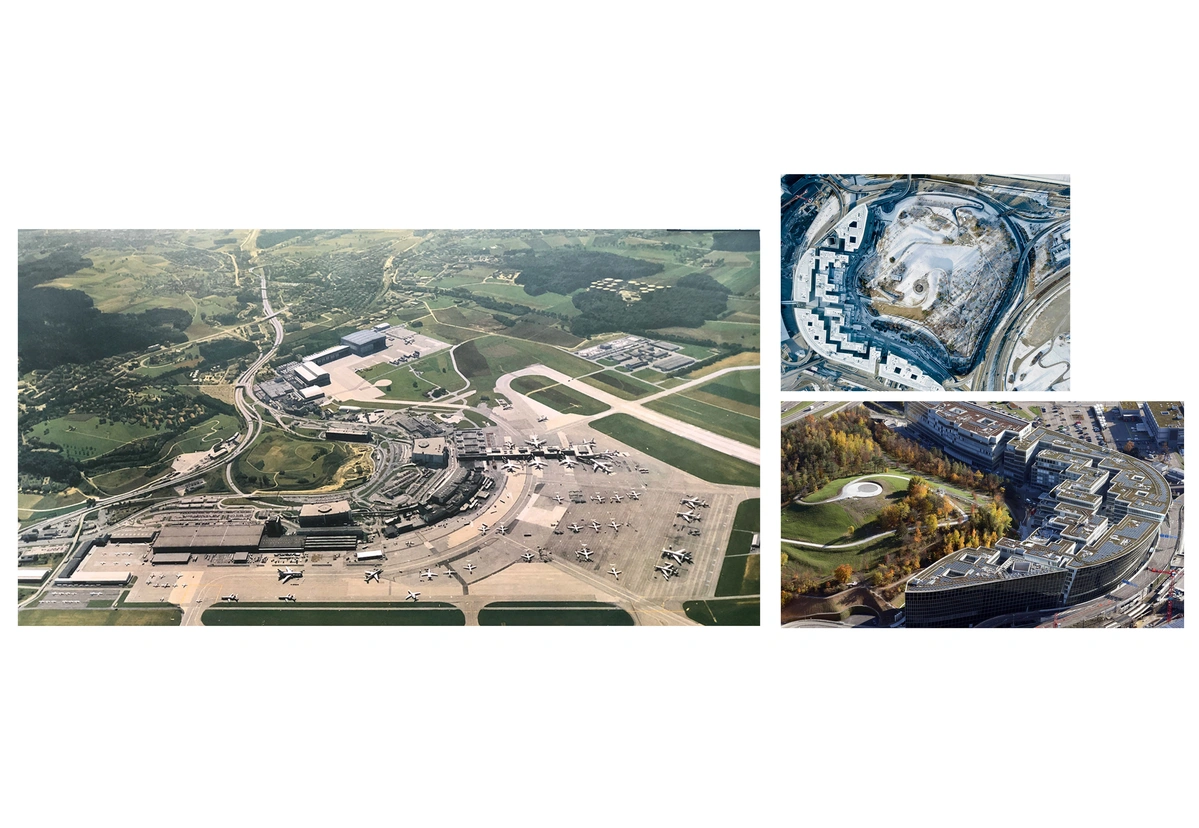 The Hybrid Site: The Calm in the Eye of the Storm
The Park's power, frictions and complexity can only be understood via multiple images. Just opened, we are still collecting images relaying this. Left: The isolated glacial moraine fragment encircled both by the1970's new highway to the Airport and local communities. Right: West of The Park the density of the newly opened The Circle, from Riken Yamamoto, with shopping, hotels, office, conference, community and health facilities.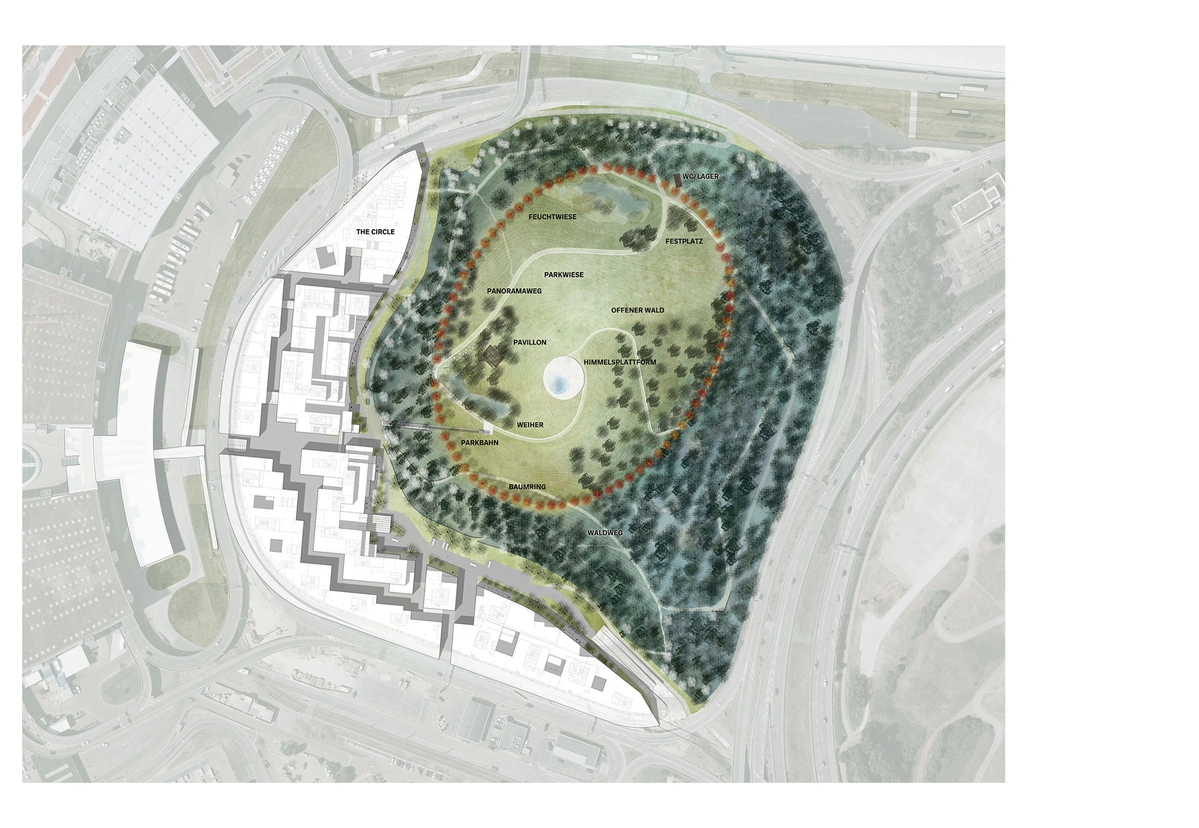 The Design in Context
Compressed between the Airport to the far left, the eight story megastructure The Circle, and the highway, The Park unfolds in a richness of places and uses. Protected ecological zones structure the design. With extensive political negotiation the zones were allowed to be augmented and transformed into special experiences connected by Sky and Woodland Loop trails. Views of the surrounding Alps and communities connect the park visually to its context.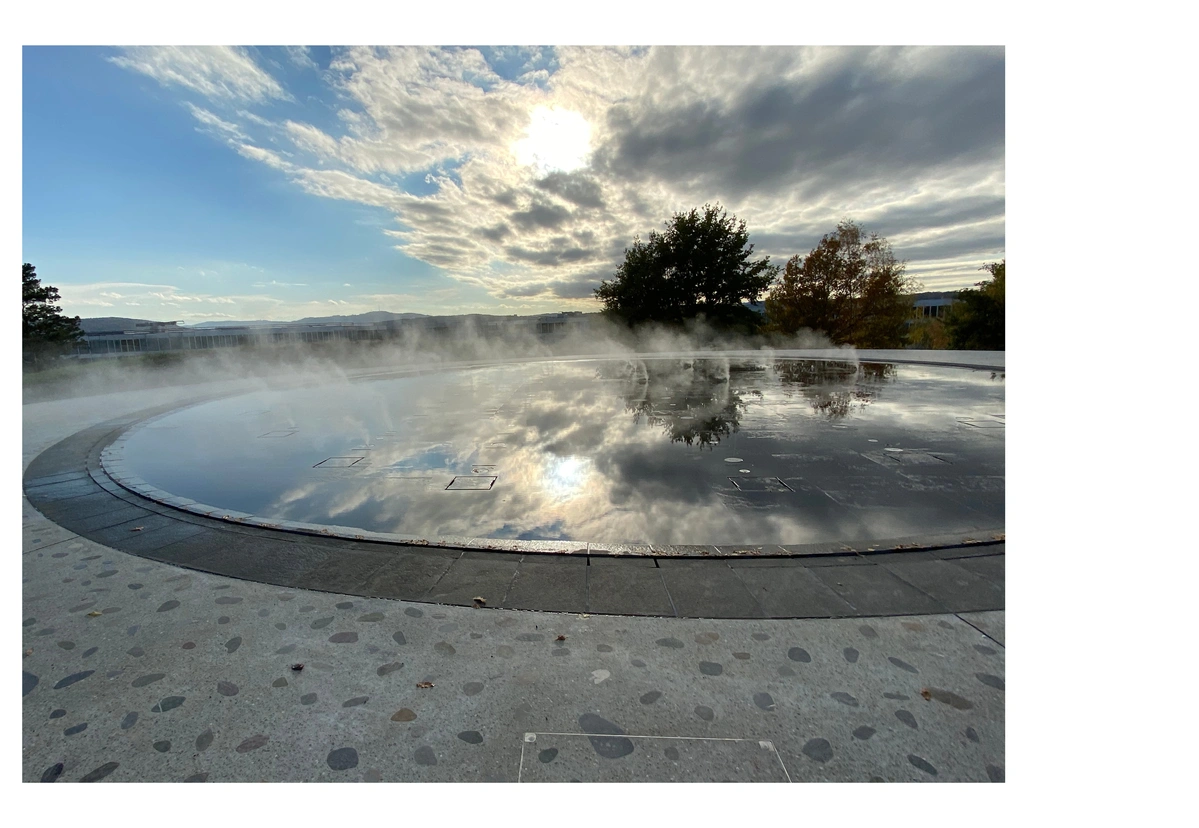 The Sky Platform Connecting Earth and Sky
This space crowning the park is the main social magnet. During the competition I couldn't decide if a water film or fog best made the sky a physically tangible thing. So we did both. The atmosphere of the place depends on weather conditions and time of day: one can get lost in the fog, have dramatic sunsets or mystical gray, find themselves with 100 people or alone.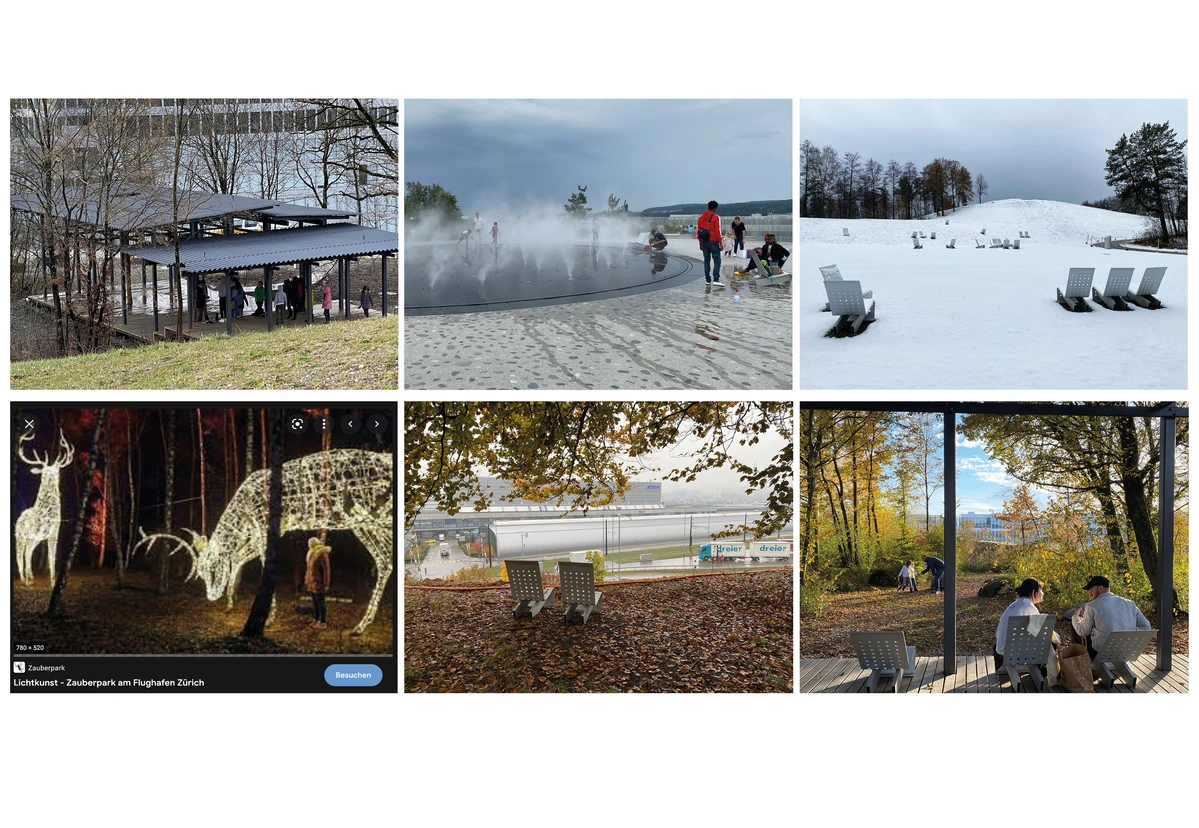 Unfolding the Social Life of the Park
Examples of social life unfolding in the newly opened park. Above left: The pavilion is a frequent host for kids and teenagers, often dancing to
music. During lockdown this became an important meeting place. Below left: the first event "Magic Woods" was light and space event over several winter weeks. The "Adirondack Chairs" are carried around the park by users to view the sometimes strange, sometimes bucolic park.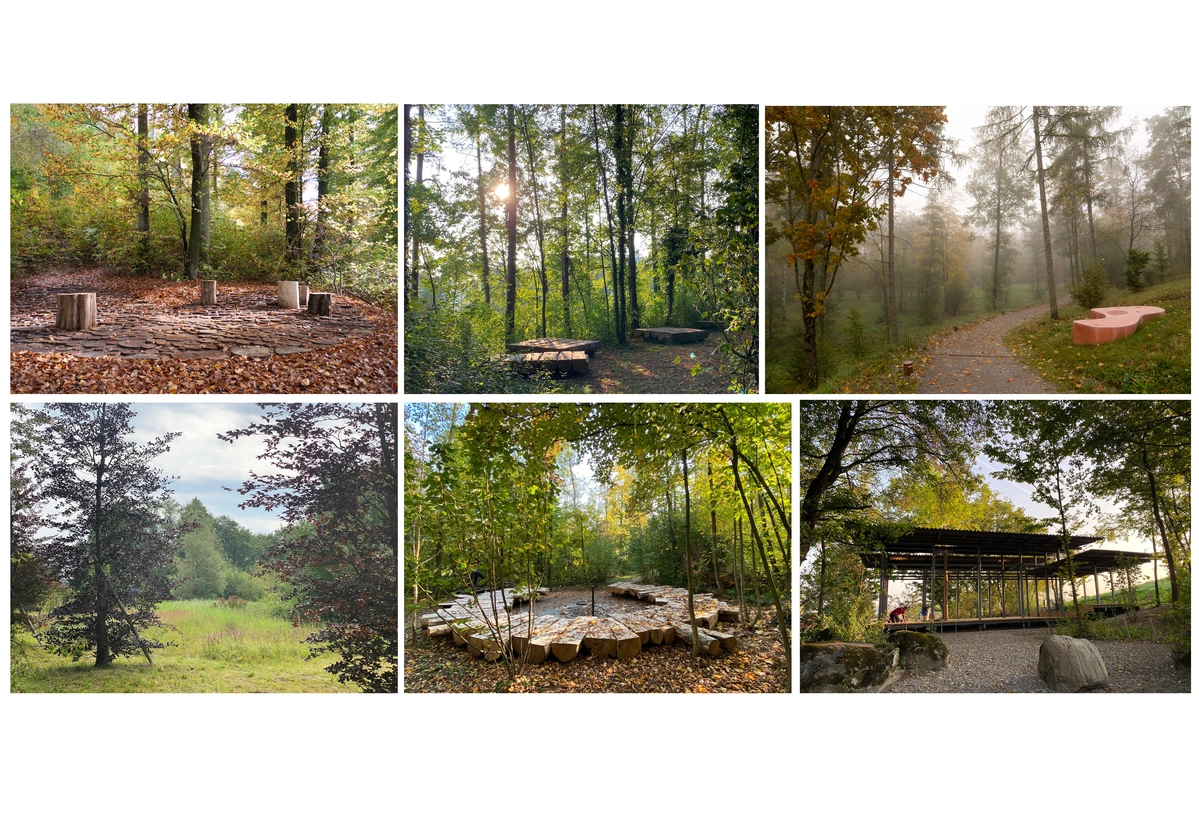 Woodland Interventions Create Naturehood
The many woodland interventions create immersive experiences of forest and nature while maintaining biodiversity. Above left: Wildwood Plaza II, center: Yoga Mats, right: the Open Woods with seating. Below left: the Northern Wetland, center: Fire Ring II, right: the Woodland Pavilion. Each intervention is site-specific, frames and engages the surrounding park. The hidden gems make the park feel much larger than it is.
Robin Winogrond. Urban Design. Landscape Architecture, Zurich with Studio Vulkan Landschaftsarchitektur, Zurich
Robin Winogrond is co-founder of Studio Vulkan Landschaftsarchitektur. She was partner from 2014-2020 and lead designer of this project. She currently teaches at Harvard GSD, practicing internationally on projects, juries, lecturing, teaching and publishing. Her interdisciplinary background ranges from built urban space and artistic installations to concepts for large and small-scale open space. She was resident artist at Stuttgart Academy of Art, holds a Master's in Landscape Architecture and Bachelor's in Urban Design.
Her projects express the specific, poetic potential of residual sites, transforming their inherent identity and contradictions into potent narratives and experiences. Central to all projects is the activation of social space, environmental psychology, her work on Geographical (Re)enchantment, atmosphere, and the phenomenology of experience.
Experts: Anders Busse Nielsen, Denmark, Philipp Mauer. Oeplan. Seating: concept R. Winogrond. Interpretation: INCHfurniture.
Architectural practice
Switzerland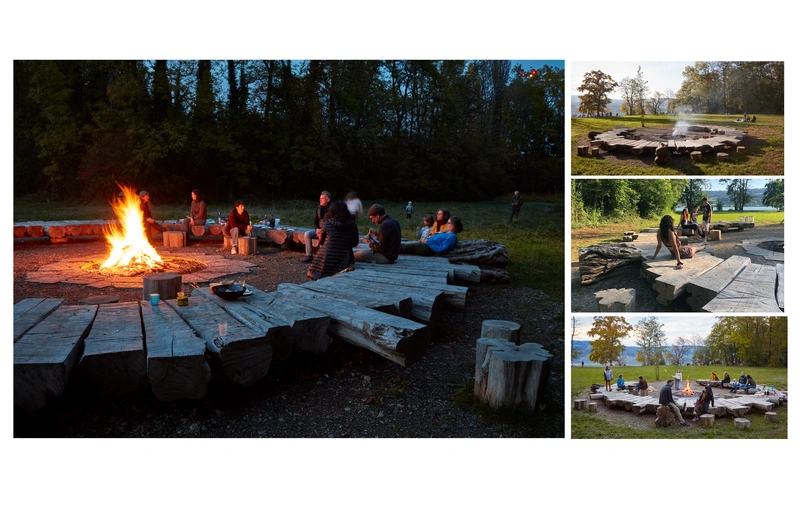 Fire Ring I: an XL Social Furniture, R. Winogrond 2013
The Fire Ring interprets traditional campfires anew, playing with the archaic power of fire to gather people, and transforming the structure to create both a sense of large-scale community and cozy intimacy. Standardized recreational infrastructure often competes with the very landscape experience one searched for in the first place. It's a space of social gathering, enjoyment with both friends and strangers, rare in Switzerland.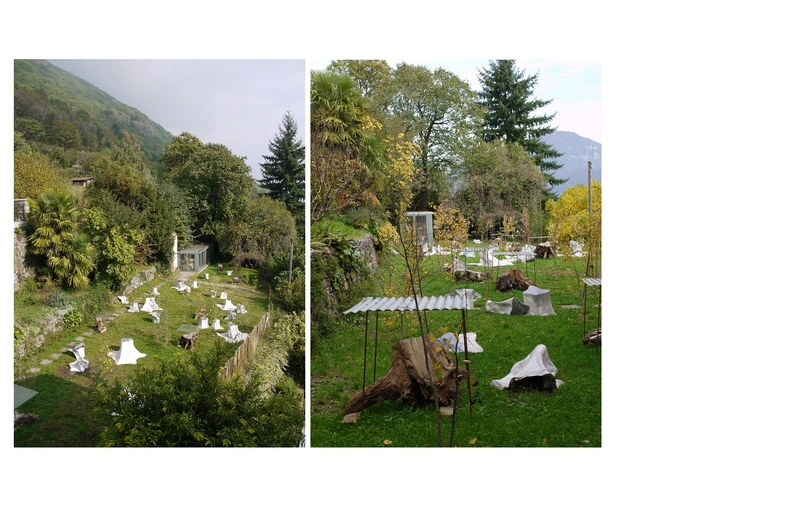 Exhibition. Lugano Architectural Forum. R. Winogrond, L. Schweingruber. 2014
In the rooms this Villa architects show their work for 6 month periods. As landscape architects we choose to exhibit in the garden and in winter, exposed to the elements of time and weather. Three typologies of tree trunks are played against each other, each with unique frames of time: 12'000 year old decaying trunks, two year old Poplars and paper maché trunks with our project photos, that decay in one season.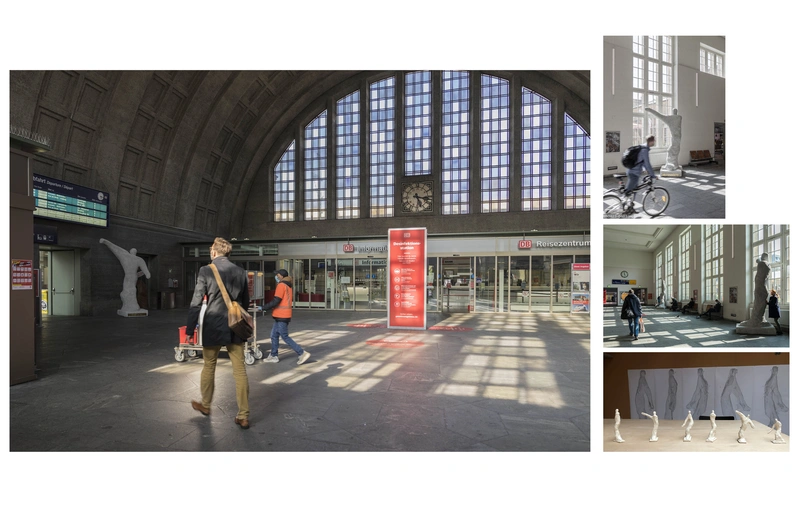 Installation. IBA Basel 2021. R. Winogrond with / for Studio Vulkan
This sound installation activates a neighborhood train station of the international borders of Basel, where visitors drift into the social, architectural and atmospheric milieu of train station life. Six, 3 meter high angels, The Angel of Dreaming, Solitude, Speed, Observation, Greeting and Joy, each a personality of everyday station visitors, tell tales of travel, offering observations, monologues, lyric, and anecdotes.