Perspective
Eleni Katrini
Creating the Everyday Commons: Spatial Patterns of Sharing Culture
Pittsburgh / London / Athens
Social infrastructure
Ways of living, ways of sharing
Image: Eleni Katrini
Spatial patterns for communities & designers aiming to catalyse sharing culture in urban neighbourhoods
Communities of sharing and collaborative practices emerge within urban environments, as a response to environmental and socio-economic crises and as part of everyday life. These pockets of sharing culture have as a main goal to co-produce, manage, and share resources, time, services, knowledge, information, and support based on solidarity rather than economic profit. They create alternative pathways for citizens to serve everyday needs in a more sustainable, resourceful, and socially engaging manner by tapping into resources within their region. As part of everyday life, sharing practices are tightly related to the locale and influenced by their physical context. They are shaping and being shaped by space.
This submission offers a perspective on the interlinked relationship between space and sharing, identifying key spatial patterns of sharing culture. This perspective is based on doctoral research focusing on the fields of sharing, collaborative communities, and urban commons. By deploying an interdisciplinary methodological approach, I developed a taxonomy of sharing culture based on everyday life; examined the transitions of a wide pool of sharing practices within the European context and the factors influencing them over time; and finally identified emerging spatial patterns through ethnographic case studies. Through this submission, I hope that the spatial patterns of sharing culture reach a wider audience.
The patterns were developed as an actionable tool that can help commoners and designers alike use space as a catalyst for sharing. They aim to offer a spatial language for sharing culture that helps interpret sharing through space. The 16 patterns are formulated as tactical propositions for those engaged in sharing and are structured on three distinct scales: building, threshold, and urban. On the building scale, spatial patterns refer to the relationship between the practices and the spaces they occupy; on the threshold scale, patterns explore the interaction between the practice and broader community; while on the urban scale, patterns of urban dynamics, land use, exposure, and local networks are investigated regarding the locale. The tone of the patterns remains dialectical, bringing to the attention of the reader several spatial issues and their impact on sharing practices, while allowing them to explore the many conditions – spatial and non-spatial – that influence each pattern.
Impact
The spatial patterns can be a helpful tool in providing a better understanding of space for those already engaged in sharing culture, collaborative or commoning practices within urban neighborhoods. They assist practitioners in galvanising space to scale their initiatives -up, -out, -deep, or -within. Moreover, they can also be used by communities, in their early steps of developing a sharing practice, to learn from other established initiatives. In both cases, the patterns provide not only tips of what the practice can do, but also the broader systems at play that need to be considered around a pattern, touching upon market, technology, wider policy, and local government issues.
I believe that showcasing sharing through the patterns, a case is made for a new way of living. Often, sharing is perceived with negative connotations of forced communality, however the patterns show how sharing can be part of everyday life allowing for people to engage in different ways and capacities.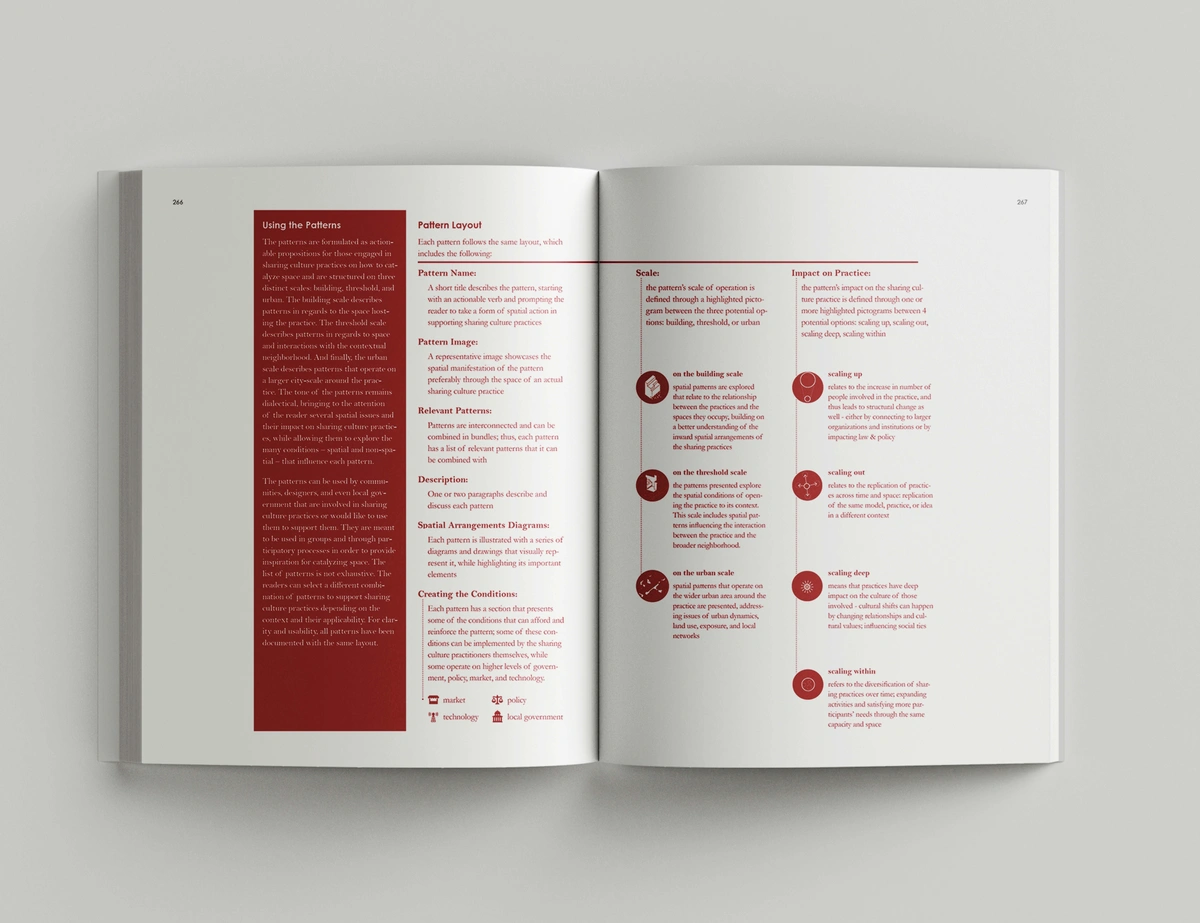 Introduction / Presentation of the Patterns' Layout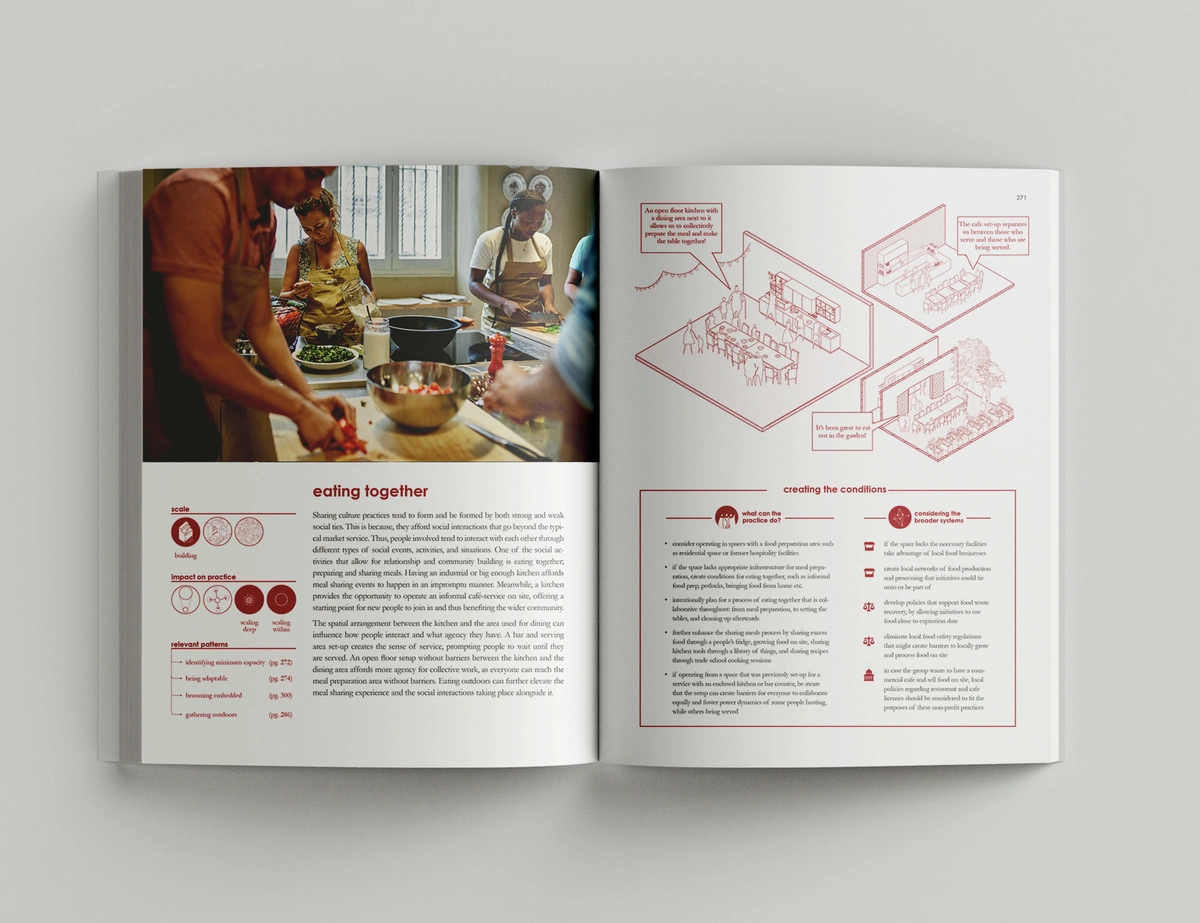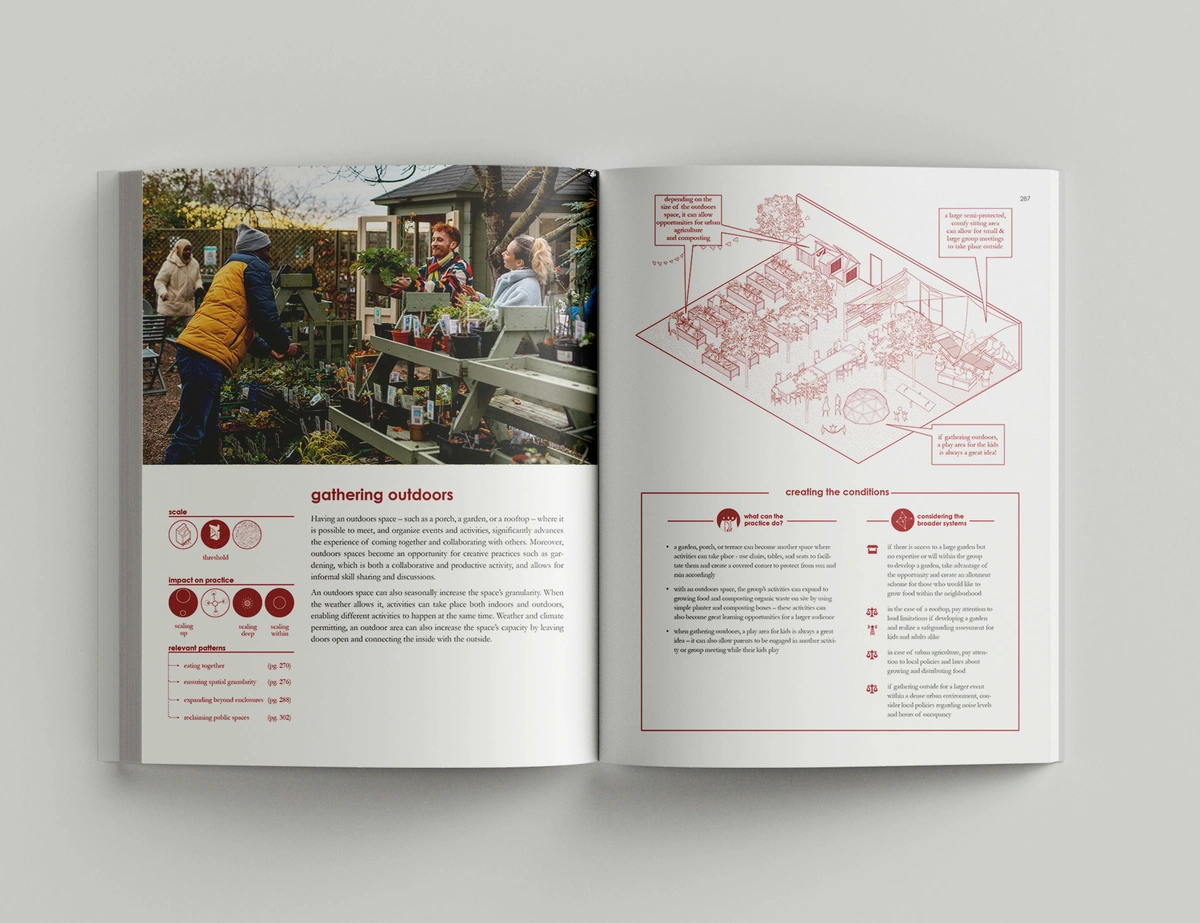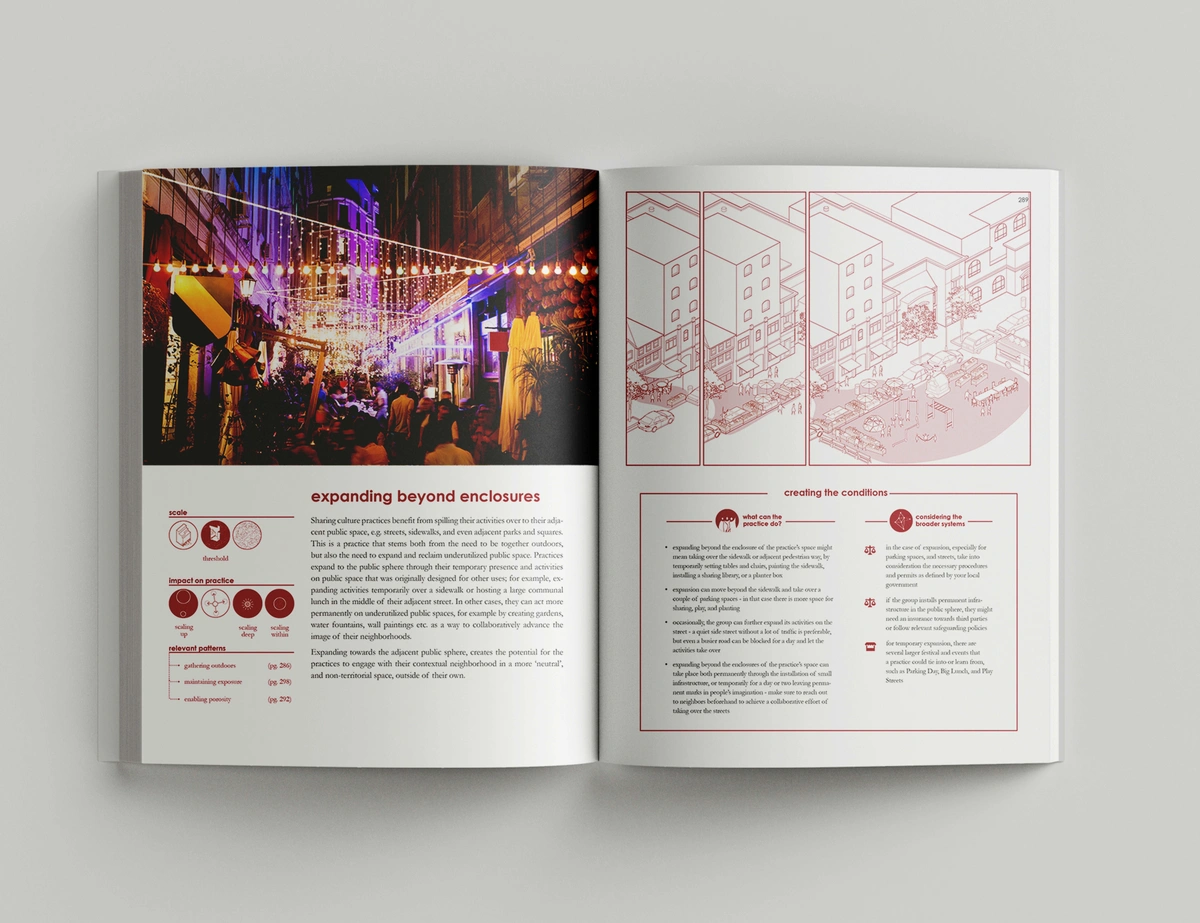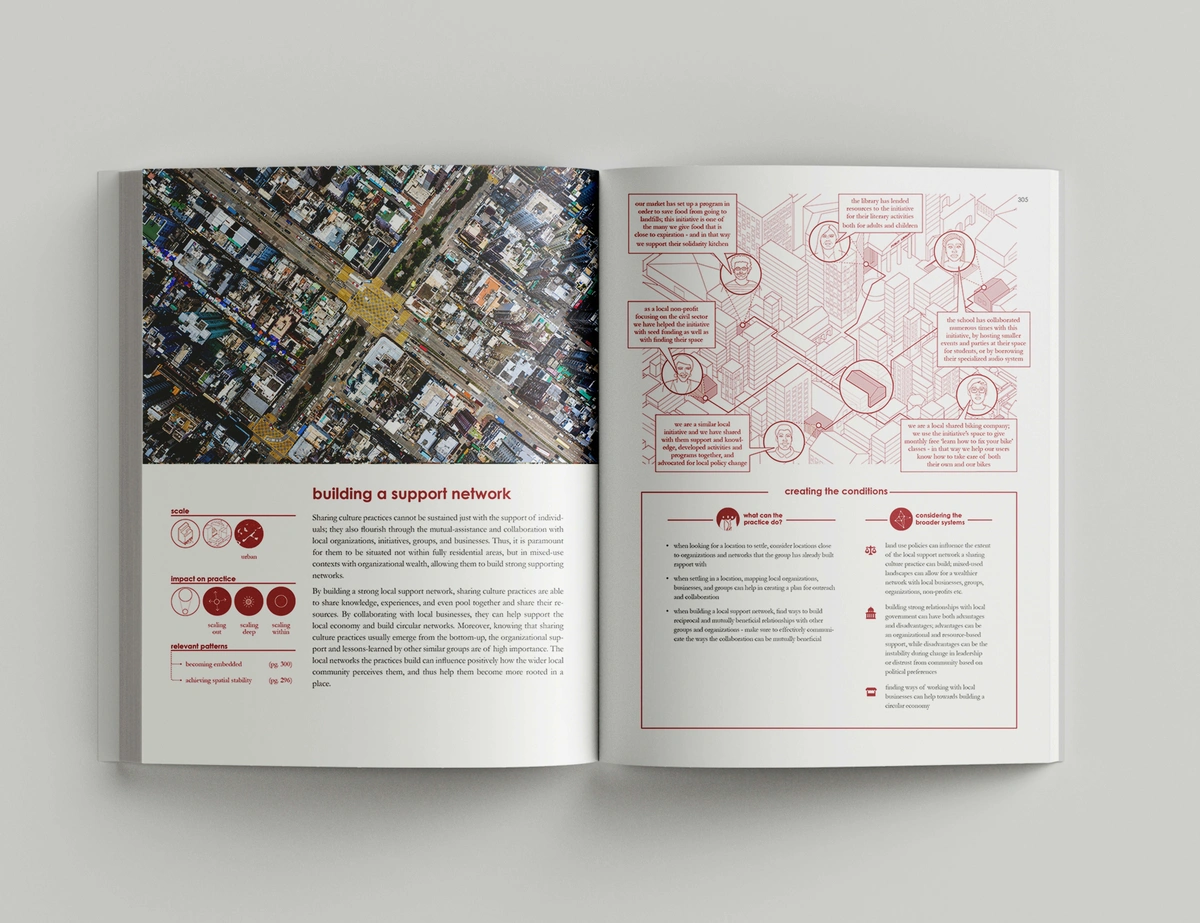 Eleni Katrini
Eleni Katrini is a designer and researcher with experience in academia, local government, private and voluntary sector. Her work focuses on the fields of urban commons, sustainability, urban ecology, strategic and participatory design. Currently, she holds a Postdoctoral Researcher and Marie Curie Fellow position at the School of Architecture at the National Technical University of Athens.
Eleni has lived and worked in Athens, Barcelona, Pittsburgh, and London. Wherever she is, she strives to delve into each context and learn about everyday life in different cultures, communities, cities, and socioeconomic systems. Through her work, she aspires to make cities more environmentally regenerative and socially inclusive places to live.
Eleni received her Diploma of Architectural Engineer at the National Technical University of Athens (2009), her Master of Science in Sustainable Design (2012) and her PhD (2019) at the School of Architecture at Carnegie Mellon University.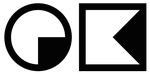 Academic/research
Greece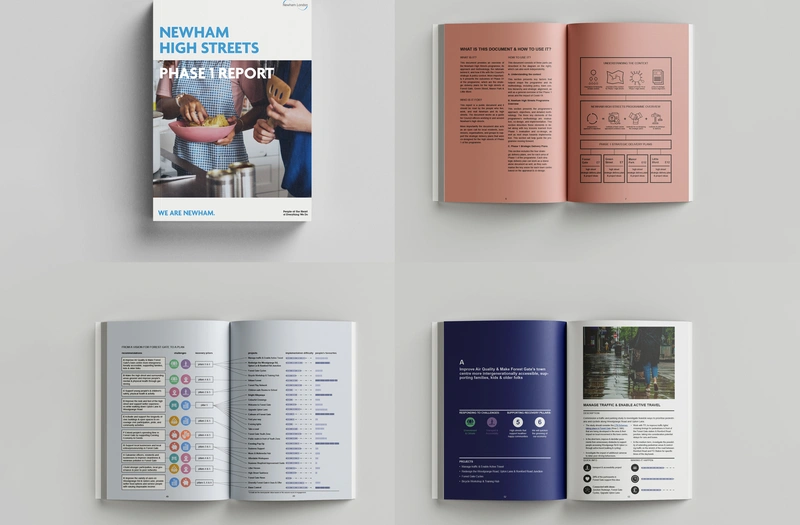 As a Senior Regeneration Manager at the London Borough of Newham, Eleni led the development of the Newham High Streets programme. The programme aimed at creating strategic delivery plans for the borough's town centres, supporting healthier and happier communities, and embedding the principles of 15-minutes neighbourhoods. The programme's Phase 1 Report was based on extensive participation and research.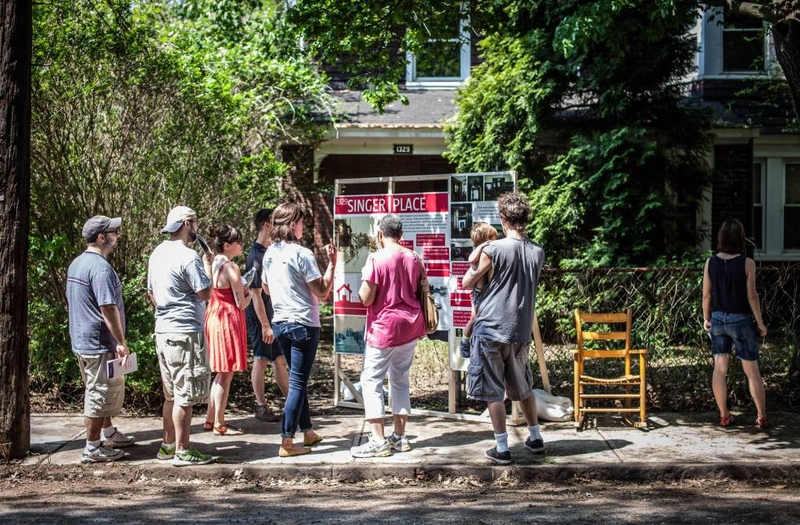 The Vacant Home Tour is a social innovation programme that aims to redefine blight from a problem to an opportunity. Trough resident participation the histories of vacant homes are uncovered, and shared through a whole day event. The Vacant Home Tour was an idea developed and delivered by Kenneth Chu, Marlee Gallagher, Rene Cuenca, Karlee Turkaly, Eleni Katrini, Shawneil Campbell, Robyn Lambert, Anna Malone in collaboration with the Wilkinsburg Community Development Corp. Photo by Greg Sciulli.