Project
Architectural Prescription
PM Campus - multi-functional, self-sufficient and circular complex in the suburbs of Kyiv
Kyiv, Ukraine
Ways of living, ways of sharing
Naturehood – wilder and greener
Image: rendering by Architectural Prescription
PM campus is a combination of rural healthy neighbourhood and suburban density mixed with urban vibrancy in the outskirts of Kyiv, Ukraine
The project embodies a vision of a corporate campus for an IT company built on the principles of sustainable community.
The campus incorporates 12 ingredients: housing, work, community, nature, health and wellbeing, food, sport, education, culture, mobility, safety and engineering solutions.
Valley: Building mass geometry forms a spread out valley. Its functions are threaded on the axis of the main alley, shaping a polycentric neighbourhood.
Barrier-free environment with a mix of functions offers openness and transparency not only to the inhabitants, but also to neighbours. The valley creates an amphitheatre for life, allowing visitors and residents to participate in daily routine.
Sharing: To support a community spirit, a variety of shared spaces have been implemented in accommodation facilities, mobility options and leisure activities.
Walkable city: Initially 1 kilometre long, the artificial island offers an ideal scale for pedestrian usage. To strengthen its coherence and open nature, the project hid all the hard infrastructure underground - including cars and public transport, delivery trucks and waste management. Vehicles follow a separate pipeline at the core of the island. Clear separation between human and machine activities foster feelings of safety and belonging.
Healthy lifestyle: in order to be a self-providing settlement, the campus incorporates local farming and greenhouses, using every roof as a green growing plot.
The food production ensures inclusive participation of community members, enabling them to contribute and feel appreciated, but also to heal and energise while gardening or planting.
Sport: active mobility is encouraged by high visibility of the area, creating a sense of safety even when it is dark outside. By making a barrier-free environment it becomes inclusive therefore encouraging different groups to interact at various times.
Recreating biodiversity: since the campus is located in the area that was reclaimed from the river, the objective is to create a brand new ecosystem based on the surrounding environment. The project proposed planting 2000 trees, including oak groves and mature spruces. Tabula rasa is a conceptual approach for the biodiversity from scratch.
Urban mix: Initially the neighbourhood is created for the IT community, however we encourage a mix of people by creating student housing, coliving, short-term and long-term rental housing for a mix of inhabitants with different ranges of income.
Impact
Our project grew from a wish to address challenges which reach beyond the scope of this commission.
Data-based driven design can benefit many stakeholders and may enrich the ongoing dialogue on the following topics:
How to link a detached community to the urban environment, preventing isolation and ghettoization while having all the necessary functions for full life?
How to achieve mega-structure appearance by stacking together regular buildings, keeping low budgets and flexible phasing of the project
Soft zoning - building structure and floor to floor height can accommodate any function, starting from long-term housing to offices and commercial spaces
Public spaces with flexible use - sportshall can serve as event or video production hall, sport facilities are shared between school, university and employees in different time slots
How to cope with the risk of flooding on an artificial island , while planning a resilient community and design?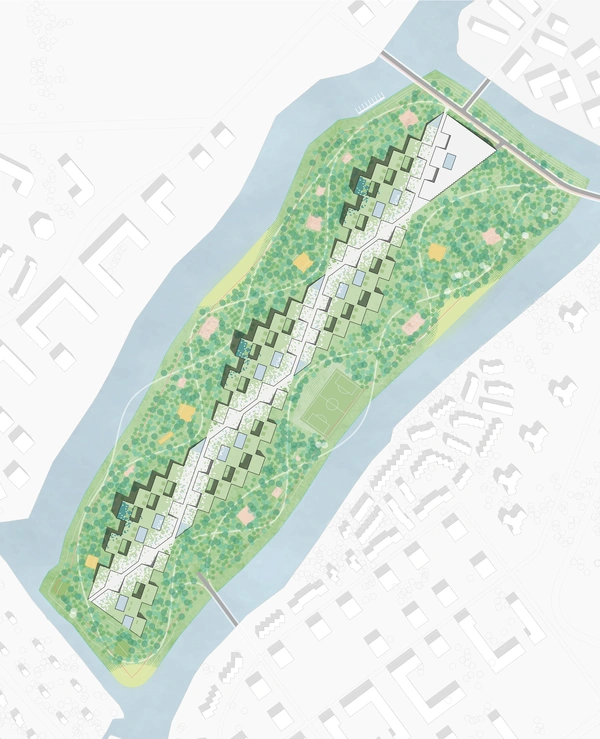 Masterplan of the plot
Credits: Architectural Prescription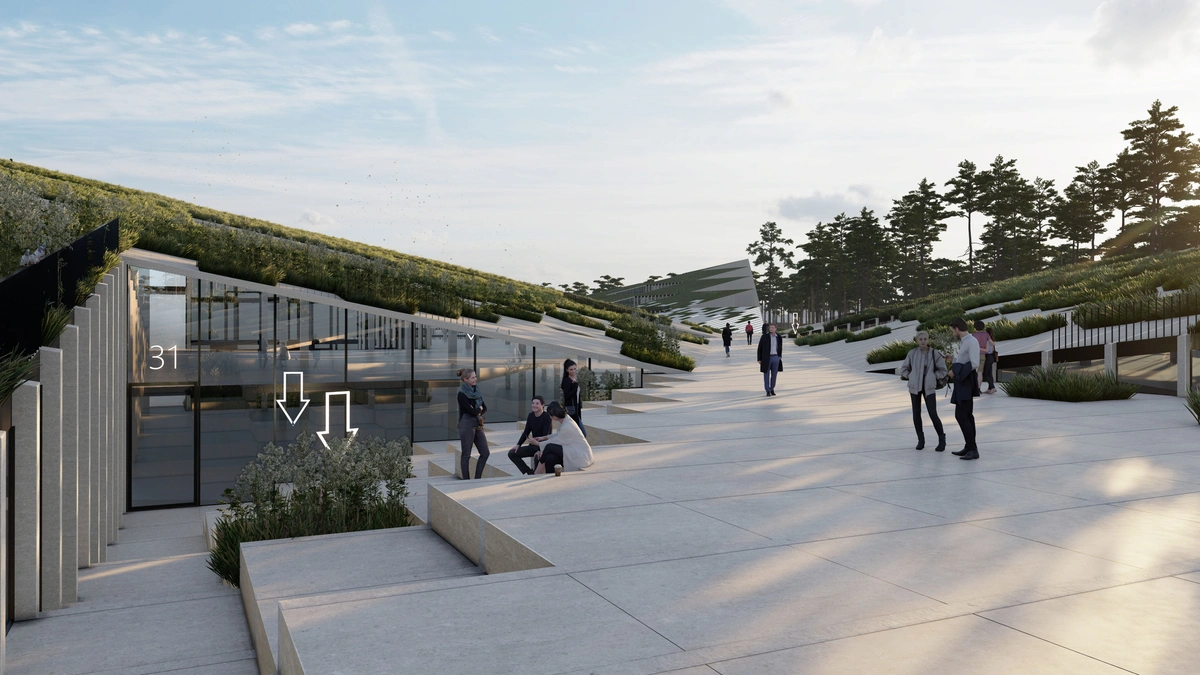 The view of the main alley connecting multifunctional spaces around the axis
Credits: Architectural Prescription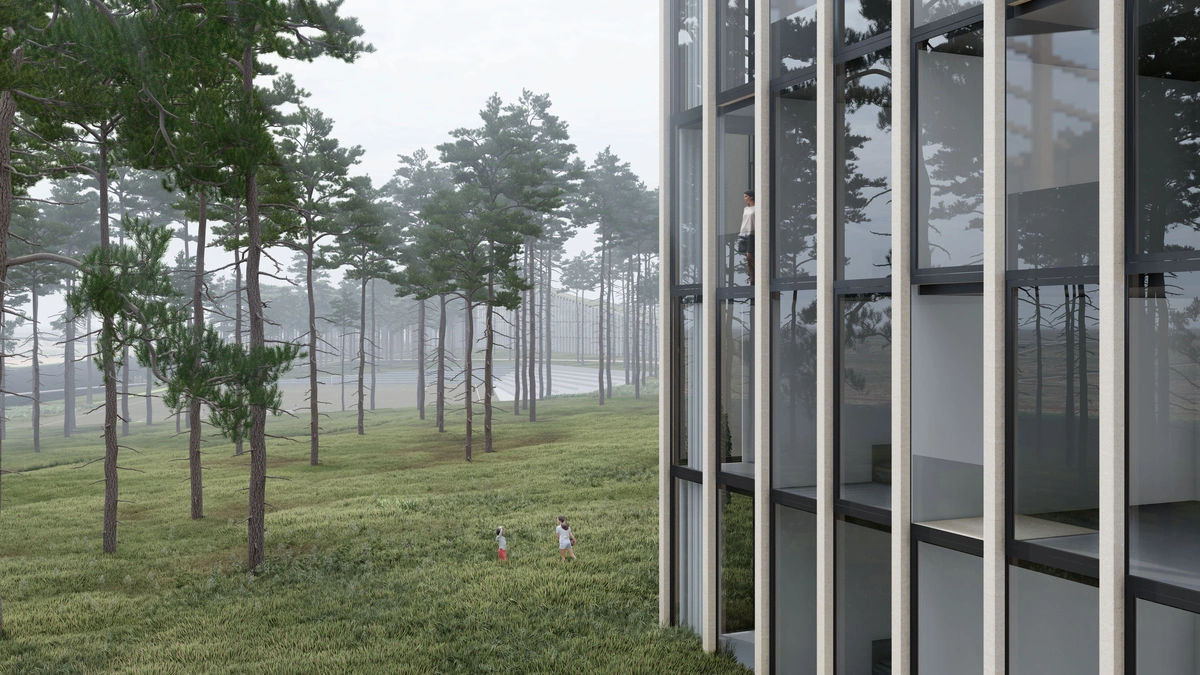 The campus is surrounded by the recreated ecosystem of Dnipro region, namely mature pines and oak groves
Credits: Architectural Prescription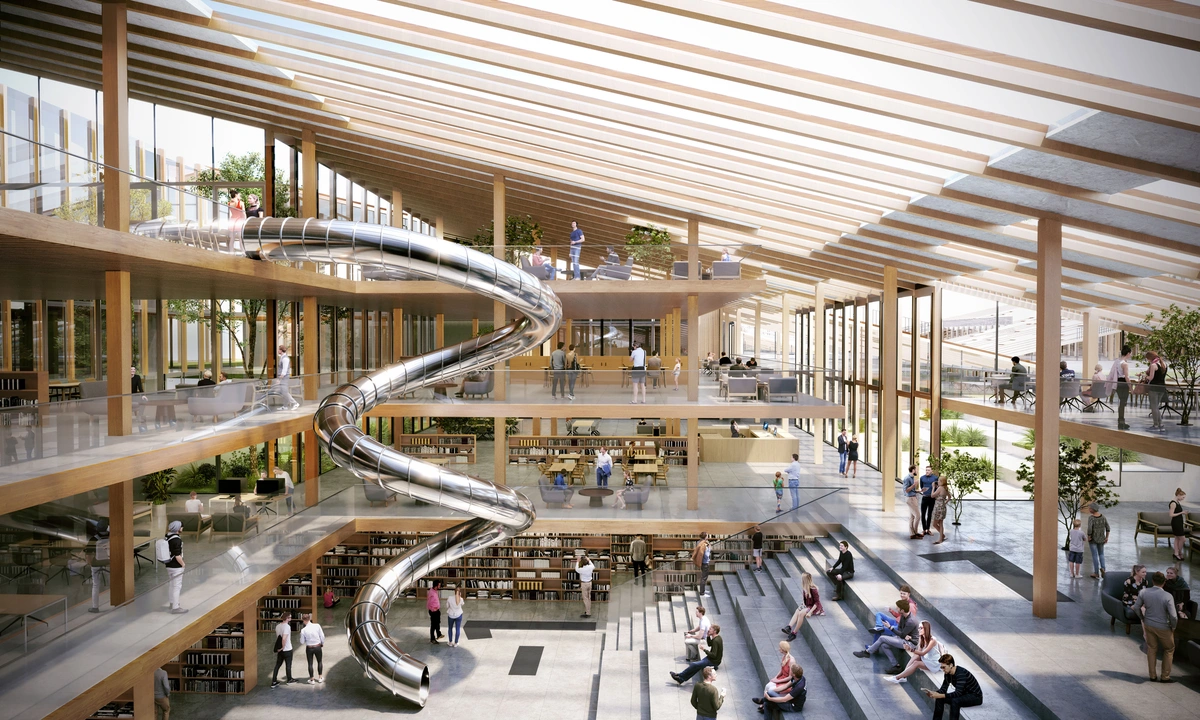 The inside of the main atrium, serving as a meeting point for residents. Playful atmosphere encourages interaction between various groups of inhabitants.
Credits: Architectural Prescription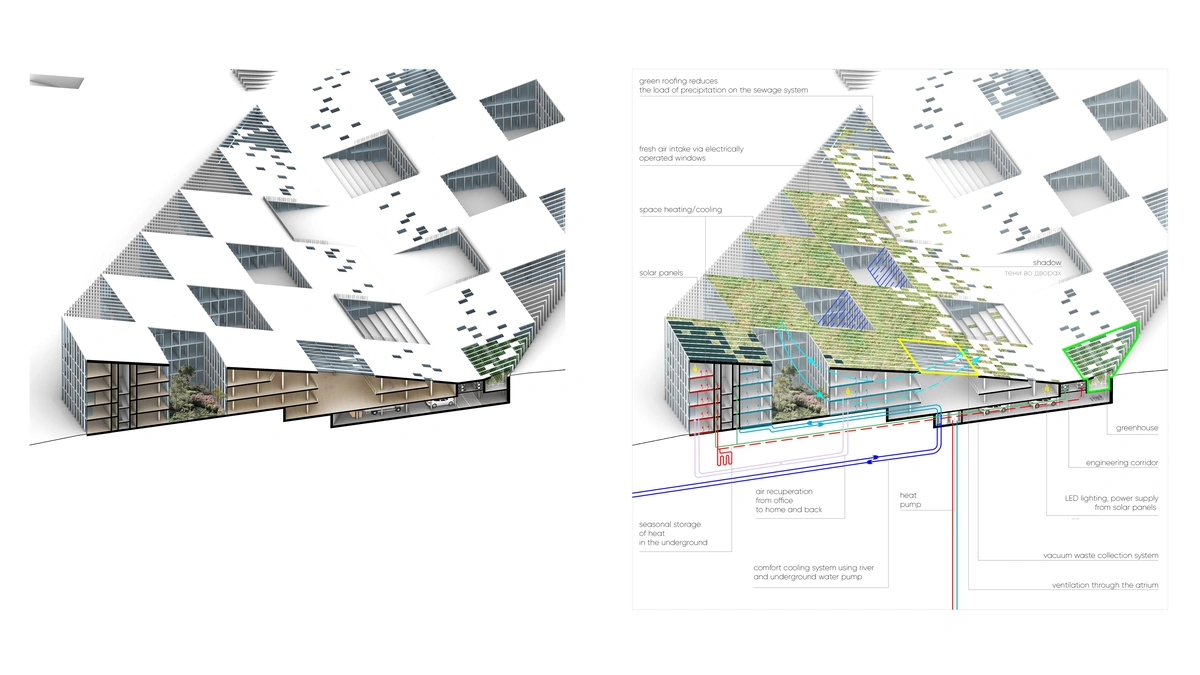 The side cut demonstrates diverse engineering solutions that ensure sustainability and innovation of the structure
Credits: Architectural Prescription
Architectural Prescription
Based in Amsterdam, Architecture Prescription engages in design on both an urban and architectural scale. Additionally our R&D lab offers computational consultation services for design professionals. The practice employs a pragmatic, analytical design approach using advanced computational methods to develop projects and processes in which form is function.
Architectural prescription is a multidisciplinary office, composed of urban planners, researchers, architects and graphic designers. Founded by Grisha Zotov, originally from Mariupol, Ukraine.
Architecture and Urban design: Metapraktika Kyiv, Ukraine
Video production and renderings: BOMA, Maksym Lysogora, Kyiv, Ukraine
Minecraft production: Evgeniy Korol
Landscape architects: Zotov&Co
External consultants on green roofs: Elizaveta Fakirova, (TU Munchen) Kelai Diebel, Amsterdam, the Netherlands
Data collection: PM team Kyiv, Ukraine
Research and text: Maria Prosviryakova, the Netherlands

Architectural practice
Netherlands