Project
Kjellander Sjöberg
Many Places to call home, Meridian Water
London Borough of Enfield, United Kingdom
Public plays
Ways of living, ways of sharing
Transforming, adapting, reusing
Image: A2 Studio / Kjellander SJöberg
Meridian Water is not one place, but many; it is a series of interconnected micro-neighborhoods, each with a distinctive character and sense of place.
The masterplan for Meridian Water is about creating opportunities.
Meridian Water will provide 10,000 new homes and 4000 new jobs for the London Borough of Enfield. New employment, education facilities, cultural venues, and shared public spaces in which to meet, eat and play will transform a part of the city that is currently fragmented, disconnected and amongst one of the most deprived in London. 30% of the 80-hectare site will be preserved as open space, with recreational parks and extensive greenery throughout the public realm promoting wellbeing, clean air and a healthy environment.
The masterplan vision derives from an analysis of people's everyday use of public space, aiming to create an urban neighborhood which supports an improving quality of life. Its scale speaks to the human senses, and seeks to empower people's movement, to catch their interests, help and support social interaction, and to create engagement with the surroundings. Through a granular and smaller-scale approach to development phases and masterplan zones, there is a high flexibility to adapt to the needs of the emerging community over time. Rather than providing a few large spaces, the public realm offers many places of various uses and characters, multi-purpose and pleasant, ranging from local to major destinations.
Employment and the creation of jobs are promoted from the start of the development with the provision of meanwhile uses that nurture entrepreneurial skills, education and training. As well as being catalysts for innovation and change, these meanwhile uses also provide a fertile testing ground for research and development, allowing successful strategies to be integrated into more permanent uses in a way that is highly responsive to local demands.
The urban grain of Meridian Water is rich and messy, with diverse places of various scales and densities, that offer a varied and stimulating human experience. Animated streets are complemented by a finer mesh of spatial typologies such as yards, courts and mews inspired by the local industrial heritage. 15-minute-city concepts are mapped into 15 liveable micro-neighborhoods with easy access to daily life essentials, creating a highly connected environment that is inclusive and adaptable in the long term. Open spaces are at the heart of Meridian Water's neighborhoods with green micro-climates that support food production and biodiversity.
Impact
Delivering higher densities by providing generous shared urban environments shaped by character and identity.
A key aspect of Meridian Water is making new high-density neighborhoods at human scale; neighborhoods with liveable generous places that nurture diverse communities. Successful urban planning at higher densities means creating places with a real sense of place, and making neighborhoods that connect with their communities in a meaningful way.
The defining strategy at Meridian Water is the creation of local micro-neighbourhoods shaped by specific urban spaces and typologies, each with its own particular character. These various micro-neighbourhoods are the DNA that make up the wider masterplan; stitched together by connections to amenities, open parks and shared supporting infrastructure they collectively comprise a rich and varied cohesive new city quarter with a wide range of people-centered communities that are convivial and welcoming places to live, work and play.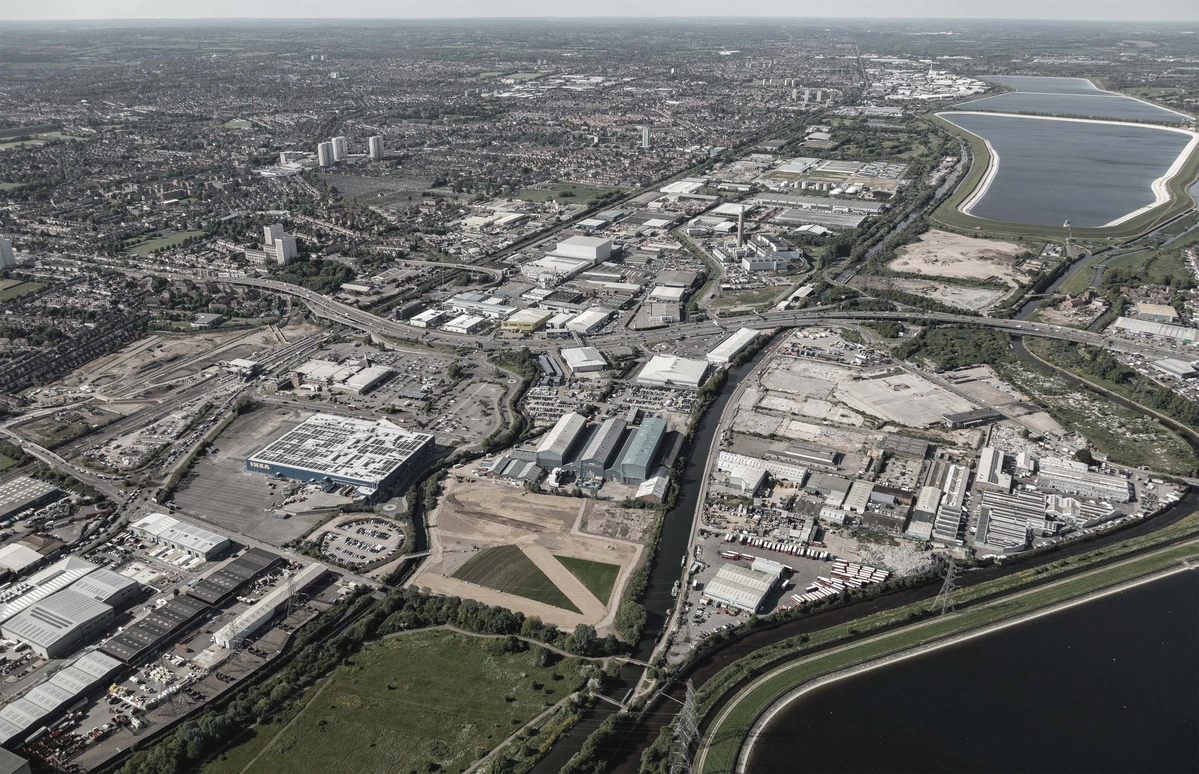 Aerial
The existing site topography is bounded by the Lee Valley Regional Park, many natural blue and green features of which traverse the site as canals, brooks, culverts, channels and paths. This is overlaid with a distinctive industrial and cultural heritage. Taking cues from this existing landscape, the place shaping strategy for Meridian Water focuses on amplifying and enhancing these characteristics to develop a major regeneration project that provides high quality new neighborhoods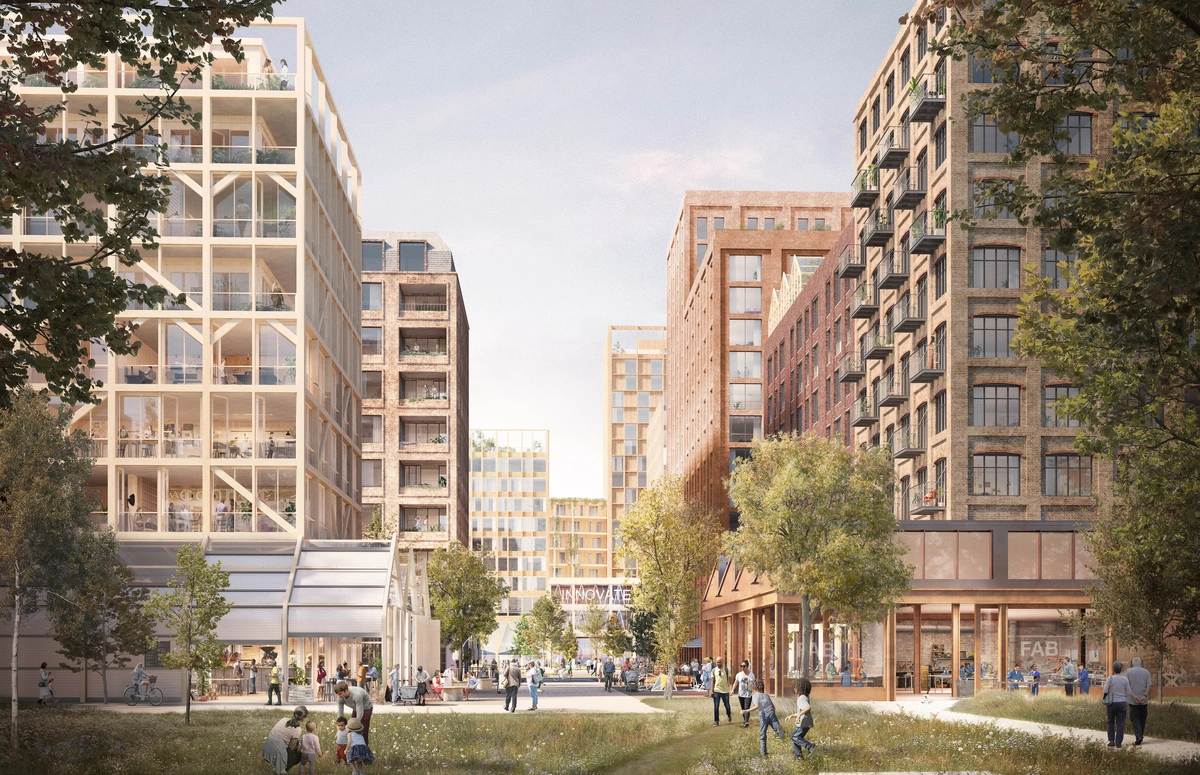 Image credits: Darc Studio/ Kjellander SJöberg
Community Street & The Green Loop
Park-life at your doorstep - A generous, active and healthy green community place for everyone, with pocket parks, play, meeting places and public amenities; all connected and supported by eco system services, close to home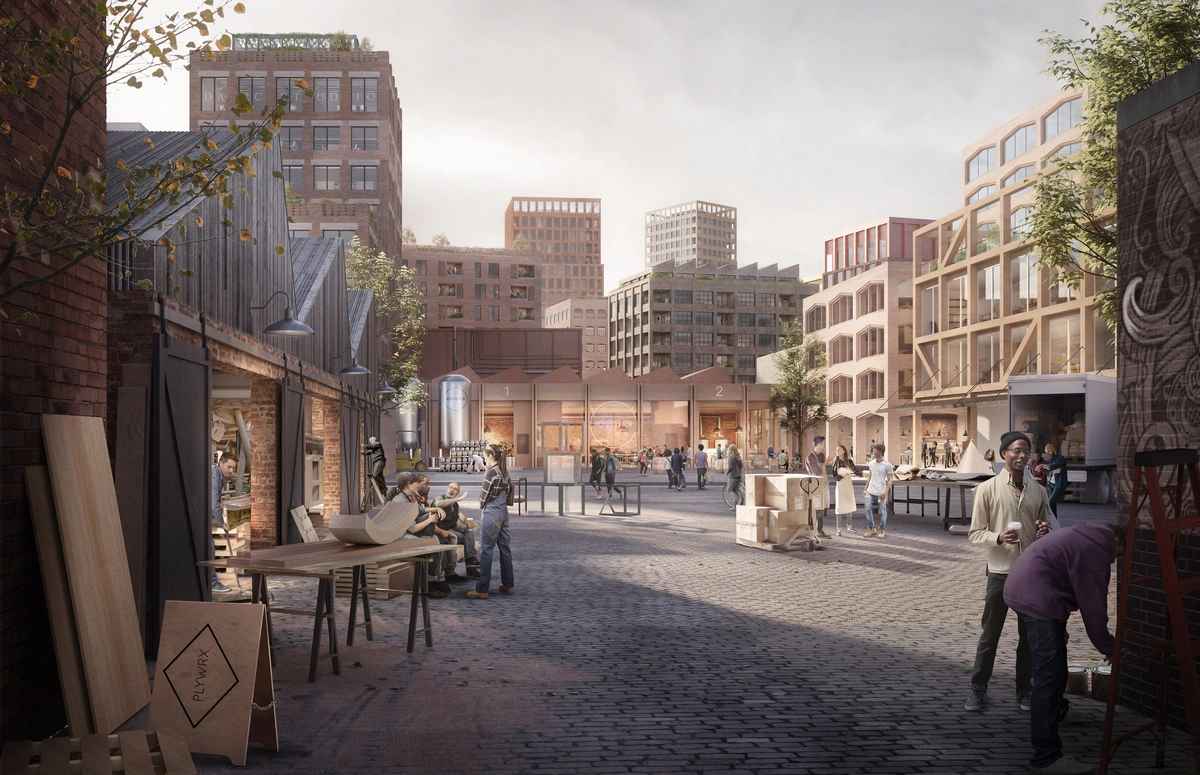 Image credits: Darc Studio/ Kjellander SJöberg
The Broad Band - Your place to make and create
An innovation district driven by meanwhile activities and programme. The Broad Band is a vibrant mixed-use zone with a blend of start-ups, incubators, accelerators and live-work opportunities. A fine urban grain with yards and passages, a gritty and exciting place with a wide range of opportunities and experiences to be enjoyed.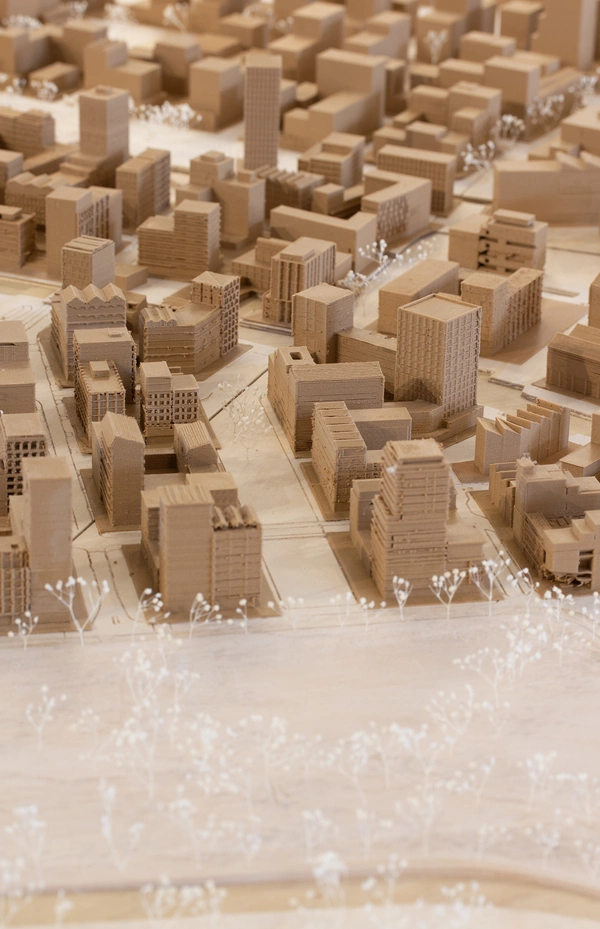 The Urban Fabric
Careful shifts of density and urban form across the micro-neighbourhood's allow for simultaneous development of land parcels to provide a wide range of housing and commercial typologies to the market. As a model for growth, a strong placemaking agenda defines the character and scale of each micro-neighbourhood within Meridian Water, building a robust urban framework which can develop and adapt throughout its life.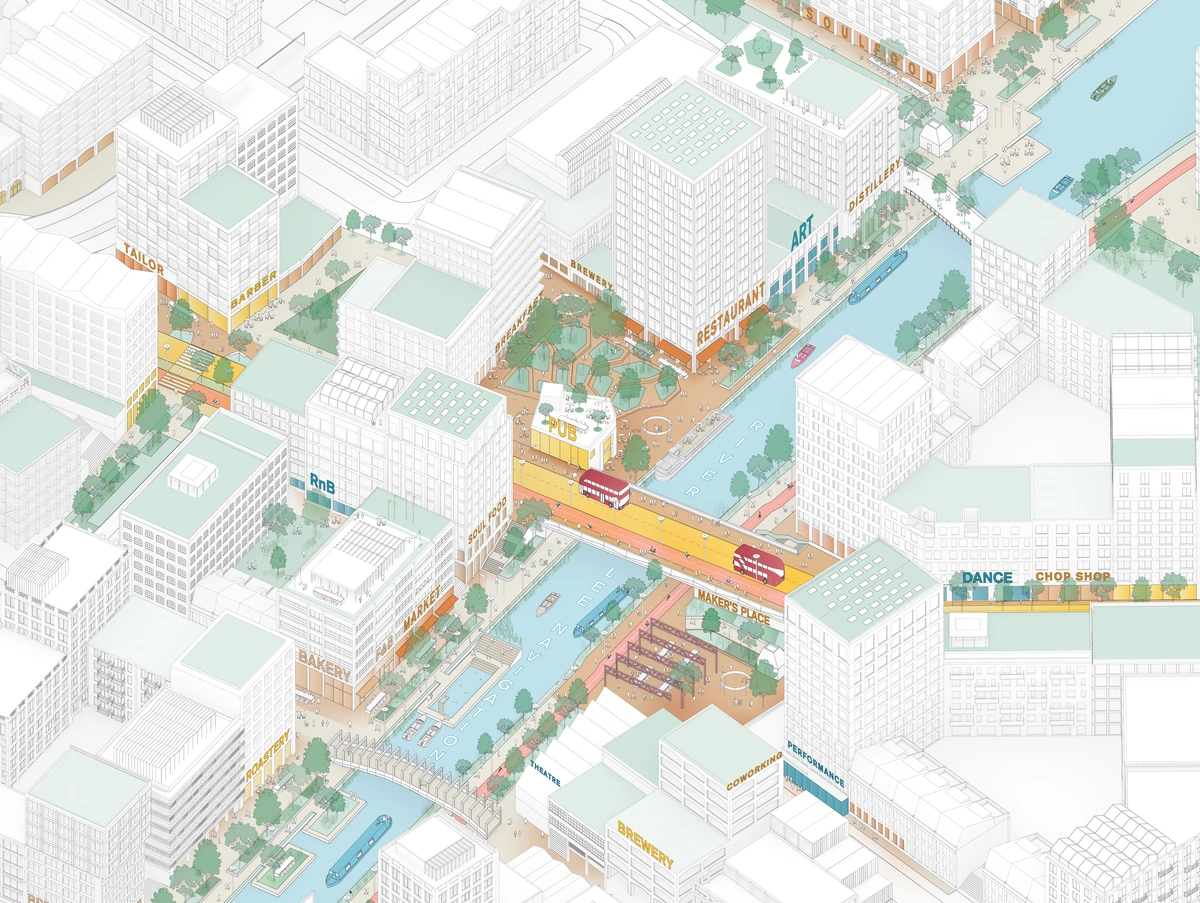 Key Places
Destinations and local discoveries
The masterplan is home to a collection of special focal points that aim to draw visitors to Meridian Water, and which support a rich local economy of public amenities that are shaped by the communities which live here. Placemaking at Meridian Water centers on people and their needs, it is shaped by the desires and aspirations of those that will live there.
Kjellander Sjöberg
Kjellander Sjöberg was appointed Masterplan Spatial Lead by LBE in November 2019, and has since worked alongside a bespoke team with many voices; Periscope, Mae, Useful Projects, 5th Studio, Urban Symbiotics and Jacobs. The masterplan is in a conceptual development stage, leading up to consultation in AW 2021-22. The Council is taking control of the vision for Meridian Water and overseeing its' delivery, securing a minimum of 40% affordable homes provision as well as high quality new jobs and educational facilities.
In 2019 Enfield declared climate emergency, and Meridian Water is underpinned by an aspirational Environmental Sustainability Strategy for carbon neutrality and net zero growth, adopted in 2020.

Architectural practice
Sweden