Scandiagade
Copenhagen, Denmark
Streets with (new) meaning
Public plays
Naturehood – wilder and greener
A boring grass area mainly used for dogwalking has been transformed into a local park with room for social gatherings, tranquility and rainwater
On Scandiagade, 1:1 Landskab has designed a landscape that can both handle heavy volumes of rainwater and function as a recreational park for the residents. A central reserve with beautiful old trees was transformed into an innovative urban space with eight basins that can hold 1,500 m3 rainwater. The basins delay rainwater, ensuring that the sewers do not overflow. When it is dry, they provide space for a host of activities.
An unnoticed spot of grass, mostly used for dogwalking has become a local park with a clear identity. Traversing the basins is an attractive wooden walkway with neon yellow sides gives the park a clear identity. The entrances to the urban space are marked with welcoming coloured lamps. Along the way, a small space with a large bench allows you to watch the sun go down, while another space provides room for a spontaneous rendezvous or tango on a light summer's evening. Scandiagade has become a meeting place for locals, and a must-see for visitors from others neighborhoods.
Scandiagade is all about the locals and neighbors.
Public meetings in various forms have played a crucial role in the development and anchoring of the project. Locals from the neighborhood have diligently involved themselves in the project and come up with ideas and wishes for functions and activities. Their local knowledges were crucial to the project and they became sparring partners for us. Their inputs and comments helped create a design that is relevant to the residents and future users of Scandiagade.
Nature crucial part of this urban space.
The residents have had a say resulting in eight very different basins: a mini adventure playground, a butterfly garden, a beach basin with hammocks, a basin with kitchen gardens, where you can taste different herbs. You can take your shoes off in the tall grass in the hilly landscape. One basin has a stone garden, another is inspired by Sydhavnen's famous Tippen area and lastly a fenced experimental garden, where nature is totally left to its own devices. This garden will provide knowledge about how nature behaves inside the city if not controlled.
We have gone all out to create an urban space with a high degree of biodiversity: eg. Uncleaned soil has been brought in from another municipality. Along with 126 different plants, we hope the soil will create favorable conditions for insects and butterflies and more balanced urban nature.
The use has increased with 520%. The amount of pedestrians with 133%
Impact
A key aspect of our work with Scandiagade was citizen involvement. Involvement processes of locals can help ensure local anchoring and ovnership of the projects. By including residents and users in the process their wishes, needs and local issues can be addressed and incorporated in the design. As was done at Scandiagade when deciding on the different themes / functions of the basins. This also gives viability to the architecture as it is based on local knowledge, we as architects cannot get otherwise in so a short time period. As important as it is to involve the locals in the process, as important is it to surprise them. Take their request and transform them – so the endproduct also holds an architectural viability.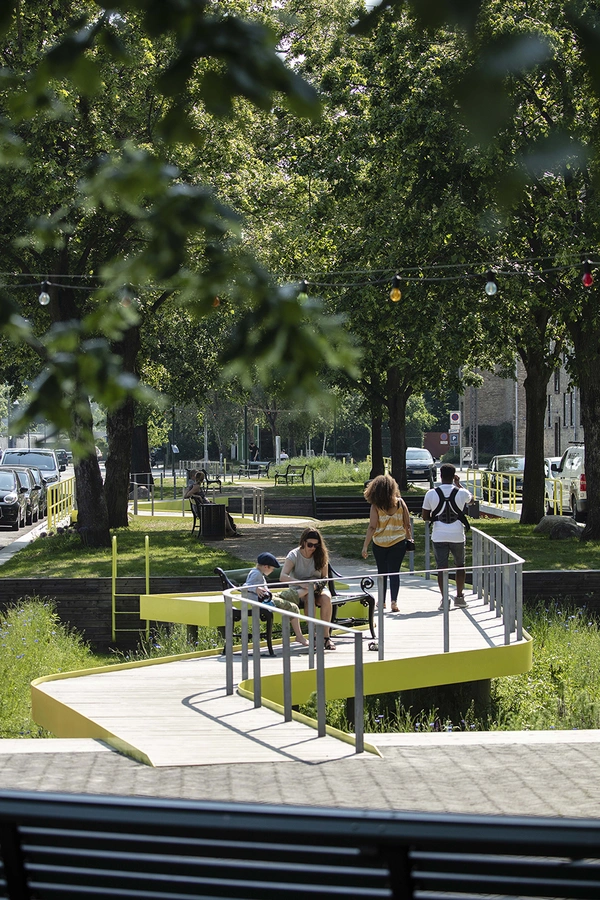 The yellow walkway ties the oblong space together and gives a clear identity to this public space. You can stroll through the different bassins and take a rest at well positioned benches. Stairs and ladders give access to the different bassins.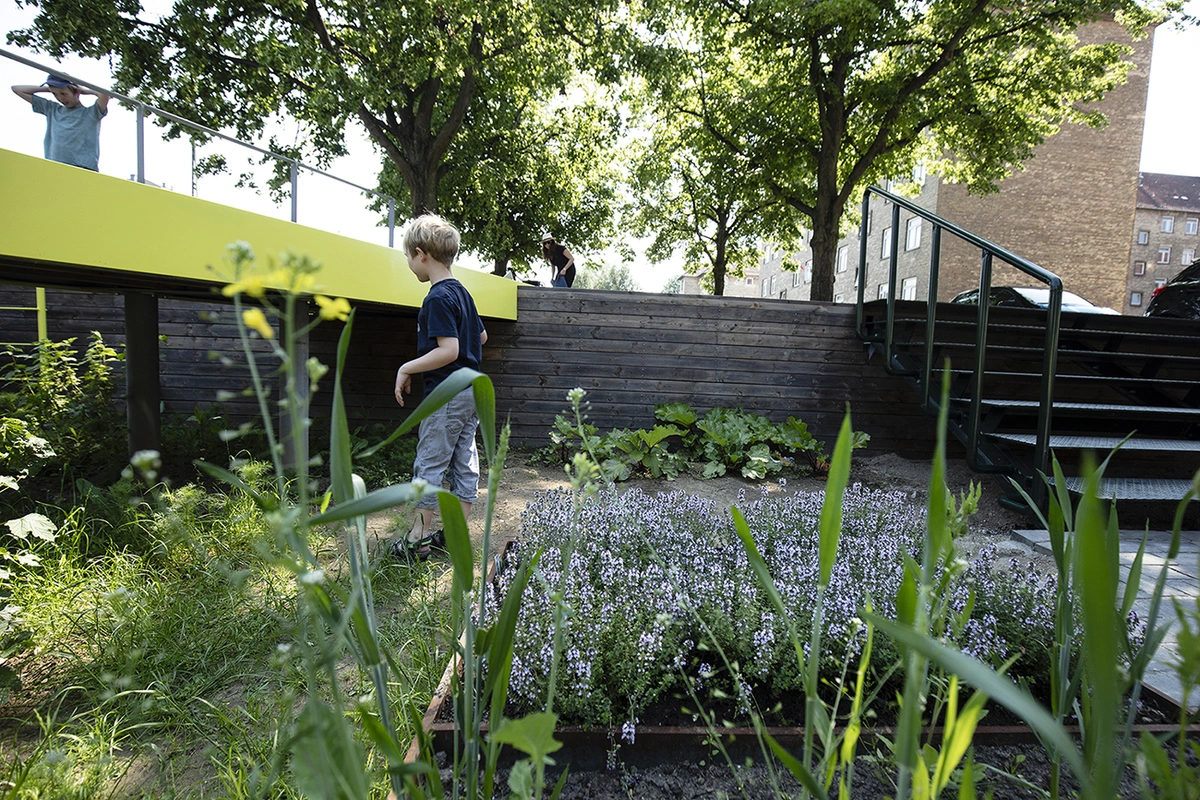 The plants varies from basin to basin, but high biodiversity and sensual experiences are recurrent throughout Scandiagade.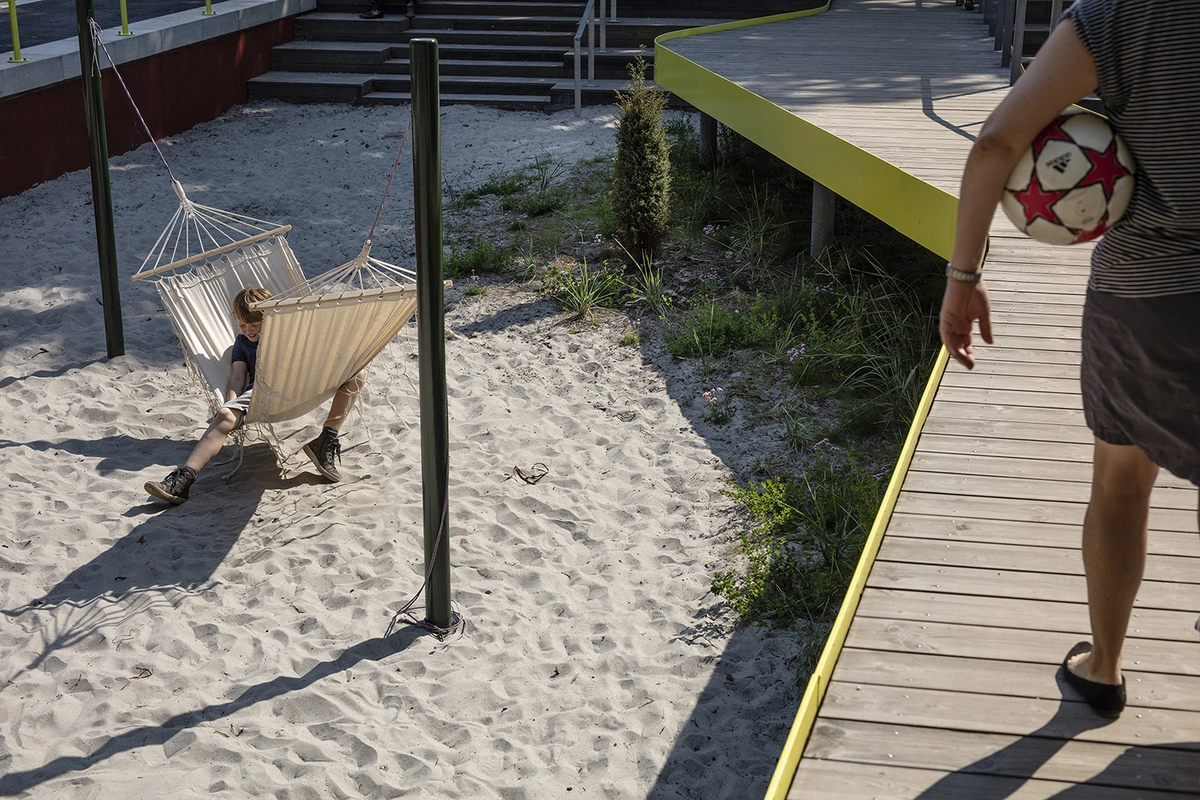 The yellow walkway also passes by the beach basin, where sand and a hammock gives a vacation vibe.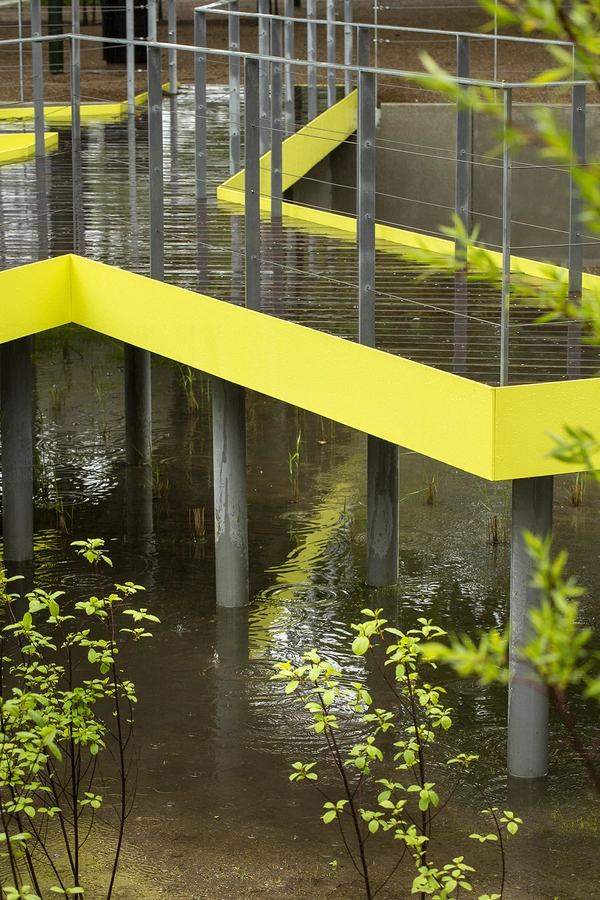 In case of cloudburst and heavy rain the basins will hold back the water, so the sewer don't exceed its max capacity and flood streets and basements. The vegetation and material slows the water. The water then transform the space. The walkway rises above surface and lets the pedestrian experience this tranquil transformation.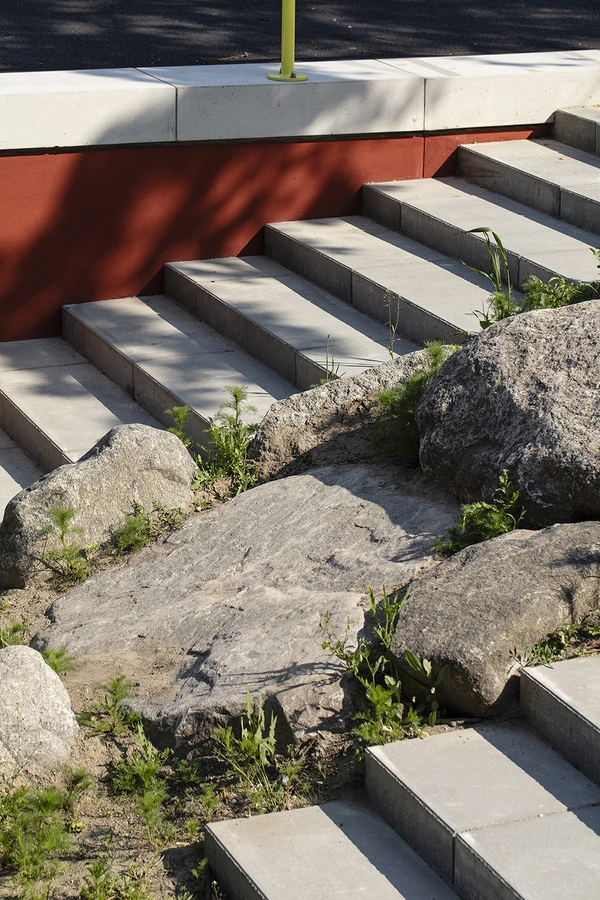 One basin has big stones and vegetation. A perfect place for a game of the floor is made of lava or a rest in the sun.
1:1 Landskab
1:1 Landskab combines pragmatic with poetic, classic with innovative and long-lasting with eye-catching. We are experts in effective citizen and user involvement processes that ensure local anchoring. In Scandiagade we have used these practices to create a recreational park for the neighborhood that also handles pressuring rainwater issues and integrates biodiversity.
1:1 Landskab team: Partner, Jacob Kamp, design lead
Stine Schiebsby, Landscape architects
Client: Områdefornyelse Sydhavnen (Urban renewal initiative), Copenhagen Municipality
Subconsultant: Atkins A/S, engineer
Subconsultant: Nueva
Architectural practice
Denmark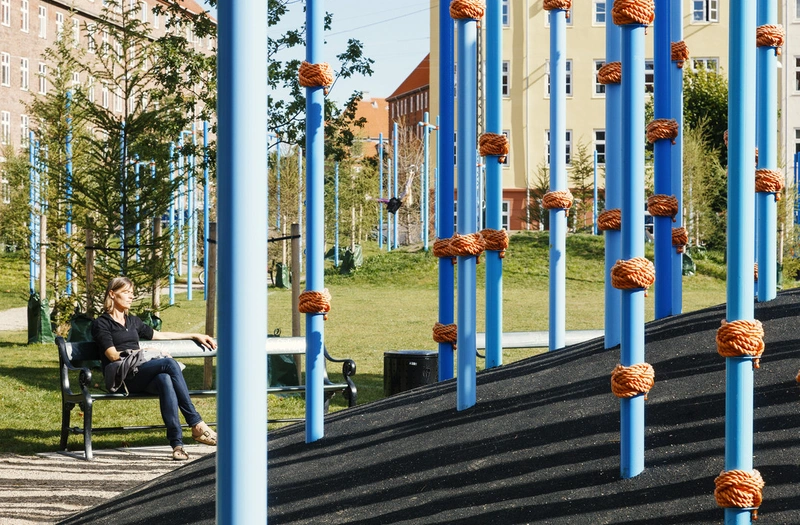 Guldbergs plads: 10 grassy hills, 75 larch trees and 200 blue poles mark Guldbergs Plads as a spot where people of all ages can engage in activities and relax. The transformation been hugely popular among the locals, with 400% more people visiting today than prior to the transformation. The 200 blue poles form the framework for the park's new activities, which have been designed in collaboration with the locals. All the activity spots and tools were designed to entice 'exercise-averse' adults.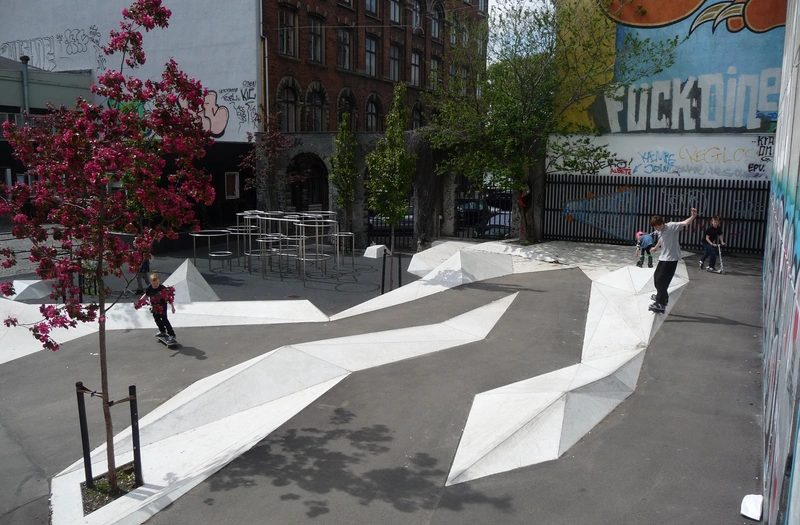 The architecture of Charlotte Ammundsens Plads is both poetic and devil-may-care at the same time: the classic Copenhagen square meets with benches and outdoor serving meets a black ballcourt. A white "rock" landscape contrasts the redleaved trees and can be used for both activities and resting. Giving space for many usertypes. In 2008 it won Hovedstadens Forskønnelses Initiativpris.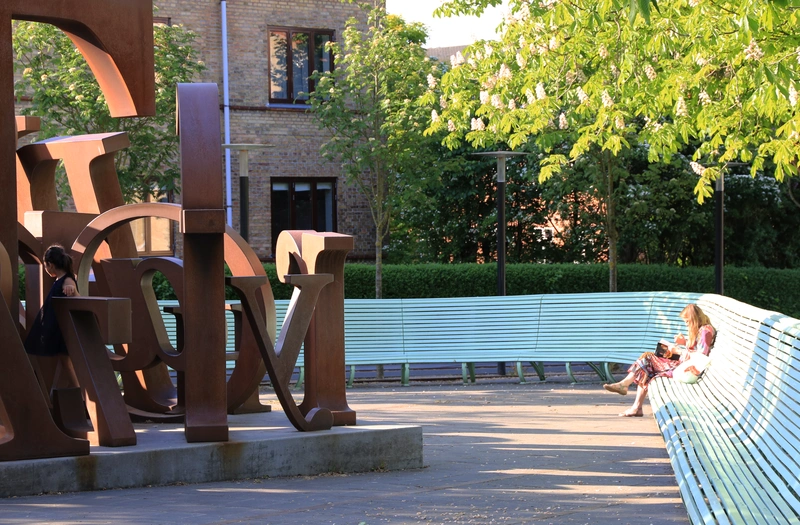 Dan Turrells Plads The focal point of Dan Turells Square is a large alphabet-sculpture that pays homage to the local writer Dan Turel. It creates a clear identity for the square. A 47 meters long greens wraps around the square underneath a row of tree tops. The bench refers to Turells 47 years, and his time in Paris.