De-hierarchize the Commercial Street: Nothing Extraordinary, Really
Montréal, Canada
Streets with (new) meaning
Transforming, adapting, reusing
Production and commercial diversity
Image: Olivier Therrien
Our project reflects on the status of the commercial street by restructuring its elements according to new traffic flows based on health guidelines.
This project was initially realized in the early stages of the pandemic and aimed to reconsider the organization of commercial streets. Two years later, we look back on this proposal and realize the relevance some of these concepts can still have in a post-pandemic world.
Our proposal rethinks the commercial street beyond its traditional compartmentalized and hierarchized layering of functional spaces. Instead, we move towards an alternate organization where these adjacent spaces interact to form a multifunctional ecosystem. Although such nontraditional commercial spaces exist in our cities, they remain a step away from becoming normative. Inspired by our observations of the consequential ad-hoc responses that emerged due to the pandemic within these spaces, we aim to outline the many benefits such an approach could have on the commercial street. Hence, our proposal consists of a partial physical reorganization and reconsideration of the street's various scales.
At the scale of the street, we first expand the space dedicated to pedestrians, proposing market-like pockets along the current middle street. We diminish the importance of the automobile but value maintaining it as an element.Despite its contentious presence in urban hubs, it remains valuable as it brings diverse and foreign interests to the commercial area. A medium for efficient consumption, a slow, one-way car lane gives access to a drive-through operated by adjacent restaurants, or collectives. The use of street furniture and infographics in the urban landscape allows both the implementation of sanitary initiatives and also the integration of a domestic feeling in newly reactivated places.
At the scale of street front businesses, we de-compartmentalize floor layouts. Such rigid organizations were centered around an ideal of efficiency which has become irrelevant in the recent pandemic context. To achieve the new distancing requirements between visitors, back stores and service spaces merged with the main areas where possible. Furniture is used as physical divisions between individuals. Circulations typologies (one-way, open loop) result from this action, leading to safer trajectories. Service exits are also leveraged as alternative access points for take-outs.
At the scales of the alleys, we reclaim the space for human activity as a complement or alternative to the busy street, de-clustering main arteries to create seamless transitions from street and shops to alleyways, or vice versa.
Impact
As interior functions permeate exterior landscapes, our proposal highlighted underutilized urban spaces, creating a network that includes them in order to redistribute commercial and cultural interests evenly across an urban block typology. The hope if for the linear relationship of the retail to the street to be dehierarchized. We can learn from architectural works that are primarily structured around organisation. Beyond the commercial street, methodologies must not only go through the sampling of people and their spaces, but more importantly their connections across the community. This model-unit presented speculations on ways of living with a pandemic. Now in the process of unearthing the new endemic world in which we will live, we must then look at the principles of the proposal and reflect on what is still relevant and what is no longer relevant. Our questions are to reflect on the status of what we once knew, and to prepare for the unlikely, if it happens again in the future.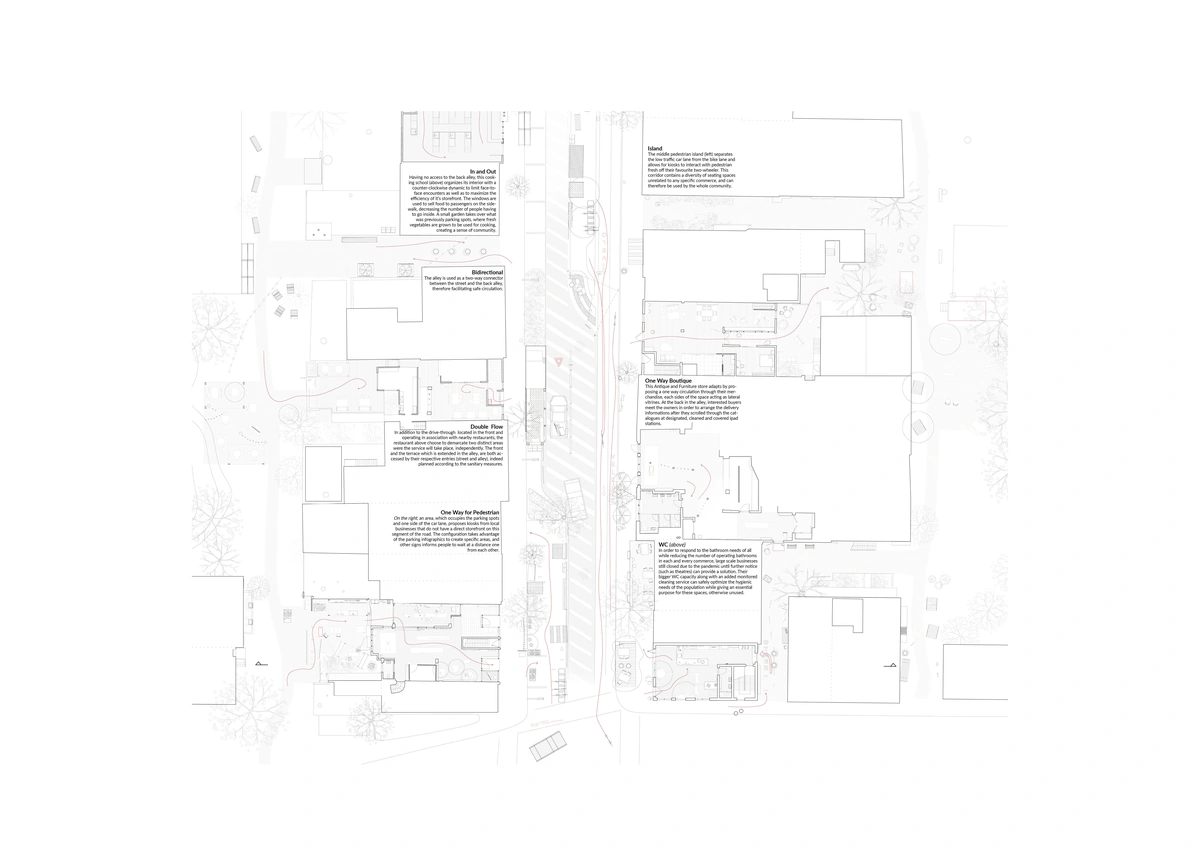 The Permeable Commercial Block. Plan (Captions are included in the image. Please zoom as much as necessary.)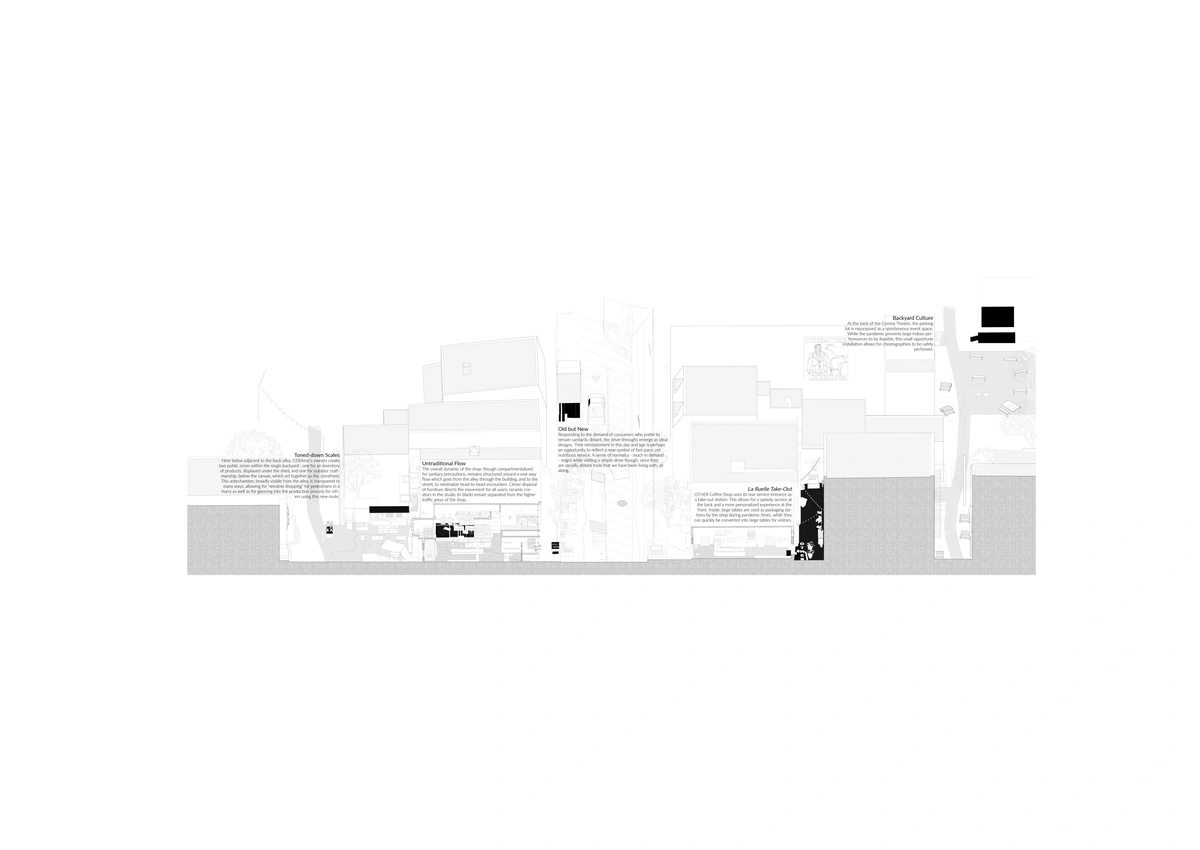 Commercial block section. (Captions are included in the image.)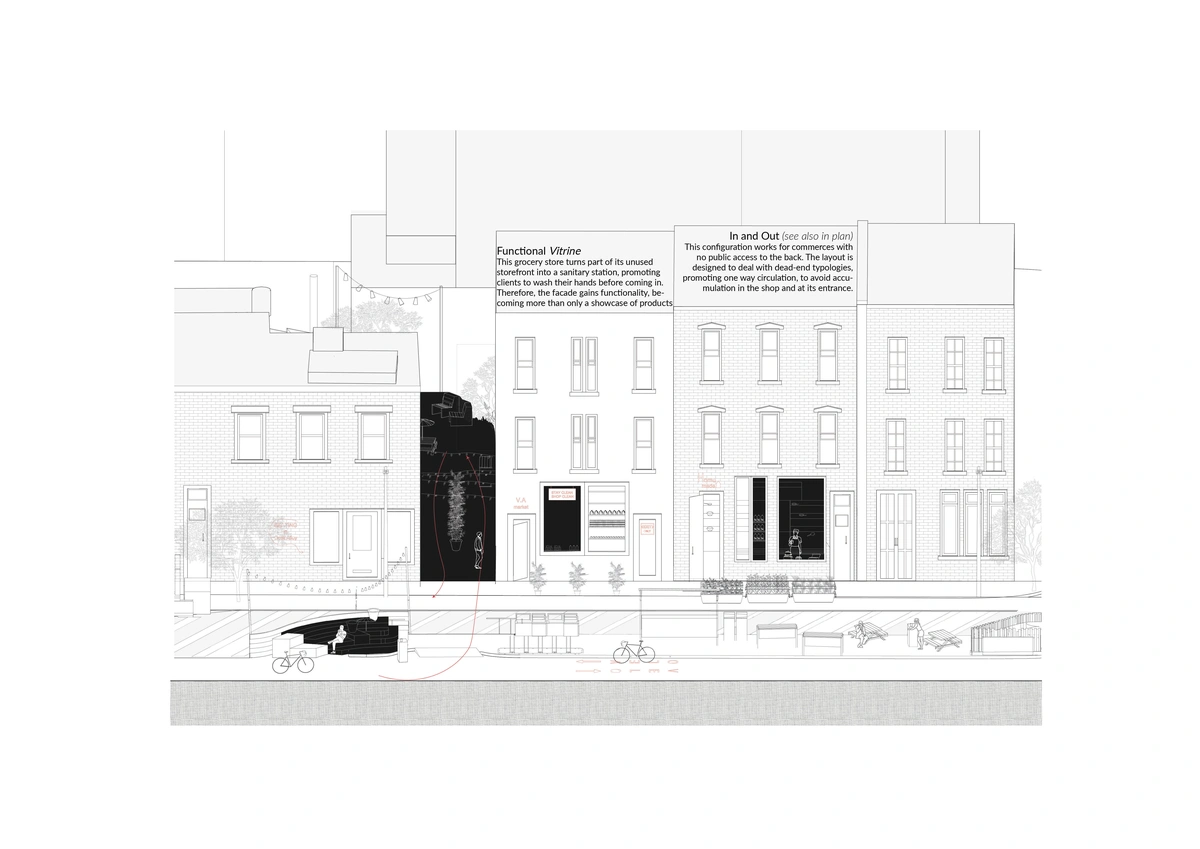 Commercial block facade. (Captions are included in the image.)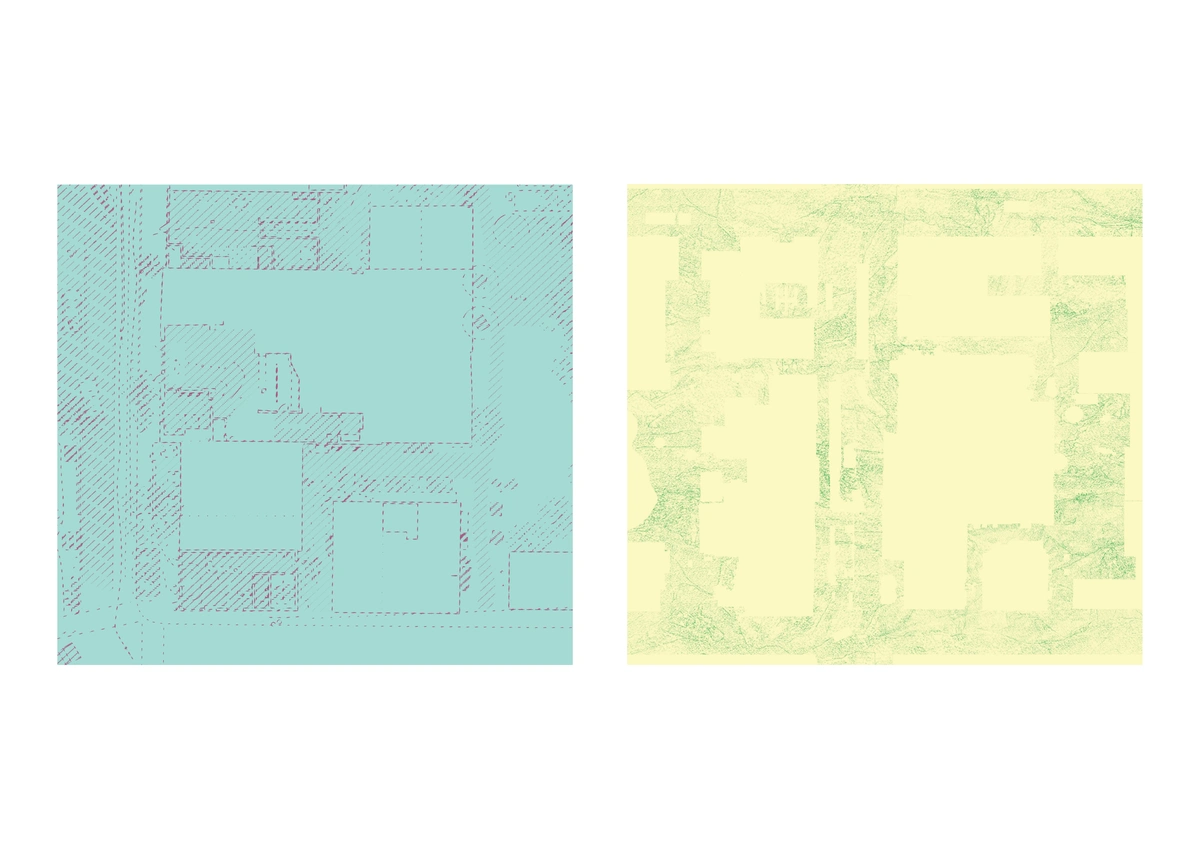 The scale of the street, the scale of the block. Image 1 and 2 respectively.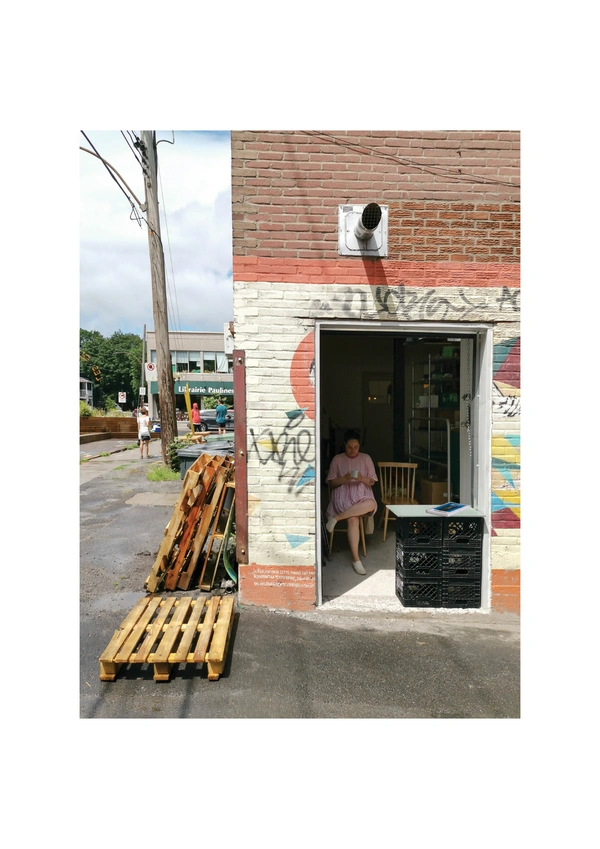 Evidence : Applying the Ideas on Location. Rue Masson, Montréal. For the release day of "Corsé" magazine, the back entrance of local coffee shop "Café Pista" was repurposed as the pick up counter for online customers. What is usually a closed garage door except for deliveries became a spontaneous, second service point.
notoriginal
Hervé Laurendeau, Alice Lemay, Nathalie Marj & Olivier Therrien all graduated from McGill University with a BSc Arch. In their current projects, offices or studies, they take inspiration from the location at hand and the diverse narratives embedded in it. Hervé is currently pursuing an MSc Arch at EPFL, where he is interested in architectural identity and the perception of excellence, investigating their meanings through their integration in contemporary practices and media. Based in Toronto, Alice joined a product development firm, where one of her objectives is to materialize research in context, taking into account object performance and cultural necessities. Nathalie has been part of numerous associations raising humanitarian awareness and funds, and will undertake her MArch at Columbia next year. Olivier will pursue a M.Arch in Berlin, his interests narrowing on experimental, informal and small-scale forms of design that bring people together in facing contemporary challenges.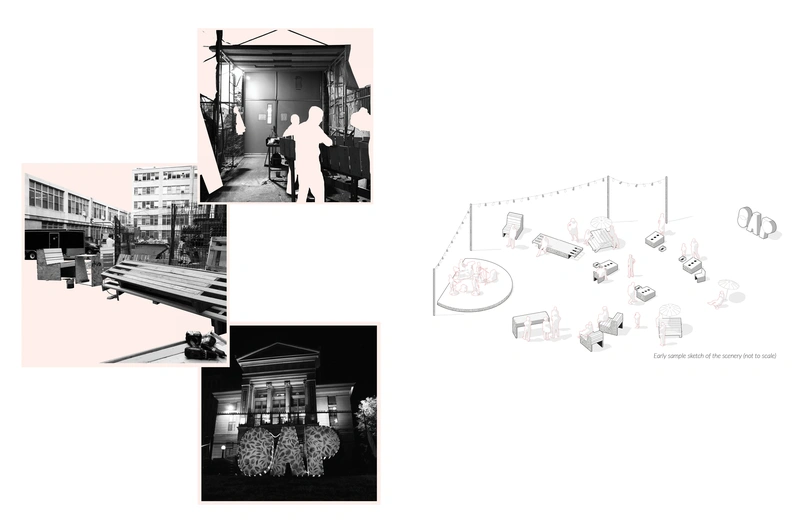 OAP2019, a furniture design-build project constructed by Hervé Laurendeau and other colleagues from McGill (S.Mauro, G.Gefter & F. Die) for the annual outdoor Music Festival at McGill University. This reference illustrates the efficiency of small scale objects in large scale operations, and the techniques it can employ in order to build collectively and efficiently, with limited budgets and materials.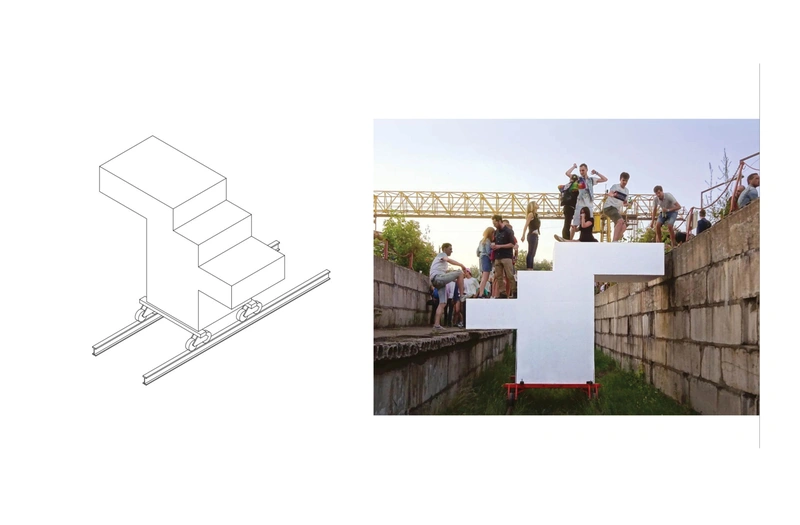 METAarchitectures: Railway object. Moscow, 2015. @Diego Sologuren. "... shaped for a specific function [...] the object serves, as a bridge, for connecting the two sides. [moving own its own] the object becomes a sculpture, an abstract form travelling nowhere." We appreciated this project by Sologuren, taking inspiration from this application of abstracted materials, and cunning usage of "simple" functional forms (like the stair), which sheds light on new, possible connections in space.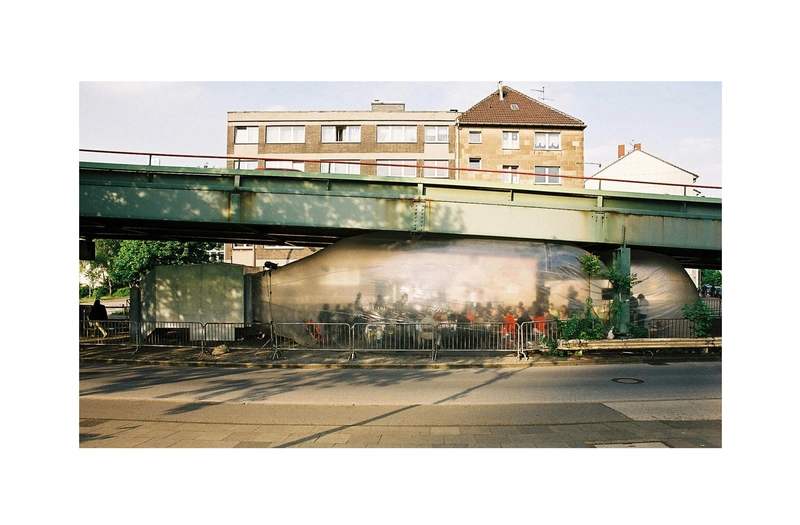 Küchenmonument. Berlin, 2006. @Marco Canevacci. With its multiple states of "being," its flexibility of program and low tech necessities, this reference inspired us in the shaping of collective areas situated in the unusual, irregular space of the back-alleys. Such "devices" led us to imagine applications on large scale city squares, streets, by commercial ecosystems which can undergo spatial extension towards their backyard, or front porch, to redistribute interest more evenly.