Project
Common Ground Design
STEPS Eco-Village Transitional Housing
Pak Heung, Yuen Long, Hong Kong, Hong Kong
Social infrastructure
Ways of living, ways of sharing
Production and commercial diversity
Image: Common Ground Design
Building community resilience and offering neighbourhood wellbeing in a temporary affordable rental housing in a sustainable semi-urban environment
STEPS explores quality of life in temporary affordable housing: we design a community, a stepping stone, not merely housing.
Transitional housing is needed in Hong Kong due to backlogged waiting lists for affordable public housing, with waiting time up to 6 years. 25% of land in Hong Kong is built-up, in which the real urban density is up to 26500 people per sq km. Land use for STEPS is formerly non-residential, with an underground rail, where heavy loads are prohibited.
In this suburb site, daily needs and public transport are not within walkable distance. Given these restrictions and demands, a 15-minute suburb lifestyle by bike is proposed, designed for living, supplying, caring, learning, and enjoying through walking and biking. As a city prioritizing its subway system, housing projects far away from metro stations like this one are not as favourable. Thus a 15-minute living circle can provide convenience in obtaining necessities without relying on subway, further localizing demand and supply, and creating a new bike-oriented cultural lifestyle. This model is also proven to lower transport time and increase identity in various metropolises, and better serves minorities who are usually left out of urban planning.
Less than 3% of land in Hong Kong is arable. Farms are conserved as a cultural lifestyle as urban sprawl continues. STEPS provides hobby farms and activities surrounding sustainability, which helps reach self-sufficiency and connect to the public.
STEPS focuses on promoting neighbourhood interactions. A north-south boulevard penetrating the whole site actively and passively encourages community interaction through visual and physical intersections. Within each block, 4-meter-wide corridors serve as extensions to flats encouraging interaction, while stepped terraces at the end of corridors add informal event space. Community blocks and Farms are in between dwellings along the boulevard. Each flat has a balcony allowing inter-block visual communication. A total of 200+ socializing spaces are created for community-building, involving various pocket parks, nature play and outdoor activities. Not only do these spaces serve the community through its intended functions, but they leave a freedom for informal interactions with new meaning as the eco-village evolves. Through this, close-knit communities can be formed, enabling each shared space to be used for different programs, while associations can be formed to facilitate sharing and co-creation.
Impact
At first glance, large Scandinavian cities face similar problems as to Hong Kong – a lack of affordable housing. STEPS is very similar to affordable housing schemes in Scandinavia, targeting young occupants who are searching for permanent housing. Not only does the MiC (modular integrated construction) method used in this project match the speed and efficiency, but transitional housing is also designed to be a temporary home for home-seekers, thus the temporality and flexibility of the project can impact supply of housing. STEPS can also be applicable to for-profit models of refugee accommodation, in which this project strives to provide human interaction as a human right to help refugees integrate into society. Other local impacts include an increase in sustainable bike use, as well as the production of localized job opportunities. The provision of open social space in a busy urban environment also encourages social interaction.
Honorable mention – Jury statement
"The STEPS-project aims to build community resilience, offering neighbourhood wellbeing in a temporary affordable rental housing in a semi-urban environment. The plan and design concept focuses on promoting neighbourhood interactions. Within each block, corridors serve as extensions to flats encouraging interaction, while stepped terraces at the end of corridors add informal event space, encouraging informal interactions amongst residents. The transitional housing model can serve as a temporary home for home-seekers, students, refugees and others outside the market, offering an attractive, cheap alternative to the housing conditions in Hong Kong and elsewhere."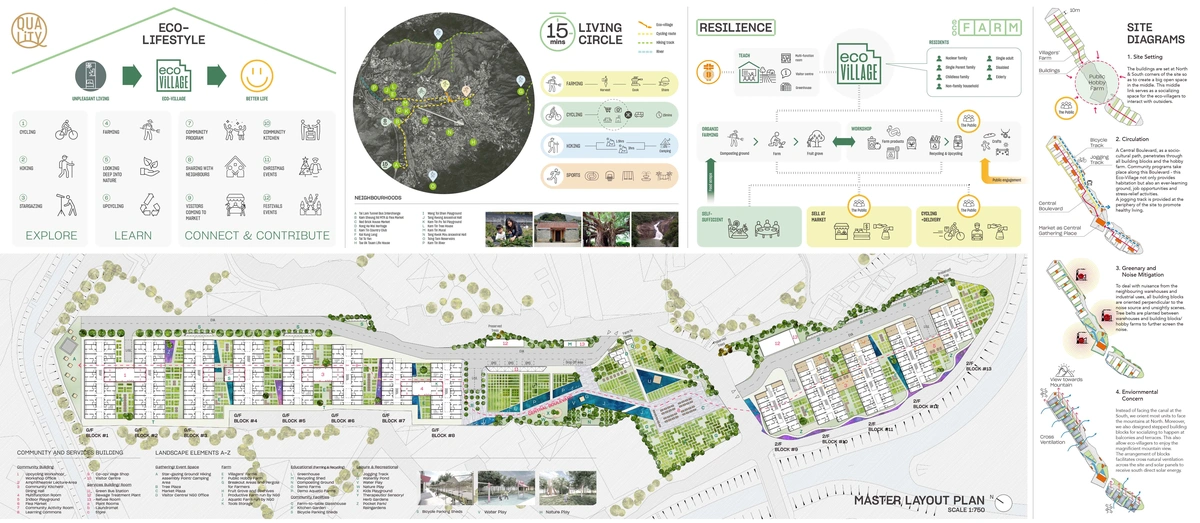 Concept Diagram #1 - Eco-Lifestyle
Concept Diagram #2 - 15-min Living Circle
Concept Diagram #3 - Community Resilience
Site Diagrams
Master Layout Plan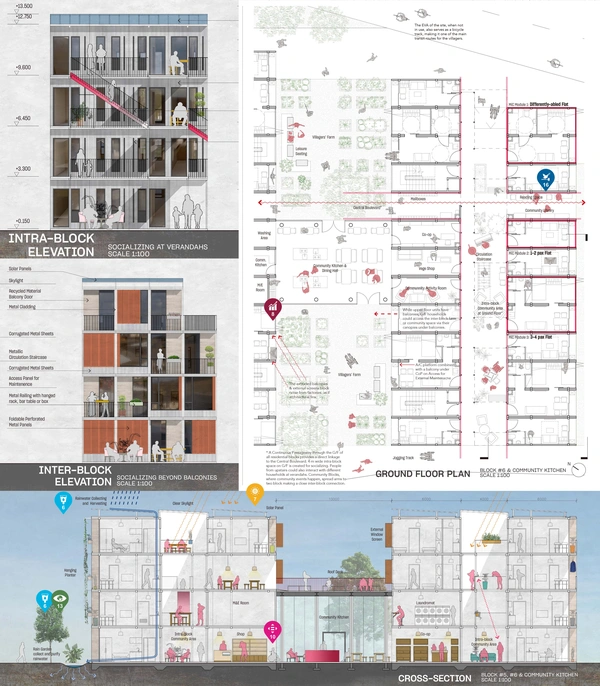 Ground Floor Plan
Intra-Block Elevation
Inter-Block Elevation
Cross Section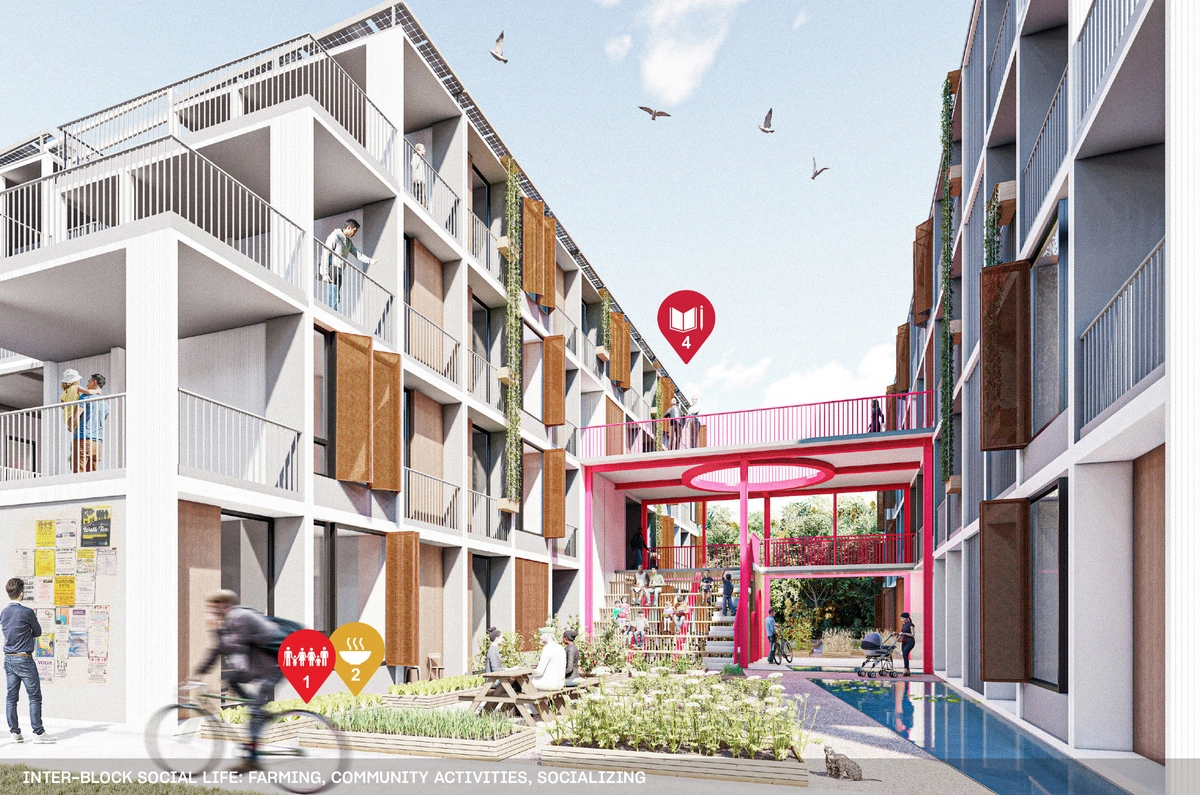 Inter-Block Social Life: Farming, Community Activities, Socializing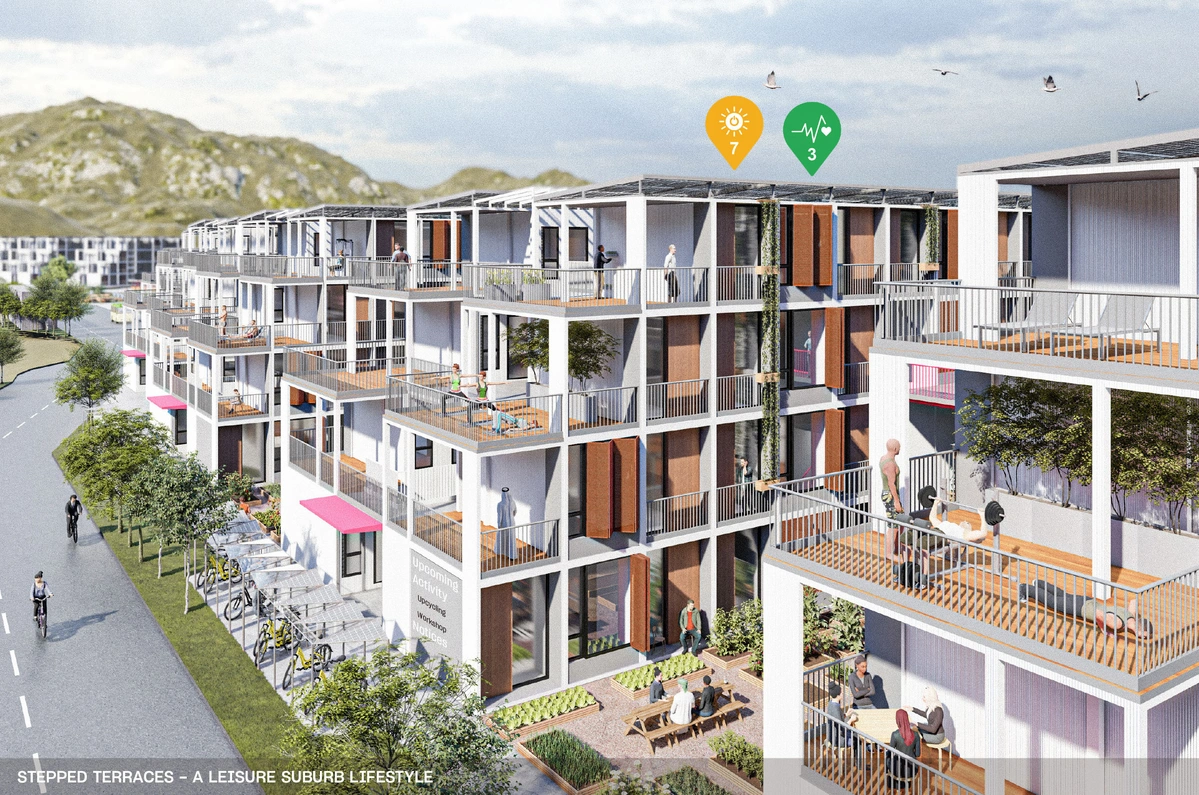 Stepped Terraces - A Leisure Suburb Lifestyle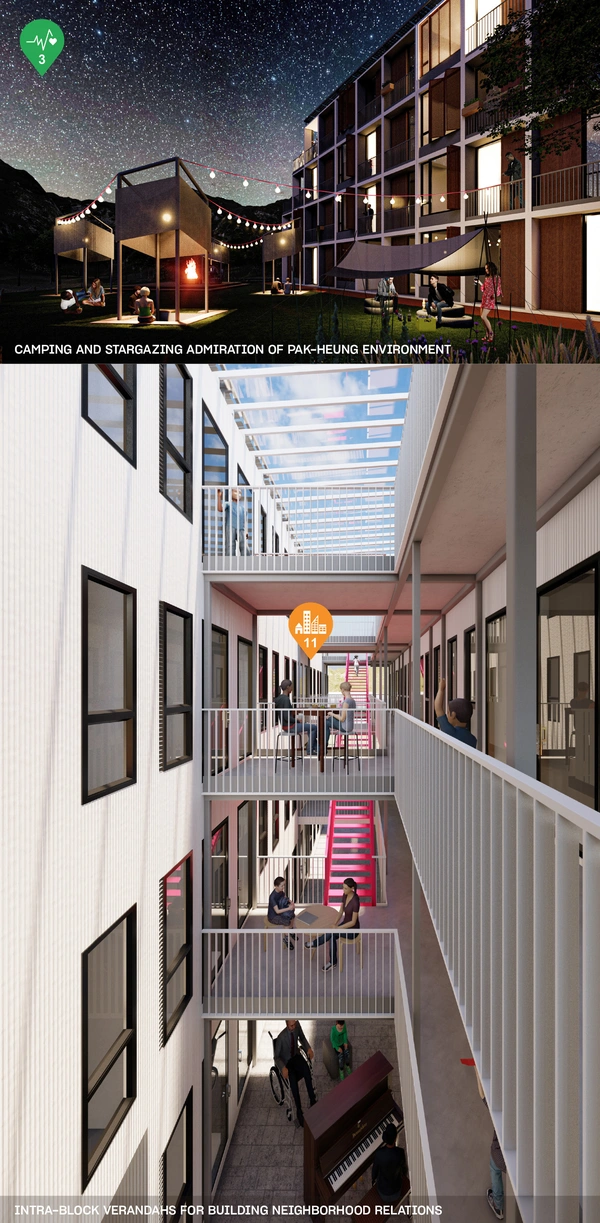 Camping and Stargazing, Admiration of Pak-Heung Environment
Intra-Block Verandahs for Building Neighbourfood Relations
Common Ground Design
Common Ground Design Ltd is an award-winning Architectural and Design Studio based in Hong Kong, providing solutions for urban planning, open spaces, community facilities and public art. Through continuous exploration and research, the extraction of inspiring and experimental elements, and the provision of aspiring, playful or metaphorical designs to the community, Common Ground Design hopes to expand possibilities through cross-disciplinary collaboration.
Co-founders Stefan Chui, Hung Kam Fai, and Vicky Kong have a wide spectrum of work that covers architecture, interior design, landscape design, land art and sculpture, installation art, urban planning, exhibition and curation, culture and craftsmanship, workshops, and the practices of sustainable living. The team's experience spans across Hong Kong, China, and Southeast Asia.

Architectural practice
Hong Kong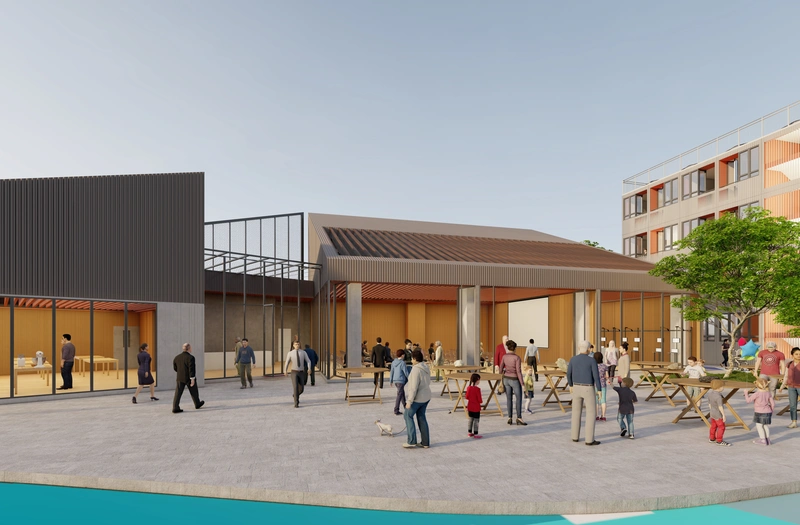 Community Kitchen, Reception Lobby and Assembly Hall, in an Affordable Housing Estate in Hong Kong. Detailed design in progress. Target completion in 2023.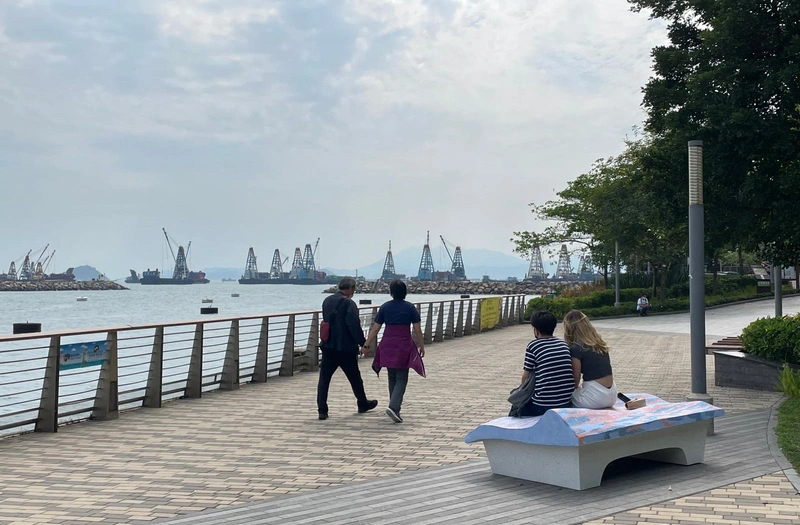 Artistic Terrazzo Public Furniture along the Harbourfront in Hong Kong.
Pattern mimicked reflections on waves during sunset. New terrazzo technique tested in collaboration with Factory. Completed in 2021.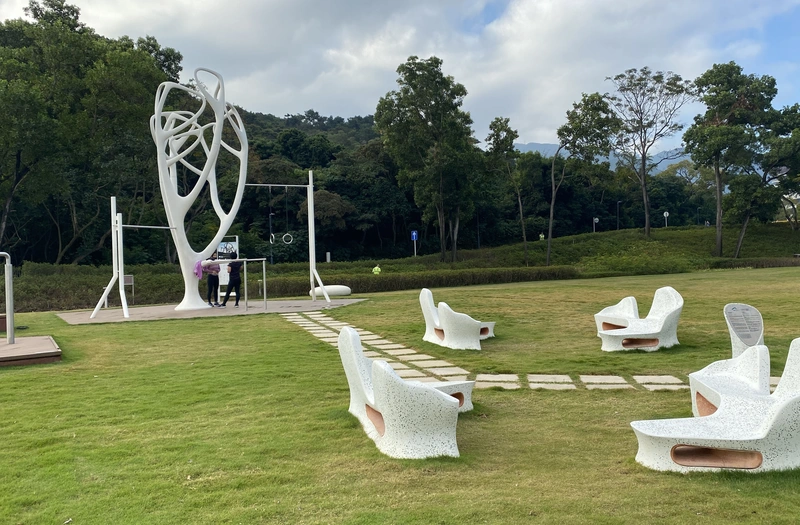 Artistic Terrazzo Public Furniture in Park Revamp at Historic Garden at Hong Kong International Airport.
Terrazzo is commonly found in old tenement buildings in Hong Kong, but is quickly vanishing due to redevelopments, along with the retirement of specialist artisans. It echoes the monuments displayed in the Historical Garden.