Transformation Through Diversity
Seattle, United States of America
Streets with (new) meaning
Social infrastructure
Rethinking processes and governance
Image: Our solution tackles the issue of growth by utilizing the combination of jurisdiction, streets and neighborhoods to promote human diversity that makes the world more habitable and humane.
Together we matter; diversity forges the communities that hold our collective power to accelerate change and elevate the quality of our environment.
Our social construct has been moving away from the elements that build and sustain great neighborhoods. Far too often, our place of birth determines our future. Opportunity is the dream of so many yet the reality of so few. Sadly, the pendulum of progress that led us to this moment was built on the highway and the car. Both represented newfound freedom, and the landscape of city living took a tectonic shift. Acre after acre of forest and farmland gave way to monocrops of homes, neighborhood after neighborhood, home after home no different from the last. As this type of development stretched to the horizon, problems began to mount; endless traffic, polluted air, polluted runoff, our mental and physical health suffered, and soon population sprawl and migration began to outpace our connection to each other, a sense of wellness, and respect for placemaking. At the pendulum's apex's precipice, we see development shift back to the city targeting the cheap neighborhoods first. These neighborhoods are filled with people long forgotten by the mainstream, full of hopes, dreams, and futures but pushed aside by those who are more fortunate. Replacing vast swaths of culture and heritage with monocrops of lifeless housing and redundant amenities. So, what do we do? Is this the type of world we want to live in? Where our progress trumps all other possibilities? Progress: We knock down existing cheap housing stock to be replaced with new expensive housing stock. Do we want to live in a world where opportunity is only available to those with the means to afford it? Or do we want to live in a world where being ourselves is enough, and we all have equal opportunities that make us human? What if we all had equal opportunity to live comfortably and with dignity, no matter our economic background? What if we all had equal opportunity to work, no matter our career? What if we all had equal opportunity to play, no matter our preference? What if we all had equal opportunities to nourish ourselves, no matter our location? What if we all had equal opportunity to learn, no matter our age? What if we all had equal opportunity to move, no matter our agility? These questions define the foundation for our solution, our fundamental human rights. From these rights, we can define our policies to be more inclusive of human diversity. From these rights, we can build our neighborhoods to better respond to the multiplicity of human demand. From these rights we can build a better world.
Impact
Our solution tackles the question of growth by identifying the elements for a comprehensive solution: Jurisdiction, Streets, Neighborhoods. In combination, these elements create an ecosystem that represents human diversity. As architects, we often think deeply about what a design looks like within a set of rules but rarely about how to change the rules. Our solution acknowledges the role of jurisdictions in the city making process and identifies where policy and design collide. Streets should reflect the diversity of human mobility (they are the portals between neighborhoods and culture) and better provide opportunities to connect to our surrounding city rather than only curate to cars. Neighborhoods are the incubators of community and culture and is where sustain our lives. Our neighborhoods directly reflect the diversity of the human condition, providing opportunities for everyone to live comfortably no matter their background.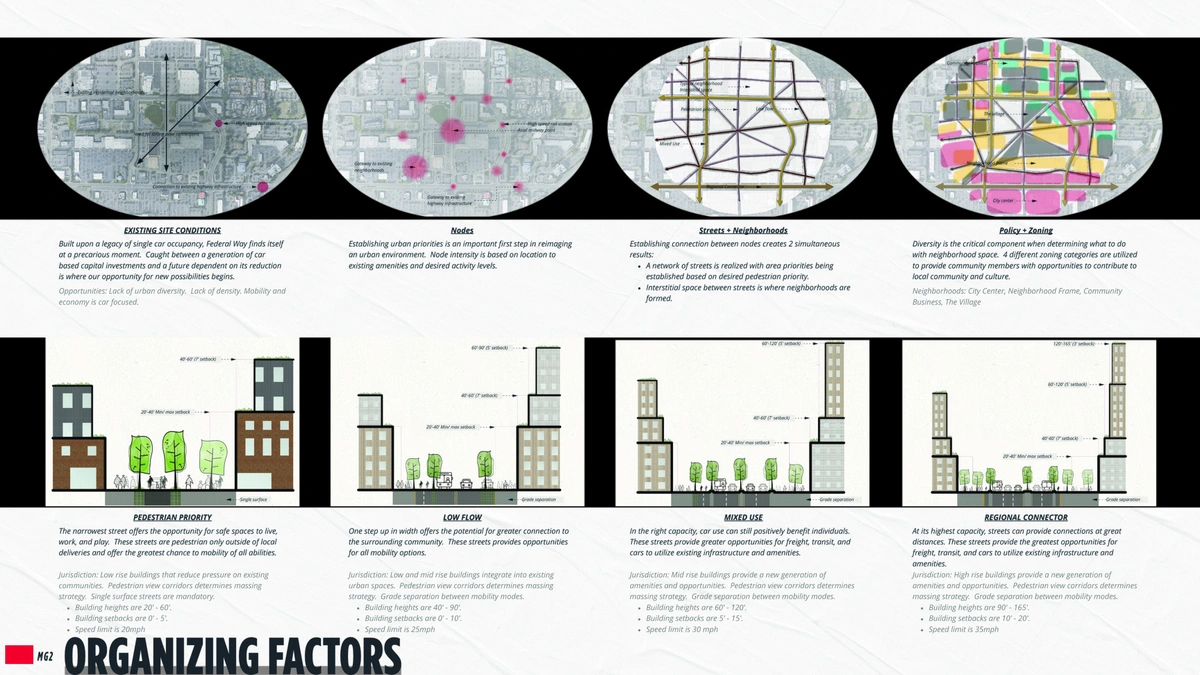 A process of extracting existing site conditions allows the ability to apply critical nodes. The connected nodes define the vastness of the streets and the residual space defines the neighborhood boundaries. The combination of street conditions, zoning priorities, and desired density define the neighborhood characteristics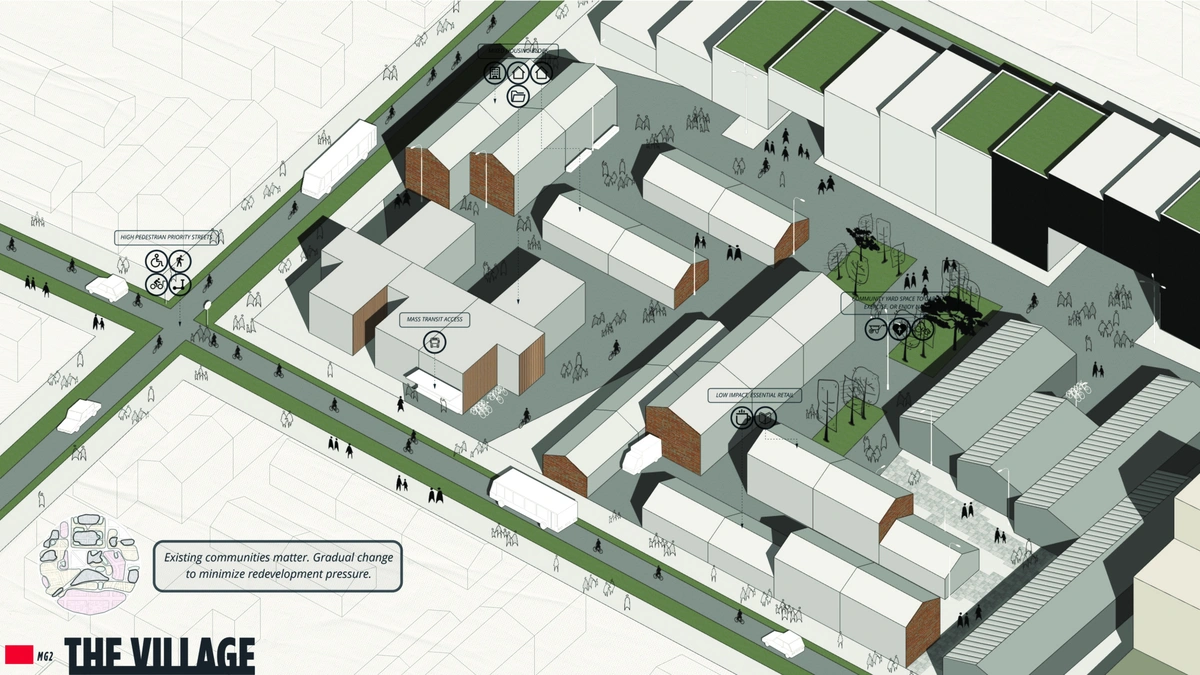 The Village neighborhood provides families of all shapes and sizes the space to grow and build community. Housing styles vary in size, density, and scale to provide the most opportunity diverse backgrounds. Existing residents matter, the architecture is defined by gradual change to reduce the pressures of gentrification and displacement of vulnerable communities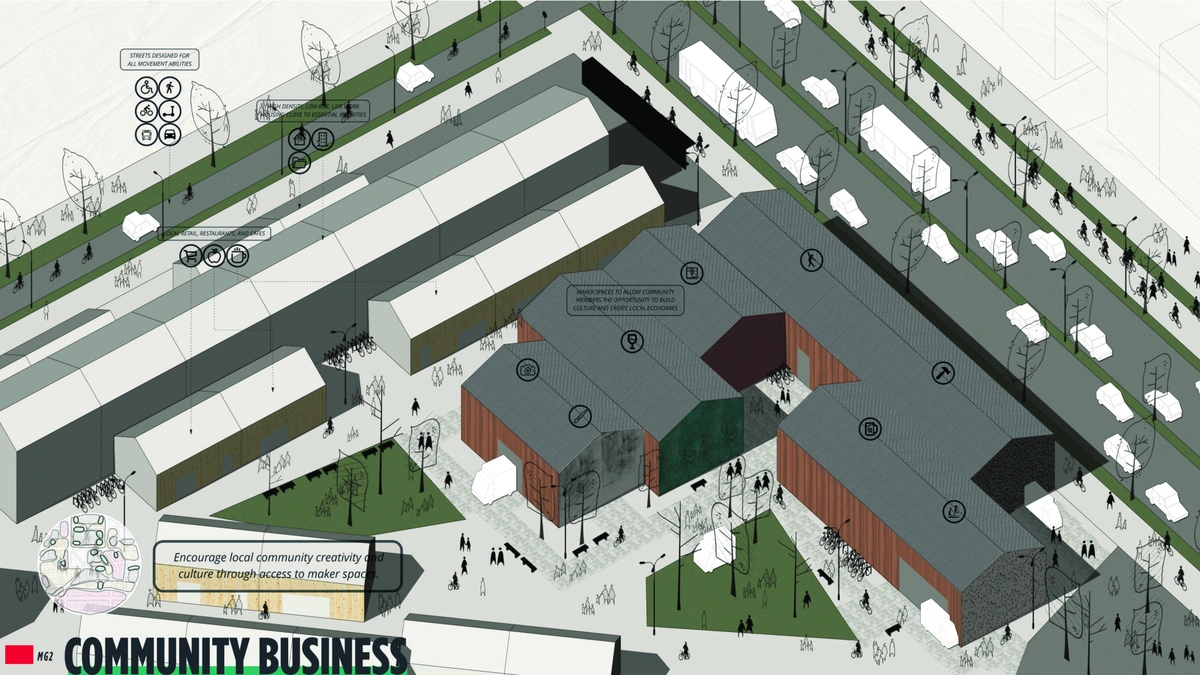 The Community Business neighborhood provides local opportunities for community members to create culture and build local economies. These spaces serve as the incubators of the city, its where innovation happens, expression takes place, and opportunities are realized. The architecture needs to be simple and agnostic, allowing humans to evolve the space to fit the diversity of human creativity.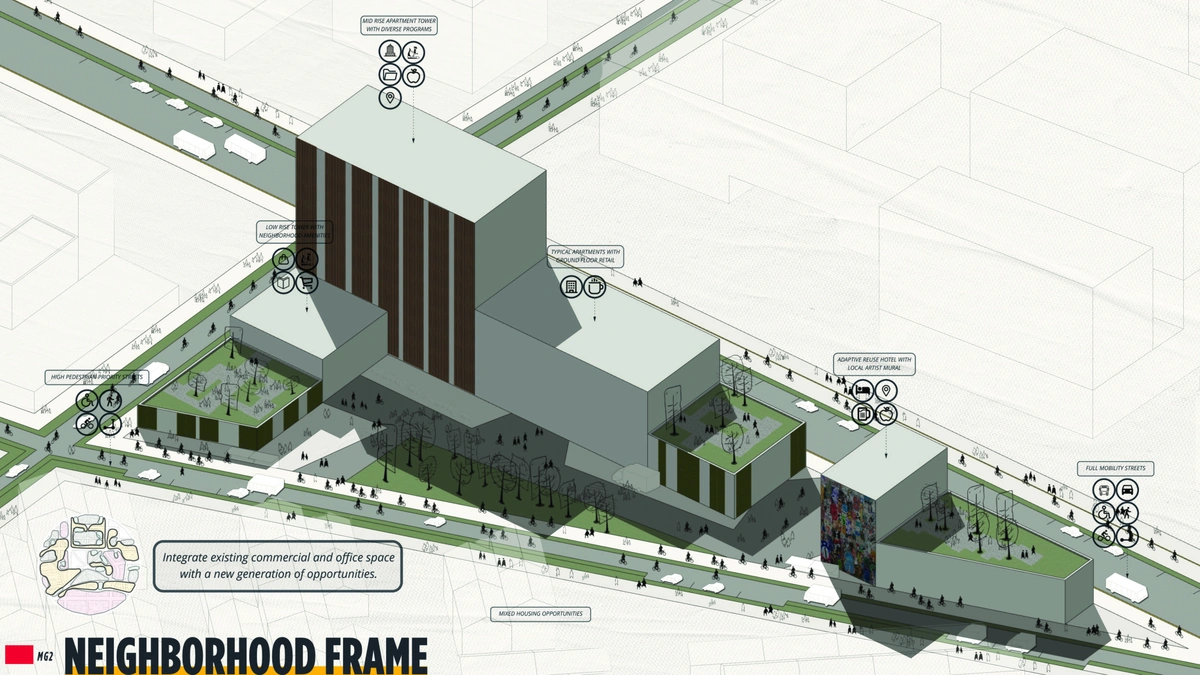 The Neighborhood Frame provides the city a chance to scale up and encourage density. Program and businesses provide the opportunity to integrate with existing brands, shops. The architecture is scaled in a way where a variety of densities are acknowledged to encourage diverse integration and the preservation of heritage spaces.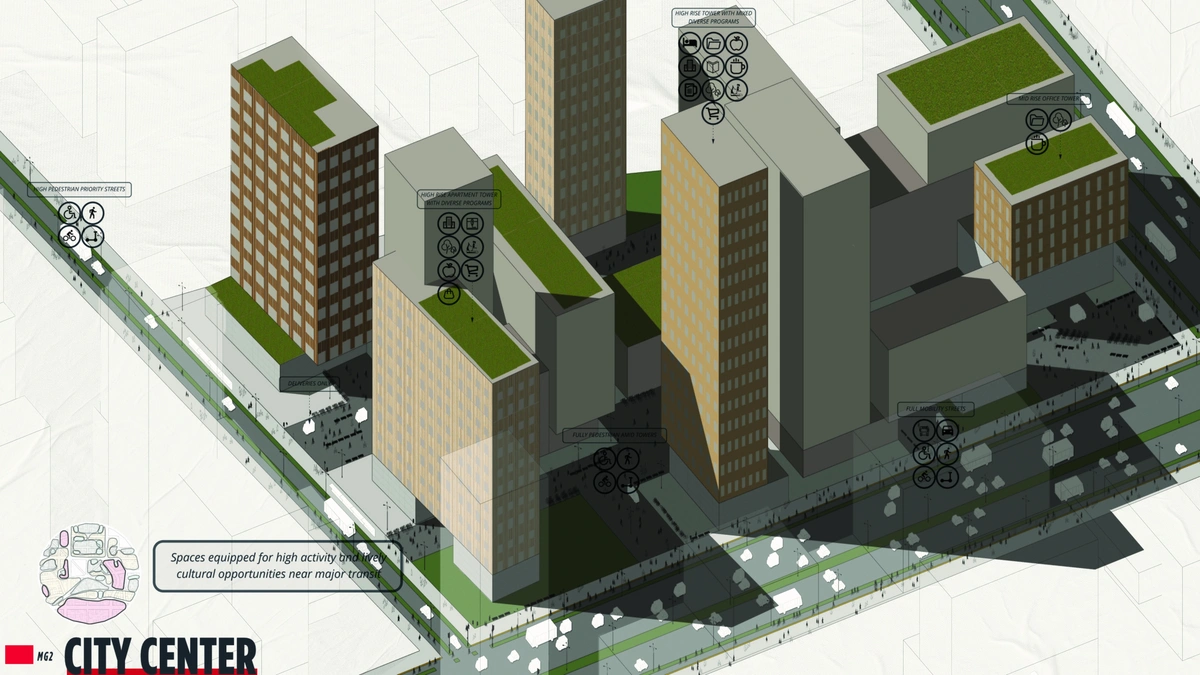 The City Center neighborhood provides the city spaces for high activity and lively public realms. High rise towers are nestled amongst a network of pedestrian only networks that provide a densely populated ground floor. These spaces are the economic powerhouses where people from all over the region can live, work, play, nourish, learn, and move.
MG2
The team involved has been a combination of MG2's Community Environments studio and Strategy and Innovation studio. Using existing ideas about neighborhoods and space making, the Strategy and Innovation studio further explored what it means to define and build resilient healthy communities.

Architectural practice
United States of America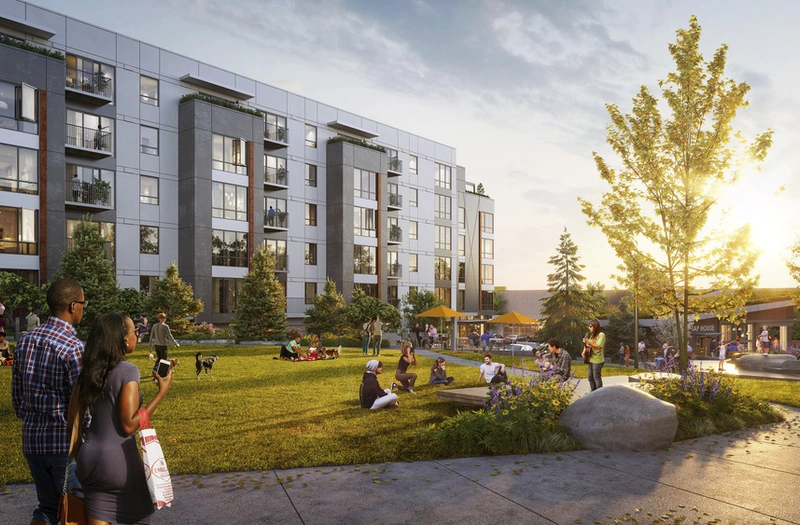 Crossroads in Bellevue, WA partnered with MG2 to evolve the urban-based shopping center into a sustainability-minded, multi-family community that leverages and seamlessly melds with nearby amenities. Designed as a community, not a commodity, Crossroads design incorporates a number of culturally-rich and thoughtful food options, as well as boutique retail space for brands to connect with residents and visitors alike in a highly socialized setting.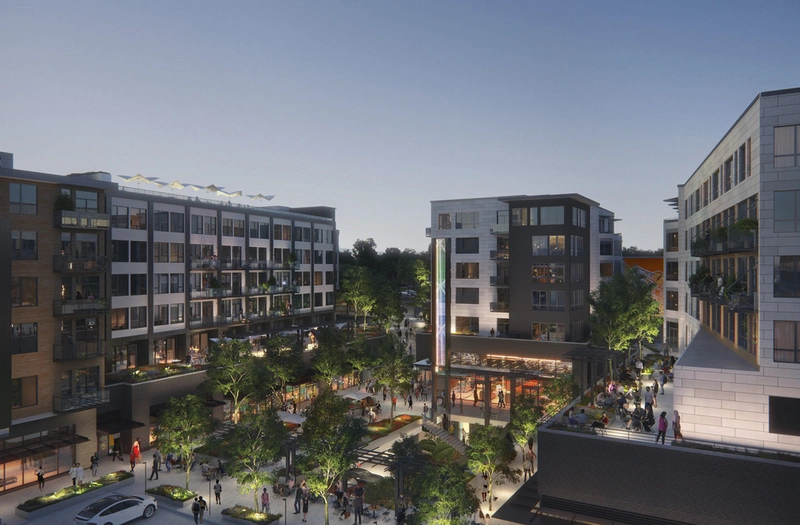 Madison Development Group partnered with MG2 to master plan, design, and develop Rose Hill: an innovative seven-acre multi-block, mixed-use community campus project situated near downtown Kirkland, WA. Bringing to life seven unique buildings connected by a walkable, pedestrian-centric courtyard experience, Rose Hill will play host to over 830 residential units, 84,200 sq/ft of retail and grocery space, and 1,049 parking stalls, creating a memorable destination for the entire city and beyond.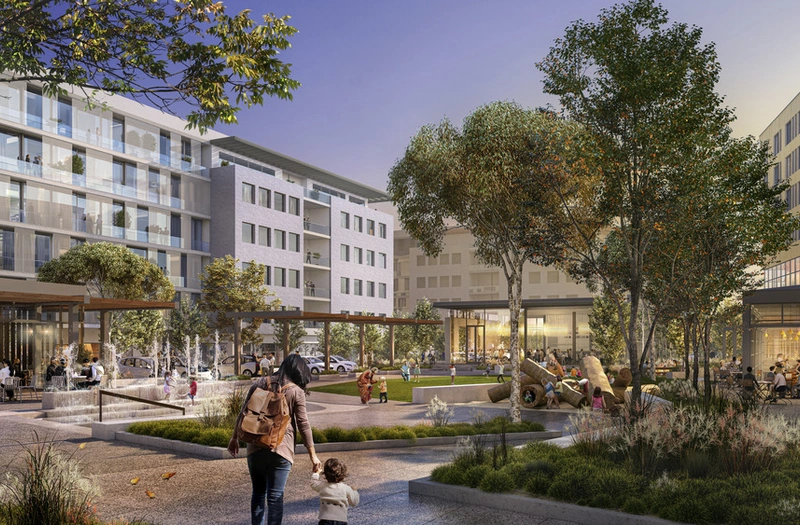 When Sears closed their doors, the Washington Square mall knew it was time for an innovative approach. Partnering with MG2, the shopping center sought a solution to bolster consumer traffic, revitalized the anchor position, and galvanized their customer base with fresh retail, restaurant, and entertainment options. The final piece of the puzzle would be a hotel, along with newly minted residential units surrounding an invigorated public park, completing the community, and binding it together.