Project
Ellinor Aurora Aasgaard and Veljko Marković
Lambertseterportalen
Oslo, Norway
Public plays
Social infrastructure
Image: Axonometric view of the sculpture in the center of neighbourhood public institutions; Credits: Veljko Marković
Lambertseterportalen is newly built interactive public sculpture installation located in the center of Lambertseterparken.
Lambertseterportalen is a public interactive sculpture by Norwegian artist Ellinor Aurora Aasgaard and German-Serbian architect Veljko Markovic. The sculpture was a winning proposal in a competition announced by Oslo Kommune, in collaboration with UKS, for art in public spaces and recreation areas associated with kindergartens in Oslo.
The sculpture is located in the center of the green public space Lambertseterparken, a park which connects many important public institutions for the neighborhood's younger residents, such as Lambertseter skole, Radiohuset barnehage og Lambertseter fritidsklubb. Similarly, the sculpture aims to create a meeting point and a crossroad between the different groups that frequent these institutions. The sculpture takes the shape of a pavilion. However, this is not your typical Pavillon where you can sit and bask in the sun. Rather, it is a revolving door that can be pushed and pulled in both directions. The revolving door is an architectural object that is familiar to the youth from their former meeting point; namely the nearby Lambertsetersenteret.
The main function of revolving doors are to let many people pass both in and out at the same time. Despite the fact that schools, kindergartens and youth clubs are also institutions that are expected to have a certain flow of people, we very rarely find revolving doors these places. These types of doors are only used in places the French anthropologist Marc Augé defined as non-places. Augé used the term to describe places as airports, highways and shopping malls in a super modern world. The non-places is often a kind of transit point, which is used to get from one place to another. These sites are anonymous and exist without history, identity and locality. Places like that are difficult for children to identify and identify themselves with.
With three revolving doors, the space of Lambertseterportalen is divided into three equal sections, in which every generation group is invited to claim their space. The handles of the door are designed and mounted in such a height that they are only suitable for one or the other group of youngsters. The youngest children will for example have to work collectively if they want the doors to move.
Our installation is located somewhere in between global and local, somewhere and nowhere, city and kindergarden, children and adults, art and playground, art and architecture, and at the same time seek to challenge these boundaries.
Impact
The structure of the revolving doors in the sculpture is supported by three other non-movable (fixed) doors. Not only do these doors hold the entire sculpture together from a static point of view, they also have the function of being public billboards. Each door have been handed over to a nearby institution (Skole, fritidsklubb and barnehage). Each of these institutions will have a key and can use the door to promote their events, publications, exhibitions, etc. Since the static doors are designed in the form of shelves, it is possible to place different formats from posters to books to drawings. Rotating in the center, one can always be informed about events that are happening in the neighborhood, without necessarily visiting the institution beforehand. We hope that this can not only foster a locality in the sculpture but also encourage more exchange, not only between different institutions but also among the different age groups that normally would not interact with each other.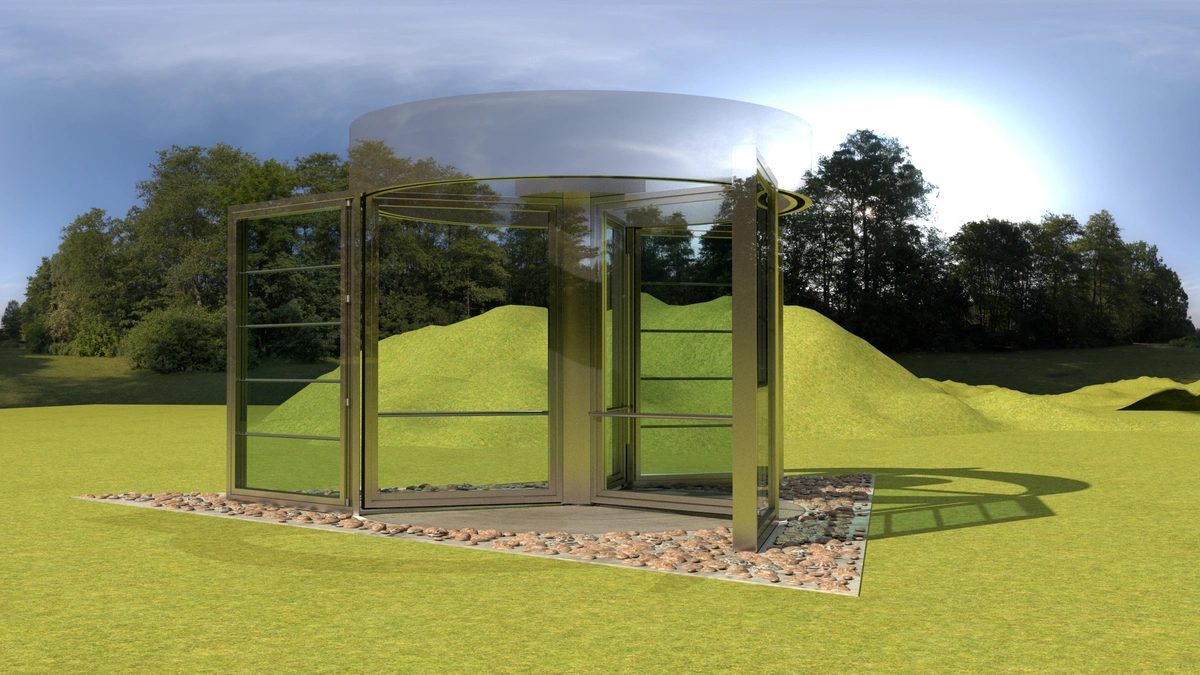 Rendering of the future sculpture. Expected realisation date April 2022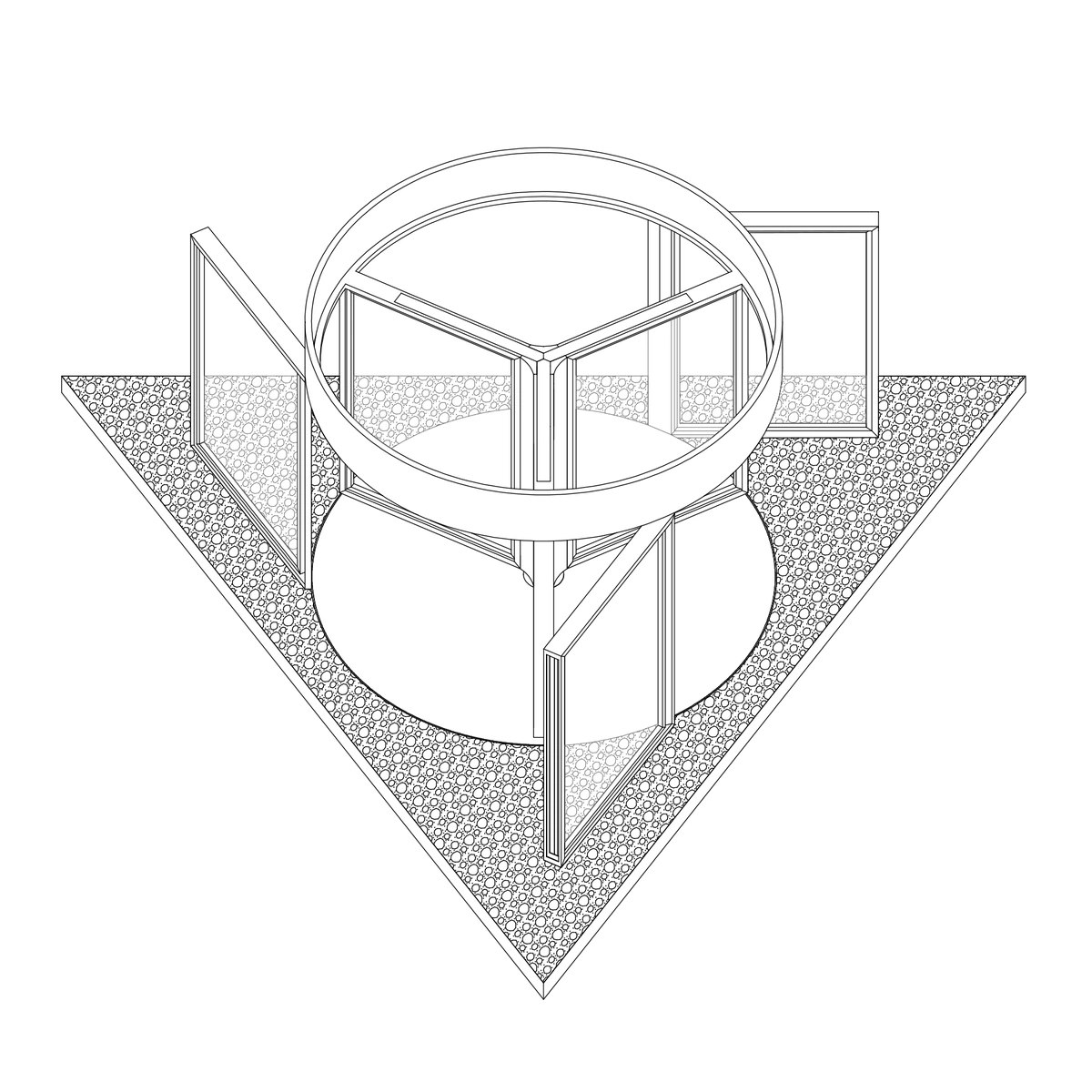 Ellinor Aurora Aasgaard and Veljko Marković
Centering on video, sculpture, and installation, Ellinor Aurora Aasgaard is a Norwegian artist interested in world building and storytelling. Her work analyses our social landscape, overcome with branding and consumerism, raising global issues such as ecological corruption and digital saturation with a cavalier, satirical energy. Her work been exhibited at several galleries and institutions, including: Norsk Billedhoggerforening (NO), Passerelle (FR), La Galleria Nazionale (IT), Yamamoto Gendai (JP), Longtang (CH), Overgaden (DK) and Sandy Brown (DE).
Veljko Markovic is a practicing architect based in Berlin. He currently is teaching at Faculty for Architecture, Technical University in Berlin as the chair for Urban Design and Urbanisation. His practical work and teaching focus on participatory practices and negotiation between public and private spaces. He is been working collaborative with other artists and architects as part of his practice.