El Terreno- Community Garden and Education Center
Mexico City, Mexico
Public plays
Social infrastructure
Naturehood – wilder and greener
Image: Ricardo de la Concha
A model of how education, sustainability and design merge to harvest a bright future that attend the needs of the community and our neighborhoods.
El Terreno is a community garden and educational centre that initiated during the Covid19 outbreack. The project is located in a hill rich with soil, minerals and stones allowing for an urban orchard to grow flowers, aromatic plants and vegetables. The origin of the project began when understanding that young kids had the need of maintaining social stimulation and simultaneously receive environmental education bringing them closer to the cycles of food production and sustainable living.
To be congruent with the project VERTEBRAL built a pavilion uniquely from recycled materials used in their previous constructions. For the firm it was important to achieve a 100% recyclable building but also a space built with materials, modules and units uniquely thought out through new processes for this particular project. "We focused on avoiding any predisposition in the users when entering this new space intended for plurality and versatility. A space that can only gain significance with the users' engagement to cultivating and share new ideas that point towards a healing environment." That's how the Mexico City–based architects describe El Terreno.
The multipurpose pavilion is inserted into the hill allowing for a gradual aperture towards the garden. Sections of iron rods were bent and welded into containing walls filled with stone found when excavating at the site. The roof is composed by wooden trusses that come from old concrete formwork. Through only four different modules all the trusses were assembles by volunteers from the local community. For VERTEBRAL it was important to generate a pavilion where anything could happen, "Spaces that are strictly defined rapidly become obsolete. By contrast, anonymous and ambiguous spaces are resilient and multi-faceted, allowing their significance and purpose to shift among users." That's how the Mexico City–based firm visualize the future of architecture.
El Terreno manages to become a garden that is economically stable by selling endemic plants and vegetables that are cultivated through educational programs and then sold to local stores. Water is captured through a system that starts on the green roof of the pavilion, goes through pipes thar are also the structural columns, and finally returned back to the orchard. The energy used is collected through solar panels and the waste from composting toilets become natural fertilizers for the garden.
Impact
As a team, Vertebral and Michelle Kalach, the founder of El Terreno quickly understood that COVID 19 outbreak was going to have a major negative impact in the neighborhood and the youngest community.
While everything was closing down, this project proposed to open up to the community and the neighbors to maintain human interaction and social awareness. Environmental education and new ways of learning were taught to young kids out side contained walls and between organic orchards.
The resilience and the vision of pushing forward with this project in a highly hermetic neighborhood under unprecedented situation makes El Terreno a successful case study of how architecture, landscaping and education have a critical responsibility when visualizing the future of our neighborhoods.
VERTEBRAL
Credits-
Sustainability- Michelle Kalach
Art Director- Fortuna Hanono
Structural engineer- Ricardo Gavira
Volunteers- Sara Bautista, Daniel Beltran, Erasto Beltran,
Photo- Ricardo de la Concha
Video- Arturo Arrieta
VERTEBRAL
Vertebral is an architecture and landscaping studio set inside a busy and complex city since 2016. This has influenced our practice entirely. We believe in the importance of craftsmanship, and extend our design to the most minuscule aspects of our projects. Architecture is about encounters between the inside and the outside.
Awards -
Silver Medal (First Place) - Tercera Bienal de Jóvenes Arquitectos 2019 -
​
Oscar Niemeyer Award for Latin American Architecture -
First Place - Premio Obras Cemex 2019-
First Place - AZ Awards 2021 - Social Good - (Canada)
​
Winner - 2021 - Architecture Masterprize (USA)
​
First Place - Firenze Entremuros 2021) -
Honorable Mention - CCA - Mexican Ministry of Culture
Architectural practice
Mexico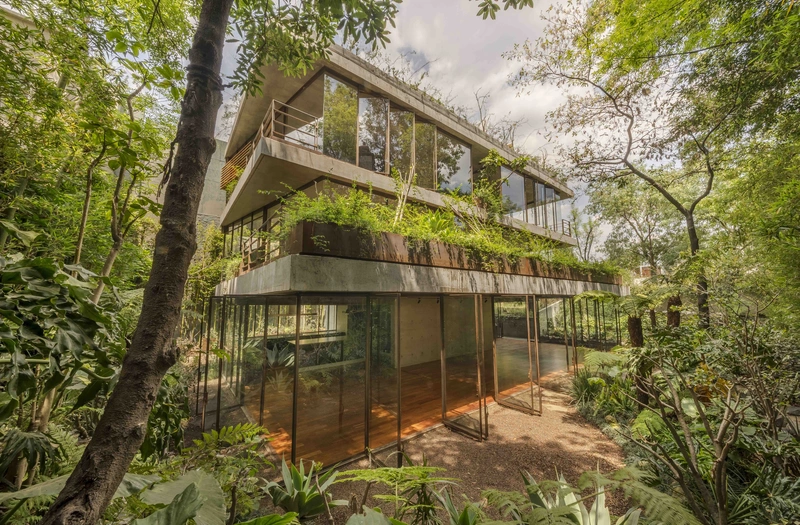 Casa Erasto, CEMEX International and national winner
2018
Casa Erasto redefines the idea of luxury. This means having access to tranquillity and to a vegetated landscape. Views curated to frame the surrounding nature creating a feeling of openness in an efficiently compact space. A parenthesis in a rushing city.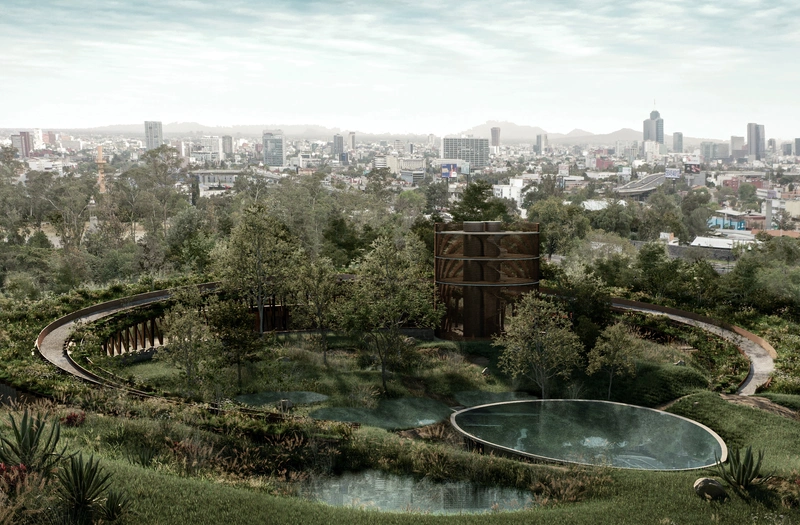 Chapultepec
Ethnobotanic Museum, Honorable Mention
2020
The Environmental Culture Centre is a controversial project proposed by Mexican government. For us it was hard to think of a big construction inside the park, we thought that the best idea would simply be to reforest the site. Understanding this was not an option we thought of a proposal that with a discrete gesture of lifting the forest over a long portico we could simultaneously reforest and have the ECC beneath.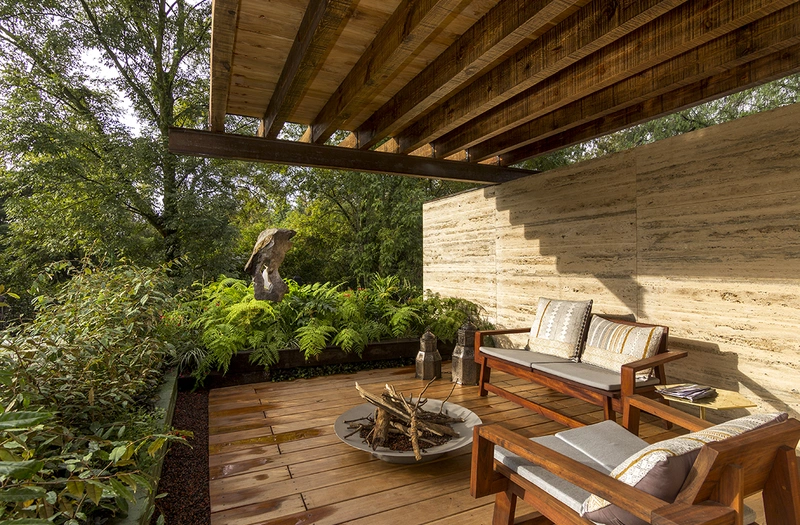 Design House
Pavilion and Sculptural Garden
Design Week Mexico
The challenge and duty of architecture goes beyond the creation of contained structures. We can generate space by demolishing walls, perforating structures and using materials that are alive. We understand the fifth façade as an underused space that has to be rescued and occupied in order to introduce new habits to urban living. We imagine cities that, when viewed from above, are a maze of habitable gardens.