Practice
Prospect Brixham / charlick + nicholson architects
Prospect Brixham: Our Data Our Place
Brixham, United Kingdom
Public plays
Ways of living, ways of sharing
Rethinking processes and governance
Image: Natasha Nicholson
A year-long pilot project for a place-based data trust for the benefit of the coastal community of Brixham, a fishing town in South West UK.
Digital data is in the air we breathe, invisible, ephemeral. Data, in its present and absent states, is the project's material. For data to activate a place and be of productive use to all corners of the community, it must exist beyond the spreadsheet and the screen, and outside the data store. It must take on properties of materiality, inclusion and accessibility to enable meaningful connection and engagement between people, data and place – Our data, Our place.
At the heart of Prospect Brixham is a data trust—an institution that manages data rights—it is a bottom-up organisation that will empower the community of the small fishing town of Brixham, Devon UK to exercise their data rights and support collective decision-making about how to deploy local data resources. Data can reinforce the link between people, their stories and the place they live.
Using the materials of open and personal data – the trust will be able to aggregate the anonymised data of its members - the pilot aims to create an evolving data ecosystem in the town building the community's capacity to use and share data securely in ways that benefit local people and organisations. Prospect Brixham will seed various data projects, including a Data Challenge competition and will run workshops and events with the community surrounding data.
The project has two main strands: an awareness campaign about data — what is it, how it is gathered, who owns it and how it can be used—and making the trust—empowering people through enabling them to exercise their data rights and using this to support real change on the public spaces, environments and lives of the inhabitants of Brixham. When the trust is activated the community will be able to gather and analyse data specific to their place and inform on the best ways to improve pre-existing challenges such as the future of the town centre car park, or the resilience of the coastline in the face of rising sea levels. A communication campaign will disseminate the project to the community throughout its different phases.
The data trust is a new kind of civic institution, an alternative model of engagement that offers a more diverse and inclusive form of governance. It is a community-owned entity run by participatory democratic processes; the purpose of which is to use data insights to support deliberative actions and a sense of co-ownership of projects that catalyse meaningful change in a place.
Impact
Our neighbourhood is Brixham - a coastal community with a population of approximately 17,000 with an aging demographic. Its main industries are fishing and tourism. It is a close-knit community but the quality of its natural environment often masks the social inequalities that exist within it.
Prospect Brixham is a pilot project which, if successful, could help lead the way toward a federated model of trusted institutions that give individuals and communities the ability to protect and control their data. The benefits of data use stay with the people and the place the data belongs to. The pilot will explore how data trusts can connect civic engagement and environmental stewardship in coastal communities. It aims to support deliberative processes and to catalyse meaningful change based on an evidence base of data and data insights from the land and the marine environment.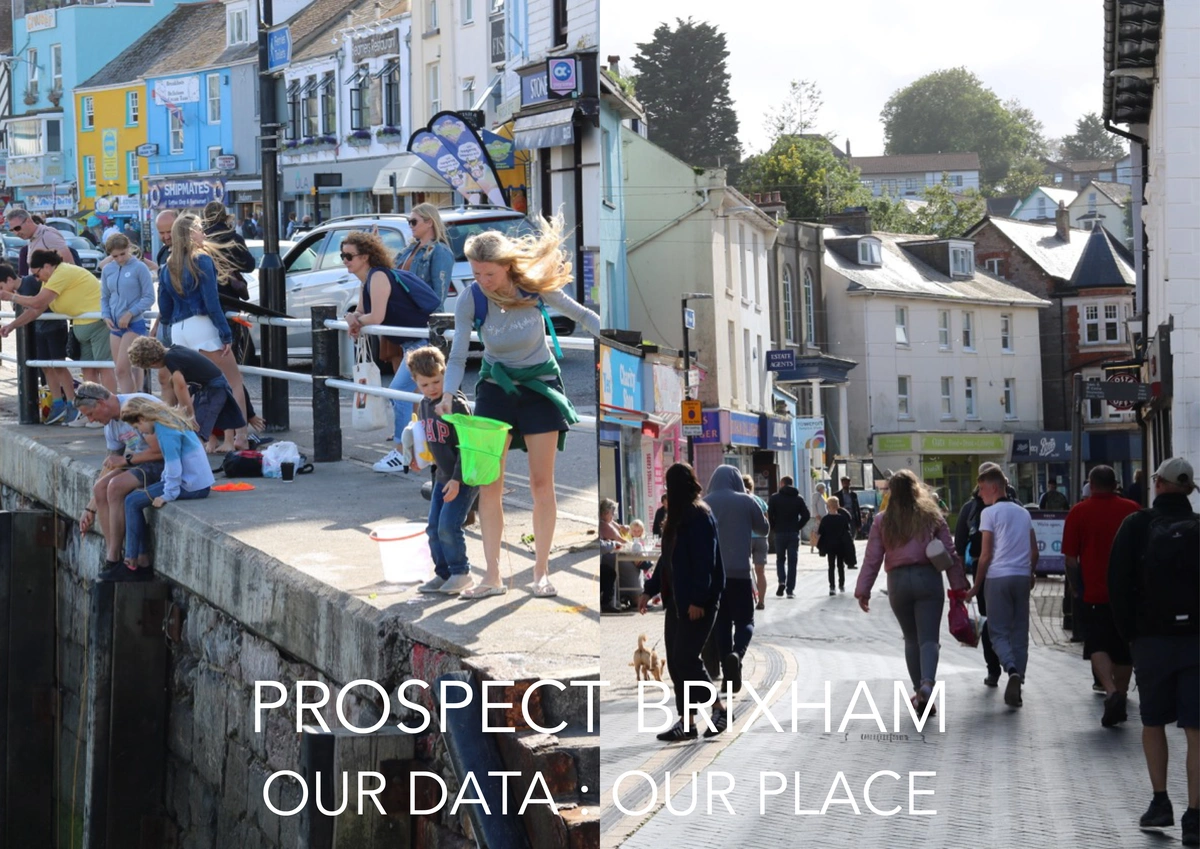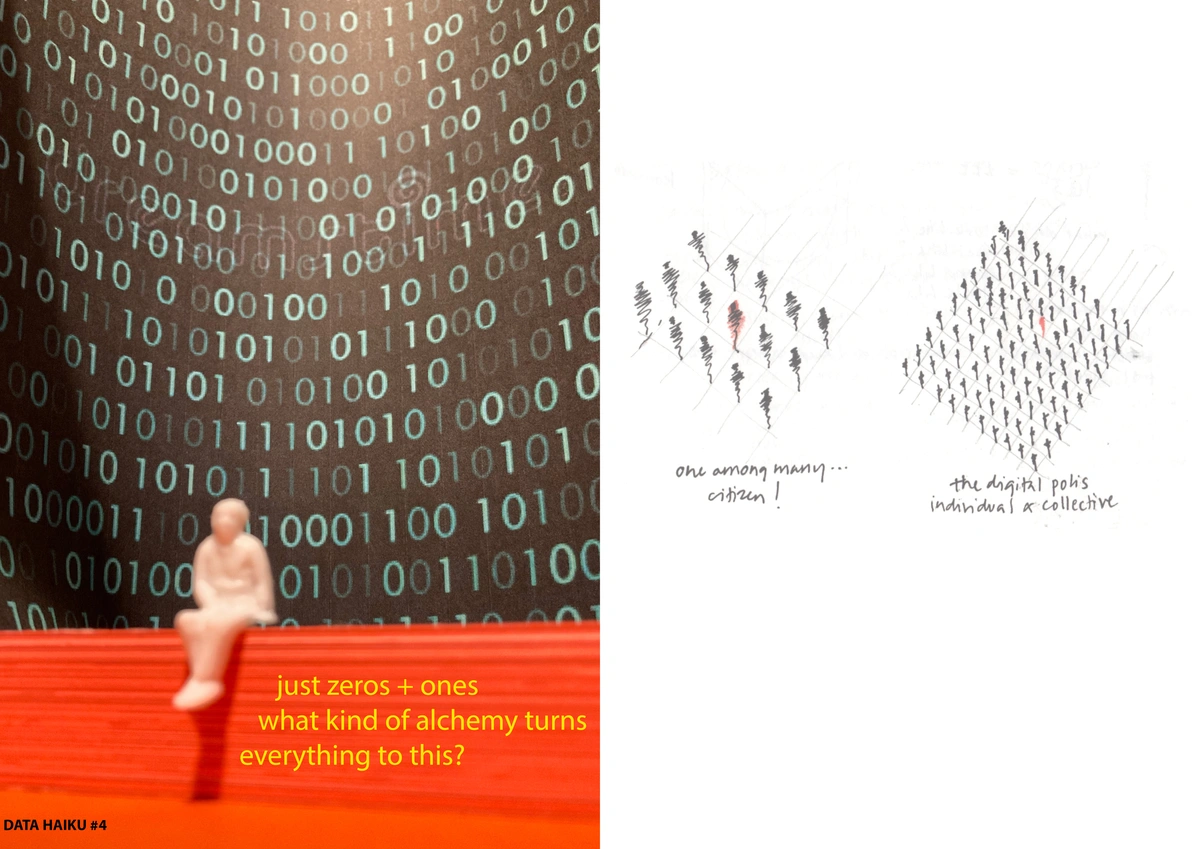 Data personal and the opportunities of collective insights and collective action.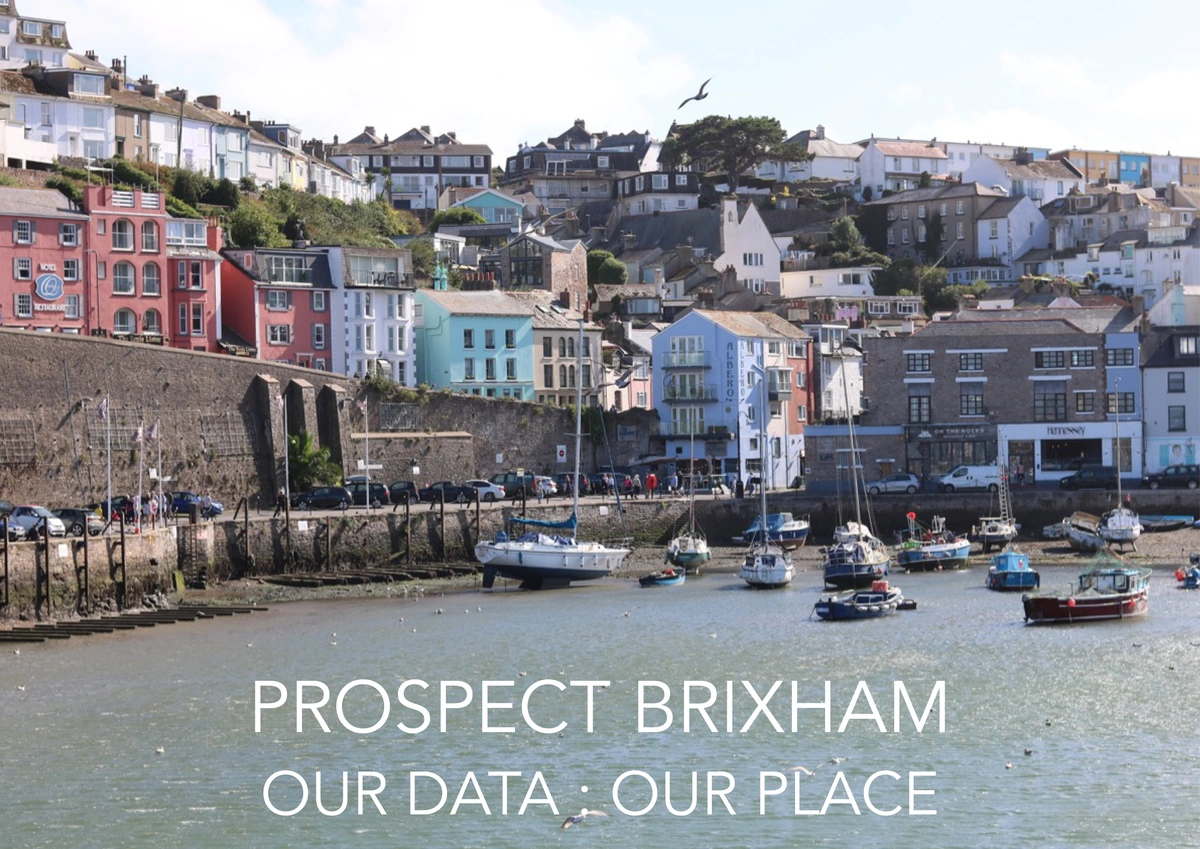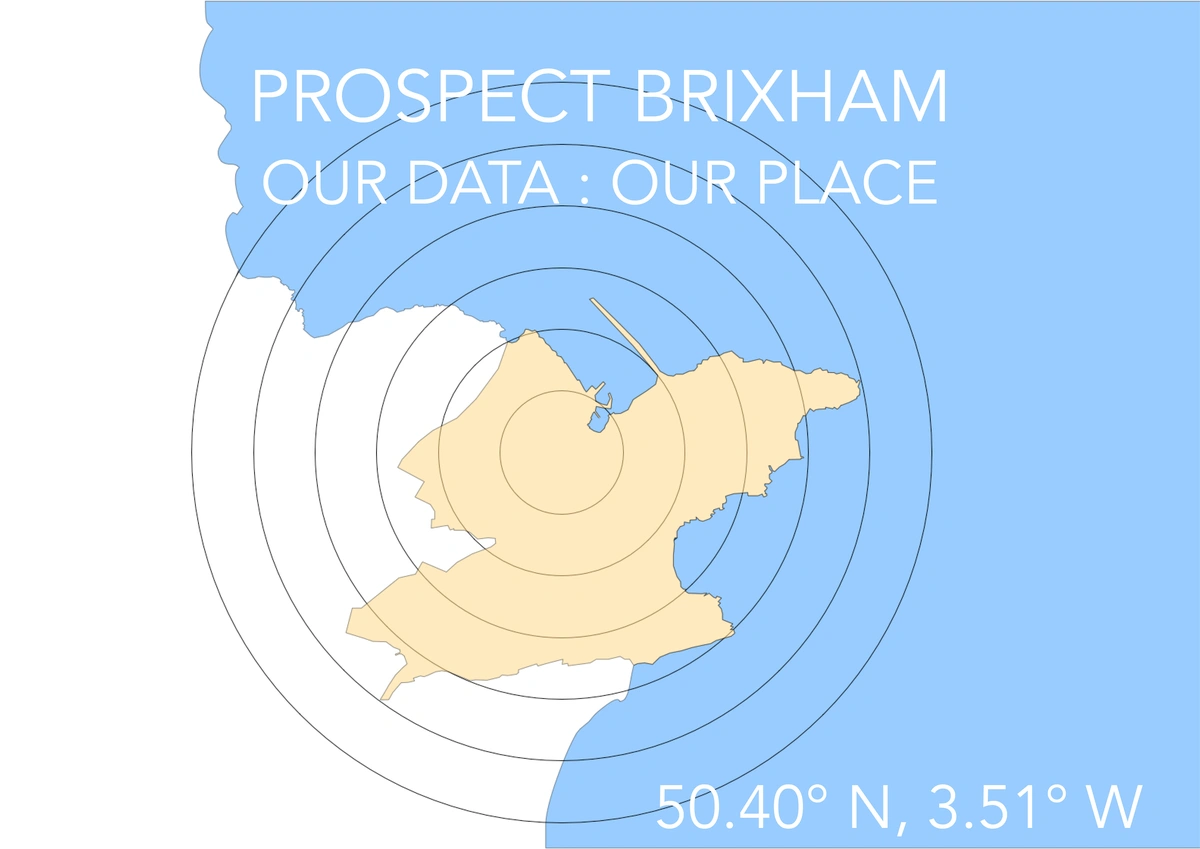 Location of the project. An exploration of place and environment, land and sea.
Prospect Brixham / charlick + nicholson architects
Natasha Nicholson and Pamela Charlick are UK based architects. Their practice, charlick+nicholson architects, is based in London and the south west of England.
Collaborators:
Mydex: social enterprise with a mission to empower citizens with their
own data, based in the UK
The Data Place: social enterprise helping people and places use data in order to thrive, based in Plymouth, UK
Mae Office: communications agency focused on architecture, design and the built environment based in Lisbon and the US
In-Col: graphic communications office, based in London, UK
Architectural practice; academic/research
United Kingdom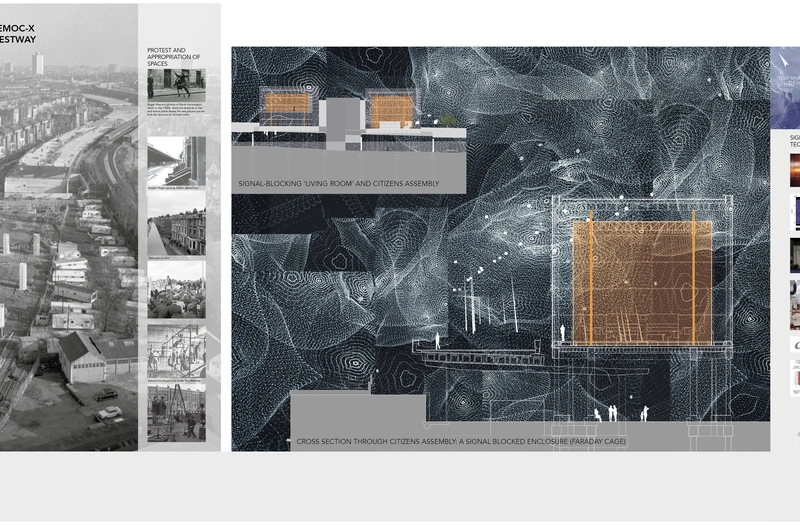 A project exploring signal blocking materials, and a signal-free citizens assembly, for
undistracted attention.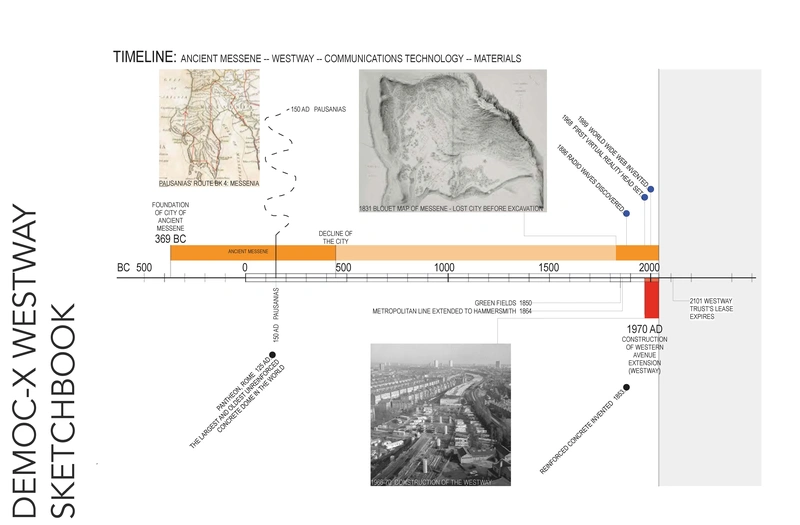 A timeline from Ancient Greeece to present day.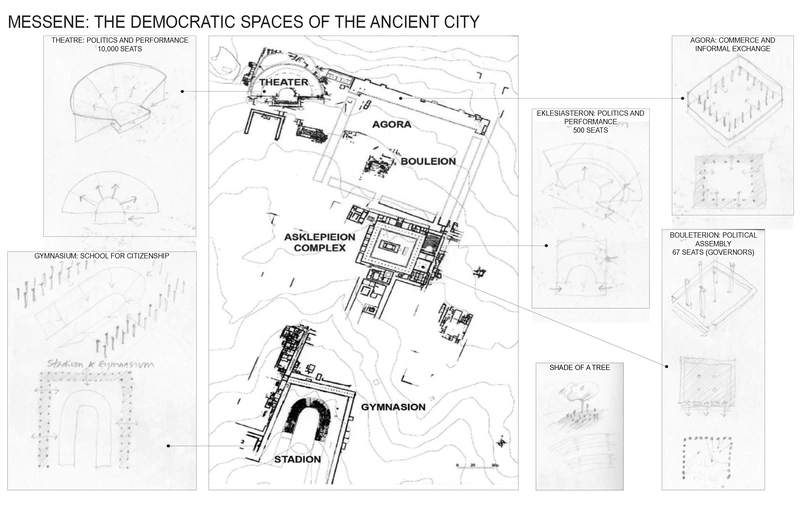 Exploring the shapes of democratic place in Anceint Messene, Greece.