Project
gruppeomp Architektengesellschaft mbH BDA Rastede, Bremen, Hannover
Pilot project "Herzkamp Bothfeld"
Hannover-Bothfeld, Germany
Streets with (new) meaning
Public plays
Social infrastructure
Image: Use of regional materials: red clinker brick and red steel balconies facing all directions; Photography: Caspar Sessler, Bremen: shortly after completion, November 2020
The project aims to build a residential quarter with the goal of climate-adapted, sustainable planning and construction in lively neighbourhoods.
The project aims to build a residential quarter in Hannover Bothfeld for all age groups and social classes, with the goal of climate-adapted, sustainable planning and construction in lively neighbourhoods. One of the central challenges for future building is a faster and more efficient realisation of building projects, cheaper, simpler and more robust building concepts. A concept is therefore proposed that does not envisage a revolution within the framework of a one-off lighthouse project, but rather develops an evolutionary approach that can be developed step by step via foreseeable, economic innovations in future projects.
Within the specified building plots of the development plan, five building volumes are proposed, which are oriented towards the L-shaped structures of the urban master plan, but in favor of a more efficient floor plan design and more compact volumes. The slightly sloping roof combines the interior qualities of a flat roof with the constructive advantage of simple rainwater drainage. The slight elevation of the ground floor by 50 cm above street level creates the privacy qualities of urban mezzanine floors in the near-natural neighbourhood. Between the houses are wide neighbourhood courtyards, which are frequented by the entrances to the southern houses and the balconies of the northern houses. To maintain privacy, entrances directly opposite each other are avoided.
Various flat sizes are proposed, ranging from one-room flats to five-room flats and shared flats. All flats are united by the arrangement of the central utility shafts at the development core and a flexible spatial layer that can be arranged beyond this (see structural pictograms). With the exception of small one- or two-bedroom flats, each flat is oriented towards two points of the compass and uses these for the different orientation of the communal and individual areas. Particularly large balconies with planting grids not only offer the quality of a private open space in an urban context, but are also understood as an enlargement of the living areas due to their size and roofing as well as optional curtain elements. The robust floor plan structure in conjunction with the gridded façade also allows for other forms of use such as day-care centres or office units.
Impact
On the basis of the project as part of the KlimaWohL cooperation between the City of Hannover, Department of Environment and City Greenery, Environmental Protection Division and the Gundlach GmbH, the climate adaptation strategies were tested by planners. The result was a "Hannover Model" for the development of a climate-resilient urban society, which has since been used for other projects in new housing construction and in the development of existing housing. The KlimaWohL guide is for all construction phases and is used in building processes nationwide. The KlimaWohL_Lab as a follow-up project is being used to test how the implemented climate adaptation measures affect the climate impacts as well as the well-being of the residents during utilisation and operation phases. The aim is to learn iteratively together with different groups what works, what should be changed and how this could be done. The measures are also considered in terms of their effects and/or cost efficiency.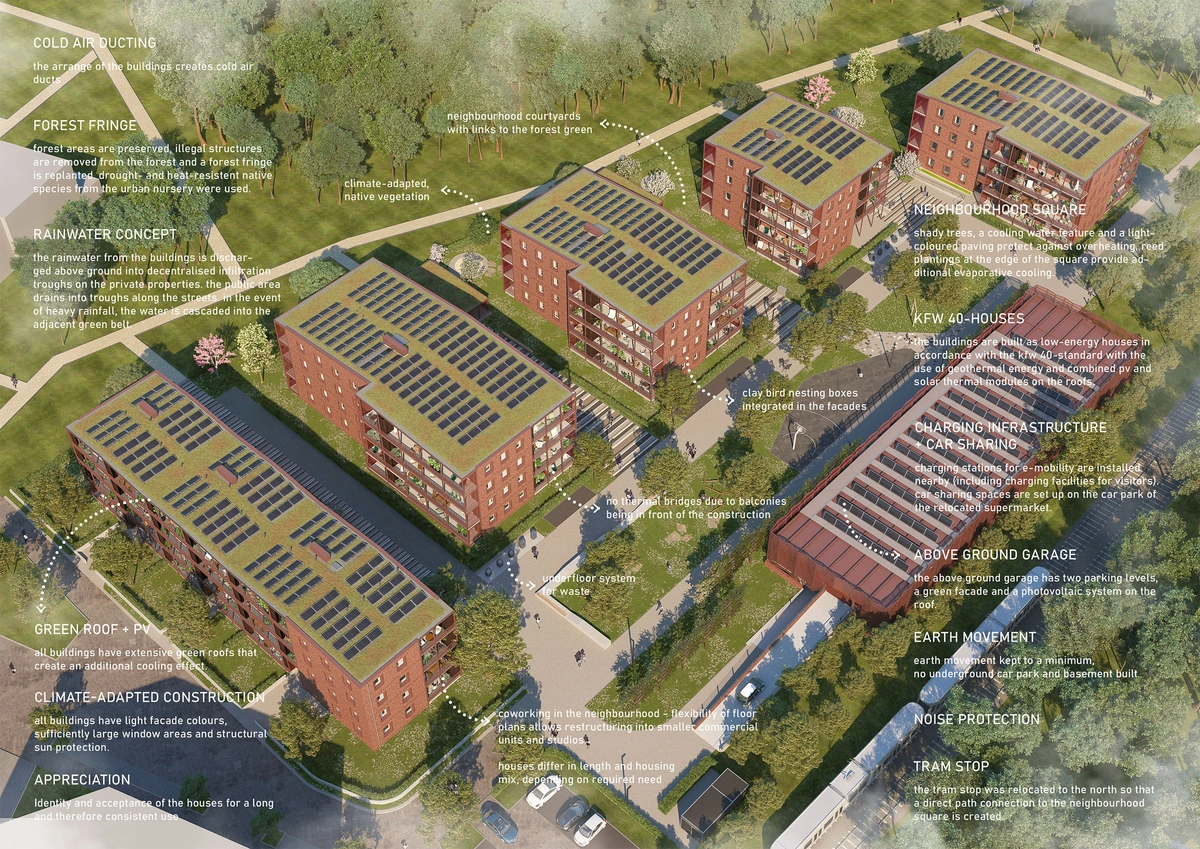 Overview of the planning area: five residential houses and an above ground garage
Visualisation: Homebase², Hannover, 2019
© gruppeomp Architektengesellschaft mbH BDA / Homebase²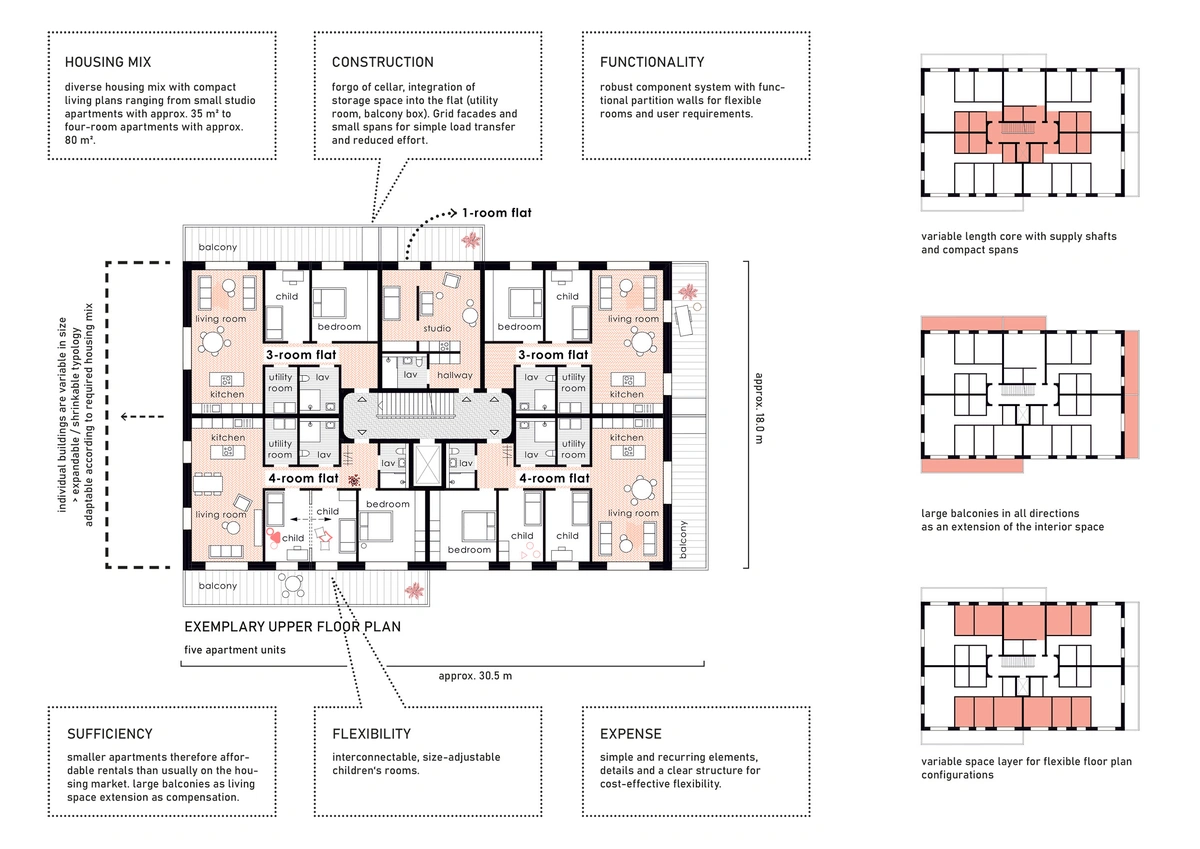 Exemplary structure diagram of a principle floor plan
The floor plans (and development cores) vary in their dimensioning and thus have a wide range and a differentiated housing mix that can respond to user requirements.
© gruppeomp Architektengesellschaft mbH BDA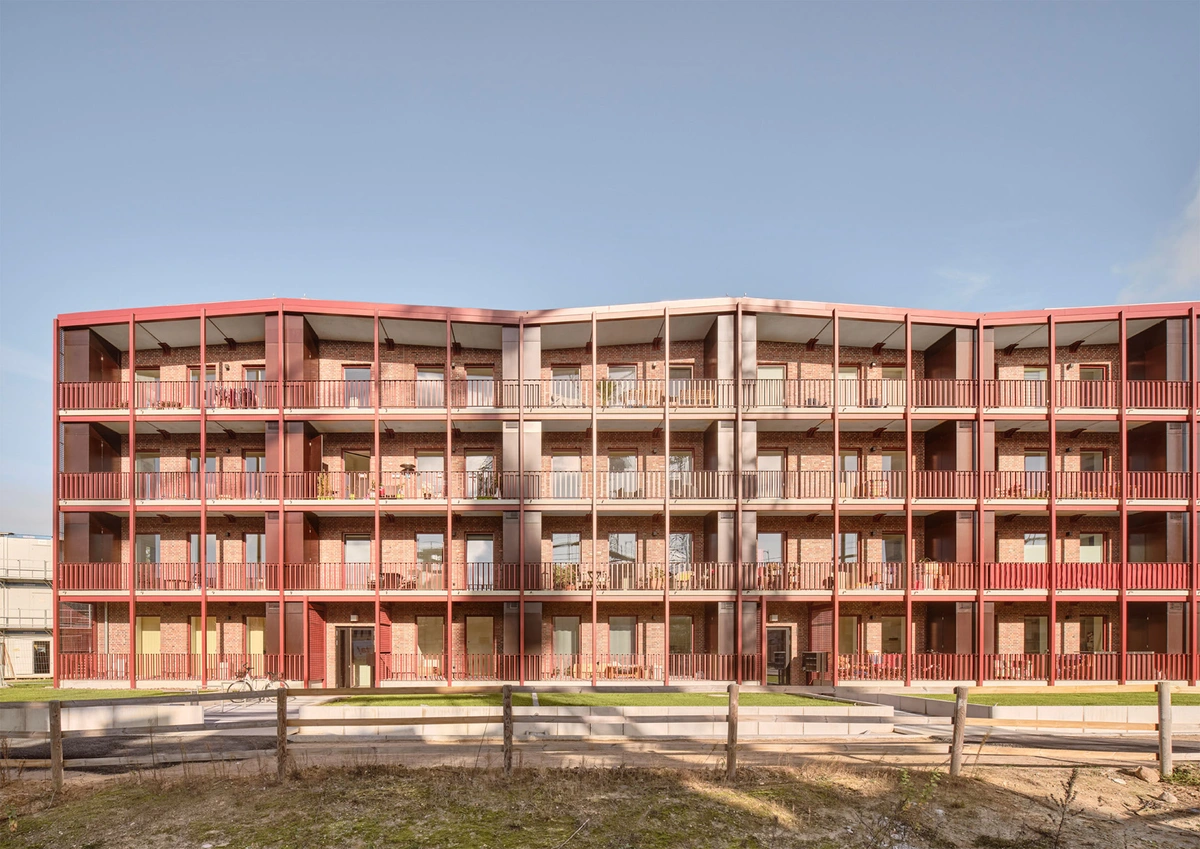 Spacious balconies along the facades as living space extension
Photography: Caspar Sessler, Bremen, shortly after completion, November 2020
© gruppeomp Architektengesellschaft mbH BDA / Caspar Sessler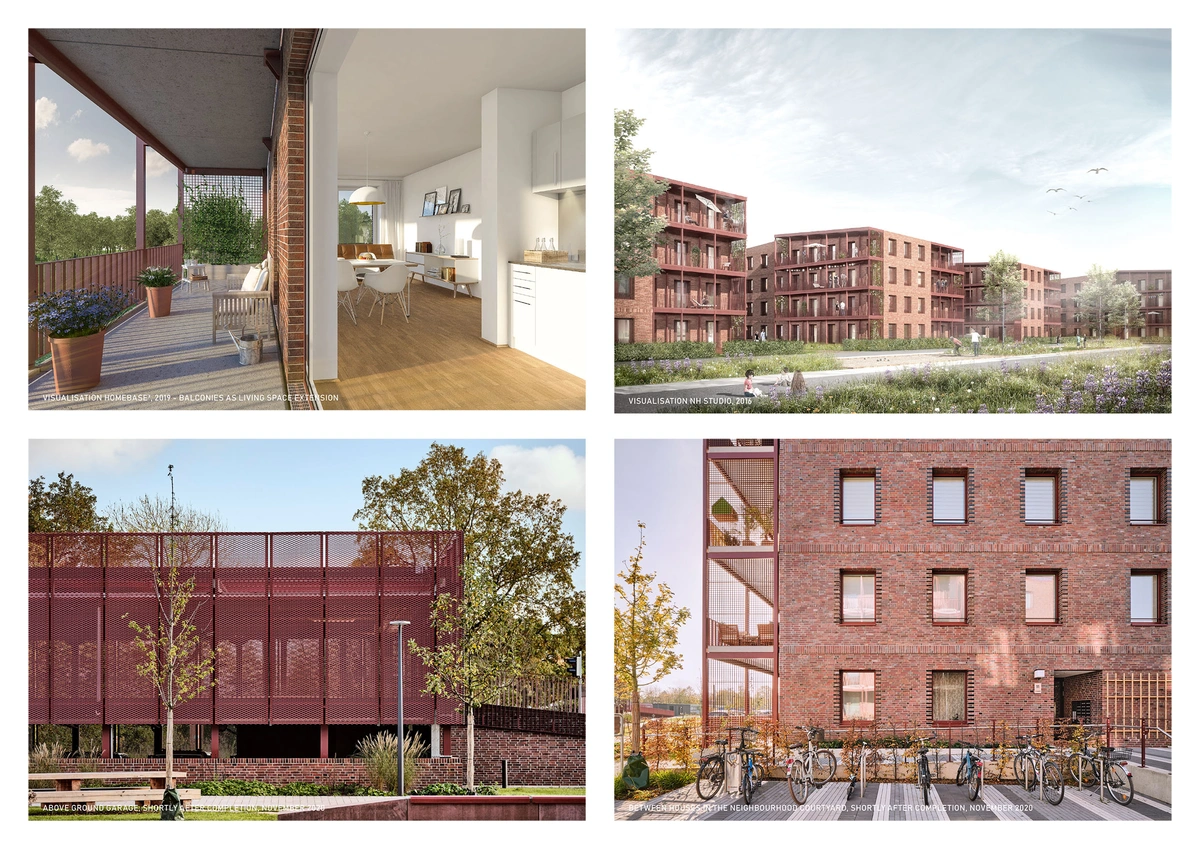 Impressions on site: From the competition in 2016 to the construction site in 2020
© gruppeomp Architektengesellschaft mbH BDA / Caspar Sessler / Homebase² / NH Studio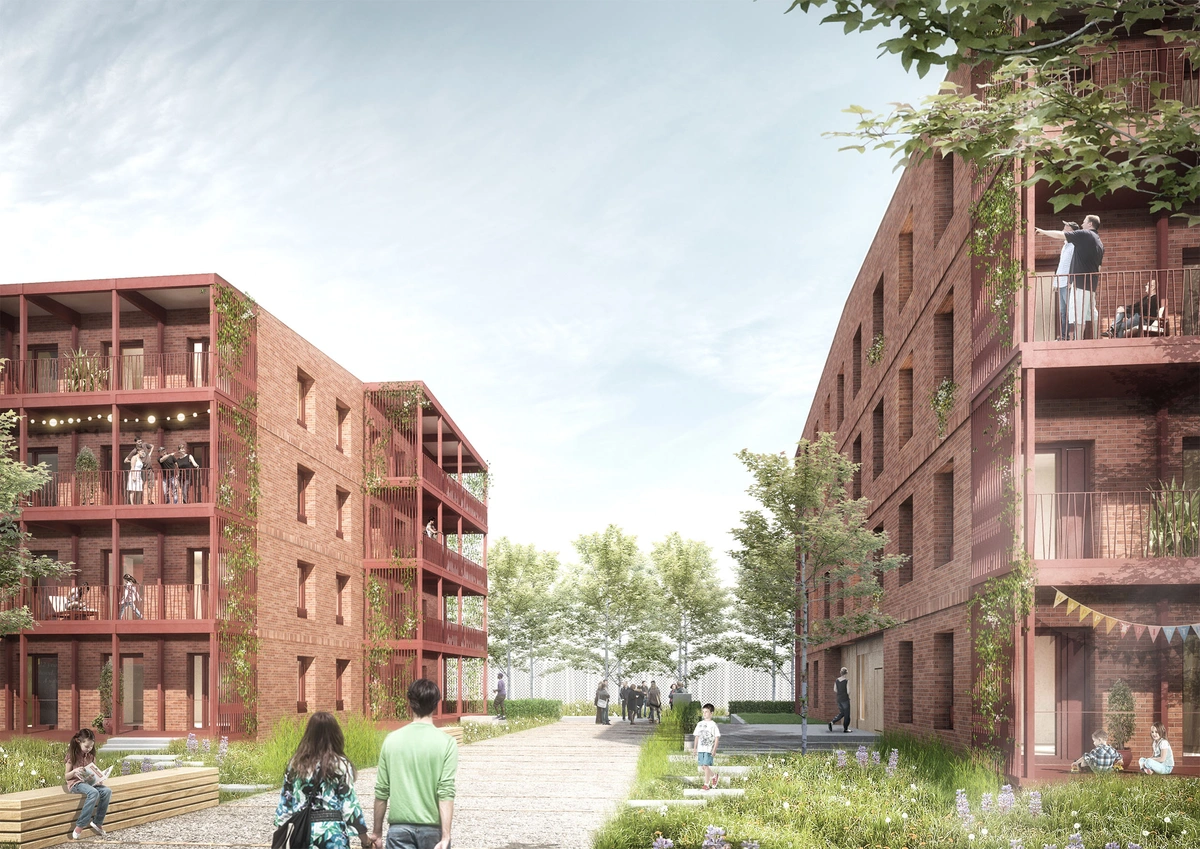 View between the houses into the green, communal neighbourhood courtyards
Visualisation: NH Studio, Hamburg, 2016
© gruppeomp Architektengesellschaft mbH BDA / NH Studio
gruppeomp Architektengesellschaft mbH BDA Rastede, Bremen, Hannover
Client: Gundlach GmbH Hannover
Architect: gruppeomp Architektengesellschaft mbH BDA, Hannover
Landscape architect: nsp landschaftsarchitekten stadtplaner PartGmbB, Hannover
TGA: iwb Ingenieurgesellschaft mbH, Magdeburg
structural engineering: BEYE Ingenieurbüro GmbH, Hameln
Building physics: Büro für Bauphysik – Stefan Horschler, Hannover
soundproofing: AiR GmbH, Hannover
rainwater conception: Ingenieurgemeinschaft agwa GmbH, Hannover
structural engineering parking deck: SUSG Ingenieurgesellschaft mbH, Hannover
Photography: Caspar Sessler, Bremen
Visualisation: NHSTUDIO, Hamburg / Homebase², Hannover
The project was funded by the German Federal Ministry for the Environment, Nature Conservation and Nuclear Safety as part of the funding priority "Municipal Lighthouse Projects and the Development of Local and Regional Coopera-tion" in the period from March 2016 to May 2019. Further information on the project and its current status can be found at www.klimawohl.net.

Architectural practice
Germany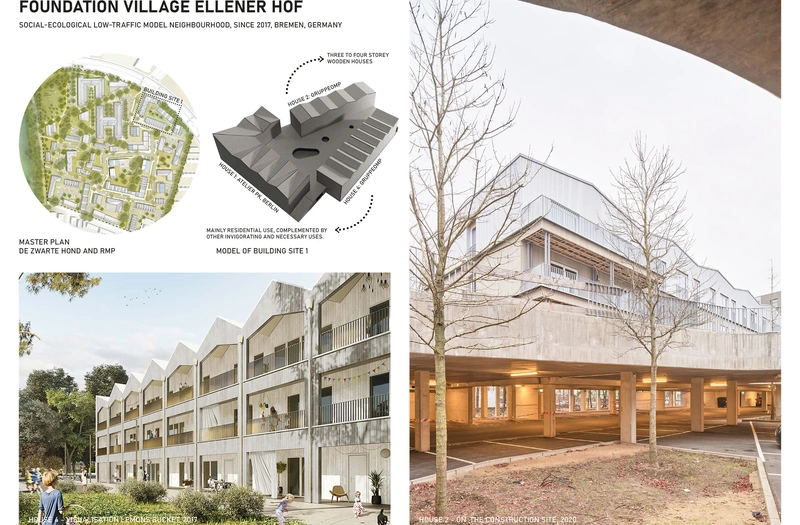 Foundation Village Ellener Hof, project, in construction since 2019
Ellener Hof is a social-ecological low-traffic model neighbourhood. Sustainable, three- to four-storey wooden houses nestled in green surroundings are being built on the site. The main use is residential, complemented by other invigorating and necessary uses.
© gruppeomp Architektengesellschaft mbH BDA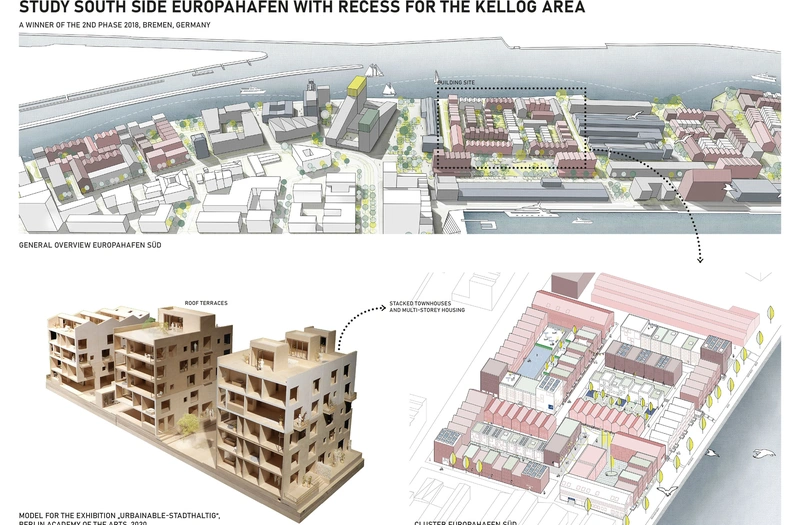 South Side Europahafen , competition and study, 2018
A relevant part of Bremen's identity as a Hanseatic city was and is written on the areas of the port industry. In a two-stage competition, new concepts were sought for the approx. 40-hectare areas. Two teams were selected for the urban planning: SMAQ with Man Made Land Landscape Architects and gruppeomp with nsp Landscape Architects.
© gruppeomp Architektengesellschaft mbH BDA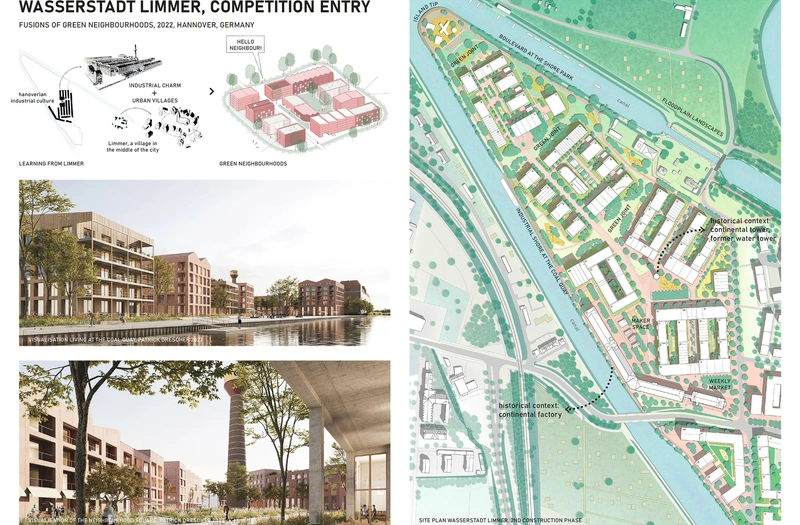 Wasserstadt Limmer, competition entry, 2022
The competition entry for the 2nd construction phase as a non-open, single-phase, urban and open space planning, cooperative expert procedure was developed in collaboration with urbanegestalt and ARGUS. The concept aims to reinterpret the human scale of village structures, urban density and the industrial use that characterizes the location to create new, green neighbourhoods.
© gruppeomp Architektengesellschaft mbH BDA / urbanegestalt / ARGUS