Practice
Vriksha Foundation
Creating network of green spaces - one park at a time!
Kathmandu Valley, Nepal
Public plays
Naturehood – wilder and greener
Rethinking processes and governance
Image: Self.
We aspire to impact policies, disciplines, hearts & minds by exemplifying vibrant green spaces, striving for ecological restoration.
We want to create urban parks thereby linking safe and imaginative access to green spaces. With the network of open spaces from neighborhood scale pocket parks to community parks, green river networks to the regional parks, the necklace of these green plots provide biodiversity with urban regeneration and native species conservation. With this vision, we also strive to bring the disconnected urban dwellers close to nature and lead changes in the way we design, think and act.
Community engagement is at the core of our practice. With the support of the Mayor of Lalitpur, we acquired the public land for piloting a pocket park. Many people who visited this place acutely felt the lack of green spaces in their neighborhood. This tactical project helped to advance our work in Lalitpur city. Amidst constraints and frequent interruptions, we recently implemented 4 more green projects We intervened with the urgency for the green recovery and the quality of the livable city. We are essentially revamping those spaces that were built carelessly and left abandoned. So all of these interventions were done to avoid the repetition of past mistakes and reduce the environmental damages and possibly reverse the decline.
Vriksha is rooted in the concept of a wood-wide web that networks and supports solutions-driven ecological initiatives as one cohesive system. One person/discipline cannot make sense of complex situations. We integrate Art, Research, Landscape – Architecture, Urban planning, science, and technology as a mosaic of environmental action to build informed urban design solutions. We work closely with architects, filmmakers, journalists, anthropologists, urbanists, technologists, naturalists, archivists, scientists, environmental designers, farmers, green-thinking politicians who are motivated by ethics, learning, and action.
We are still in the process of taking the principles and our visions forward. It is a work in progress to truly achieve the vision. It is a long-term goal – a work in progress.
We continue to identify public lands and report about their current status with proposed intervention. We are resolute to institutionalize evidence-based principles, standards of open spaces planning, and guidelines for the development and management of different categories of open spaces that will aid in the urban planning.
Impact
The concept of parks planned by local governments is failing massively due to the lack of vision, false solutions. It intensifies the urban problems instead of solving them. tried our best to revise problematic designs but they were hastily considered overspending a hefty amount. There are no thoughtful deliberations, accountability, and transparency in public impact projects.
The city administrators don't recognize the dynamics of place-making and the need for a transdisciplinary approach for the same. The decisions are heavily one-sided that exclude community involvement. Similarly, they were set to finalize 7 more park projects. We not only criticized the outdated models but presented alternatives. We responsibly teamed up to overcome the status quo.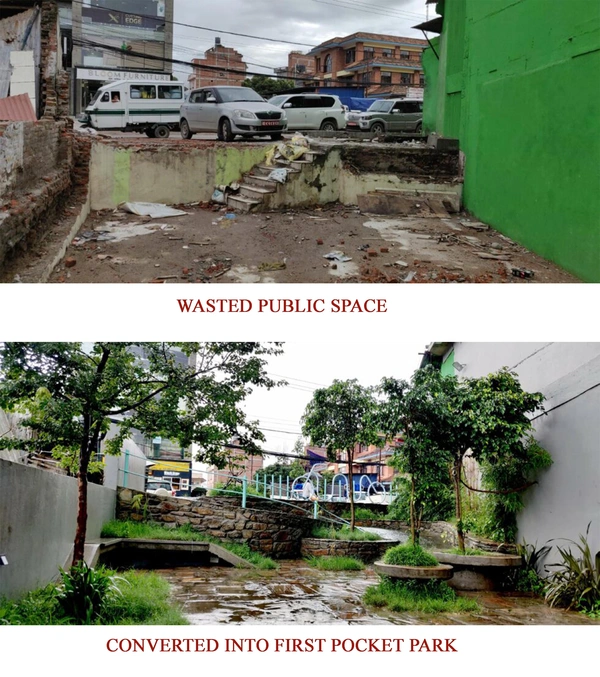 First pocket park in the neighbourhood - justifying functional transition and creating aesthetics.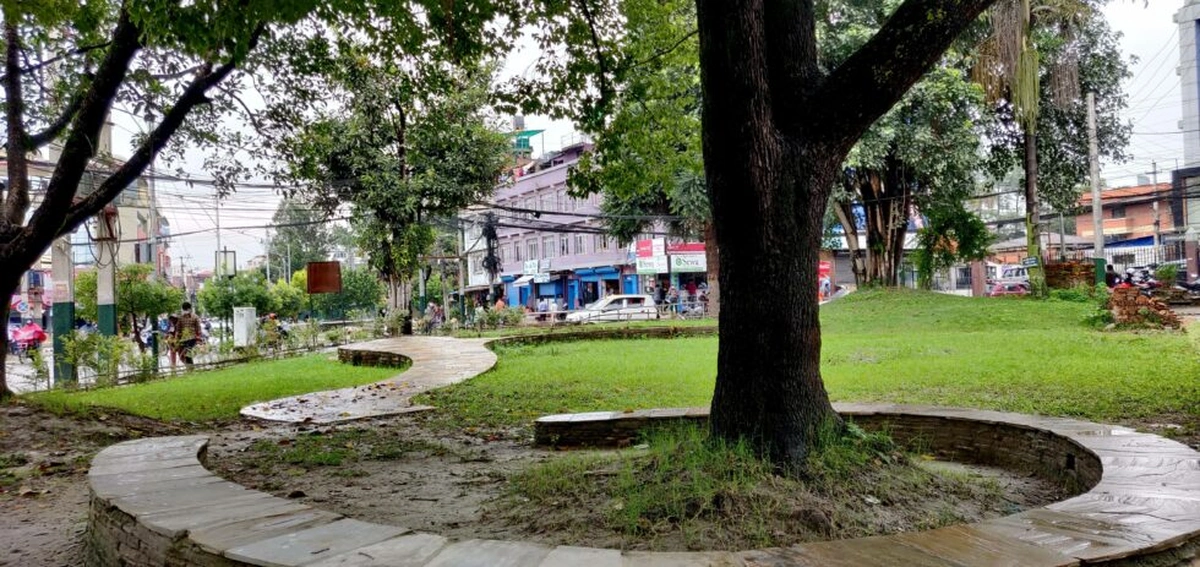 Opened the boundary, explored native grass and vegetation - a thriving children's park in the making.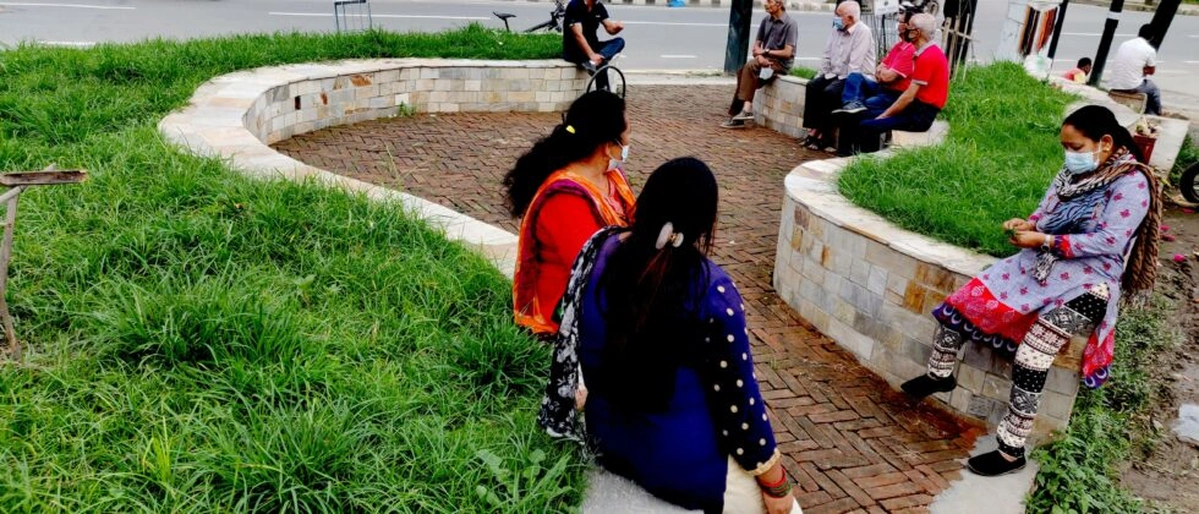 Junctions where interaction and conversations sparks!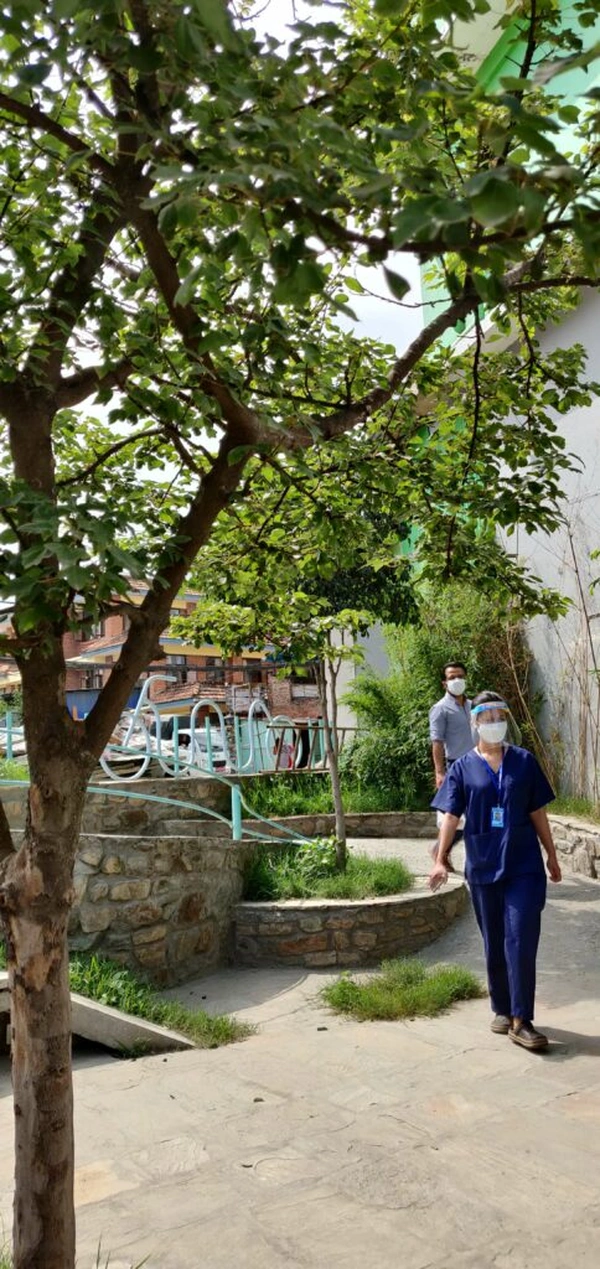 This place used to be a path, we converted it into a transition space, where you move and feel a fresh breeze of relaxation - a moment to recapture your thoughts and connect with nature in the concrete jungle.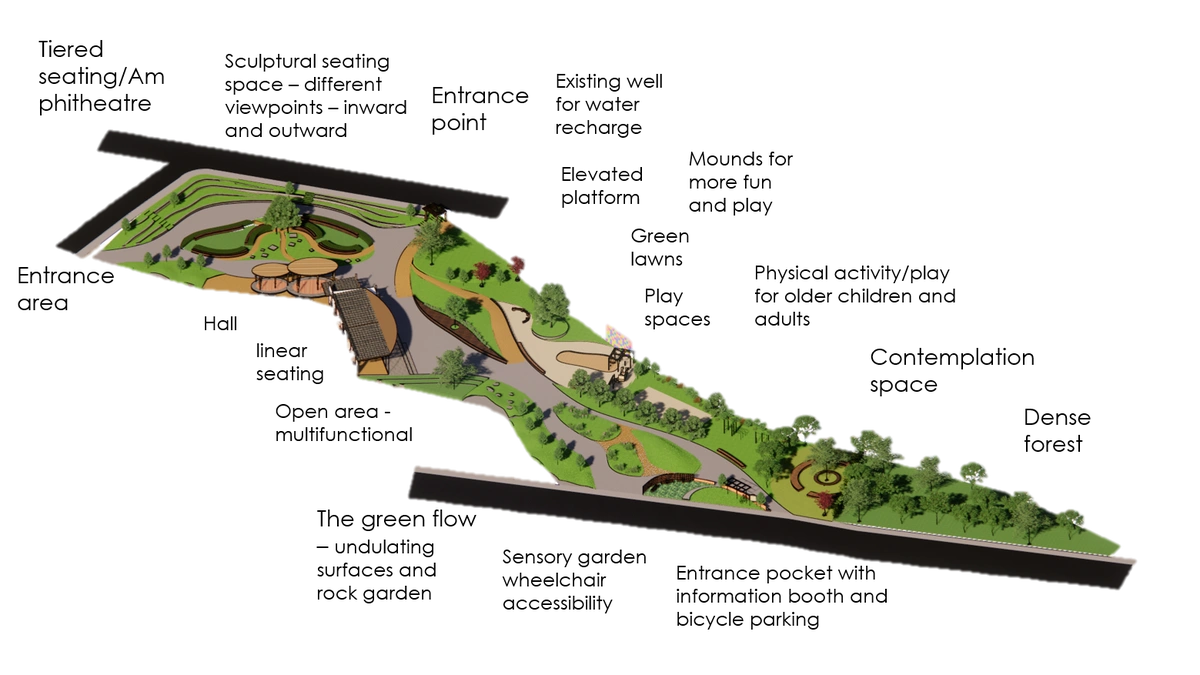 Neighborhood scale community park conceptual - multi functional approach with community engagement.
Vriksha Foundation
We recently implemented multiple green projects in Lalitpur. Though a budget was allocated for the creation of these parks, the rigid procurement system obscured the financial provision for our technical support. To obtain this we had to go through the flawed tendered system that would certainly interfere with the process.
In such circumstances, we teamed up to rise above governmental inertia. Though we were not able to hire staff in the day-to-day operations. We leveraged our efforts and worked with what he had. We pooled Expertise + Volunteering = Expatriating in pro bono services.
For the past 3 years, we have been volunteering to fill the gaps. Each individual who has gifted their time, skills is Team Vriksha. We are nurturing conscious architects and exposing young minds in social, environmental design and simultaneously rendering their skills and ideas into challenged areas.
Interestingly, without financial resources and adequate organizational infrastructures, we strive!
Cross-disciplinary practice
Nepal