Permanent
Brussels, Belgium
Social infrastructure
Ways of living, ways of sharing
Production and commercial diversity
Image: photography: Axel De marteau, illustrations: Jerome Degive. CC-BY-NC-SA
Permanent is a practice-based research to develop a mixed-use infrastructure for affordable and embedded cultural, educational and social space.
Permanent is a practice-based research project that draws upon anti-speculative models from the commons- and cooperative economy to develop an infrastructure in Brussels for affordable artist studio's, housing, educational and community spaces.
Permanent puts forward the Community Land Trust model. This model has already demonstrated its capacity to include a larger and more diverse group of people in the development of an urban living environment beneficial for all, but is mainly used for the development of housing. Permanent wants to apply the model for the development of cultural, social and educational infrastructure, as it proposes an innovative public-private partnership that effectively cancels out financial speculation.
To Permanent, this model offers the opportunity to develop cultural infrastructure as public infrastructure without having to solely rely on government funding. It offers artists and art organisations a model to co-invest and raise funds for permanently affordable spaces to produce and present their work and engage with the city, without being instrumentalized in profit-driven real estate and urban development schemes.
As artists and art organisations are often unwantedly put in competition with other groups in need for affordable space in the city, Permanent consciously opts for the development of a mixed-use infrastructure. Permanent wants to reclaim the symbolic capital of the arts to also make space for other groups and functions that risk to be pushed out of the city centres. Therefore, Permanent puts forward a building programme that combines artistic workspaces with affordable homes for newcomers and families with limited means, an educational infrastructure and community- and safe space facilities. As such, Permanent aims to install new regimes of solidarity and commoning between different users, partners and functions.
Through a bottom-up and collective approach, Permanents also includes local networks and communities in the development of a site in their neighbourhood. A part of the building programme will be determined through a participatory trajectory that allows Permanent to respond to local needs and aspirations, genuinely grounding the project. As such, Permanent aims to not only contribute to the urban life of its "quartier" in Brussels, but also propose a new grassroot development model that can inspire others, both in and outside the Belgian capital.
Impact
Permanent asks itself:
Beyond Property: How to move from property (real estate as commodity for speculation, individually claimed and monetised) to alternative and collective understandings of ownership, owning as a sense of belonging and being?
Beyond Type: How to design for those subjectivities, uses and bodies that are often excluded from urban development, without pushing them inside existing architectural typologies that come with ideological imprints and regimes of control? How to design beyond type, pushing our understanding on what architectural form can be and do?
Beyond Participation: How to set up meaningful dialogue within complex urban processes beyond patriarchal 'good intentions'? How to build new spatial regimes of collectivity based on an acknowledgment of difference but without othering? How to be in-it-together without being all and the same?
Permanent documents the research in an open source platform, to realise an inclusive infrastructure in Brussels.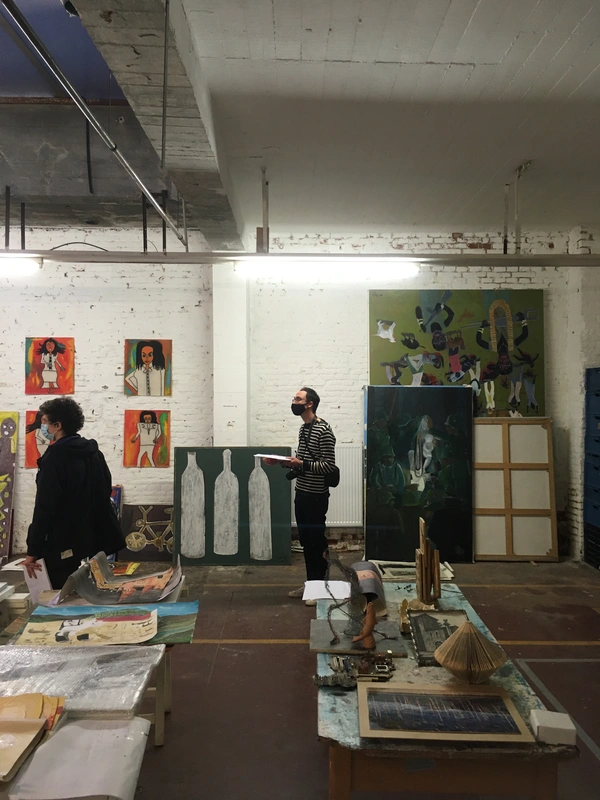 Group guided visits of the spaces currently occupied by the different partners of Permanent, allowing participants to better grasp each other's needs, wishes and ambitions.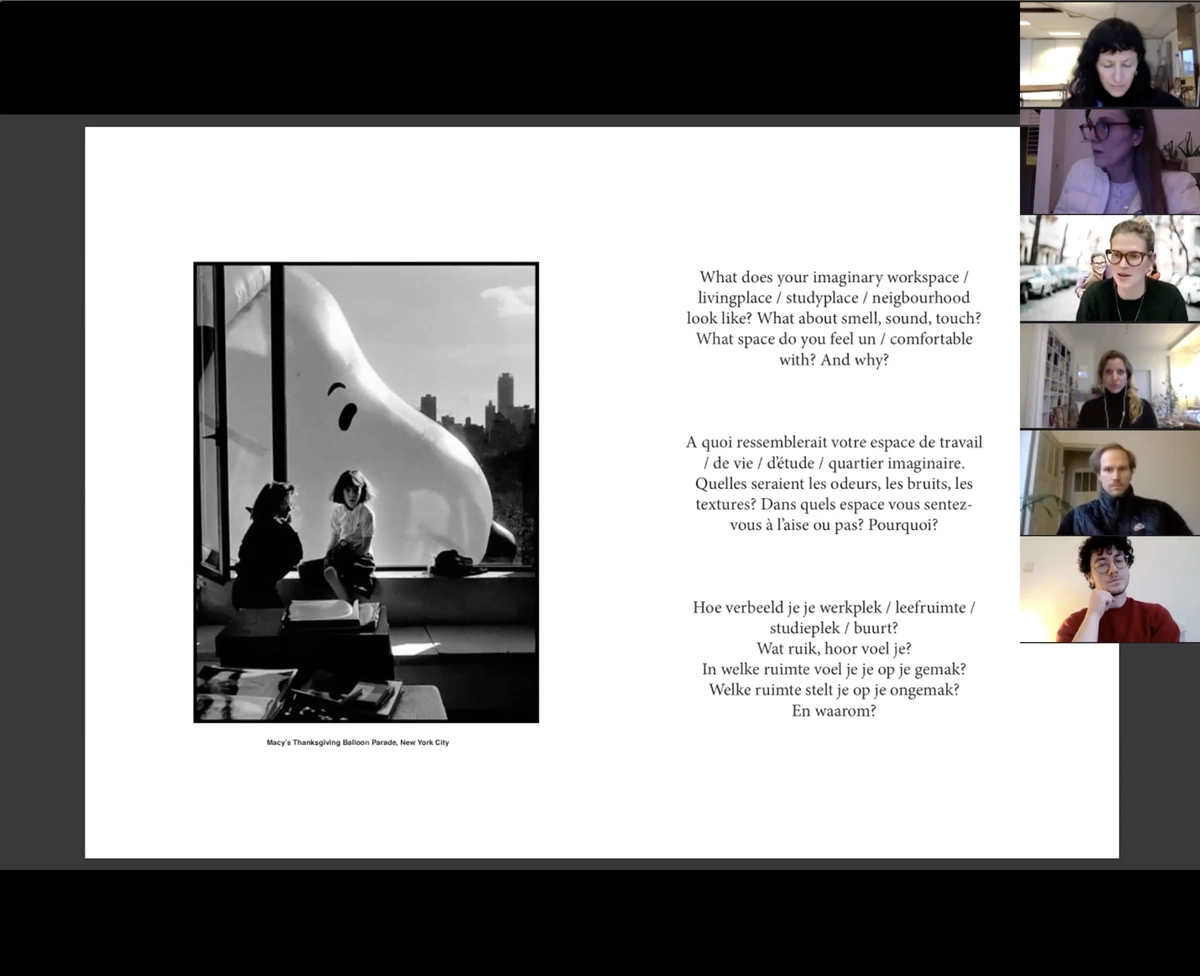 Digital workshop #2 Holding Up The Mirror involving the different partners of Permanent, aiming to understand and reflect on the spatial and organisational conditions of the building program.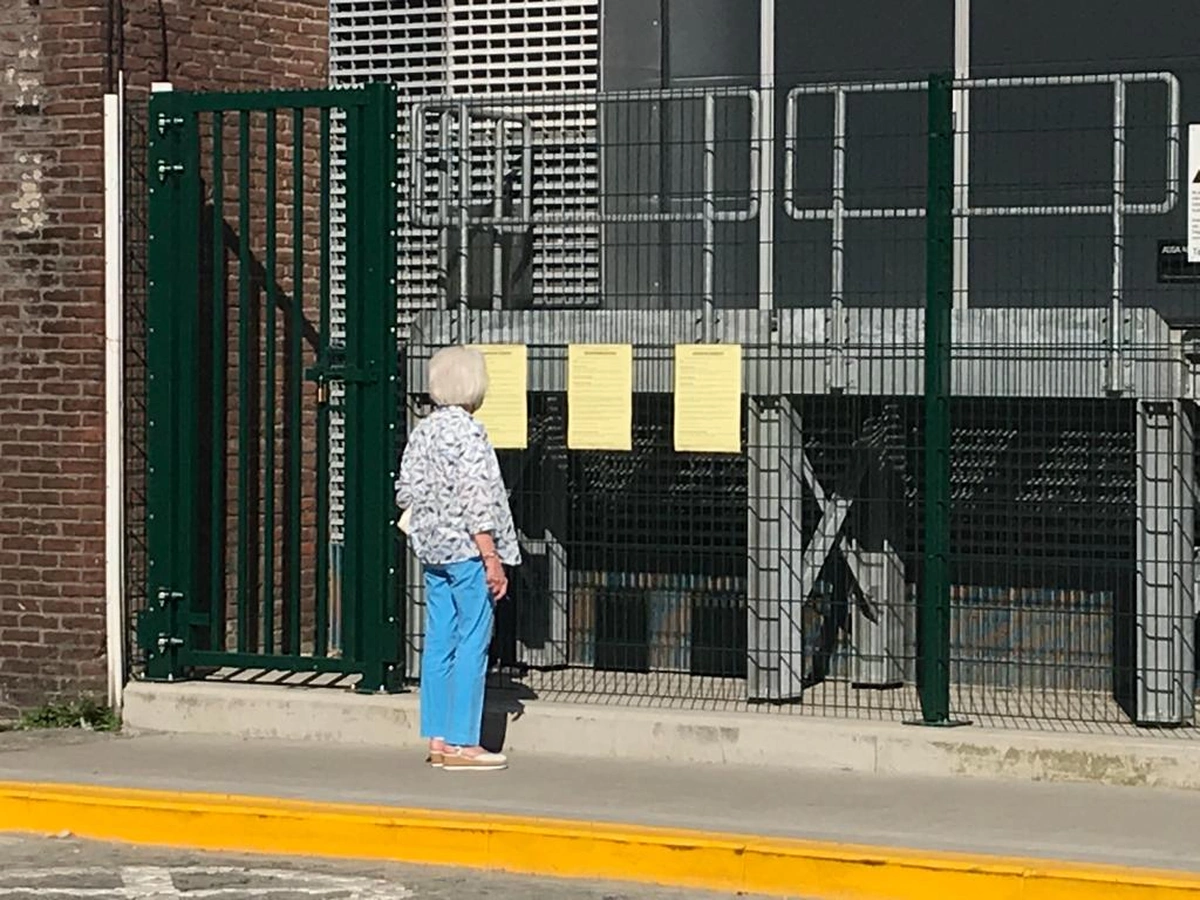 Teaser for an in-situ workshop around the future of the fire station, informing local inhabitants and users about the upcoming vacancy of the building, and triggering them to share their reflections for an inclusive future development of the site.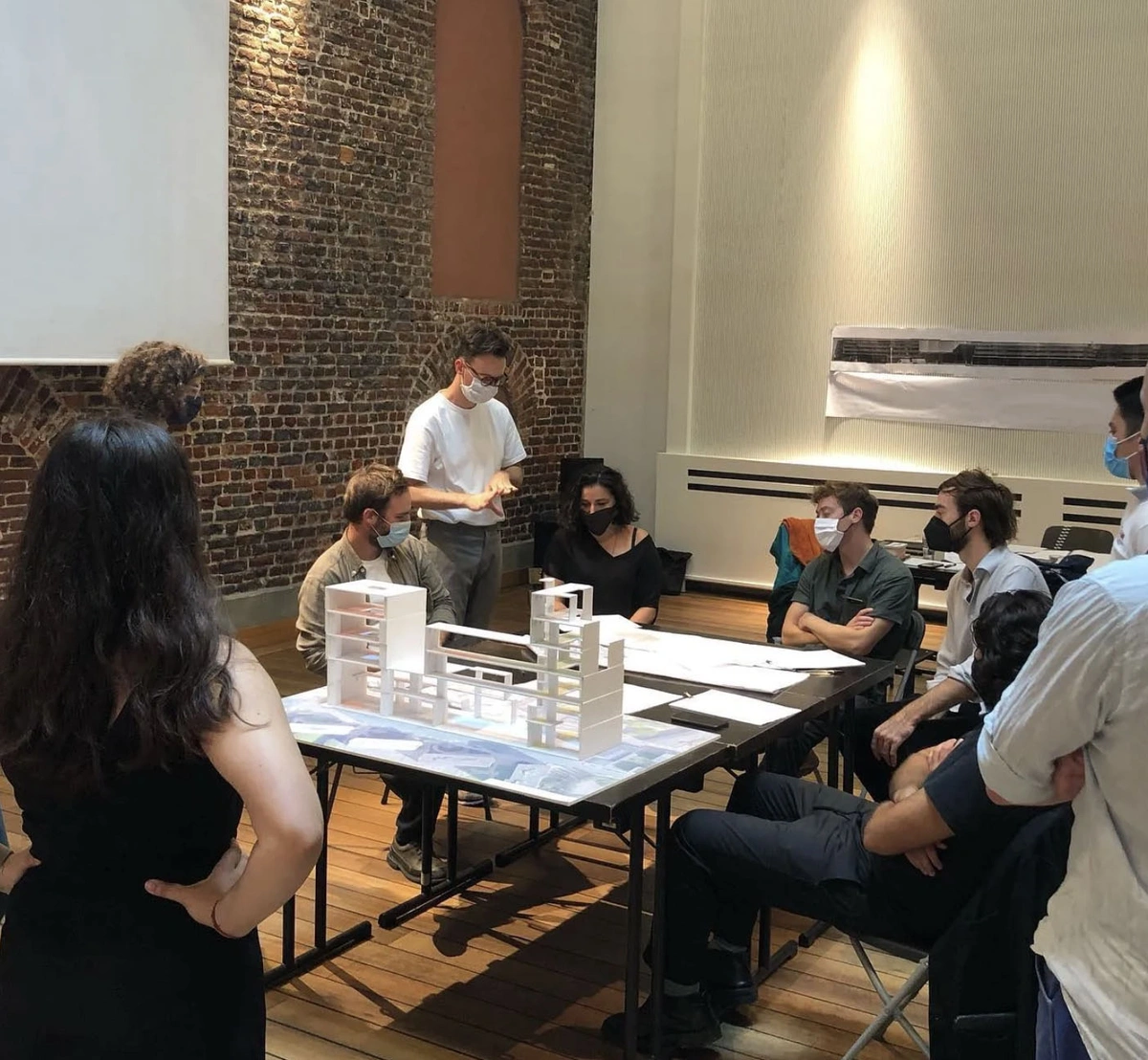 The public summer school "Building beyond" took stock of different voices, experiences and practices of sharing and commoning within changing urban settings. The core concerns are the ownership models, spatial conditions, and grassroot processes of collective infrastructures, focusing in particular on tensions and opportunities that emerge when creating infrastructures for shared and mixed use, and on the role the arts can play.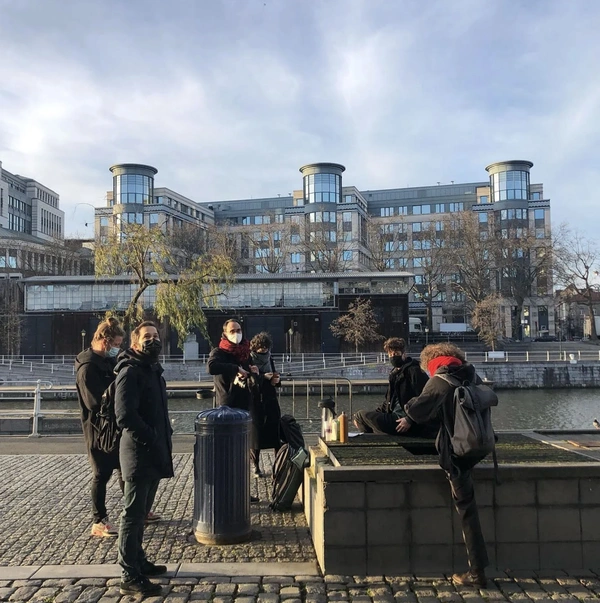 Walks and observations on local embedded actions and infrastructures to inform the lexicon of "A Playbook of Hospitality" to challenge the building program of Permanent, taking the often overlooked voices of the neighbourhood in account as part of a research through design process.
Permanent
Permanent has a core team facilitated by two coördinators (Els Silvrants-Barclay and Rob Ritzen) that ensure the continuity together with the core partners of the Brussels University VUB/we.KONEKT.brussels (strategic department), VUB/Cosmopolis (Brussels Centre for Urban Studies), Community Land Trust Brussels (CLTB), artist workplaces for newcomers Globe Aroma and Level Five/Hactiris, a coalition of artists. In addition, there is a changing constellation of work groups, some for specific actions, others for developing more long term research and projects or enduring tasks.
The series of workshops "Building as Becommoning", the summer school "Building Beyond: Collective strategies for just cities", the BWMSTR label with "A Playbook for Hospitality" and ongoing spatial research is supported by a work group architecture. This work group exists out of Aurélie Hachez (AHA), Laura Muyldermans, Maxime Czvek and Thomas Rigby (Czvek Rigby).

cross-disciplinary collective
Belgium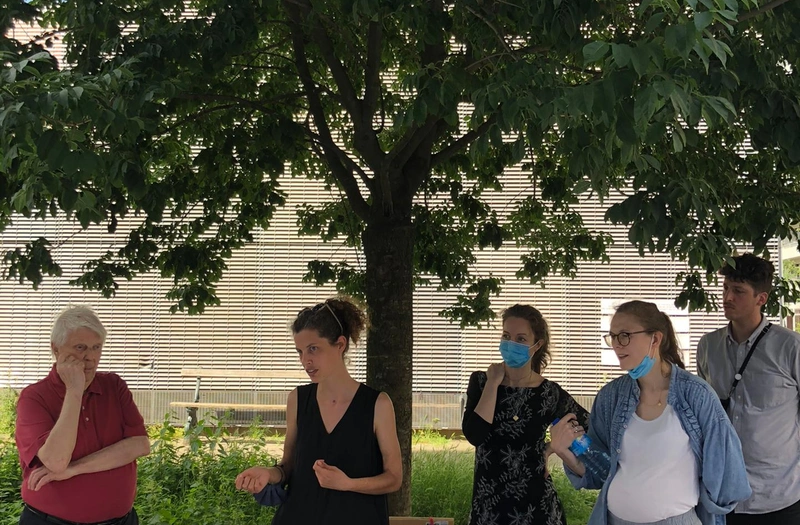 In-situ workshop around the future of the fire station (case study site), informing local inhabitants and users about the upcoming vacancy of the building, and inviting them to share their reflections for an inclusive future development of the site.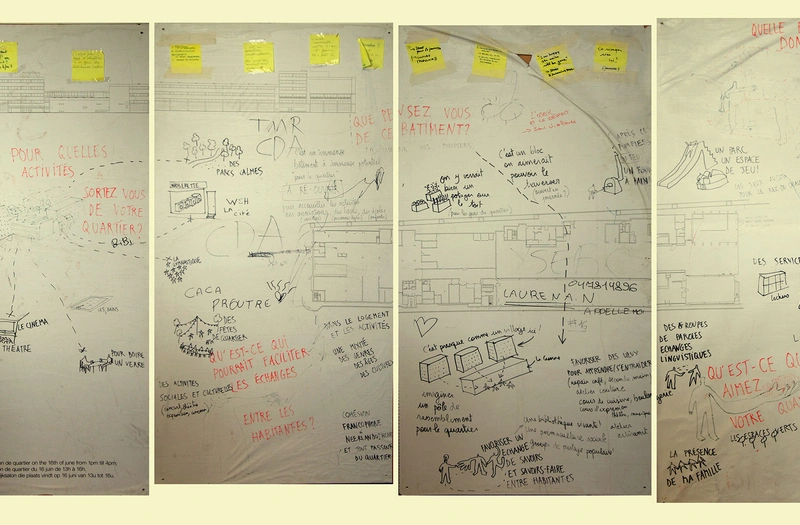 Panels left on site during a week following the in-situ workshops around the fire station neighbourhood. Passers-by were encouraged to share, through writing and drawing on the panels, their perception of the neighbourhood, and their reflections for an inclusive future development of the site.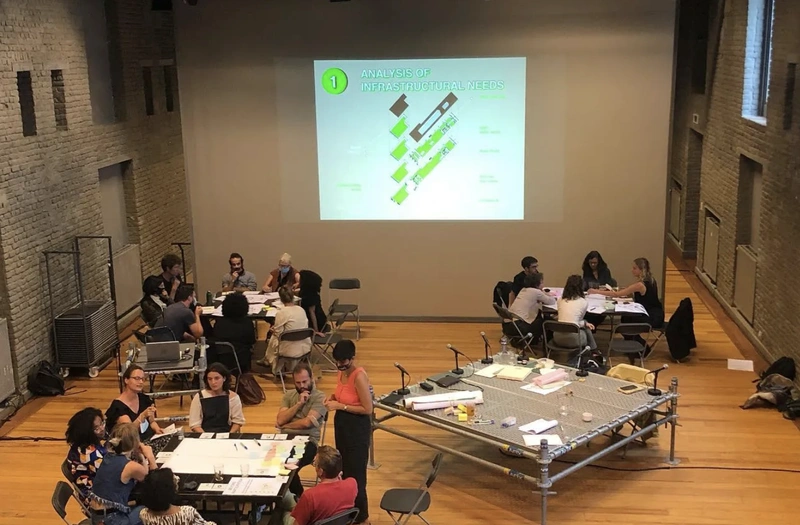 The public summer school "Building beyond" took stock of different voices, experiences and practices of sharing and commoning within changing urban settings. Our core concerns are the ownership models, spatial conditions, and grassroot processes of collective infrastructures, focusing in particular on tensions and opportunities that emerge when creating infrastructures for shared and mixed use, and on the role the arts can play