Parkly transforms public spaces for more liveable neighborhoods
Helsinki, Finland
Public plays
Naturehood – wilder and greener
Rethinking processes and governance
Image: Parkly
Parkly is modular and circular outdoor furniture that creates green and happy public places for more friendly neighborhoods and liveable cities.
Parkly is an urban design tool for making public places more green, social and fun. Parkly was created to fast track sustainable urban change by making public place transformations as easy as possible: the multi-use modules are easy to mix and match to create different place experiments and interventions.
The multifunctional modular solution creates a place rather than a design. The concept is strongly based on the placemaking principles of fast, light and participatory transformation of public places. It balances the slow city planning processes and brings the notion of urban prototyping to the forefront of urban development. Parkly promotes the idea of 1-minute city by providing a tool to create a network of small-sized welcoming public places.
Communities need shared experiences; public places are the platform where citizens come together, meet and exchange. An empty square, for example, does not support this, whereas a welcoming stopover within a square invites people to sit down, relax, play, meet others and enjoy the greenery. Furthermore, good public places can support a sense of ownership and trust, thus opening a pathway towards the future city we collectively want to create. Our findings conclude that place-led actions are essential in both old and new neighborhoods.
Parkly promotes good places as platforms for people of all backgrounds and age groups to be present in our cities and feel part of the urban community. The place also functions as a platform for exchange between planners and citizens, increasing participation of under-represented groups. Place interventions generate new information about communities, place dynamics and highlight the strengths of neighborhoods.
Parkly projects can be easily co-created, like playing lego in public space. Parkly is circular by design: the modules have a simple form language, colored metal frames and high quality wood, which is comfortable to sit on, brings softness to built environments and pairs well with greenery.
Parkly uses digital solutions such as data for data-driven tactical urbanism. ParklyCreate 3D-AR tool enables anyone to design and visualize Parkly projects in their preferred location. Gamification makes participation easy, democratizes the design process of public places and communicates ideas in an understandable way.
Parkly modules are a proven product that can be produced locally to collaborate with urban designers, architects and placemakers around the world.
Impact
Parkly addresses local and global challenges like rapid urbanization and the increased need for attractive, liveable and healthy urban spaces in densifying cities. Parkly also contributes to the change in the culture of governance by creating models based on networks, collaboration, participation, democratizing the design process of public spaces and advocating for temporary use and placemaking experiments. It actively challenges and encourages citymakers to adopt a research-driven mindset and design urban interventions that parallel the longer and slower city planning processes.
Placemaking is an effective way to increase citizen participation and complement existing channels such as participatory budgeting, surveys and workshops.
Interactive public places are a platform to address many issues in society, such as children's city, promoting walkability and access to urban nature. Transformations of public spaces empower citizens to participate and be part of change.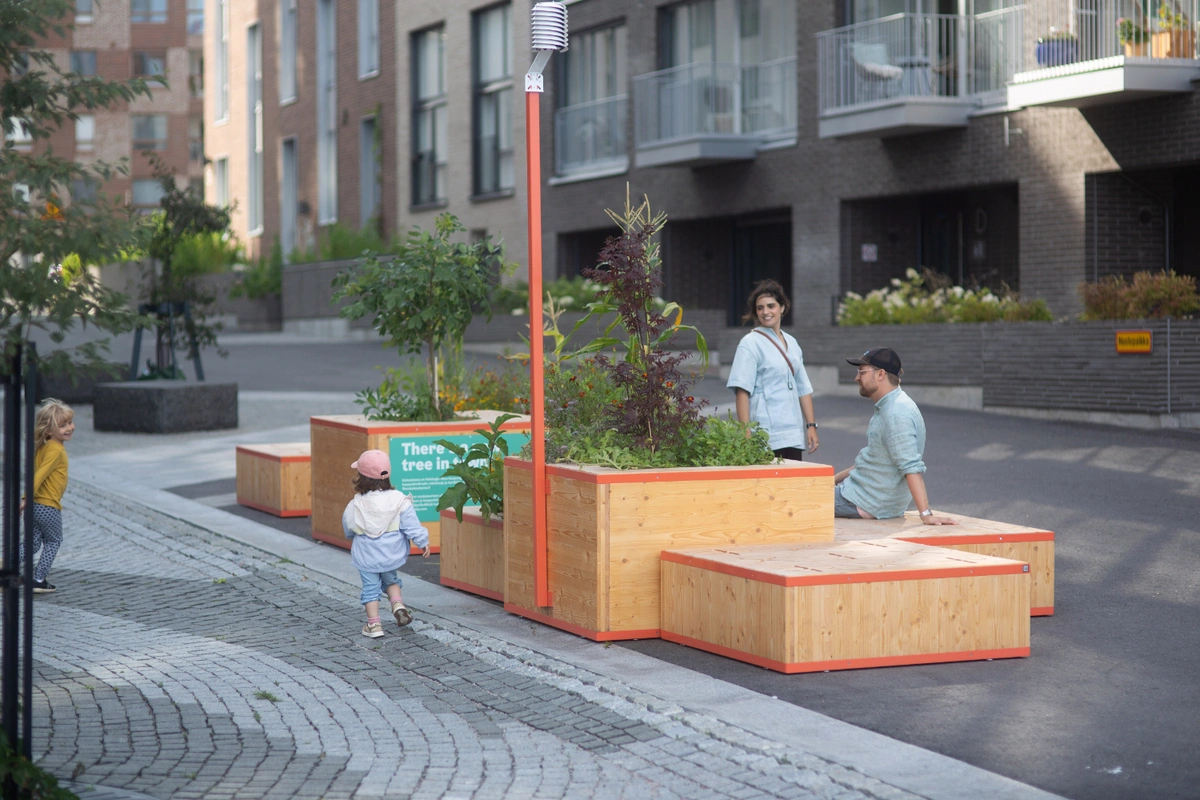 Parkly pocket park in newly built district Kalasatama. The pocket park connects new neighbors supporting community building and sense of belonging. The urban green with edible and pollinator friendly plants attract both people and pollinators. Local youngsters have had their first summer jobs taking care of the plants - increasing local participation.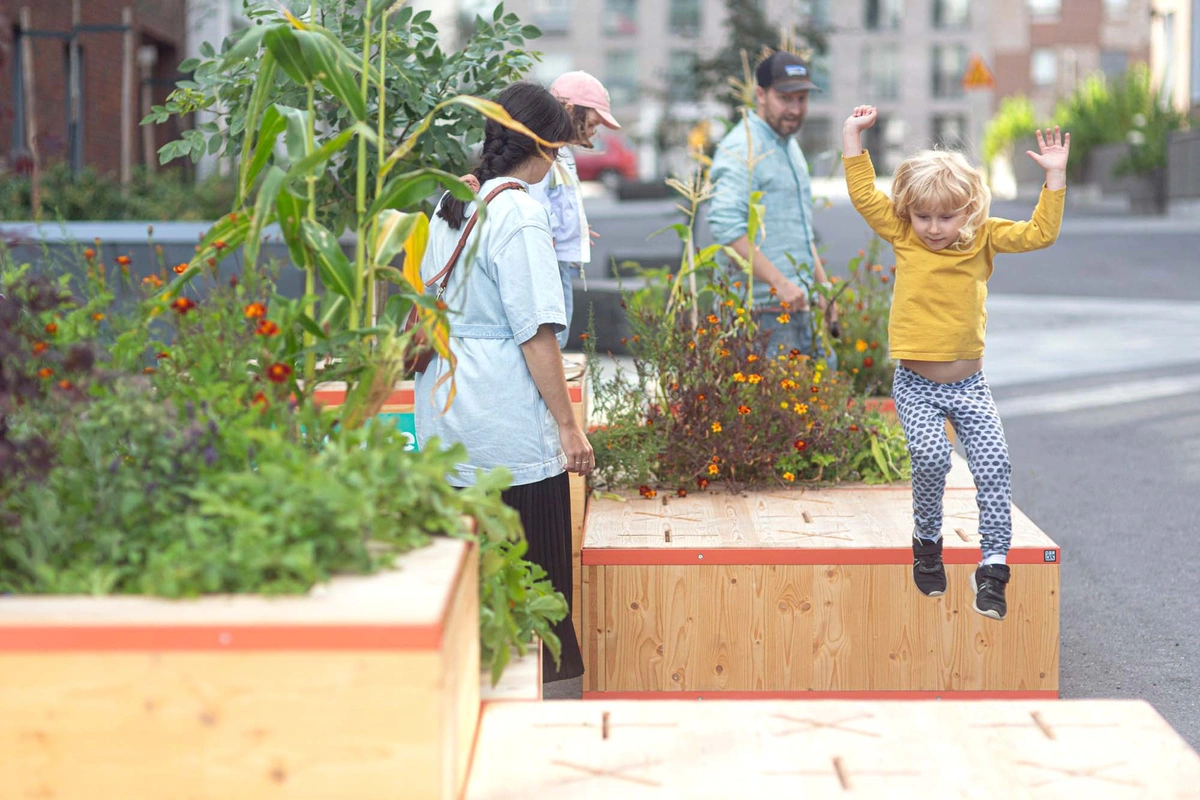 Parkly elements spark play in public spaces: we advocate for the inclusive cities which are friendly and inviting to all age groups. The simple form language of the modules allow users to create their own way of using the installations. The challenge with newly built districts and areas are, that the public spaces and parks are often built last. Smaller public places and experiments can support the sense of community and idea of 1-minute city.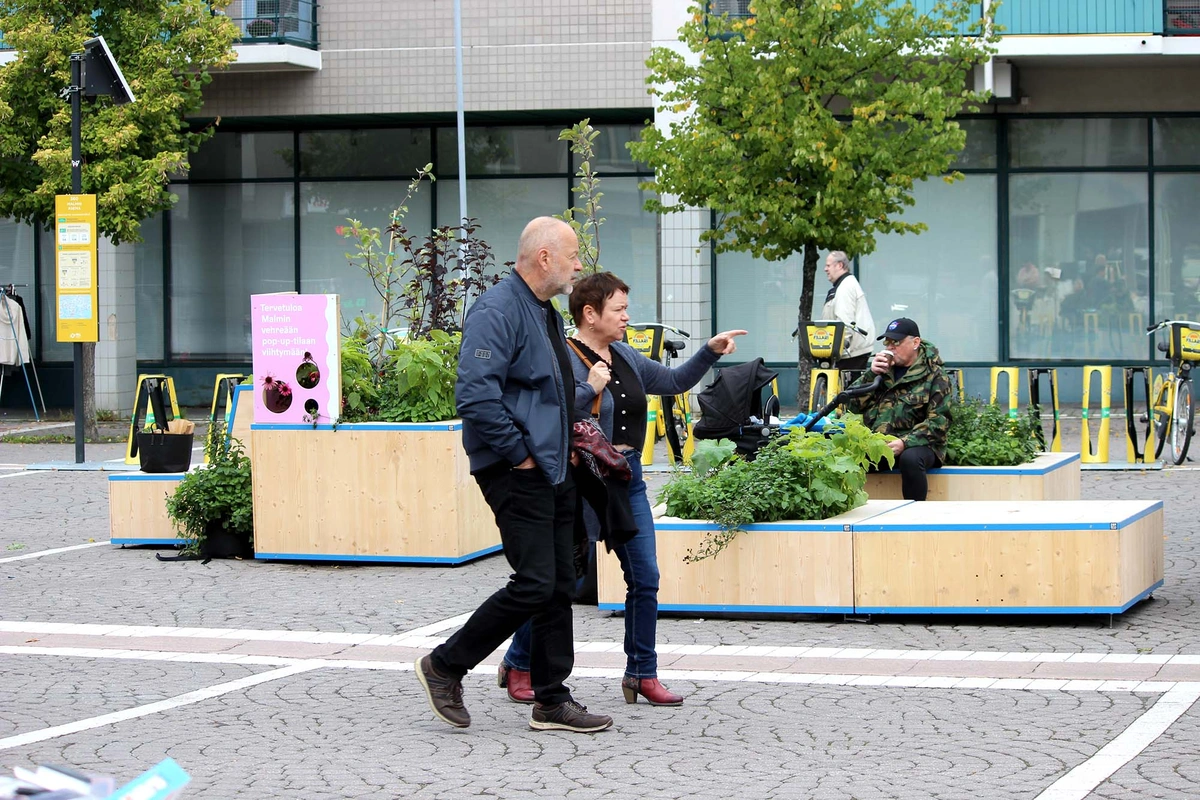 Parkly modules create friendly stopovers and adapt to the needs of local public life. The experiments and interventions give insight to the dynamics of public places, such as the square in the district of Malmi.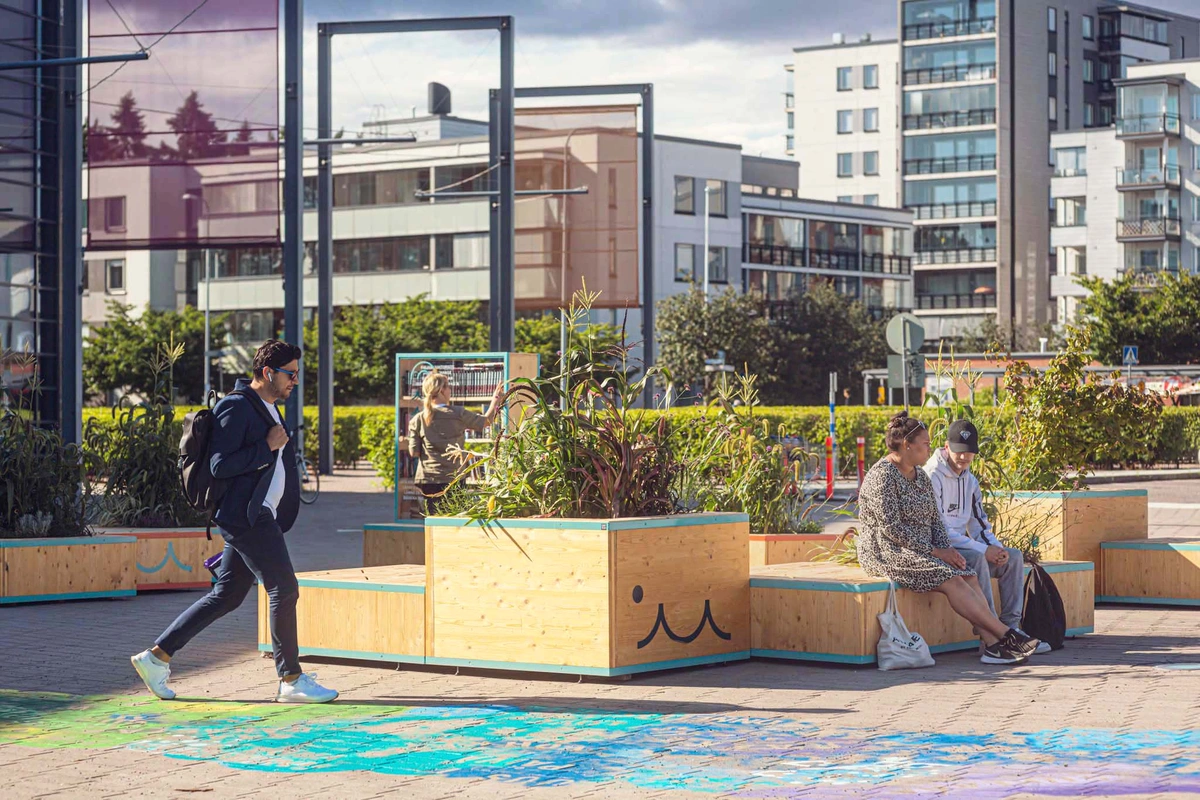 The grey concrete square in Vuosaari, eastern Helsinki was transformed into a green and inviting stopover. Furthermore it is a place for small events and exchanging books. The book exchange unit is in active use, promoting the idea of sharing economy and building trust - the unit kept clean and filled with books the whole summer.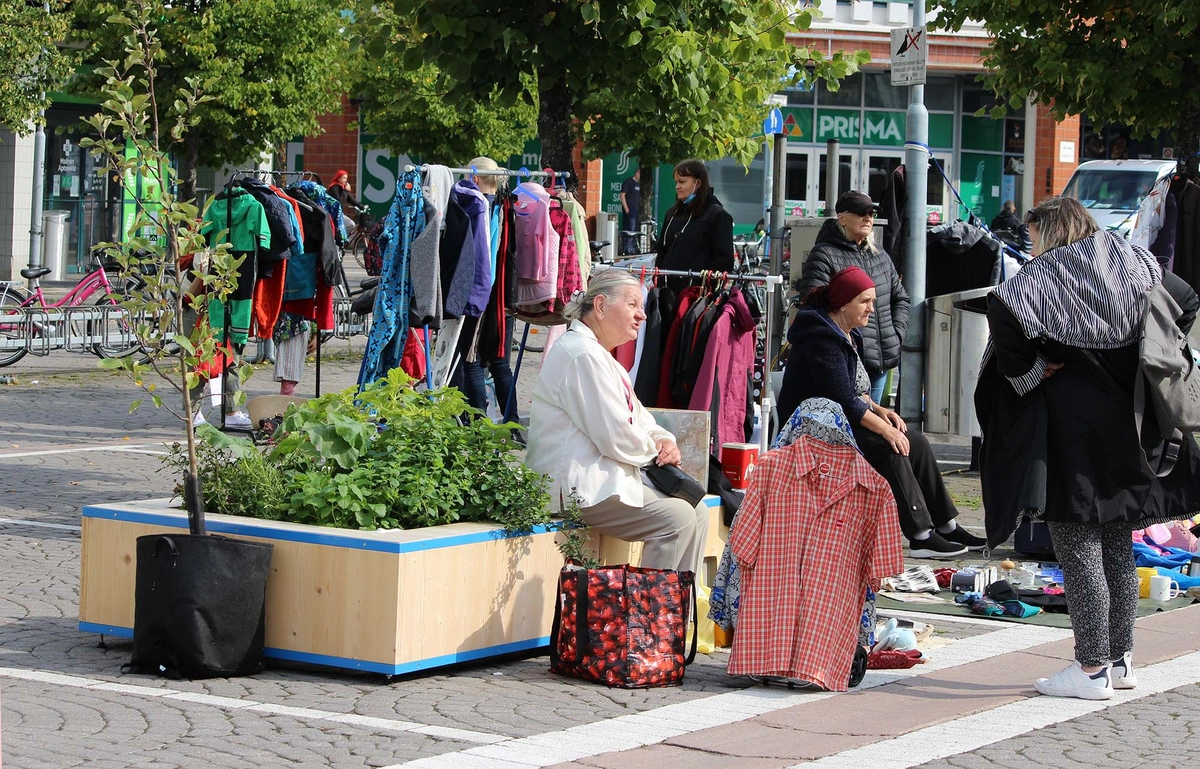 Parkly functions as a platform for exchange between city planners and people. The district of Malmi will undergo a redevelopment in the next coming years and the public spaces play a big part in the process. Increasing citizen participation via public places is the key to collect knowledge and identifying the strengths of the area.
Parkly
Parkly is founded by Päivi Raivio and Daniel Bumann, the founders of public art, placemaking and urban design studio RaivioBumann. Urban designer Jalmari Sarla joined the team in spring 2022.
Parkly was created to fast-track transformation of public places and to accelerate sustainable urban change. Parkly is based on the experiences of our work from the past 10 years in the field of urban changemaking.
At Parkly, we want to make people feel at home in cities and create public spaces that help people connect with their fellow citizens and neighbors. Through our projects we investigate how temporary installations and interventions can have a permanent effect in urban development. We firmly believe in this power for change.
Parkly is an impact startup company which operates in Helsinki on domestic and international projects. Parkly projects vary from placemaking consulting for cities and municipalities, place experiments to creating pocket parks in various urban settings.

Cross-disciplinary practice
Finland
Kauppatori pop up park by RaivioBumann - modular pocket park which replaces car parking and created a multifunctional and playful place for people. This project inspired us to go further with modular solutions and to develop the overall concept for Parkly.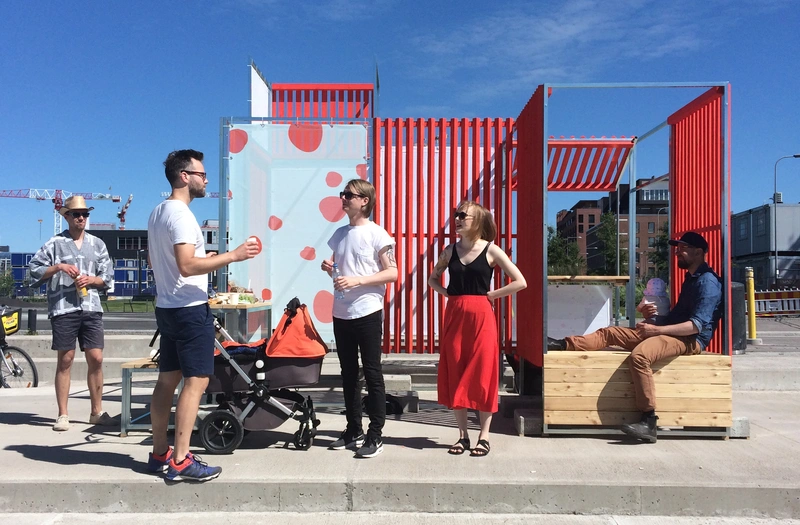 Kohtaamiskioski (Meeting Kiosk), intervention and installation for a new neighbourhood in Helsinki. Picnics, pop up restaurants and more!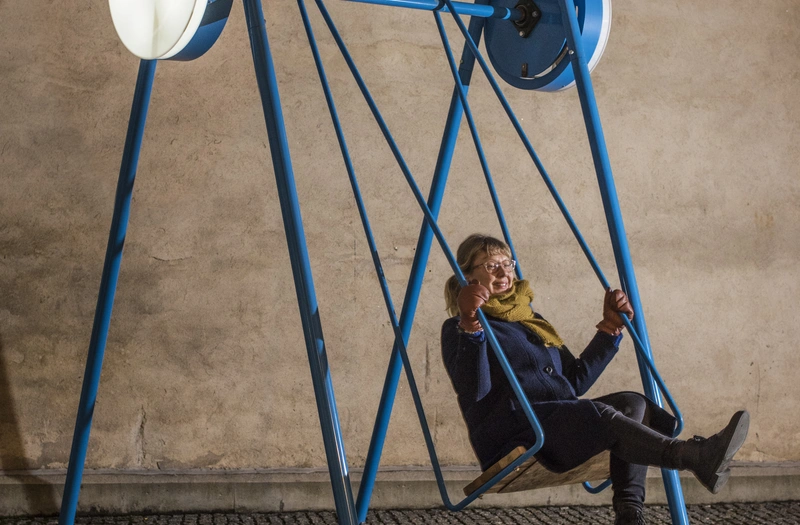 Interactive swing for public places - the lights are powered by the movement created by the person swinging.