#YongeCity
Toronto (The Greater Toronto Area – GTA), Canada
Streets with (new) meaning
Ways of living, ways of sharing
Transforming, adapting, reusing
Image: #YongeCity, view towards downtown Toronto. (c) Atelier RZLBD
#YongeCity envisions a new city within the existing urban fabric of Toronto, forming one, continuous, horizontal neighbourhood over Yonge Street.
Toronto is one of the most multi-cultural and multi-racial cities in the world, with the most population (17%) in Canada, more than 50% of which belongs to a visible minority group. Yet, it has also become one of the least affordable cities in the world, with 1 in 7 residents struggling for housing. These statistics show the paradox of the city: it celebrates and segregates its citizens at the same time, based on wealth, social class, and ethnicity. A solution subject to the same market economy can only maintain, if not accelerate, this trend.
There is a land that can be saved from the real estate speculation: the streets, which, owned and managed by the government, belong to everyone equally. Once regarded the longest street in the world, Yonge Street is the spine of Toronto, where finance, culture, entertainment, public transit, development, and opportunity are concentrated. Reclaiming Yonge Street symbolizes reclaiming the city back to all its citizens. It provides the government a legitimate ground on which to pursue a bold socio-economic agenda.
The proposal is to build over Yonge Street a long, mid-rise (6-story), mega space frame, whose lower half (3-story) consists of access and structural shafts, intended to preserve the existing vehicle and pedestrian traffic, whose upper half (3-story) consists of commercial and residential units, and at whose center the frame is floored to create an elevated walkway for the public and the residents. This apparently huge undertaking can adapt to various circumstances, by using the phase construction and the modular unit system. Unlike a typical tower, which needs to be built in one take, it is to be constructed in intervals and to only provide the space frame, access shafts, and services. The prefabricated modular unit, such as a shipping container, is to be inserted into the pre-constructed space frame, individually or in groups. The grid system of the space frame is determined by: 1) the design (width and length) of Yonge Street; 2) the major intersections of Yonge Street, which, also corresponding with TTC subway stations, are the locations for the access shafts; 3) the dimension of the standard shipping container (L 6.0m / 12.0m x W 2.5m x H 3.0m). In its full establishment, the maximum of 134,000 units can be provided, well beyond the figure of 116,000+ individuals and families in need of housing in the city today.
Impact
By rethinking a street as a habitable land, the proposal returns the most important land of Toronto back to its citizens as an affordable space, within the new legal framework. At the same time, it demonstrates a new housing typology which addresses sustainability in financial, environmental, and social levels. By building horizontally rather than vertically, via the phase construction, the project can be divided into a series of intervals, ensuring feasibility. Compared to a tower, which has a maximum density on a minimum footprint, its construction distributes density horizontally, minimizing damages to nature in terms of excavation, service system, traffic, etc. Moreover, by maximizing horizontal surfaces, it features long, green spaces at the walkway level and harvests solar energy at the rooftop level. At an urban level, it promotes pedestrianization of the city. At a personal level, through infinite iterations of the modular unit, various housing demands are better accommodated.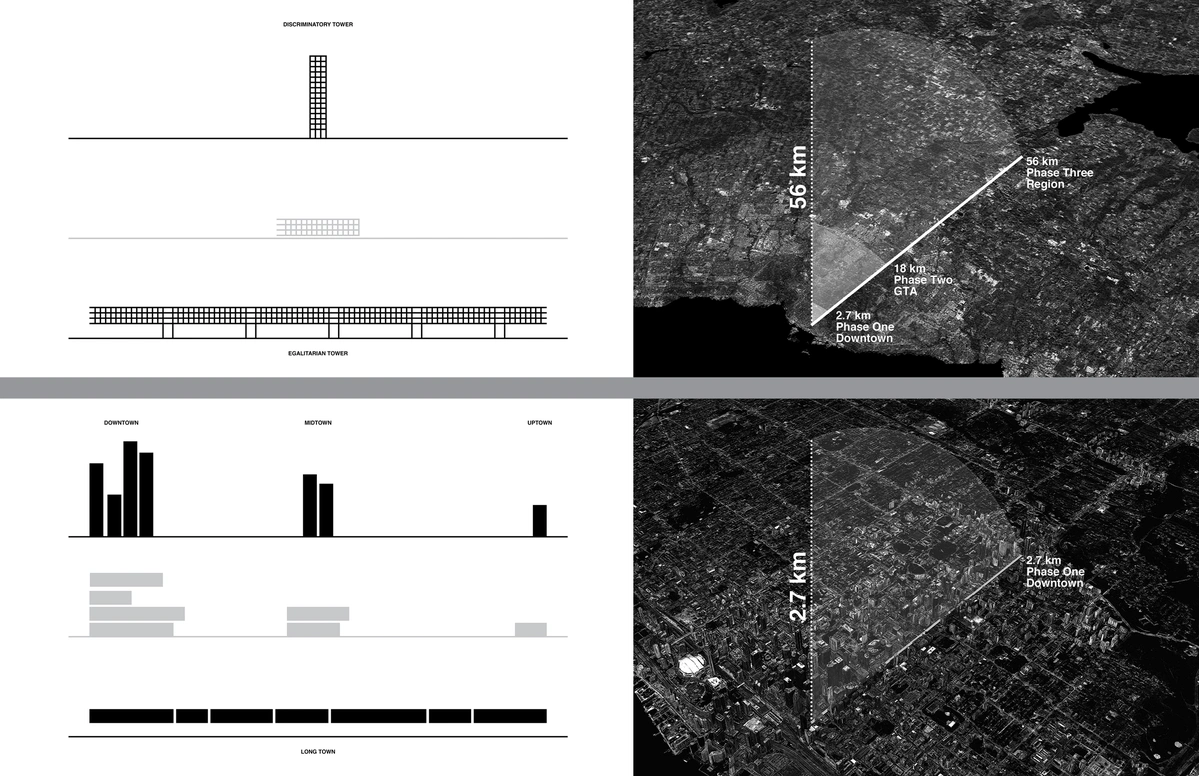 Conceptual Diagrams
On the left / Top: Discriminatory Tower vs Egalitarian Tower / bottom: Down, Middle, Up town vs Long Town
On the right / Phase one: 2.7 km (Downton) / Phase two: 18 km (GTA) / Phase three: 56 km (Region)
(c) Atelier RZLBD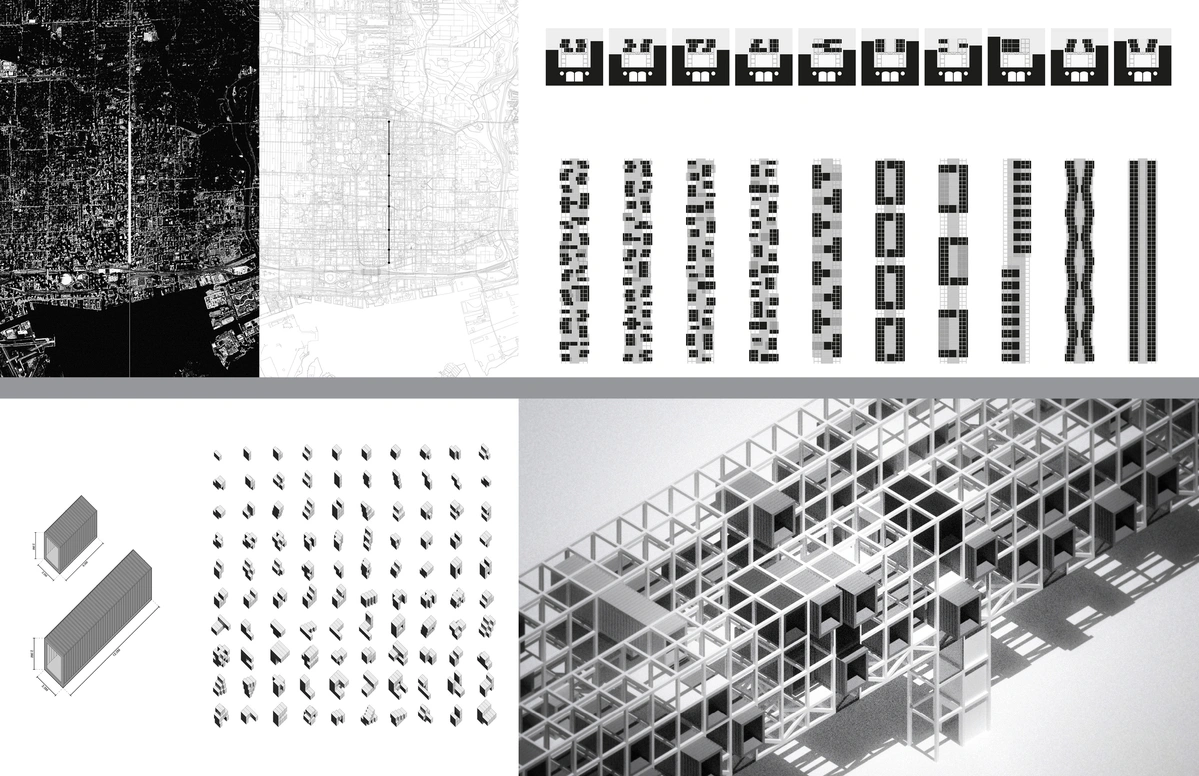 Drawings
Top left: site plan (Phase one) / Top right: 10 iterations on section & plan (community block)
Bottom left: 100 iterations (taxonomy) for inserting units / Bottom right: axonometric model
(c) Atelier RZLBD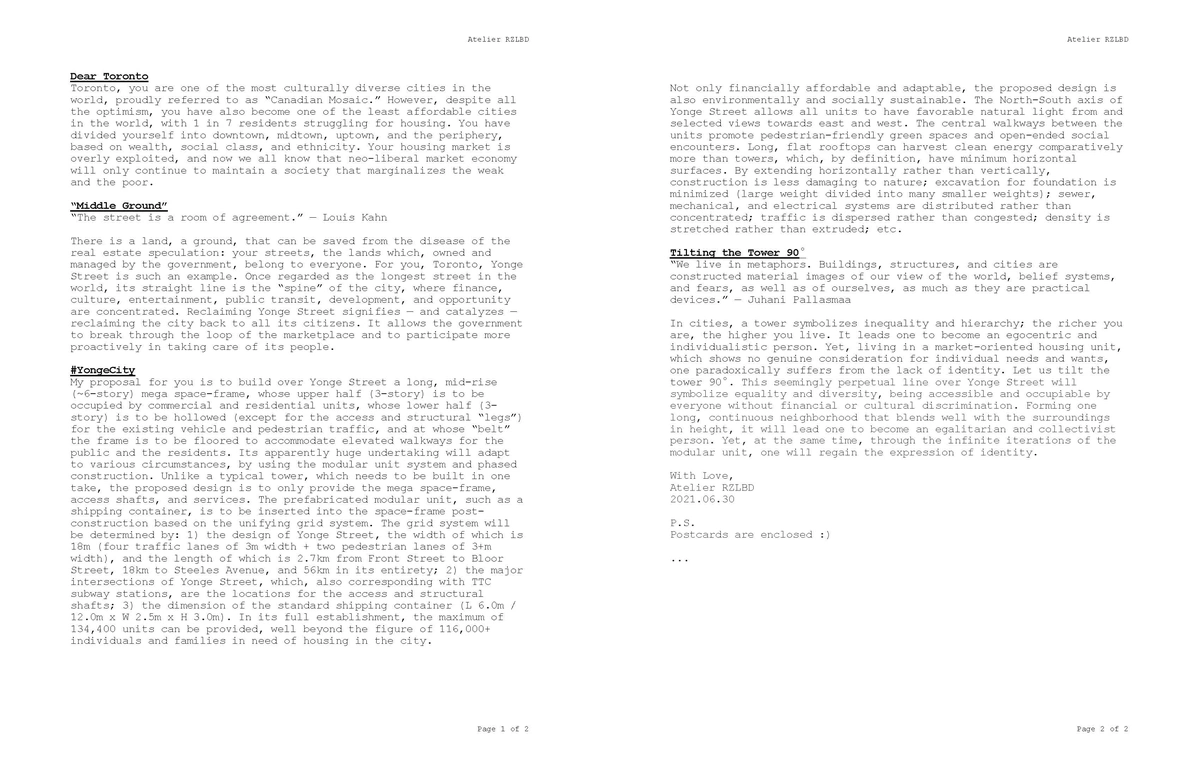 Letter to Toronto
1 of 2 (letter)
(c) Atelier RZLBD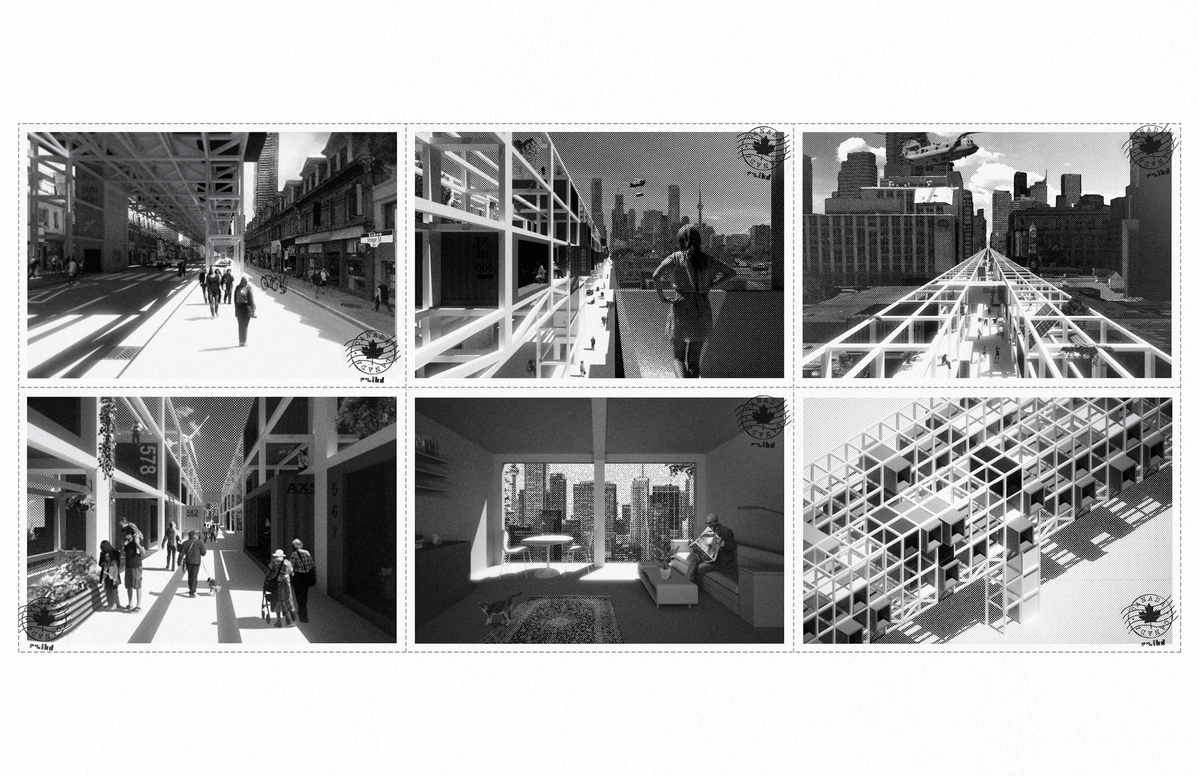 Letter to Toronto
2 of 2 (postcards)
(c) Atelier RZLBD

#YongeCity Postcards
(c) Atelier RZLBD
Atelier RZLBD
Atelier RZLBD is a boutique art & architecture practice based in Toronto, founded by RZLBD (Reza Aliabadi OAA, MRAIC), making arts, crafting objects, designing buildings, curating installations, and publishing a zine called rzlbdPOST.
The practice is not just an ordinary operation that serves, rather like a positive virus, it contributes, communicates, challenges, and adapts itself to the needs of each project and its context. From a 17mm wedding ring to a 56km long housing proposal, the portfolio has been distinguished with numerous accolades; exhibited in many venues; and celebrated in more than 100 print publications.
Project Team on #YongeCity:
Reza Aliabadi
James Chungwon Park
Levi Bruce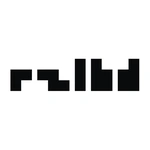 Architectural practice
Canada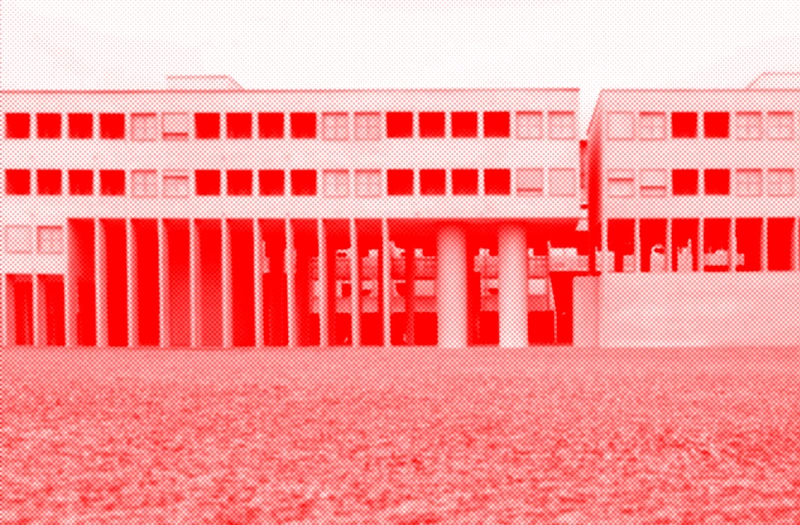 Reference / Precedent 01
Gallaratese Quarter
Aldo Rossi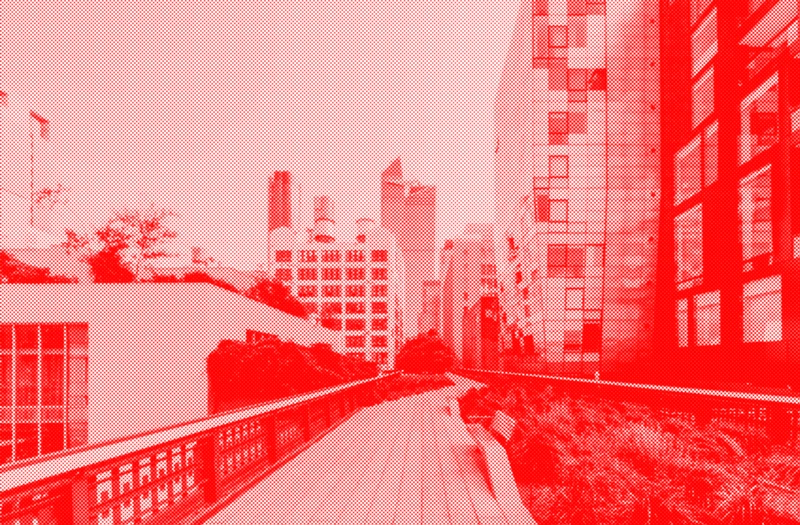 Reference / Precedent 02
The High Line
Diller Scofidio + Renfro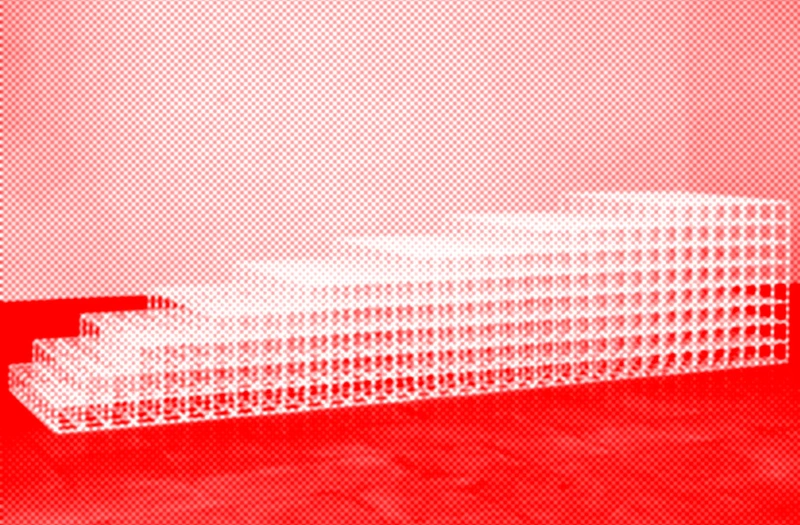 Reference / Precedent 03
Modular Cube
Sol LeWitt