Practice
HallemarHejdelind
Shared spaces (gemensamhetslokaler) in neighborhoods - its past, present and future.
Örebro, Linköping and Stockholm, Sweden
Social infrastructure
Ways of living, ways of sharing
Rethinking processes and governance
Image: Photo: Ylva Sundgren Layout: Anna Bylund
This project maps the history and present of the Swedish gemensamhetslokal with the aim to understand its function in a sustainable future.
In his book Palaces for the people - how to build a more equal and united society, the sociologist Eric Klinenberg introduces the concept of "social infrastructure" to describe the physical places that enable and shape how people interact with each other in a city or community. This includes a wide variety of public spaces such as libraries, schools, playgrounds, parks and swimming pools, but also sidewalks, squares, public green spaces etc. Klinenberg's research shows that social communities in a district or residential area creates a more resilient society that is better equipped to meet various societal strains and changes and that the social infrastructure is instrumental in creating this. In this project we look at the common rooms - gemensamhetslokaler - spaces provided for tenants in housing estates throughout Sweden from the 1940s to the present - as an important part of the social infrastructure of future sustainable neighborhoods and cities.
The Swedish concept gemensamhetslokal (common space/room) can be described as the micro level infrastructure of the Swedish welfare state model. The ideology behind these communal facilities has shifted over time. In this report we map the history, present and future of gemensamhetslokalen through four case studies each representing a different decade in Swedish residential building and planning. Each case is presented with an historical background where the ideologies, aims and visions as well as the architecture of the common rooms are discussed. Followed by interviews with tenants on location on their use and views on the common rooms in these areas today. Each case is then extrapolated and presented as a model for how common rooms can be organized, financed, managed and used over time.
Today as many of these spaces are being rebuilt and transformed to profitable rentable spaces for commercial purposes or refurbished as flats, we think it is important to raise awareness about these common rooms as important building blocks of the social infrastructure of neighborhoods. The overall purpose of the project is to increase knowledge about how best to build, manage and promote the use of gemensamhetslokaler. An essential part of the project is the collaboration between the journalistic approach to the subject and images. A professional photographer Ylva Sundgren has documented the case studies and interviews adding a visual interpretation of these community spaces.
Impact
Our study concludes that;
Gemensamhetslokalen is an important part of the social infrastructure of neighborhoods, which, properly managed, contributes to creating a web of so-called weak ties between residents, which in turn increases safety and well-being in the community.
The "lagom" (just right amount) of contact between neighbors that is created in and around community rooms provides a more resilient and robust society that is better equipped to meet various changes and crises.
The community facilities are important building blocks in our democracy and have several possible and essential roles to play in the sharing economy of the future.
The usefulness and value of these common rooms are measured in these value-based insights, which can not or even should be recalculated in monetary value.
We as a society know that they are needed, that they benefit people and society. We should therefore protect and use already existing spaces and we should continue to add new ones.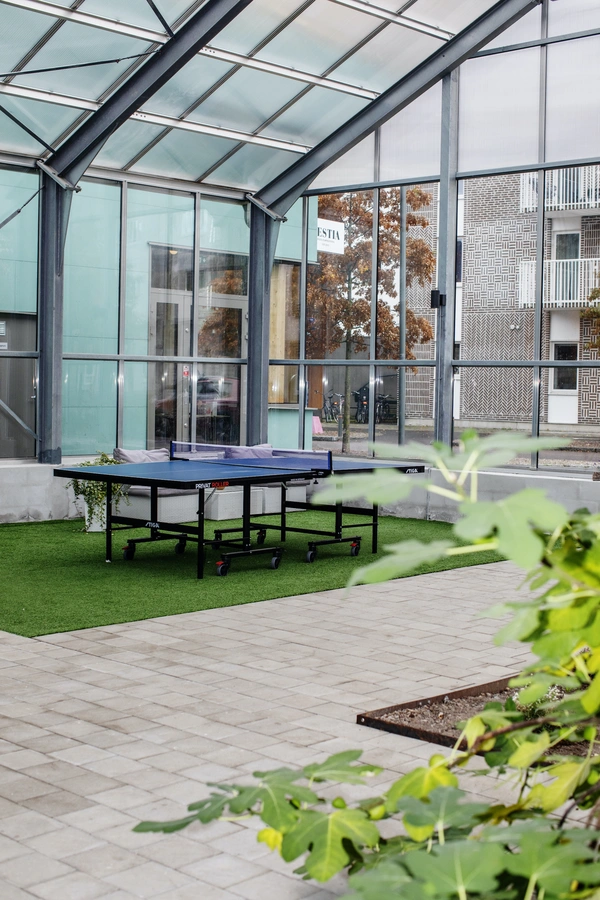 Photo of one of seven so-called Felleshus built in the neighborhood Vallastaden, in 2017. Each Felleshus is financed and managed by the residents, with various results.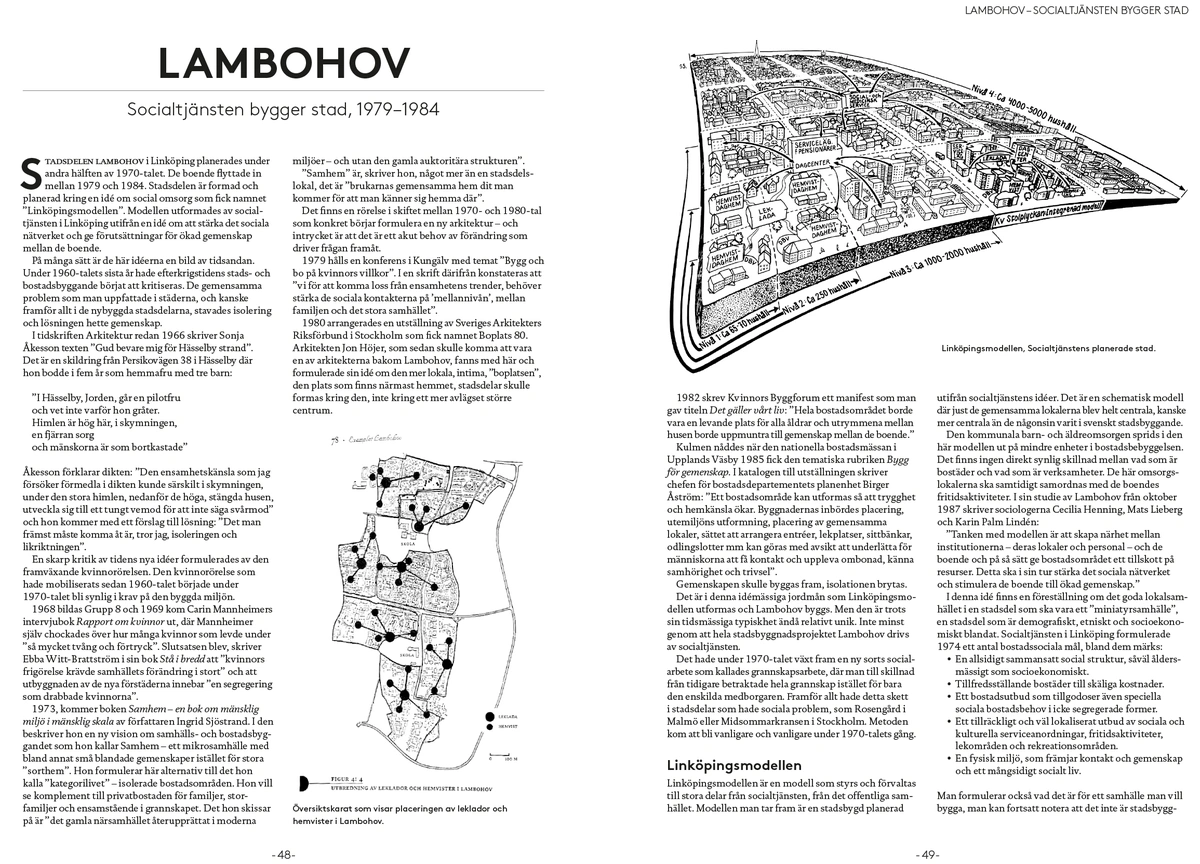 Each case study is put into its historical and ideological context. The planning, architecture and building of the area is mapped put, discussed and analyzed.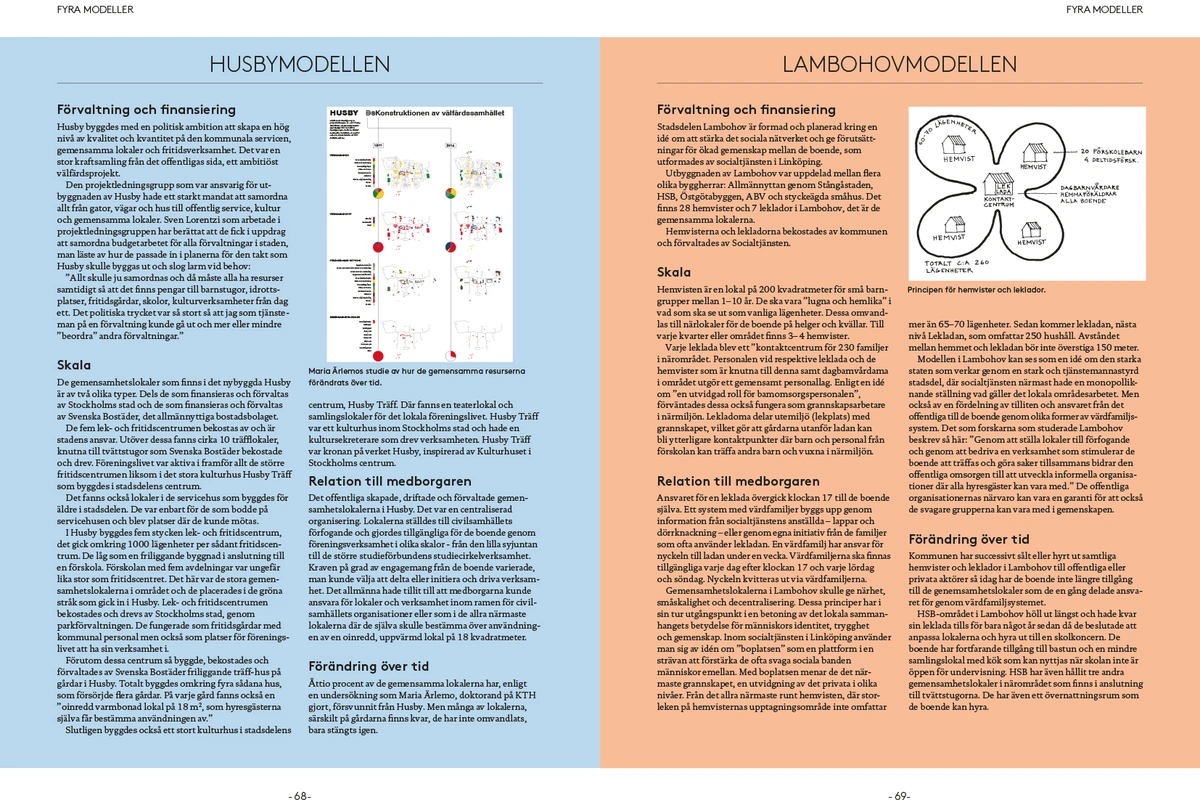 The analysis of each case study is summarized and presented as a method or model for planning and organizing gemensamhetslokaler. Theses four models are then compared and discussed.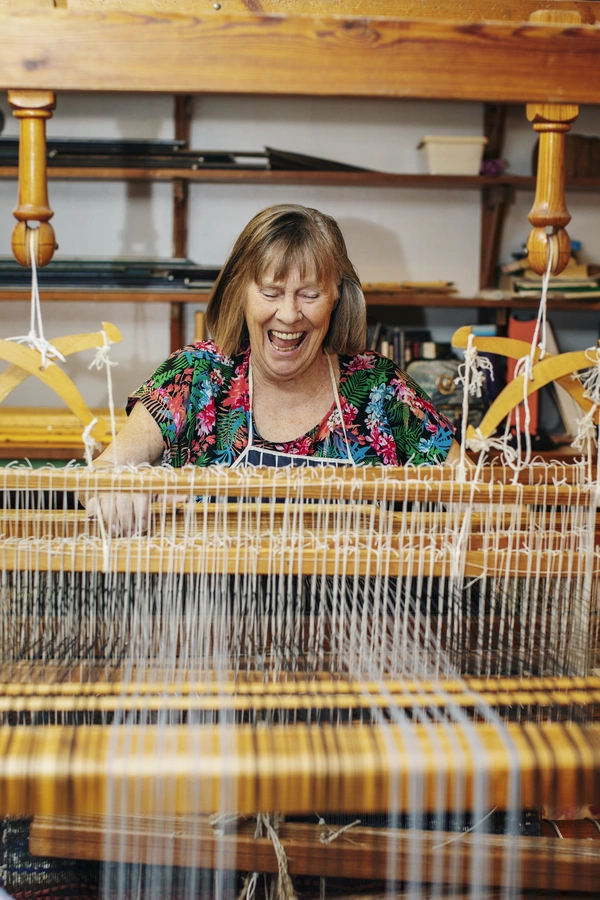 Each case study is documentet by professional photographer. Ylva Sundgren. Here from our visit and interview with Kerstin Andersson who has weaved in this space since the 70s (it was founded in 1948 when the area Rosta was built).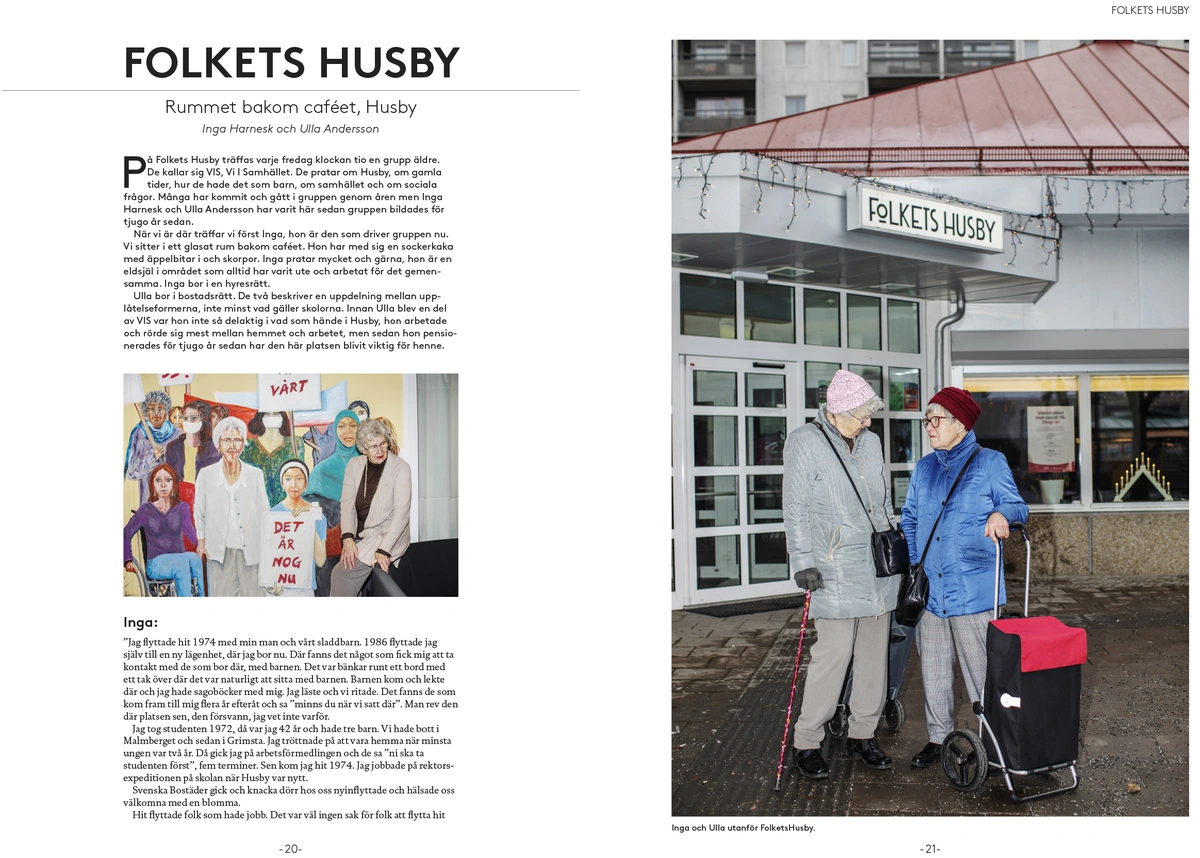 Each case study is presented with interviews and photographs of current residents using the gemensamhetslokal. Here Inga and Ulla in Folkets Husby.
HallemarHejdelind
The project has been managed by the writer, editor and publisher Dan Hallemar and the former director of the Arwidsson Foundation, curator and art historian Veronica Hejdelind, of HallemarHejdelind in close collaboration with photographer Ylva Sundgren.
Ph.D and senior lecturer at Urban and regional studies, at The KTH Royal Institute of Technology, Karin Bradley, has supervised the project.
The project has been financially supported by Riksbyggens Jubileumsfond Den Goda Staden and The Seed Box program, which is funded by MISTRA – The Swedish Foundation For Strategic Environmental Research – and Formas – a Swedish Research Council for Sustainable Development.
Cross-disciplinary practice
Sweden