Practice
Apolonija Sustersic Studio
Neighbours & Citizens
Oslo, Norway
Social infrastructure
Ways of living, ways of sharing
Naturehood – wilder and greener
Image: Apolonija Šušteršič, Neighbours & Citizens, Gävle, Sweden, 2015 - ongoing
My practice is interdisciplinary, situated between art and architecture, research based, socially engaged and focused at trans-local neighbourhoods.
My research-based practice is situated, cross-pollinating different fields of spatial practice and critical theory with projects that would activate cooperation between people or groups of people. I would create processes for engagement and platforms for action where people can reconnect with their sense of agency by working with space and place. My focus is on spatial equality within the market-driven economy, the environmental issues manifested on a local scale, and the need for emerging and temporary communities in times of diaspora, migration and flight, as well as the pandemic confinement.
I strongly believe that neighbourhood environments build on democratic space.
I perform extensive research on sites and situations – I am "hanging in" and "keeping on". Projects are not fast-track; they need my involvement and dedication. Observing, listening, and translating belong to my reservoir of methods. Dialogues, conversations and discussions are essential working methods along with other ethnographic tools. The result intends to pursue new possibilities and make proposals beyond art and architecture, beyond the division of theory and practice, making socially committed works often embedded
within everyday life activities.
My art/architecture practice is situated within interdisciplinary exchanges and includes long-term collaborations with local populations and institutional partners.
The core of my submission is to present a different kind of (critical) spatial practice – close to architecture and design practice but not exactly that pursue other ways of living together by getting engaged with issues that concern our neighbourhood – our immediate living environment. 
Projects such as:  
Master Plan for Duamdong, Gwangju, South Korea, 2015 - 2016
Hustadt Project, Bochum, Germany, 2008 – 2011
PLAY_LAND, Holten – Oberhausen, Germany, 2013 - 2016
Neighbours & Citizens, Gävle, Sweden, 2015 – ongoing
Becoming Local, Ammerud, Oslo, Norway, 2021 – in process
Roundtable Cooking, Tøyen/Oslo, Norway, 2021
NJOKOBOK, Tøyen/Oslo, Norway, 2020 – in process
Setting up different and complementary processes in changing our living environments engaging the local population is shifting power relations and positively changing our (sub)urban living space and community life. 
My projects' outcomes vary in scale and provide context-specific and situated platforms for social engagement: from making an object to writing a policy statement.
Impact
I've been working within the expanded field of art and architecture since the 90ties when social engagement was not yet celebrated as a category that one would consider relevant. However, I realized early on that cooperation, participation, and other forms of social engagement are crucial to introduce the change within our society and our living environment, a kind of change that is beneficial for all, not only for the 1% who could afford to benefit from the change. In cooperation with others, I design platforms for exercising democracy that can be materialized by building the space and enabling social relations, recognizing the power of each individual and the power of togetherness.
The project focuses on the concept of the "neighbour" and the role of the "citizen" using the Gavlehov ground as a meeting place. I work with the local pomologist Sylve Rolandsson and the three neighbouring elementary schools (Stora Sätraskolan, Stigslunds skola and Prolympia). Cooperation, solidarity, mutual help, and taking care of the immediate environment are what we are exercising through the project.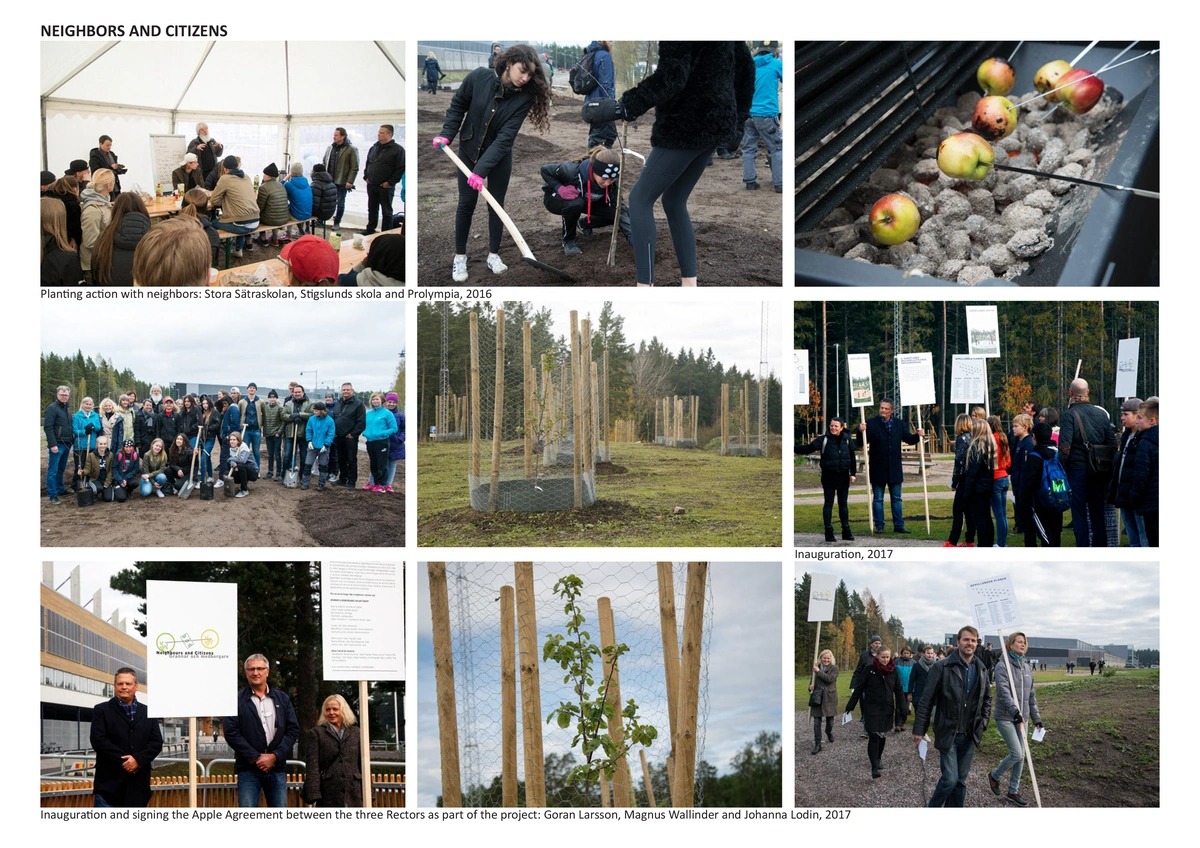 a. APPLE TREE ORCHARD; we planted 21 varieties of apple trees on the public ground, b. SAND PIT / ICE SKATING RING: space for imagination, changing its character through the seasons as the neighbours decide. c. MEETING BENCH; "a place to sit down and wait for your friend", a place with three apple trees graphed with the legendary apple tree from Central Gävle. The authorities in Gävle allowed cutting down the tree to make space for future housing development.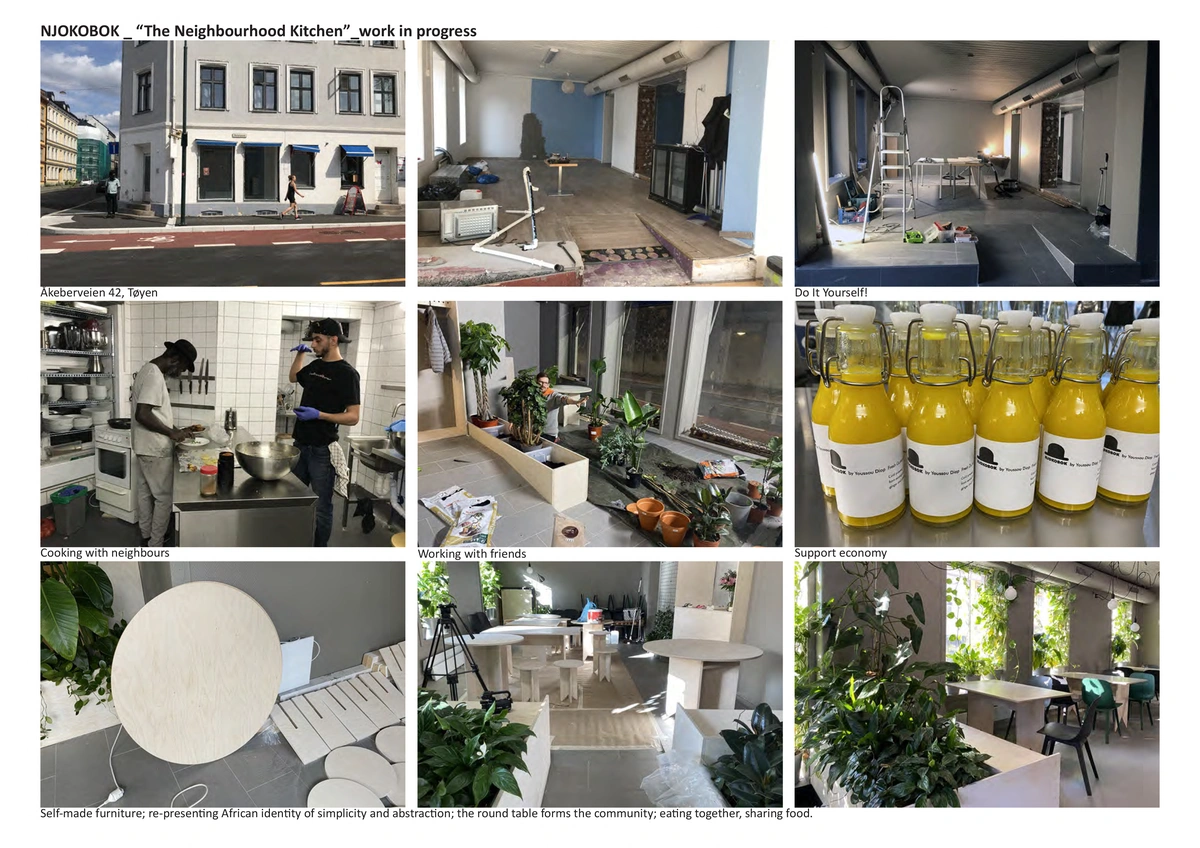 NJOKOBOK_ the neighbourhood kitchen_ is becoming a place to meet with neighbours and others who are interested in building a community based on fare exchange of ideas and knowledge, participating and helping each other to create something unique and special. NJOKOBOK is a word in Wolof (Senegal) that is embracing hospitality, generosity, also meaning, "we share it", and is commonly replied when someone says "thank you" following with YOU ARE WELCOME!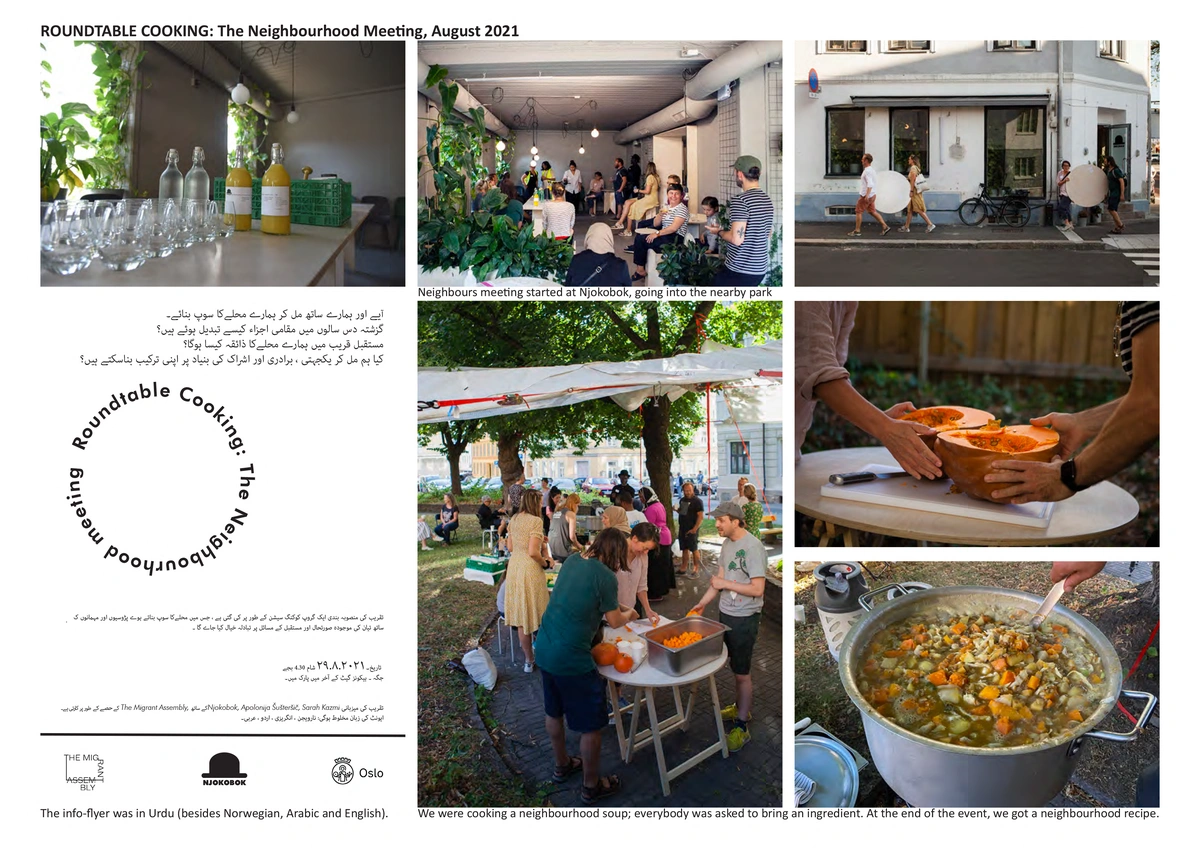 The event was based on cooking a soup together, where each guest contributes one ingredient, typical or special, for our "neighbourhood soup". While cutting, preparing and cooking, we also asked questions about our neighbourhood's present situation and possible future: How much do we know each other? Can we as neighbours support and respect each other regardless of differences? Can we work together to create a strong community, help each other, and enjoy the benefits of cultural diversity?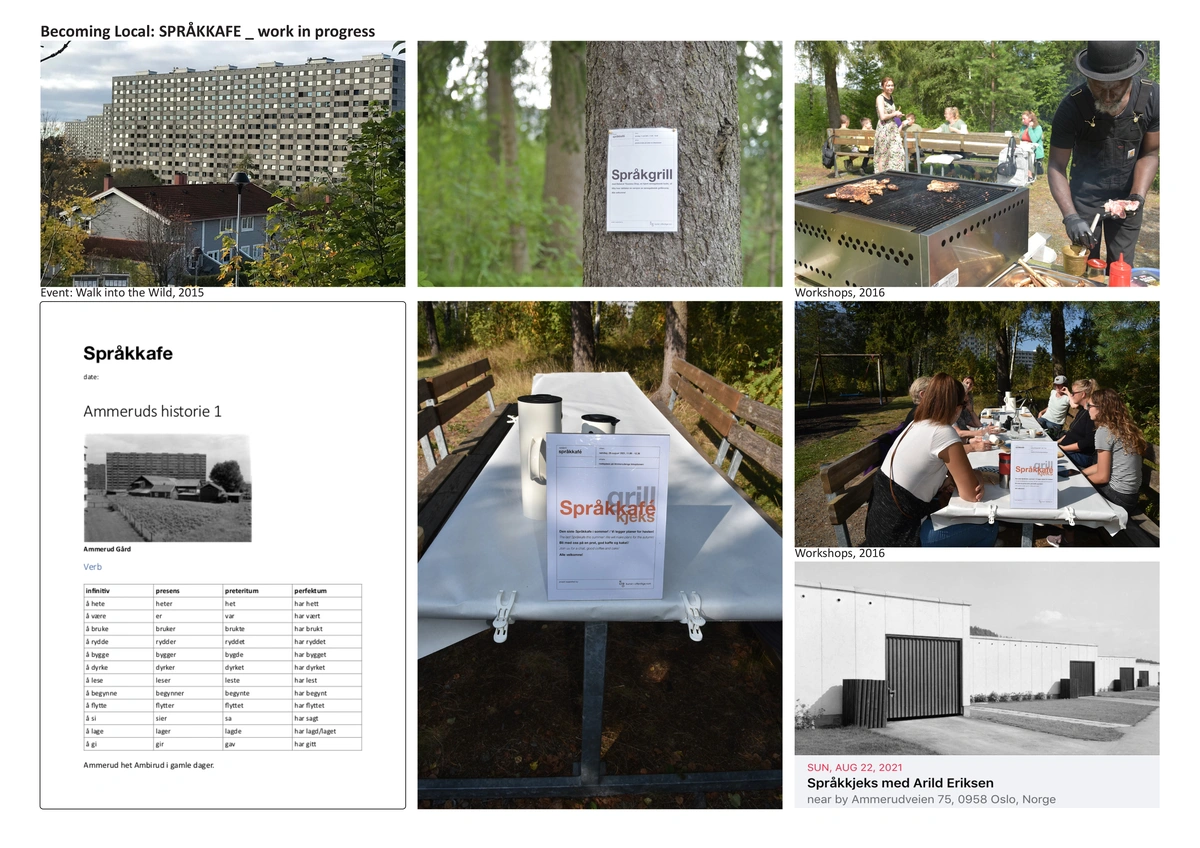 People living in Ammerud today come from many parts of the world (151 nationalities) and create an interesting international community that I would call metropolitan suburbia. The project suggests mobilising the multicultural potential of the place to redefine and challenge the mellow pre-conception of suburban living. Through this project, I'm hoping to explore the idea of alteration, re-opening and re-evaluation of contemporary suburbia.
Apolonija Sustersic Studio
I work internationally, and I don't have a big office where I'm based, which has been since 2018 in Oslo. I tend to cooperate with local actors (individuals, organisations and institutions) on-site; that is how I usually form my working team. You can read more about it on my website: www.apolonijasustersic.com
Cross-disciplinary practice
Norway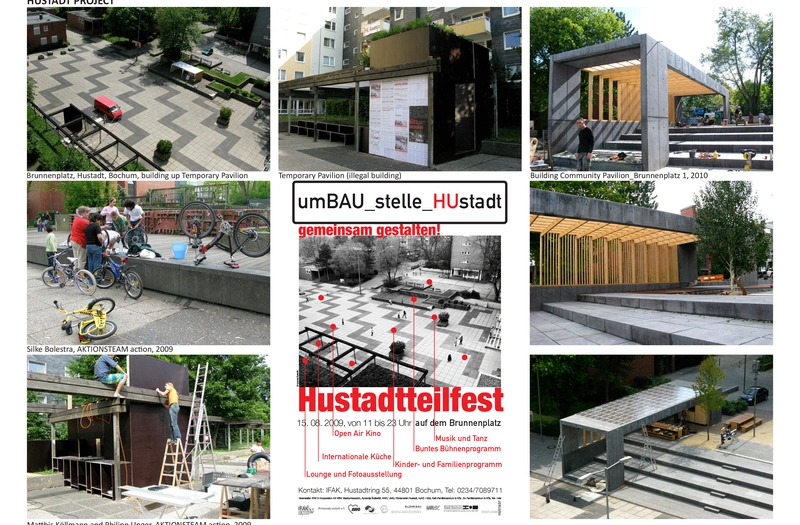 Public participation was realised during the project through various actions on the main square, Brunnenplatz: Sunday brunch, flea market events, bicycle repair workshops, dance workshops, storytelling and public readings, gardening on public greens, lectures and presentations, exhibitions, festivals, and building a temporary pavilion as part of the trial project. The resulting Community Pavilion – Brunnenplatz 1 supports a network of activities suggested by inhabitants.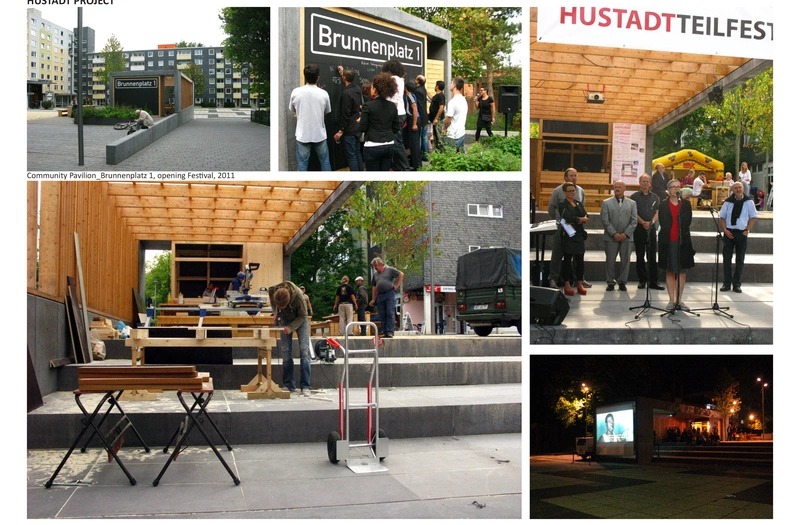 The goal was to create a place that would stimulate and inspire everyone living in the neighbourhood.
The project that was planned only for nine months turned into a three-year process of negotiations, discussions, and actions. It evolved into a self-organised initiative with local activists (Aktionsteam) and provoked a huge discussion within the city legislature.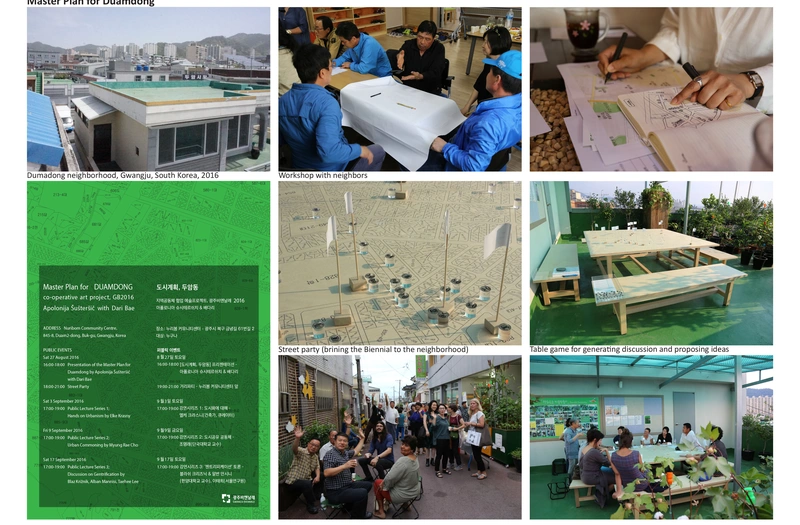 The project was produced by the Gwangju Biennial 2016. It started up in cooperation with the Nuribom Community Centre in Duamdong. It was set up through several workshops with local inhabitants, public talks and urban actions. The aim was to create a discursive platform for local inhabitants to raise awareness about the place today and work on issues related to the neighbourhood in the near future; to propose a new master plan to the municipality that was trying to demolish the place.