Project
SO? Architecture and Ideas
Hope on Water // Post-disaster Floating Neighborhood
Istanbul, Turkey
Social infrastructure
Ways of living, ways of sharing
Rethinking processes and governance
Image: SO?
Project displays how neighbourhood is socially and physically crucial for post-disaster recovery with an idea of a floating, post-disaster settlement.
Hope on Water Post-disasterFloating Neighbourhood Hope on Water is a project that aims to demonstrate how neighbourhoods are socially and physically essential for post-disaster recovery periods with an idea of a floating, temporary, post-disaster settlement in Istanbul. The main idea of creating a post-disaster floating neighbourhood was inspired by the fact that Istanbul currently lacks adequate areas on land that are specifically maintained for post-disaster settlements. Although designated emergency assembly points in the case of an earthquake in Istanbul were announced in 2001, since then, most of these public spaces have been built up, which raises the question of where everyone will be housed in the case of an emergency. The idea of designing a speculative prototype of a floating emergency house came out of this fact: what if the response is not about stable land, but manageable water? We propose a post-disaster floating neighbourhood in the very center of Istanbul not as an executable solution but as a speculative project that draws attention to the urgent need of neighbourhood gathering areas for post-disaster periods.   The project has been developed by the invitation of Jan Boelen, who was the curator of 4th Istanbul Design. It was primarily exhibited in the biennale in Istanbul in 2018 and then partially exhibited in Luma Arles and Gent, Z33 in2019. Fold&Float was displayed onGolden Horn, the area that will not be impacted by an earthquake's tsunami and would possibly host the temporary post-emergency neighbourhood. Fold&Float, is a foldable structure made out of light steel construction, specially developed for emergency situations. Its light and foldable structure provides rapid and easy installation in the case of an emergency. The unit is composed of two main parts: upper structure that includes all the fixed furniture folded and implemented, and a floating pontoon made of concrete. The idea of a foldable unit which comes fully equipped is the result of research displaying that earthquake victims generally spend at least one year in temporary housing after the disaster. The 1:1 scale prototype is still available to be exhibited in case Oslo Triennale is interested in the project. Recently, Fold and Float has been acquired by MAXXI, for the permanent collection of the museum and exhibited in MAXXI at the Good News Women in Architecture exhibition.
Impact
The most important aspect of this project is to exemplify how neighbourhoods become even more vital when things go wrong. As architects, most generally we tend to think that post-disaster solutions are about temporary living units. However, people, even in the most unusual times, need to stay together, as a community, right after they find a place to inhabit. This urgent need of getting together has practical reasons as well as sociological aspsects. By demonstrating an extraordinary neighbourhood in an exceptional but probable situation, we aim to open up a discussion of the necessity of neighbourhoods in difficult times. For the visitors, it is striking to see this almost absurd proposal of floating living units that form an unprecedented neighbourhood on water. Others can learn from the project that there are many ways and methods to form a neighbourhood and we have to keep on discovering what type of co-existence scenarios foster the everyday urban life.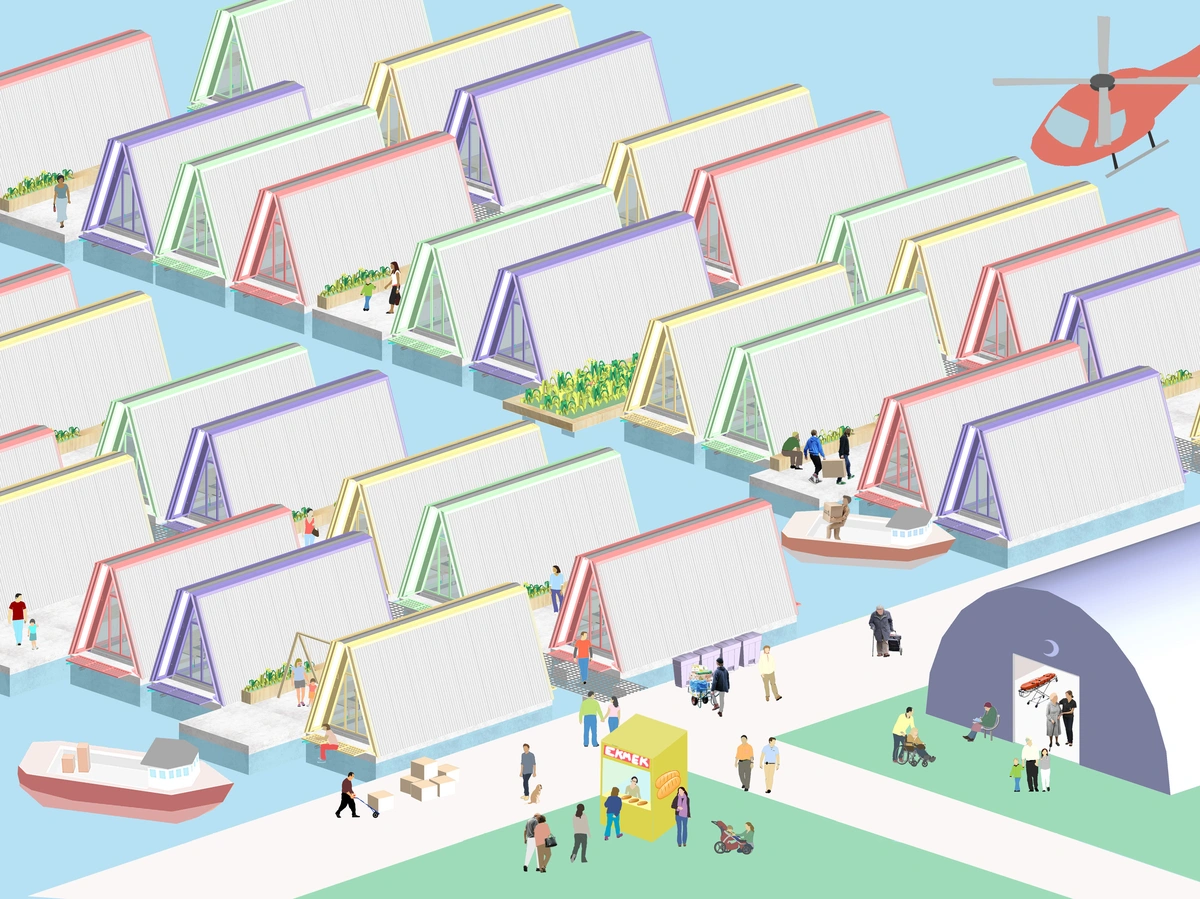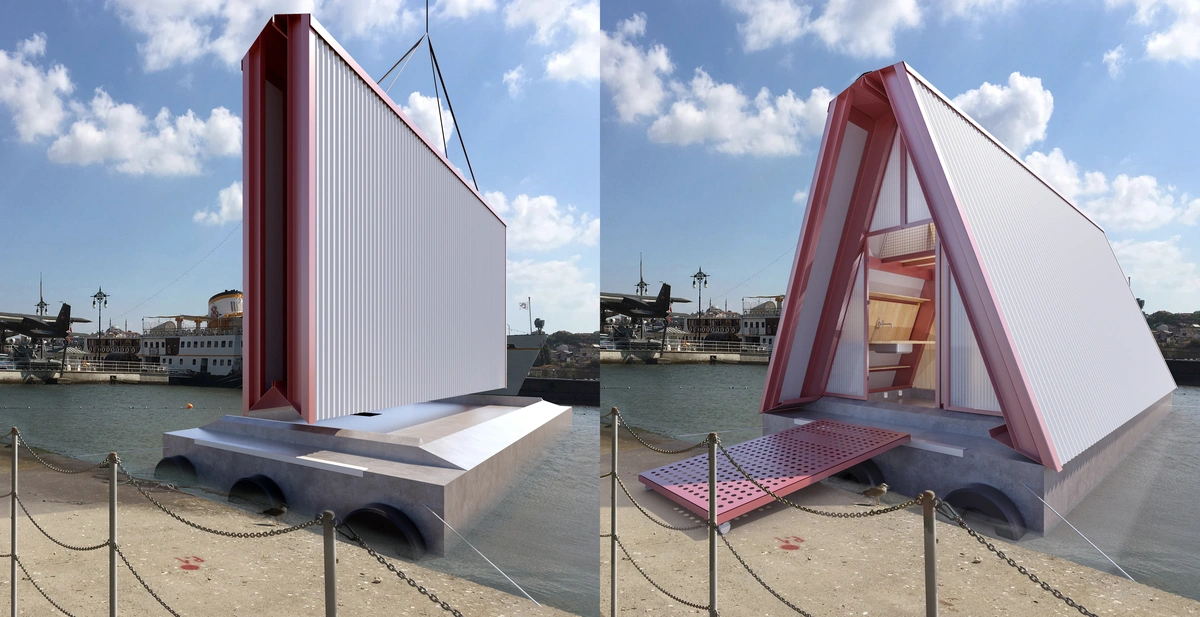 Foldable post emergency house.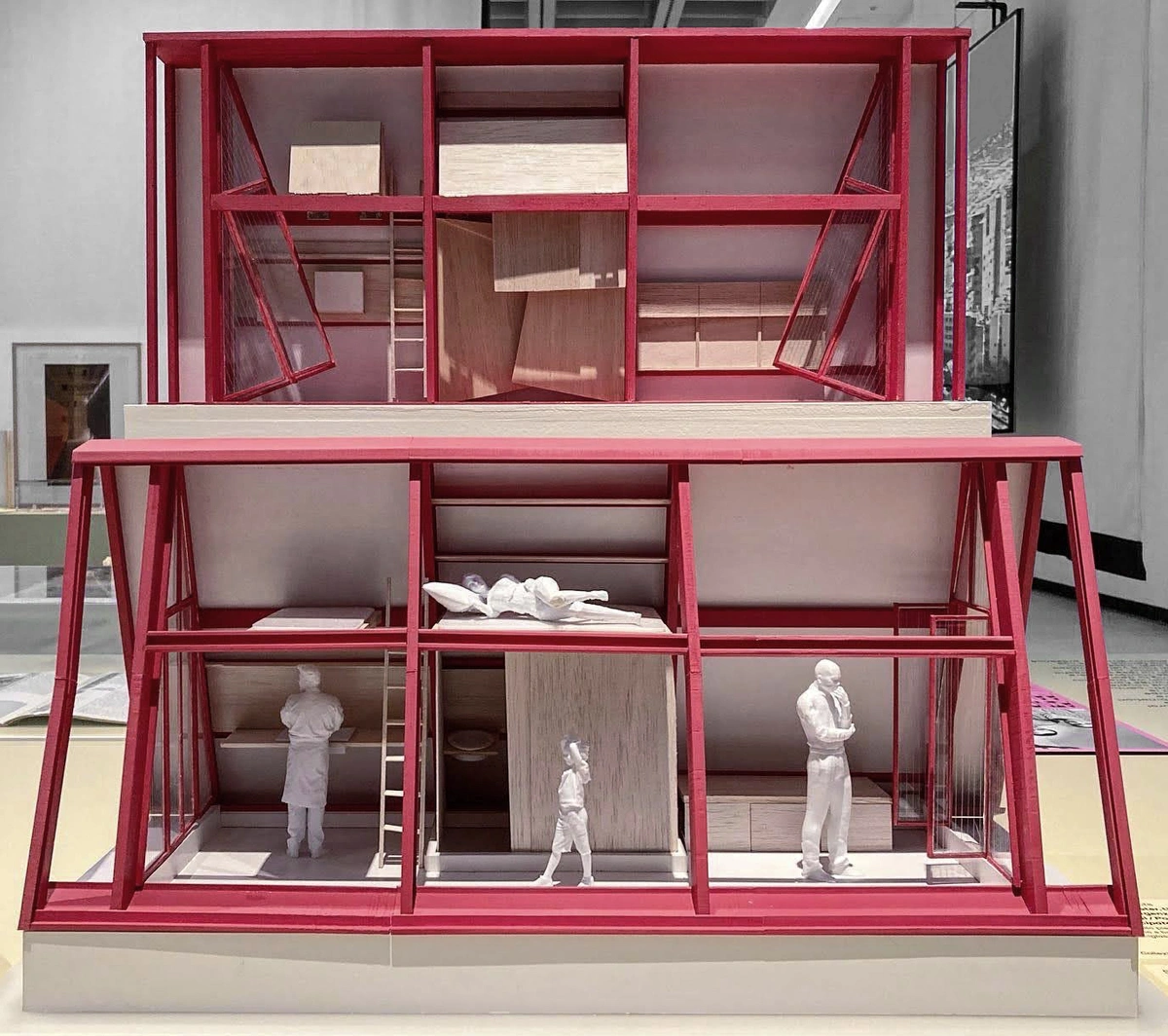 Models of the folded and unfolded structure.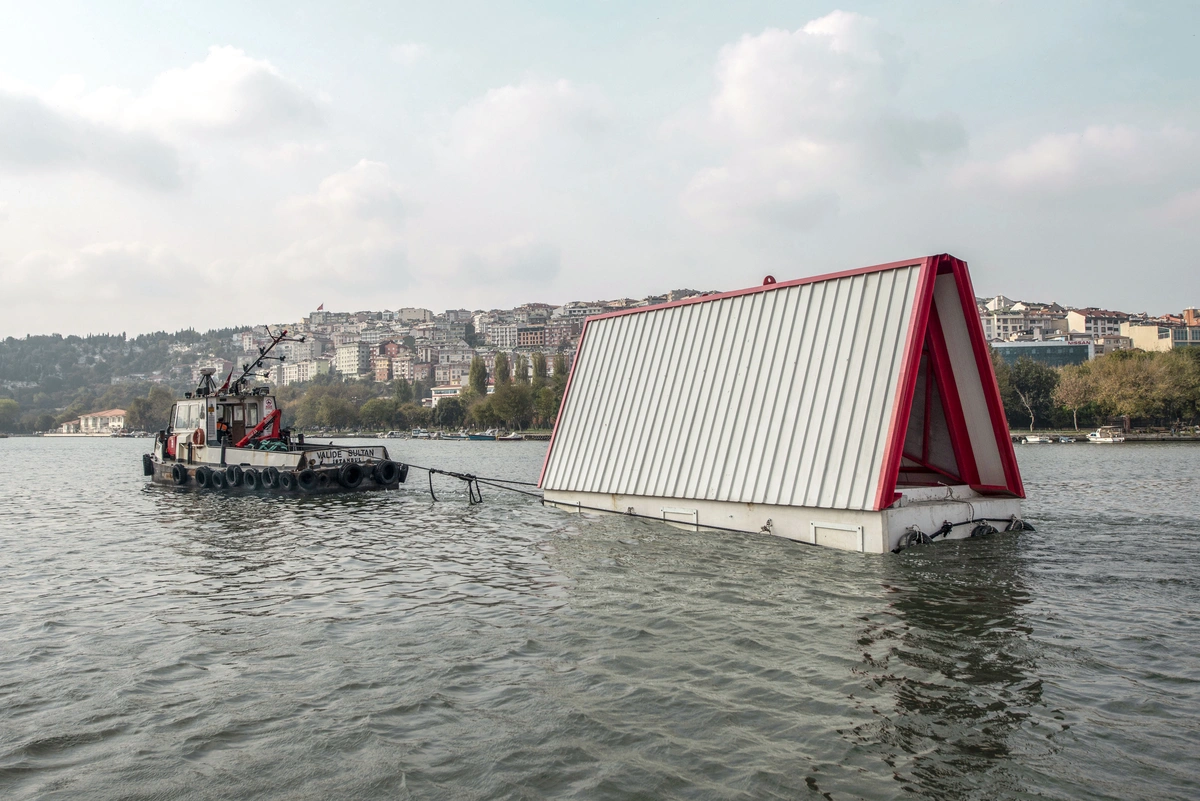 Photo of the built prototype floating on Golden Horn, Istanbul.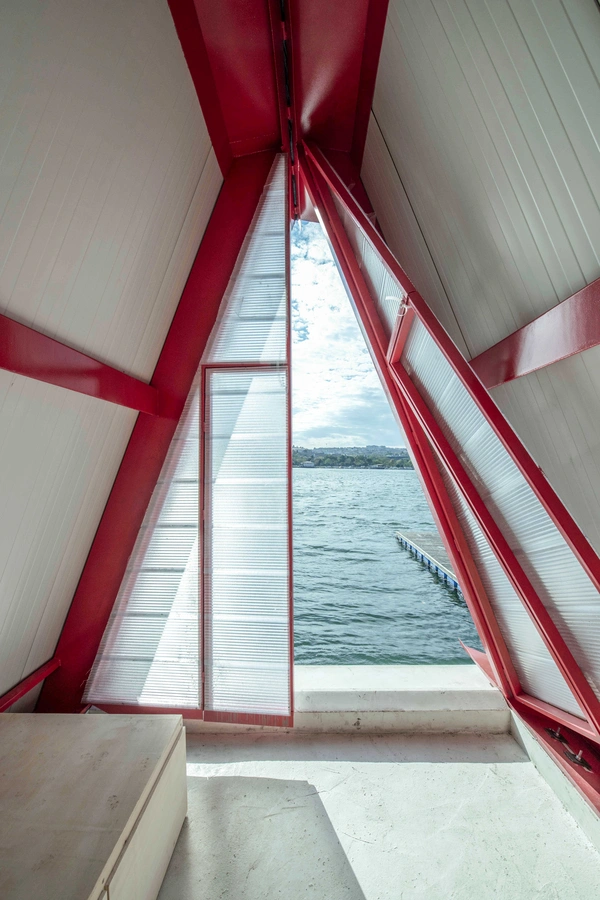 Interior photo of the built prototype.
SO? Architecture and Ideas
Founded in 2007 by Sevince Bayrak and Oral Goktas, SO? is an Istanbul-based studio focusing on design, architecture, and urbanism. In 2013, they won the Young Architects Program by MoMA/PS1, creating Sky Spotting Stop for Istanbul Modern, which was exhibited in MoMA and MAXXI. In 2015, they won the invited competition at the Royal Academy of Arts; their project Unexpected Hill was realized in London. Their installation Lost Barrier was mounted in Rome and acquired by MAXXI for the permanent architecture collection. Their work has been published internationally and nominated for prestigious Mies, Aga Khan Awards, they were among the finalists of the Architectural Review Emerging Architecture Award 2019. They were shortlisted for the Future Architecture Platform 2019. Bayrak recently published a book adapted from her PhD dissertation about the evolution of public space in Istanbul and teaches in MEF University since 2015 and Göktaş has been running a graduate design studio.
Architectural practice
Turkey