Perspective
Future Green Studio
THE NATURAL LANDMARKS OF RED HOOK, NY volume 1 and 2
Brooklyn, New York, United States of America
Public plays
Social infrastructure
Naturehood – wilder and greener
Image: FUTURE GREEN STUDIO
Natural Landmarks is an illustrative guide and map that reframes ubiquitous street trees as significant monuments, sparking curiosity and stewardship.
This project aspires to increase general awareness of the urban ecology of our shared streetscapes. Specifically, the guide highlights the value of trees in the urban environment, the services they provide to public health, and the pleasure they provide as neighborhood assets. Rather than offering a litany of didactic tree facts, it presents a fundamentally new way of regarding the trees that line our streets as fellow residents that live alongside us, experiencing the same weather, time, and urban conditions that we do, with stories of their own. Trees respond to and physically reflect changes in their environment, such as rising tides, increased storm activity, new construction, utilities and root disturbance.
The guide also aims to awaken people to the role they can play in the cultivation and stewardship of their own, public landscapes. Red Hook's neighborhood advocates and organizations have taught us that fruitful community care comes from an intimate, nuanced picture as well as a larger, collective one. With so much of the open space in the city made up of streets and sidewalks, and especially in light of the past 2 years, sidewalks are extensions of our living spaces and provide social spaces for neighbors to interact.
The Natural Landmarks of Red Hook, NY is a pocket-size booklet of tree narratives when folded, and when opened, is a map of Red Hook that marks the street location of each tree with a specific leaf icon. There are two volumes that each includes a collection of five tree narratives, a page to add a tree of personal significance, a cover and the back cover that include "reading a tree", a series of guidelines for recognizing signs of health and distress in a tree. Narrative text is accompanied by a collage that depicts each tree within its context. The collages are composed of hand sketches and photographs that visually capture the layering of time and multiple perspectives, as well.
The next step in this project is to print and distribute the guide to the community and to organize walks that use the map as a basis for other observations and allow new stories to emerge.
"There are thousands of trees waiting to become landmarks in Red Hook!" — or in your neighborhood!
Impact
Our goal for this project is to engage the broader Red Hook community, including and especially, NYCHA residents, with their urban forest and broader issues of public health, environmental justice and resilience. The Natural Landmarks of Red Hook, NY is simply one resource to inspire a greater awareness of the value and health benefits of trees and stewardship of Red Hook's urban forest—connecting people with places. It is also only one step in our office's intent to be engaged members of our neighborhood who bring a positive impact to the community. Through a series of exhibitions, talks, curated walks, writings and ultimately maintenance and design guidelines focused on the trees in our neighborhood, we hope to cultivate stewardship of Red Hook's urban forest and possibly influence the types and numbers of trees planted with the hopes that it can become a more robust and functional part of the urban fabric.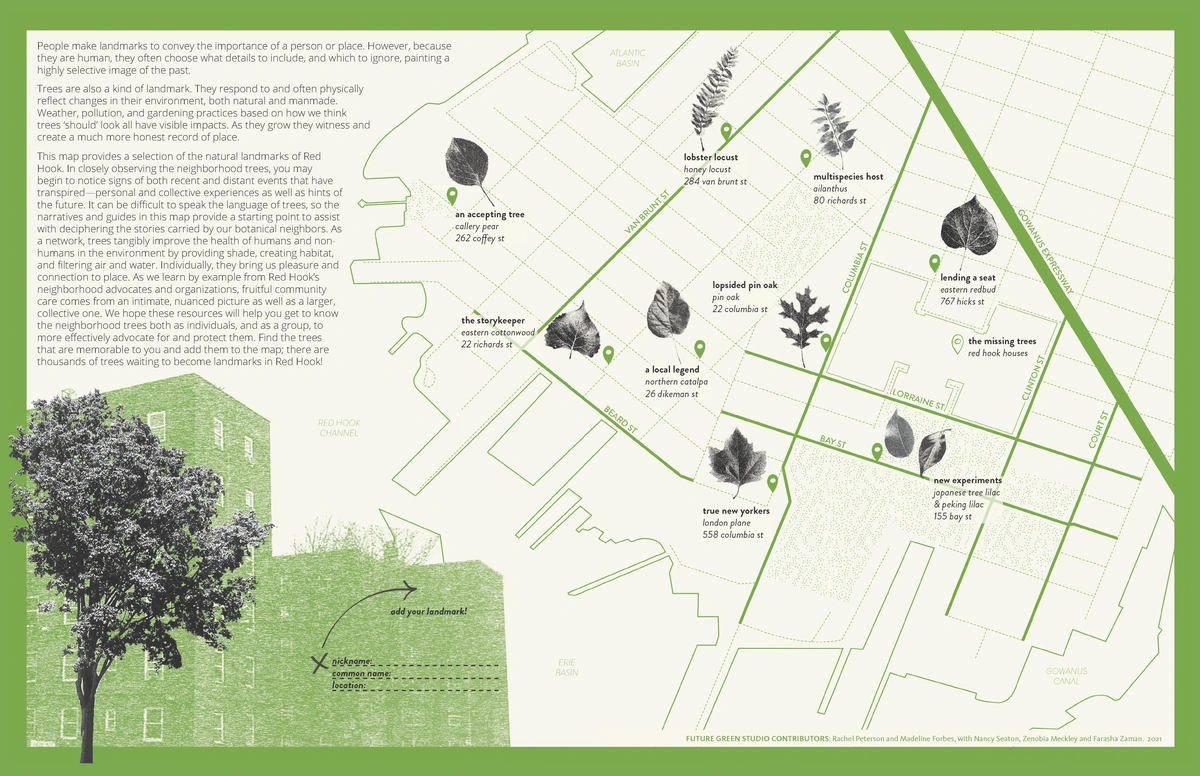 A MAP OFFERS A SELECTION OF TREES IN THE NEIGHBORHOOD, EACH WITH THEIR OWN STORY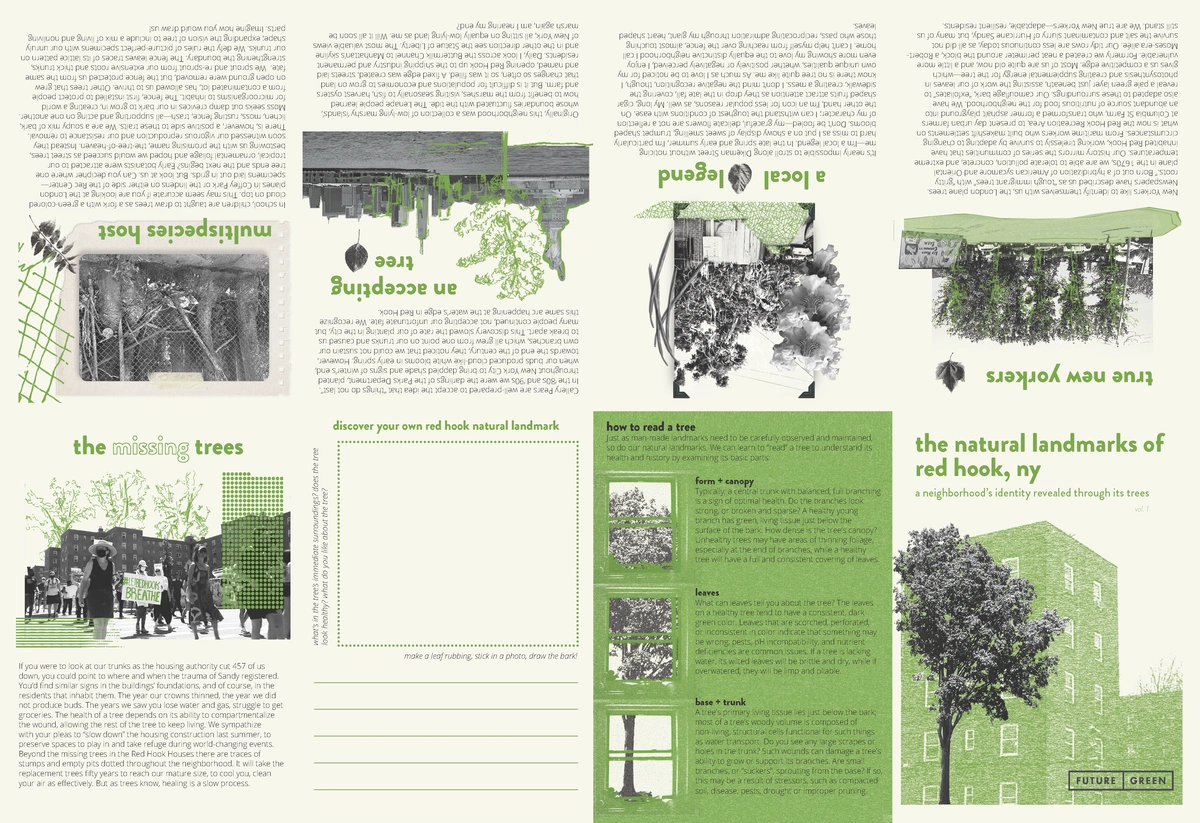 FIVE TREE NARRATIVES, KEYED TO A MAP ON VERSO, FOLD INTO A POCKET-SIZED GUIDE—WITH AN INTRODUCTION TO TREE HEALTH & SPACE TO ADD A TREE OF PERSONAL SIGNIFICANCE.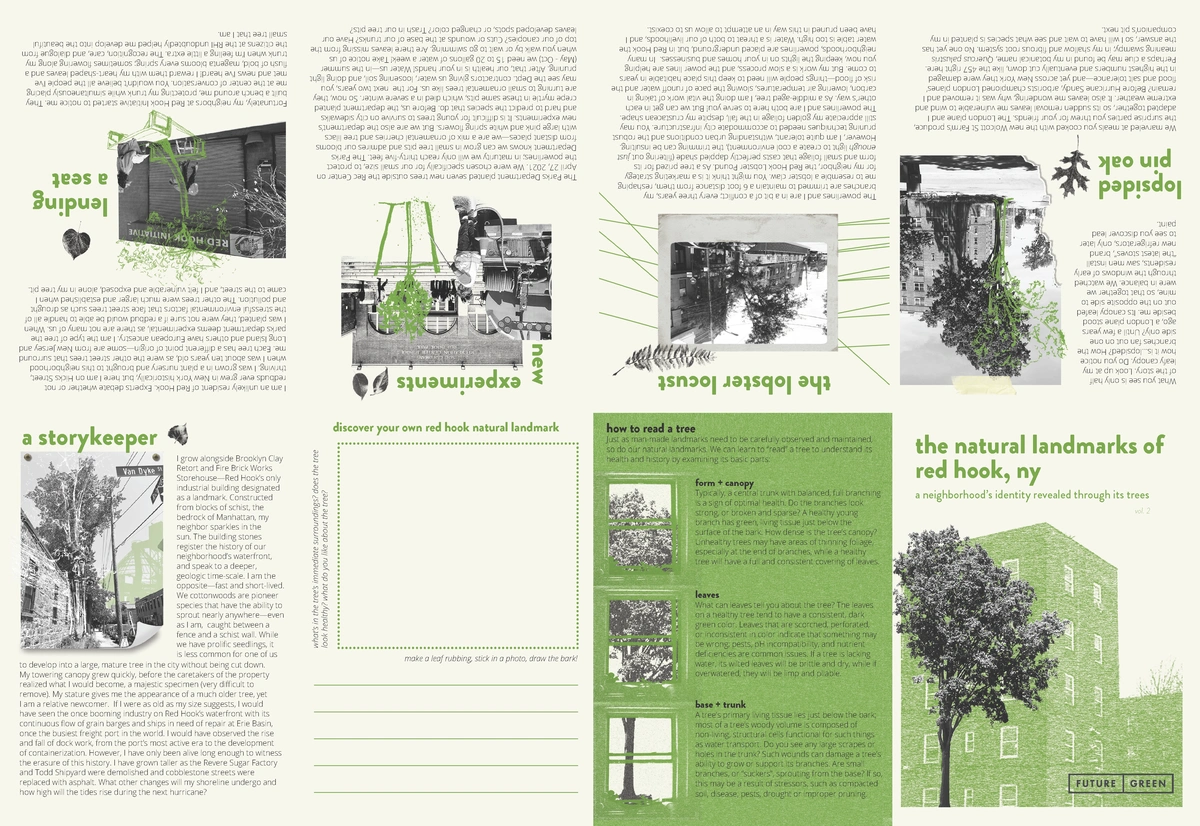 VOLUME 2 OFFERS 5 DIFFERENT TREE NARRATIVES THAN VOLUME 1. TREES CAN REFLECT THE ENVIRONMENTAL AND POLITICAL HISTORIES OF A NEIGHBORHOOD IN THEIR FORMS AND COMPOSITION—AS WELL AS THEIR ABSENCE CAN.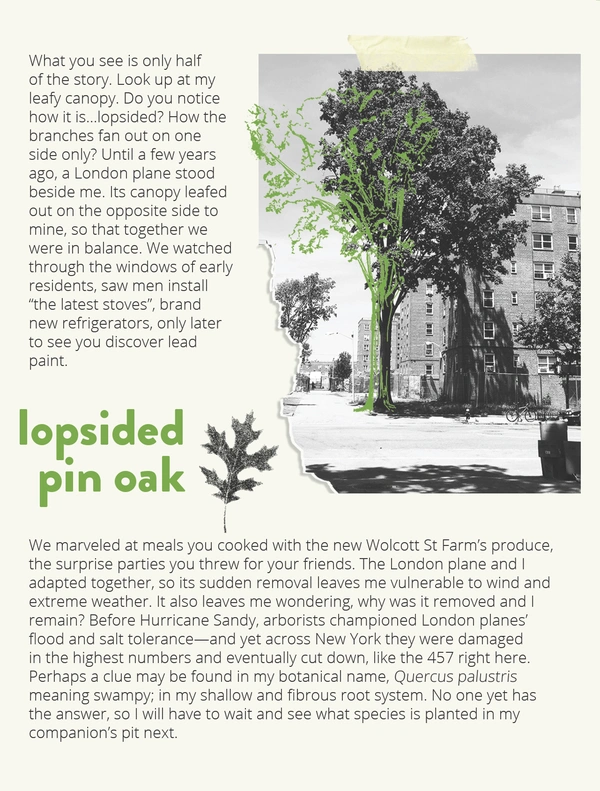 A PAGE FROM OUR GUIDE —TO INSPIRE GREATER AWARENESS OF THE VALUE AND HEALTH BENEFITS OF TREES, THROUGH RELATABLE STORIES OF INDIVIDUAL SPECIMENS.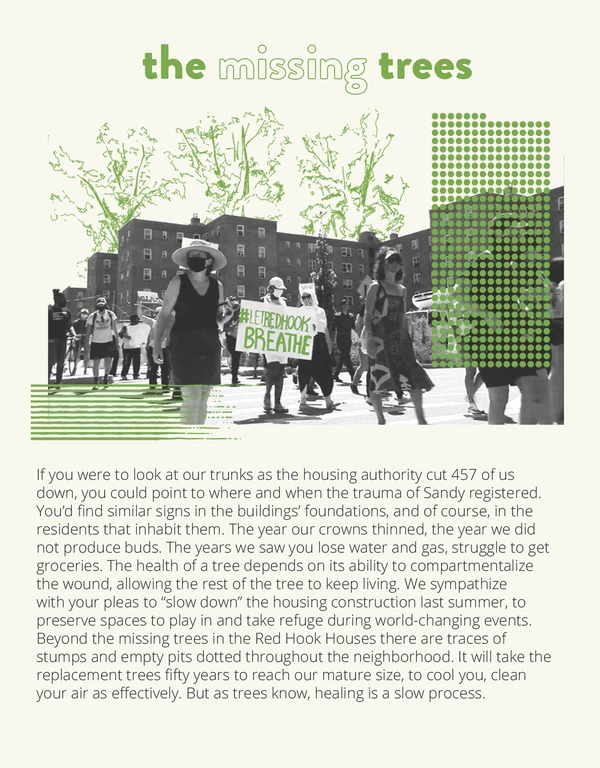 OUR NATURAL LANDMARK DESIGNATION INCLUDES THE COMMEMORATION OF TREES THAT ARE ABSENT
Future Green Studio
Future Green Studio is a distinctive and innovative landscape design firm based in Brooklyn, New York.
Project team included: Madeline Forbes, Rachel Peterson, Nancy Seaton, Farasha Zaman and Zenobia Meckley (with office-wide support)

Landscape Architecture Studio
United States of America