Do the Right Thing in the 'Hood! ETICity for Piave Neighbourhood (Venice, IT)
Venice, Italy
Public plays
Social infrastructure
Production and commercial diversity
Image: Jennifer Rosa's Performance in Piazzetta S.Francesco for Mestre Mon Amour Festival | Ph: ETICity
ETICity's practice acts on urban collective/public space as citizenship and welfare devices to support the social infrastructure and situated politics
The core of our submission is recounting of ETICity (Venice local unit) practice since 2017 in Piave neighbourhood, situated between the railway station area and the city centre of Mestre (Venice city mainland). It has been facing significant changes over the last 20 years such as the decrease of commercial activities and long-term population, an increased presence of multicultural inhabitants and stigmatising storytelling. ETICity stands with local associations and informal groups to promote change and improvement in the Piave neighbourhood by collectively appropriating and improving public spaces and private premises.
ETICity practice took the form of participation in local reactivation projects in collaboration with different networks aiming to revitalise and reappropriate collective (both public and private with public use) spaces through, for example, project management, direct fund-raising, urban, landscape and interior design. Moreover, network-building was put forward, involving several collaborations with very different stakeholders. The process of horizontal collaboration and peer-to-peer accompaniment of voluntary associations and informal groups has allowed reaching outcomes that standard approaches - with their impossibility to manage empty spaces through traditional planning zoning - and standard engagement procedures of public offices or architectural firms would not have allowed.
Projects promoted by ETICity association practice are:
Q.Pi neighbourhood concierge and courtyard (ongoing) offers free services for everyday life, promotes volunteering for the development of trans-generational sociality and community;
Bottegattiva (ongoing) is a project promoted by local business associations with the purpose of activating integrated urban regeneration actions, involving local shops, craft shops, and associations;
MMA - Mestre Mon Amour, Festival of dance and performing arts for urban regeneration has revitalised some underused public spaces, with performances, video-dance projections, talks and urban itineraries (2019);
Urban Rise collective launched the contest "UR 4 Cinema Dante" open to street/urban artists for realising a mural on the façade of the neighbourhood cinema d'essai and supported its realisation (2018);
Riverberi and the pilot project "The urban void lightens up" aimed to reactivate vacant commercial spaces along Piave street, "illuminating" them with cultural and creative productions, and innovative crafts (2017).
Impact
Since 2017, ETICity has been working in Piave neighbourhood to provide social infrastructure for multicultural and transgenerational inclusion by opening up private premises to host public programs addressed to the neighbourhood community, and the city at large. It has been designing and programming events, both cultural and social, addressed to small productions such as crafts(wo)men, digitally innovative entities, in order to set up a wide array of public plays.
This has led to the reinforcement of old and new networks, with local formal associations and informal groups. Some of the completed ETICity projects became a legacy and starting point for other associations to follow the lead, or walk the same path (fund-raising calls, settle down in vacant spaces) thus consolidating a small-scale regeneration process. While some activities and stakeholders got aware of the potentialities of the neighbourhood, they decided to move there and permanently stay, investing in its transformation.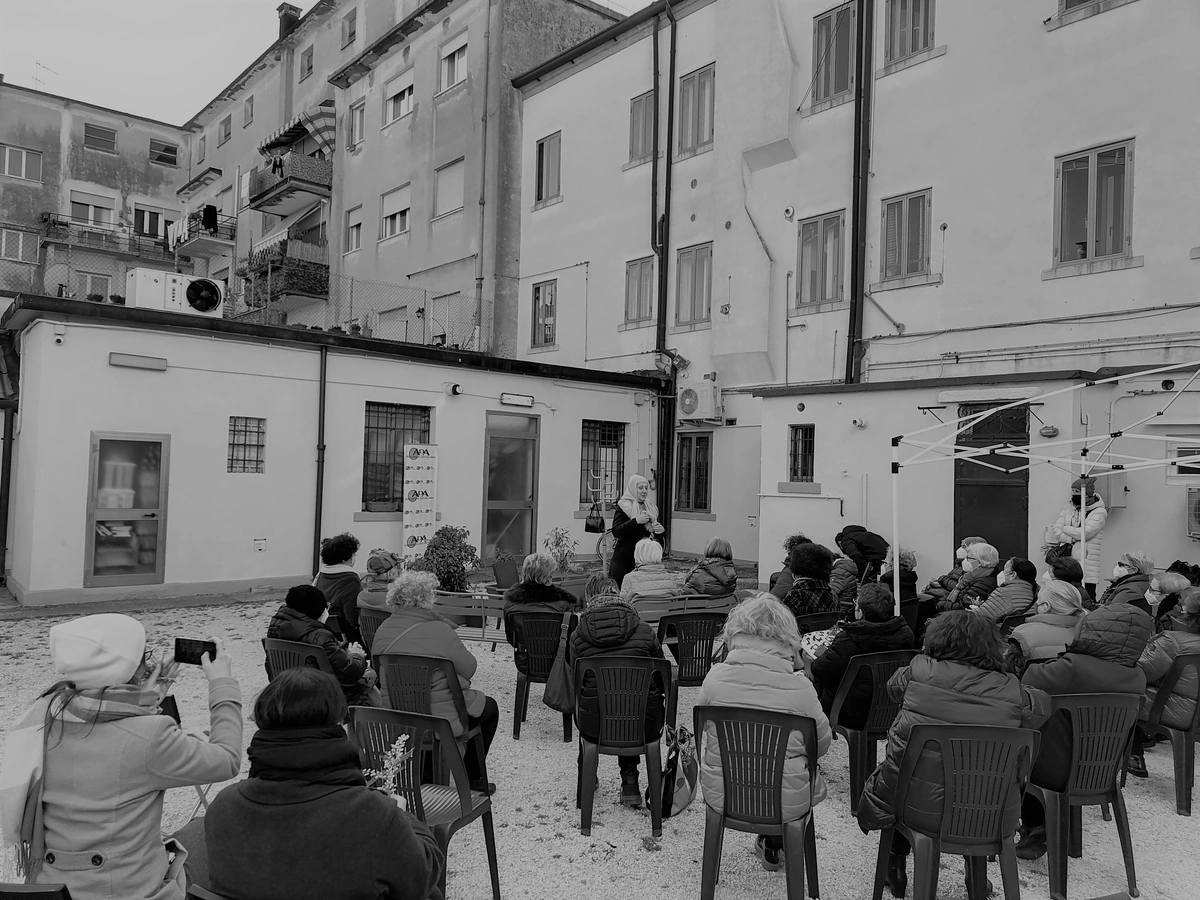 Q.Pi neighbourhood courtyard allows for multicultural and intergenerational encounters, and acts as one of the few open spaces for the community | Ph: ETICity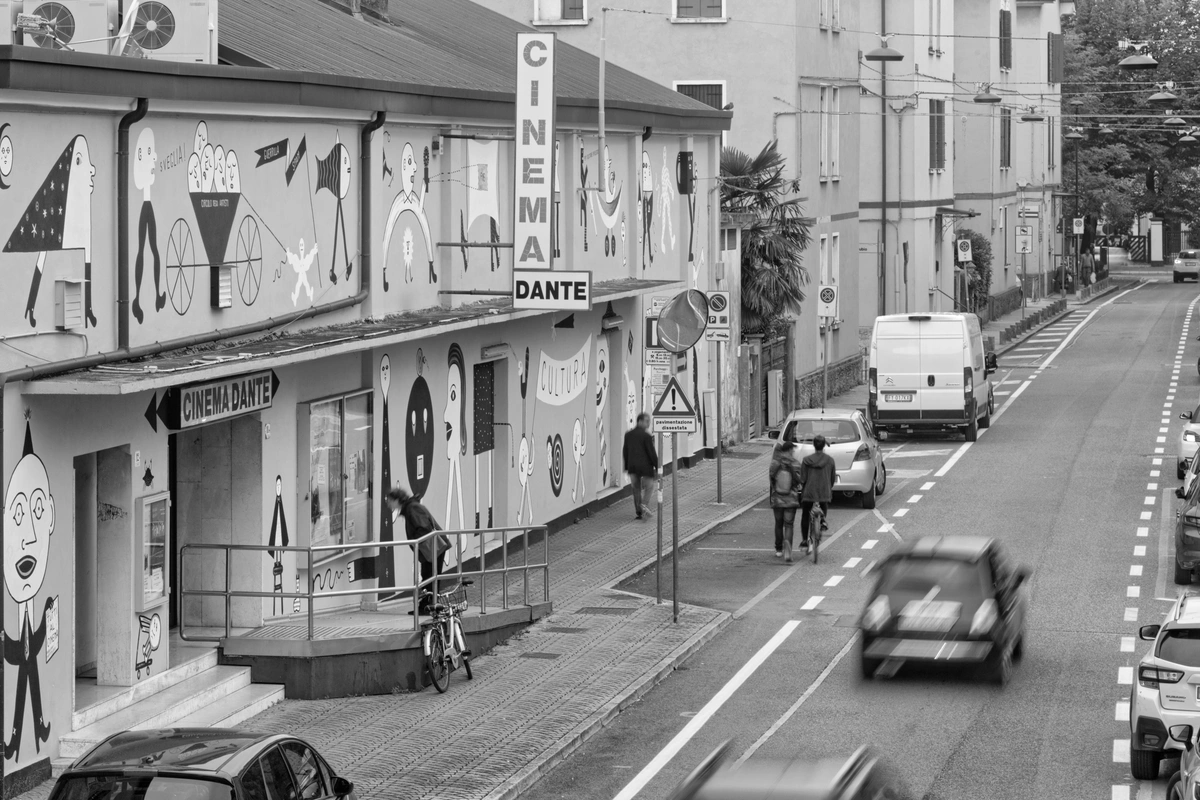 Guerrilla Spam's murales on the facade of Cinema d'essai Dante was a shared endeavour in its content (inhabitants suggestions durind its realization were taken into account) and promotion (a network of stakeholders joined forces to finance and implement it). Its impact on the sorrounding streets perception has been huge | Ph: ETICity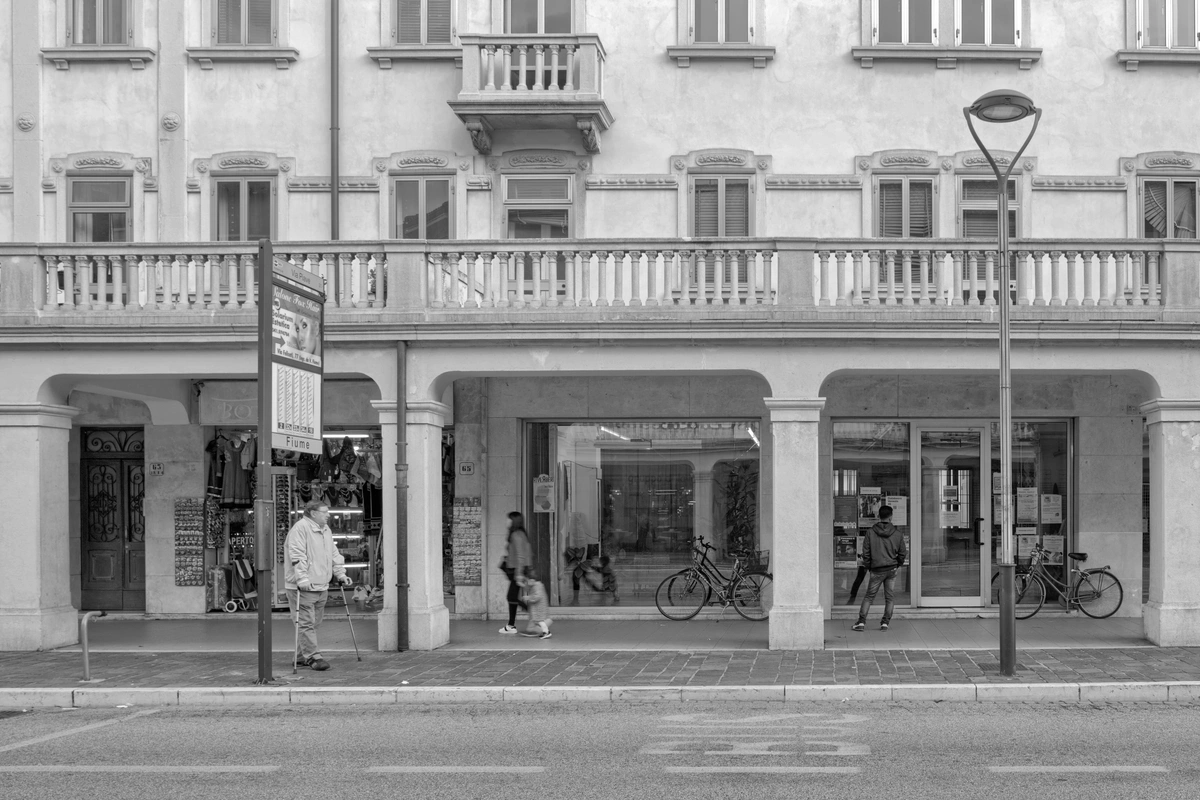 Riverberi program and the pilot project 'The void lightens up' provided a transformation at Piave St. Porticos that looks subtle, dealing with uses of ground floor premises of urban blocks. Nevertheless it was sufficiently visible to turn the empty commercial spaces in rented ones again | Ph: ETICity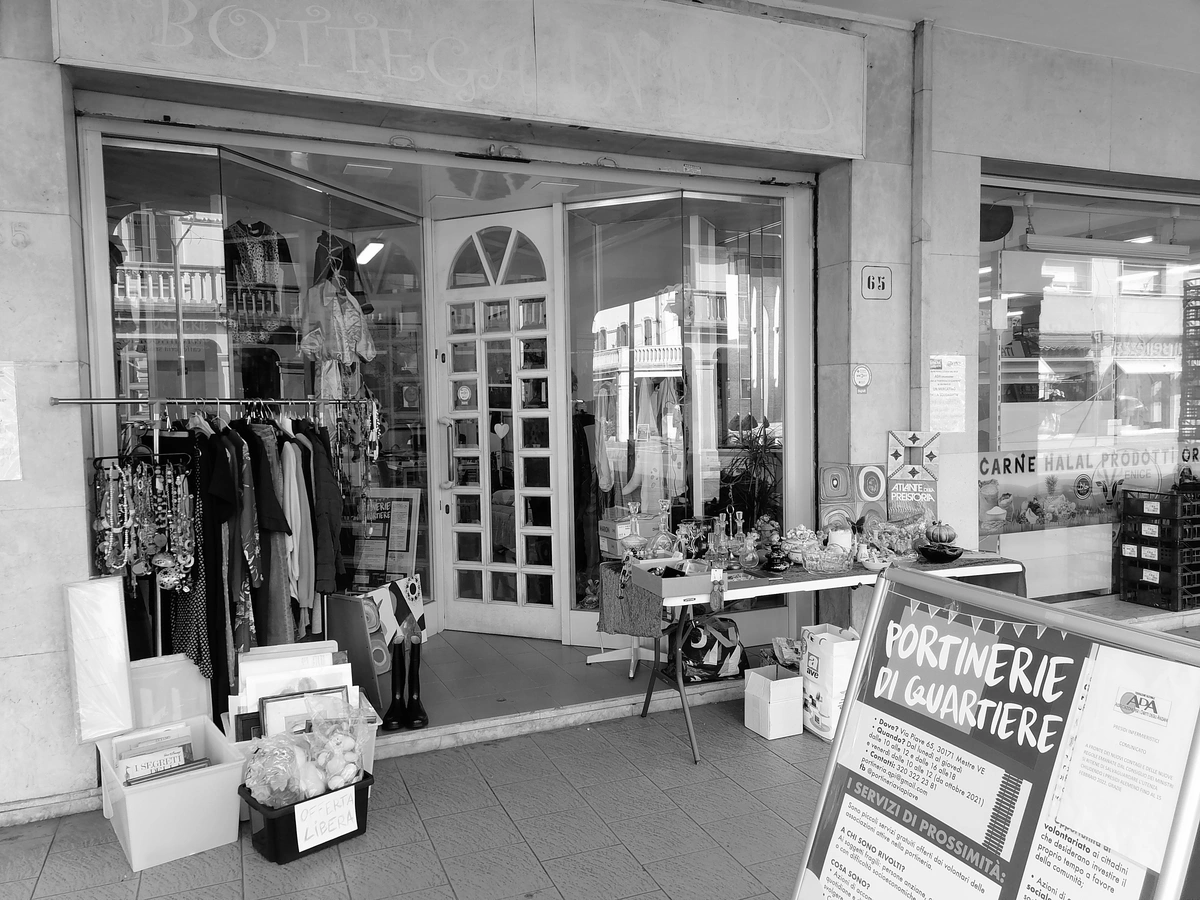 Q.Pi neighbourhood conceirge is the place were the inhabitants find support for everyday life issues, but also a community building space where they can find the solidarity market or the hand-made illustrations market, just to name a few | Ph: ETICity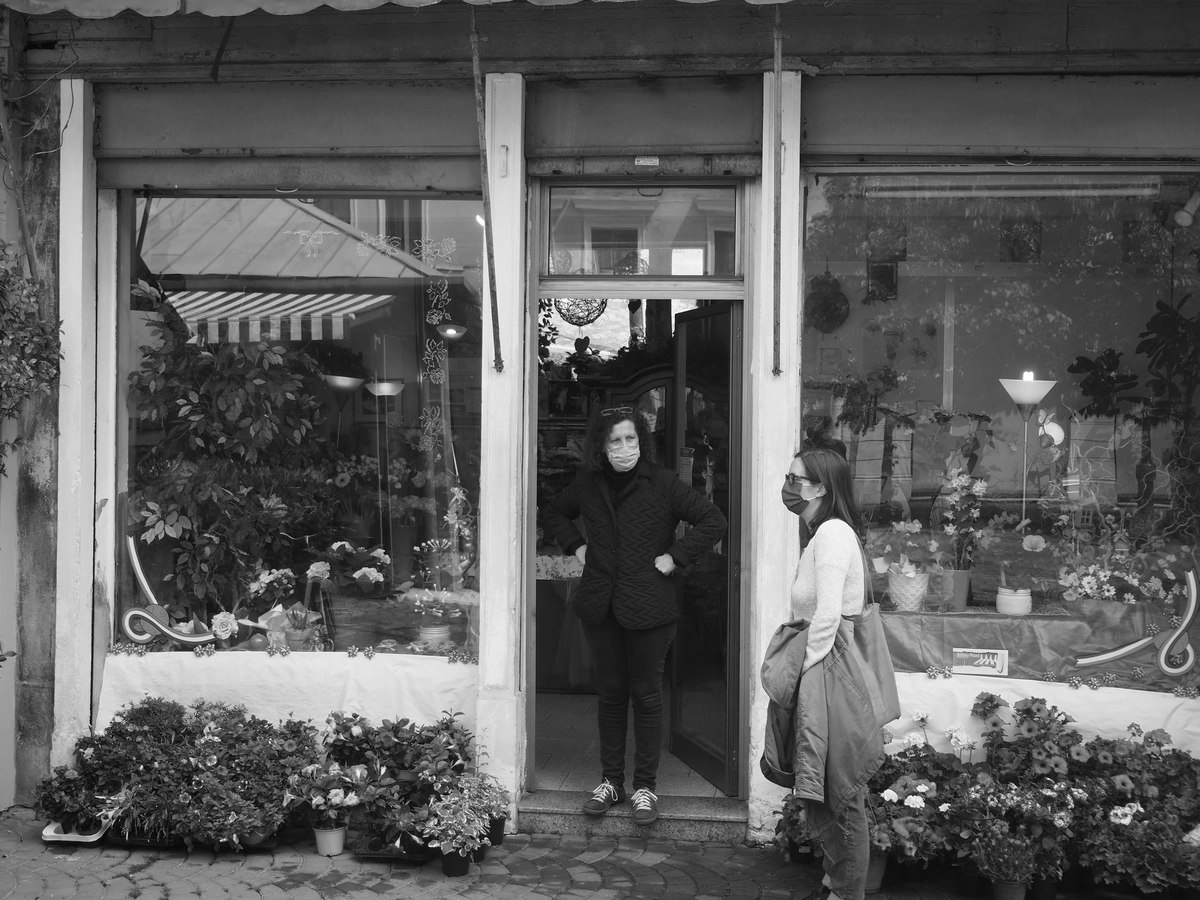 Bottega Attiva project put forward an effort to build up a network of commercial activities and at the same time to promote it to a larger public, rendering the neighbourhood more attractive | Ph: ETICity
ETICity
ETICity is a multidisciplinary association constituted by urban scholars and practitioners. It has been active in Rome since 2012 and in Venice since 2017. Over the years, it has promoted activities and projects to support the capacitation of local contexts, through events and cultural itineraries as tools for awareness raising and participation, organisation of seminars and workshops on urban regeneration, managing the reuse of empty spaces and premises. The local unit of Venice consists of 5 members with backgrounds related to urban studies and urban regeneration (architecture, planning, restoration, cultural management). It is currently involved in projects and initiatives of local development in Mestre, in collaboration with associations, inhabitants, local businesses, public and private entities of the third sector, public administrations, and universities. It also proposes training courses, urban knowledge itineraries and brings its contribution to conferences, workshops, policy.

Advocacy urban design research-action association
Italy
Q.Pi neighbourhood concierge and courtyard | Ph: ETICity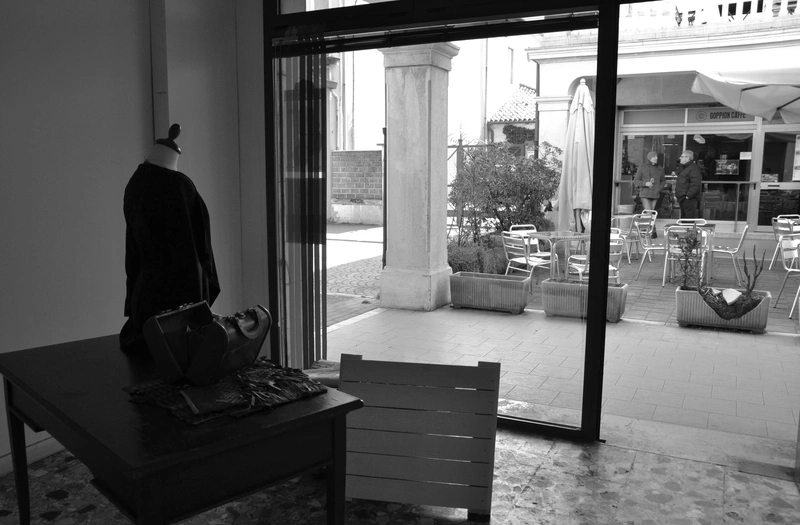 Riverberi - The void lightens up | Reactived premise under porticos | Ph: ETICity
MMA Mestre Mon Amour | Festival of dance and performance for urban regeneration | Ph: ETICity