Practice
Marwah Garib and Sandi Boulos
CO-SCAPE
Vancouver, Canada
Social infrastructure
Ways of living, ways of sharing
Production and commercial diversity
Image: Marwah Garib, Sandi Boulos
CO-Scape is a community-driven approach to densify and inject mixed-uses into residential neighborhoods, adapting to the post-pandemic lifestyle.
There is no more urgent time than now to rethink the vast suburban reality of North American cities. With the climate crisis upon us, retrofitting our suburbs for a post-oil equitable future is a necessity. Co-scape is a proposed system of communal ownership rethinking the future of monotonous north American suburbs by creating a system that allows mixed-uses, community ownership, affordable housing and high quality public spaces.
This system would be realized through a Community Non-profit Organization (CNO) that is representative of the community. Based on the members' needs, the CNO develops and manages new affordable housing by purchasing land and constructing new buildings, co-developing housing with existing landowners and assisting them in building new uses on their lots such as retail, makerspaces, fitness studios, and working spaces. Also, the CNO acts as a liaison with the local government to enhance the public realm, creating pedestrian, cyclist, and child-friendly streets. The CNO acts as a property manager; as they aim to increase mixed-use activities, they are responsible for managing them financially and maintaining them. CNO's second goal is to provide affordable housing. This is accomplished by acting as a co-op mediator between landowners and new co-op residents. As an organization, CNO would support landowners financially and with the construction process by facilitating loans to help landowners build more units or rebuild their plot.
Co-Scape is envisioned as a flexible adaptable system that can achieve various processes specifically adjusted to each community. To showcase that, we provide various scenarios, three of which in the images below.
Impact
Co-scape taps into a community's social infrastructure to 'animate' North America's mono-cultural suburban communities as active and diverse neighborhoods. This co-ownership model strives to densify existing suburban neighborhoods by facilitating much needed affordable housing, injecting a variety of uses such as local production typologies (work and maker spaces, shared kitchens, community gardens and retail), as well as arts and cultural spaces to achieve mixed-use walkable neighborhoods.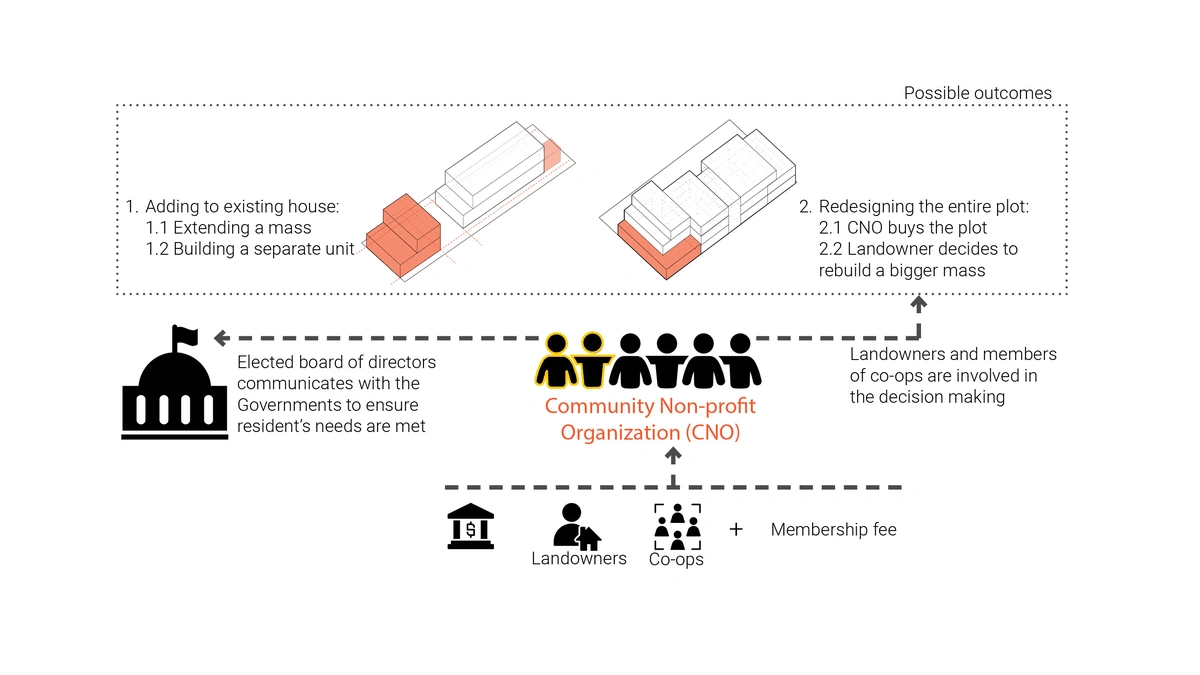 Diagram showing the organization of Co-scape.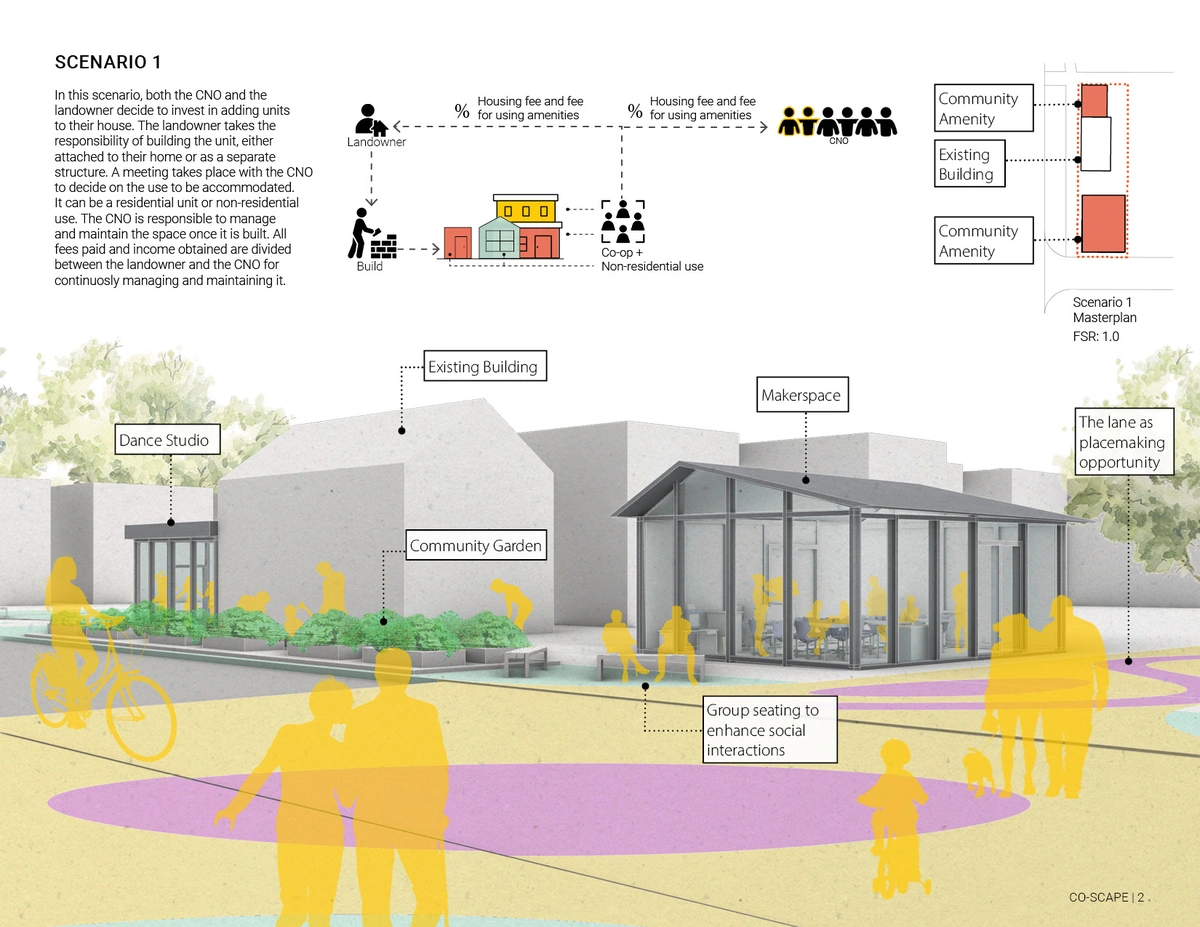 Scenario 1: A neighborhood landowner reaches out to the CNO to invest in adding units to their house. The landowner takes the responsibility of building the unit and the CNO is responsible to manage and maintain the space once it is built. All fees paid and income obtained are divided between the landowner and the CNO for continuously managing and maintaining it.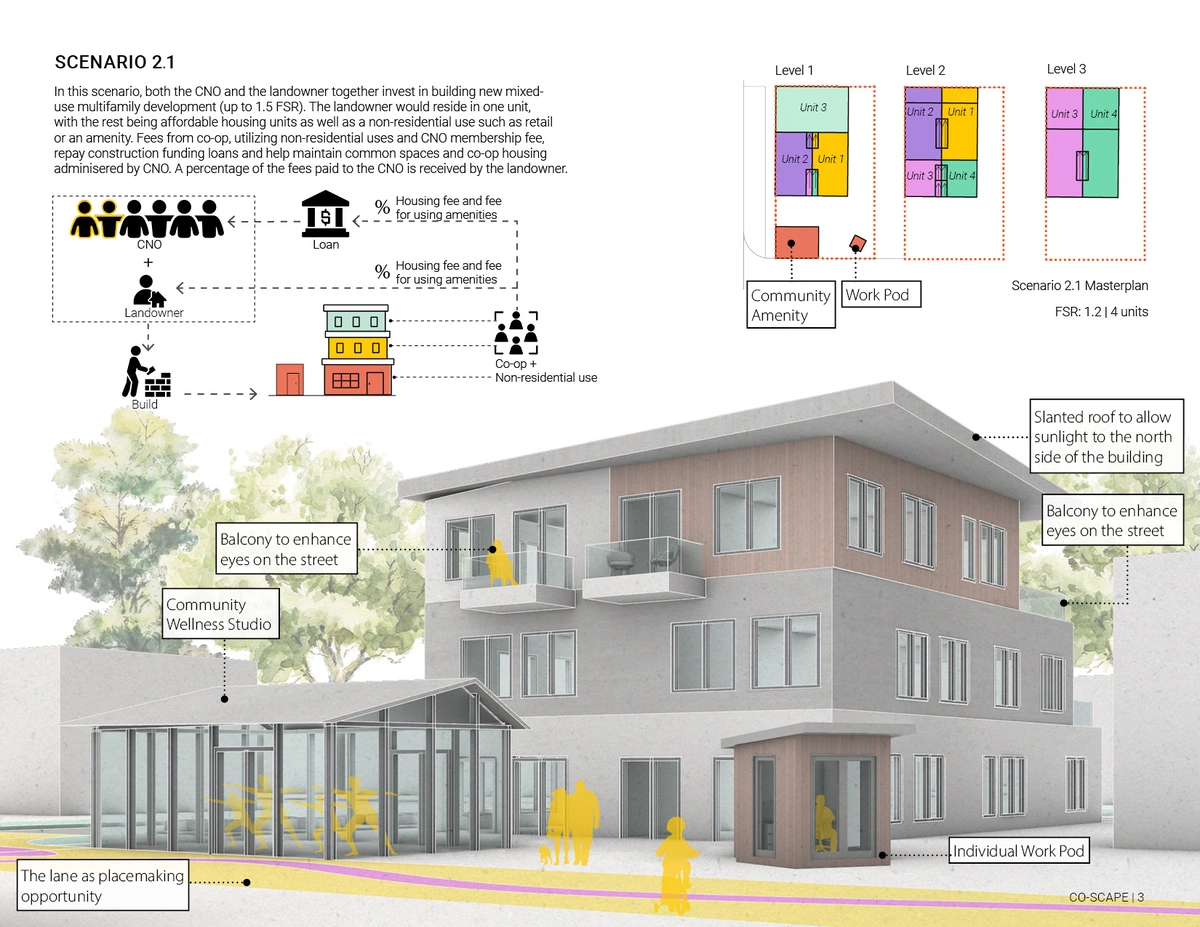 Scenario 2.1: The CNO and the landowner co-invest in building new mixed-use multifamily development. The landowner would reside in one unit, with the rest being affordable housing units as well as a non-residential use such as retail or an amenity.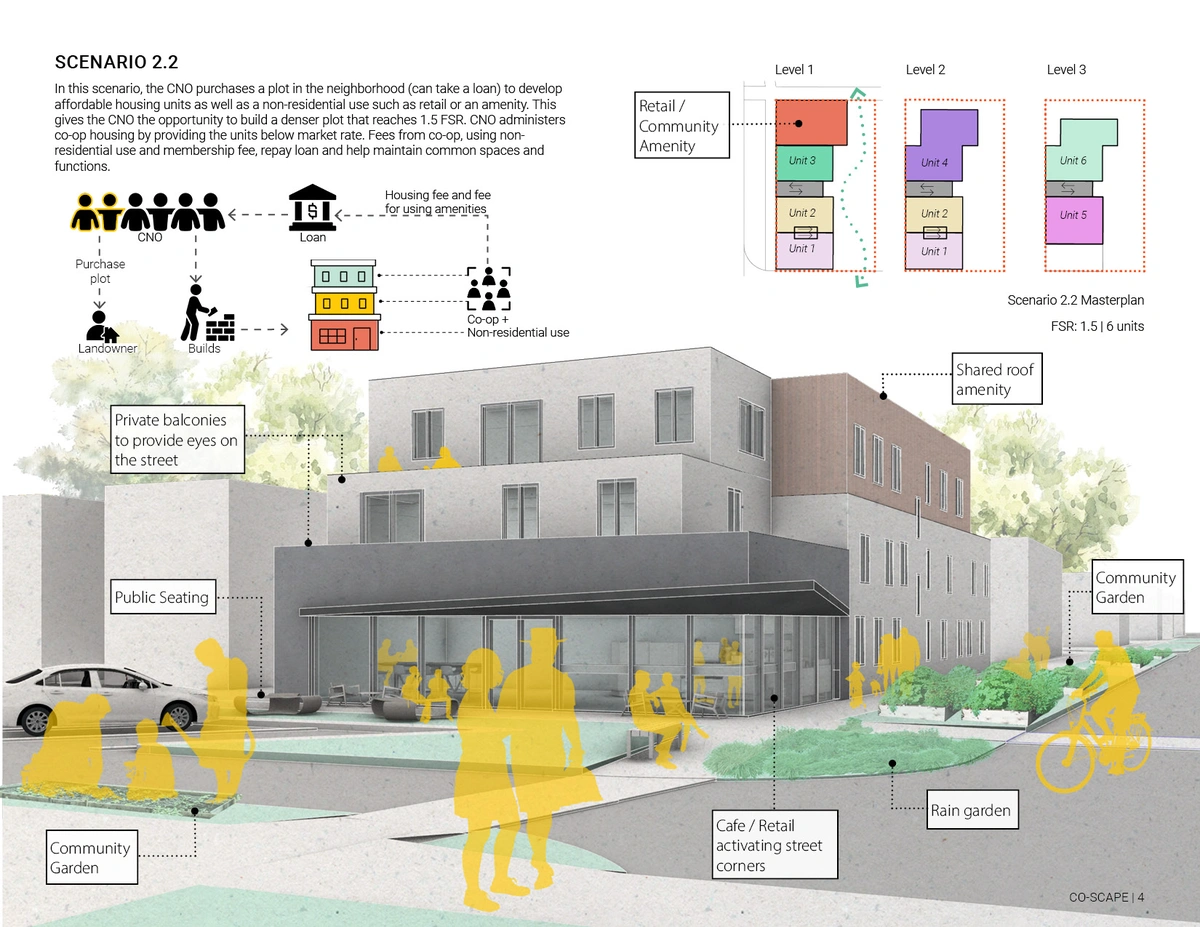 Scenario 2.2: In this scenario, the CNO purchases a plot in the neighborhood to develop affordable housing units as well as a non-residential use such as retail or an amenity. CNO administers co-op housing by providing the units below market rate. Fees from the co-op, using nonresidential use and membership fee, repay loan and help maintain common spaces and functions.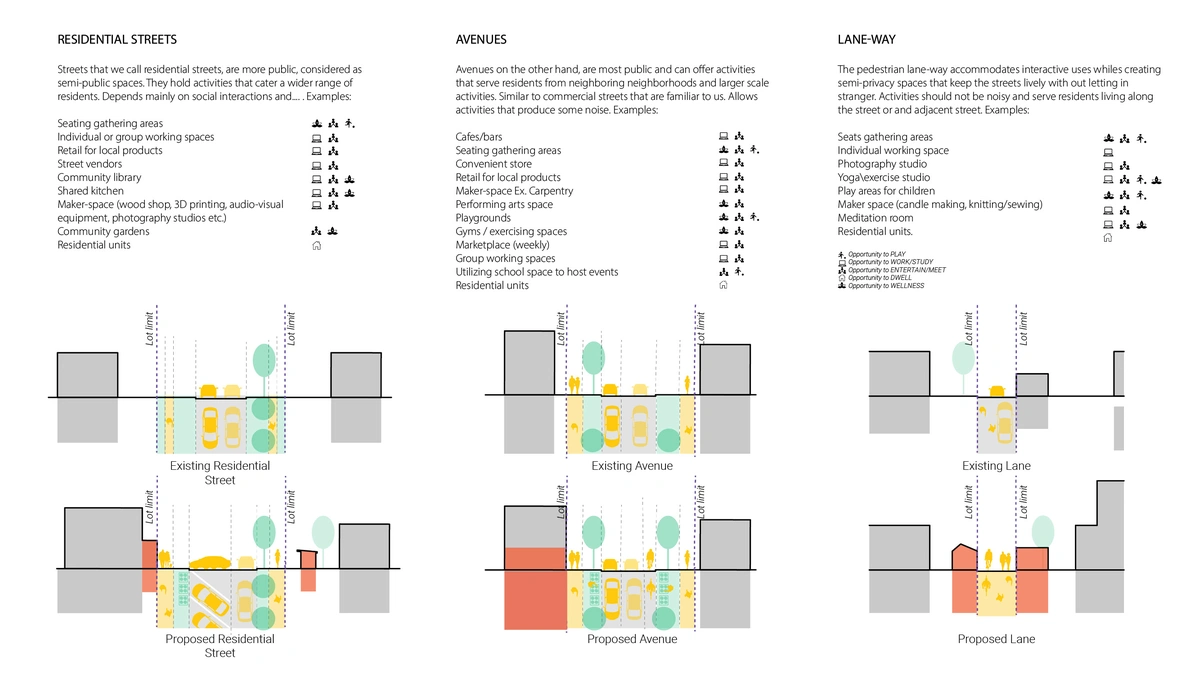 This image shows the proposed street typologies as well as the adjacent suggested uses.
Marwah Garib and Sandi Boulos
Marwah Garib and Sandi Boulos are urban designers based in the United States and Canada respectively. They are interested in tapping into the social infrastructures to design equitable and resilient cities. Growing up in Cairo and the UAE, their work experience ranges from North America, Europe, East Asia and the SWANA region.
Cross-disciplinary practice
United States of America