Project
Office ParkScheerbarth
Holzmarkt Haus Eins
Berlin, Germany
Social infrastructure
Ways of living, ways of sharing
Production and commercial diversity
Image: Office ParkScheerbarth
A cultural high-rise, completing a creative village.
The submitted project is part of an experimental neighbourhood development in Berlin, known as Holzmarkt. In the eastern part of the city, on the banks of the river Spree, a prime piece of land has been converted into a lively urban village home to new ways of producing, living, and working together, offering a large variety of alternative and leisure facilities. Being a cooperative development on a neighbourhood scale, Holzmarkt has become a symbol for user-driven urban development both in Berlin and internationally. Office ParkScheerbarth has consulted Holzmarkt on urban development and participation for over four years and has recently been commissioned to plan a new addition to the area – a 16-story cultural high-rise called "Haus Eins". The building site has been serving as a temporary home for Holzmarkt's nightclub before it will host one of Germany's most ambitious high-rises, accommodating a new club within. In this extended legacy of interim use, the tower provides a shell in which programs may flexibly emerge and adapt to the needs of future users. A resource-conscious, prefabricated timber-concrete-hybrid construction accommodates ground-level public functions complementing the creative village's marketplace, semi-public functions at plinth level, and post-pandemic, flexible offices for social, creative, and cultural enterprises at tower level. The top floor serves as a highly flexible space for non-profit cultural programming. As important as the building is the unbuilt space it preserves—height has been chosen as the medium of densification while increasing public access to the ever more popular riverfront. Instead of privatizing river access, the generous exterior spaces of Haus Eins including its terraced landscape of roofs promote users and the wider neighbourhood to gather and exchange.
Impact
The project centres on three core aspects: cooperative governance, material sustainability, and built-in flexibility with an innovative use mix. These themes are crucial ingredients for the future city, a city more just, resilient, and attractive. As a breeding ground for urban experiments, Holzmarkt has already inspired real change in city governments and bottom-up initiatives, especially abroad. We believe the tower project will, once again, allow for valuable lessons to be learned with regards to, e. g. the power of public participation, the viability of urban timber construction, or the synergies of day and nighttime use.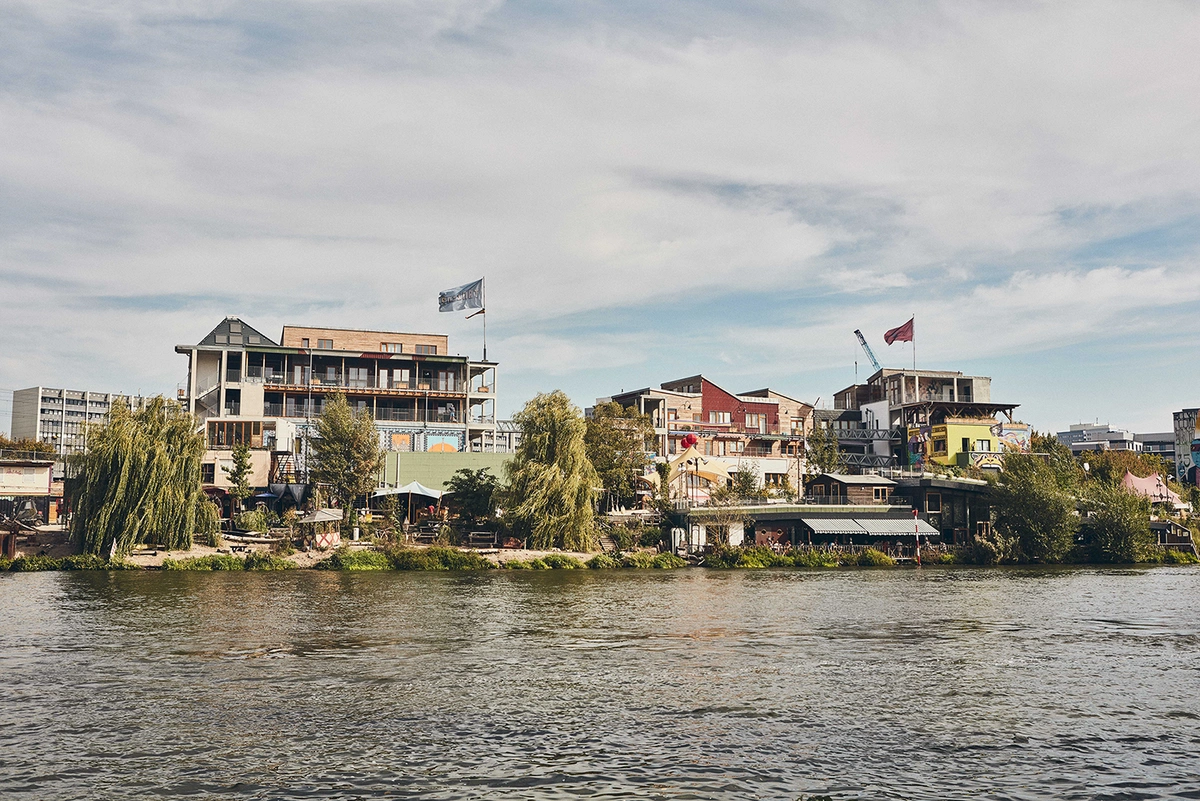 The Holzmarkt village as seen from the river. Image credits: Eyecandy Studio.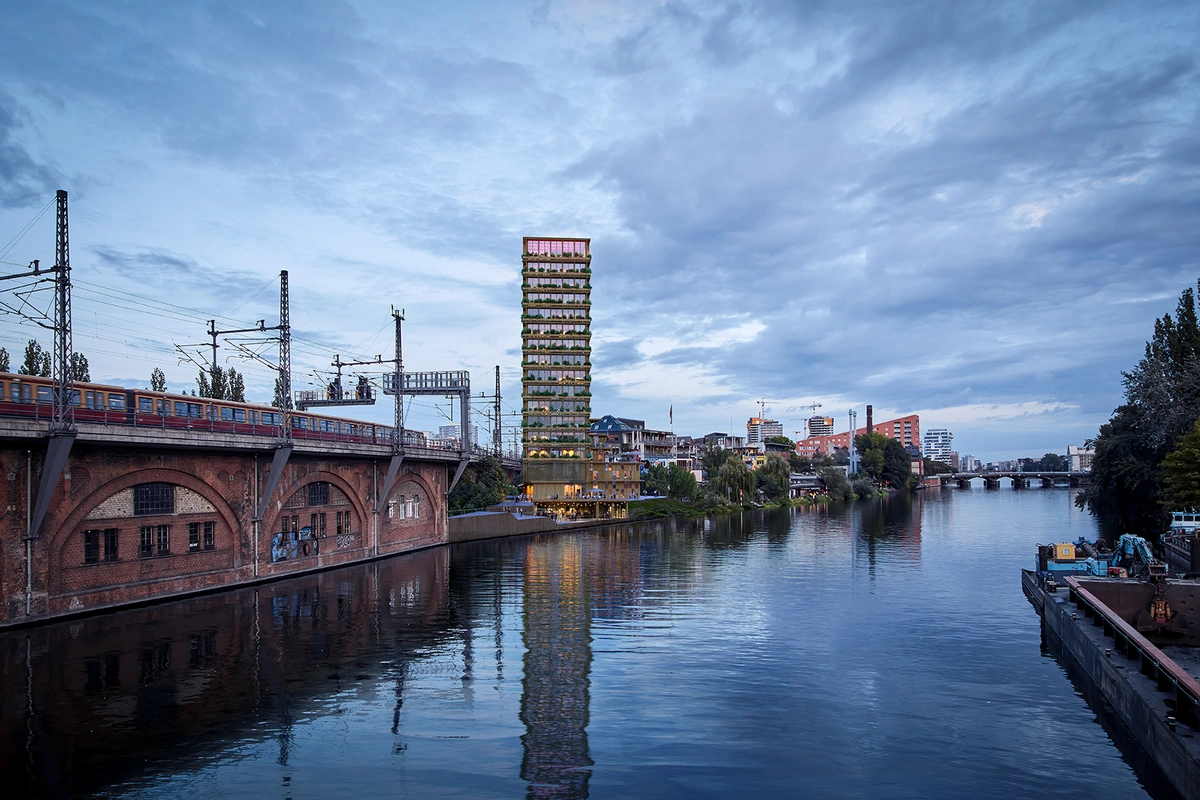 Haus Eins Rendering. Image credits: Office ParkScheerbarth and NOOKTA.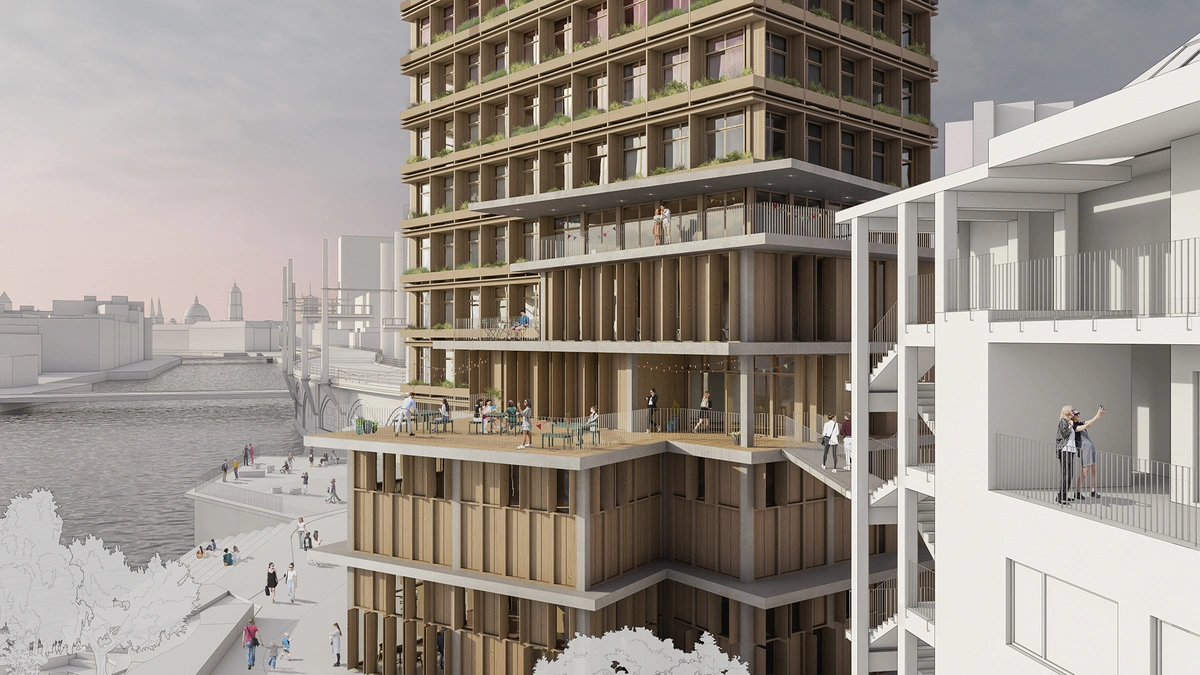 Haus Eins Collage. Image credits: Office ParkScheerbarth.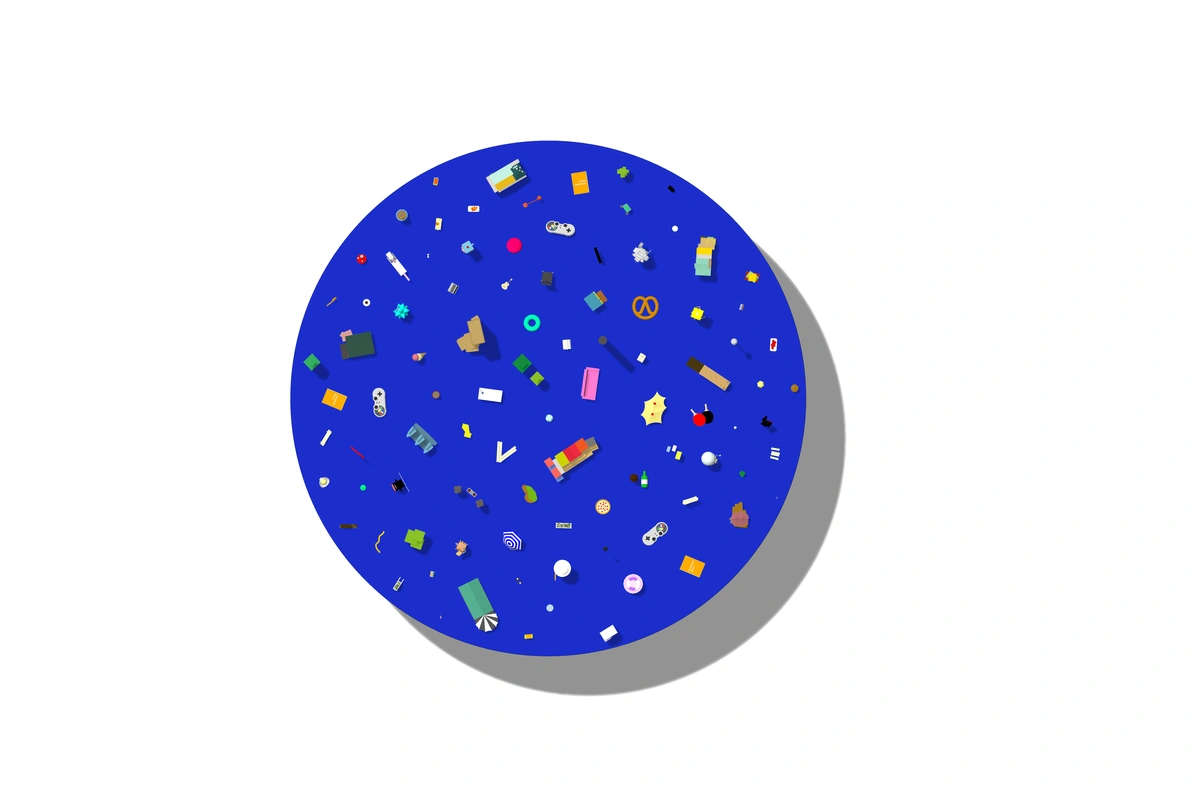 Haus Eins game table for public participation. Image credits: Office ParkScheerbarth, Olivia Heung, James Yamada.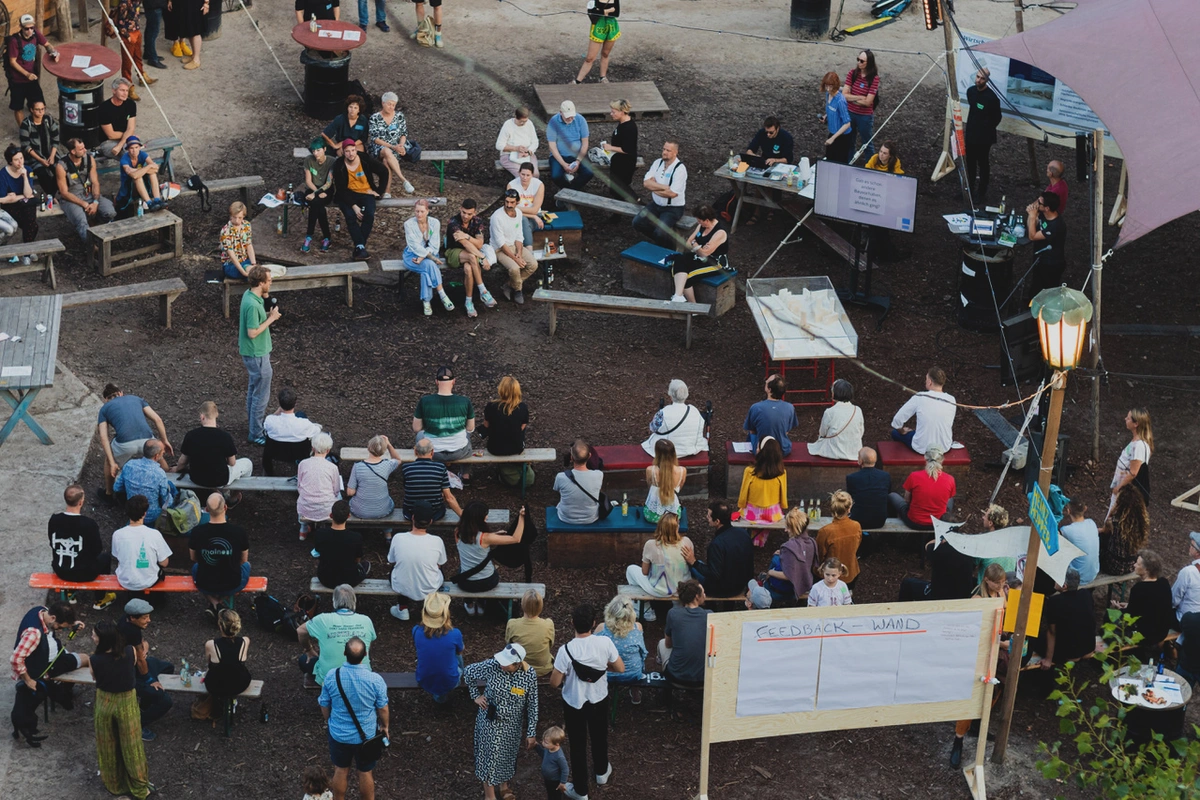 Haus Eins neighbourhood assembly. Image credits: Office ParkScheerbarth.
Office ParkScheerbarth
Office ParkScheerbarth operates across the fields of planning and design. The practice seeks to listen to and navigate the dynamics shaping our built environment with a culturally literate mindset. We are dedicated to transforming our rigorous conceptual pursuits into meaningful works of individual beauty and societal value—be it a building, a plan, or a venture. Our clients are unified by their desire to activate the broader neighbourhood socially and culturally, using urban and architectural interventions as catalysts. Based in Berlin, OPS is led by principals Moojin Park and Benjamin Scheerbarth.

Cross-disciplinary practice
Germany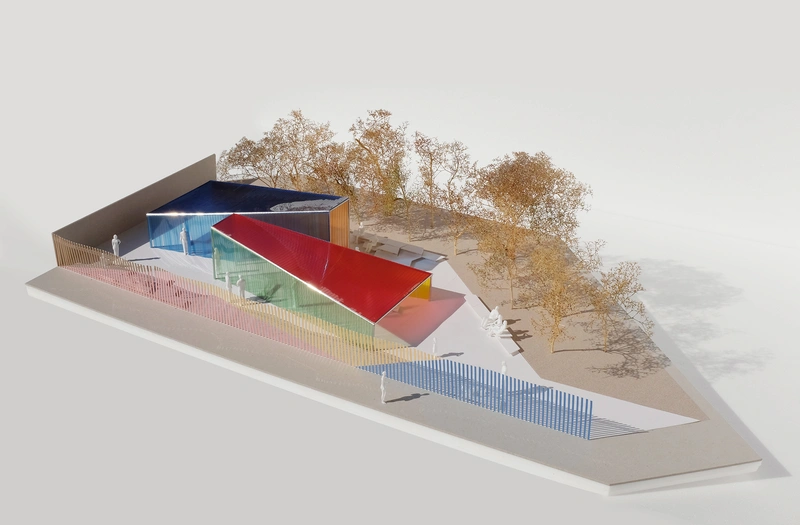 Tottenham Pavilion is a proposal for a placemaking project, temporarily transforming a car park site of London's Harringay Warehouse District into a one-off public space through the help of a community pavilion.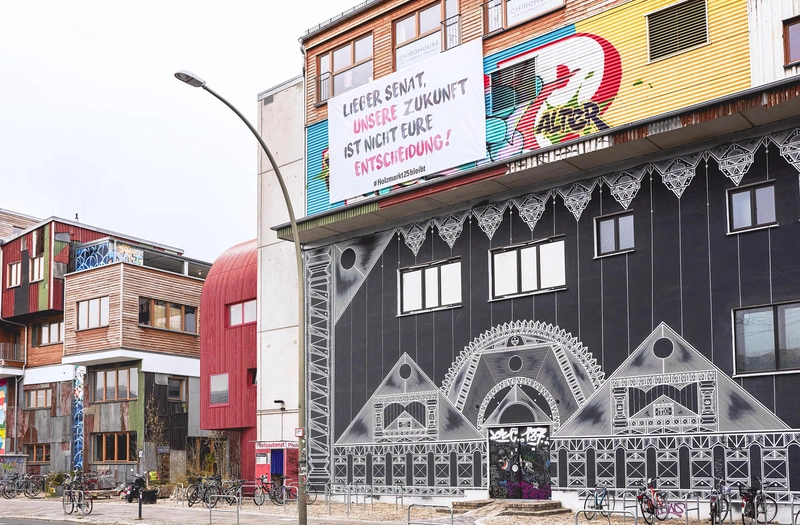 The three-story timber structure Haus 2+ completes the public entrance of Holzmarkt, a buzzing creative village in downtown Berlin. The building will be home to a local bakery, four atelier units, and a rooftop terrace.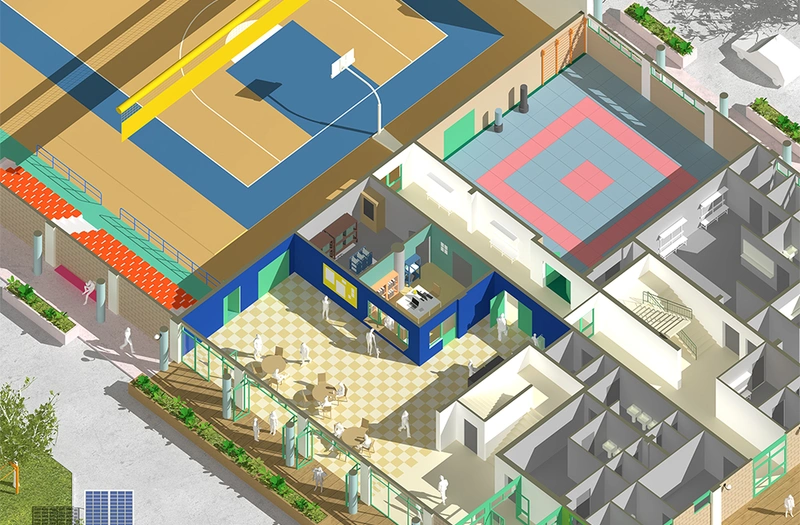 The Pala Carrassi sports complex is a thriving centre for sports and the community in southeast Bari, Italy. OPS provided guidance on transforming the multi-purpose facility into a more sustainable, socially more inclusive, and programmatically more flexible space.