Common Vask- the future of laundry! From household machines to sustainable laundry facilities.
Oslo, Norway
Social infrastructure
Ways of living, ways of sharing
Image: Jan Khür
An essential contribution to a conscious and convenient neighborhood is serviced laundry facilities. We simplify laundry and clean the future.
The first pilot on Common Vask is currently located in Obos Living Lab (OLL) as Common is one of the main partners in OLL.
Location: it was important to both the architect (LPO arkitekter) and Common that the laundry room was placed on the ground floor facing the street/outside area. Main reasons; if housing developers are to "revitalize" common laundry rooms they need to be cozy and light. With the challenges architects face regarding putting apartments on the ground floor, this is a natural place to put common space like laundry facilities.
Why Common laundry rooms instead of household laundry?
By now, we all know that we need to reduce our consumption in the future and we are becoming familiar with the idea of going "from product to service". Real estate developers are currently desperately searching for ideas and concepts that are both sustainable and profitable. At Common we strongly believe that we´ll see more common space in housing development in the years to come. We also believe that this will not work unless the space is facilitated with good circular solutions for sharing within the neighborhood. That´s where we come in! And we think laundry is a good first problem to solve. Moving the house hold laundry outside the apartment/household in urban areas will reduce the need for space per household and reduce the need for electric household products and last but not least harm the nature much less.
Laundry negatively impacts our home, our health and our environment. Washing machines and tumble dryers take up a lot of space and time. Moist damages the home. Detergents contain chemicals that harm our health.
Last but not least- laundry harms nature by emitting chemicals and micro fibres.
At OLL residents can to do laundry with no harm to nature. We replaced laundry detergent with deionized water. A micro plastic filter prevents microfibers from ending up in the ocean
Reducing product consumption:
With a common laundry facility the residents need to buy less. As an example: in OLL we have reduced 34 washing machines and tumble dryers to 4 in addition to reducing the number of drying racks and ironing boards because residents can share this. Spray bottles for surface cleaning are available for refills in the laundry room. By leasing washing machines and tumble dryers you can reduce consumption even more. Potentially residents can also lease/share vacuum cleaners, cleaning equipment and more. Residents book machines through digital booking.
Impact
Common´s serviced laundry facilities represent circularity, ocean caring (as explained above), shared living as well as inclusive neighborhoods.
Our social sustainability relates both to the wellbeing of residents/neighbors and creating new jobs through By UnCommon.
Neighbors:
Recent response from residents at OLL show that they are very happy with their laundry room. We get response and data through surveys, conversations and our digital bookingsystem. They find it convenient and a nice place to hang out. Most don´t miss their own washing machine. Their feedback tells us that the laundry room is a nice meeting place and that shared space works best when everyone has a reason to be there- handling your daily chores gives you an "excuse to hang around"
Creating jobs- from products to services. A laundry room that offers pick up and delivery can replace the need for household machines. This contributes to building local jobs and communities. Read more in "ByUnCommon image text"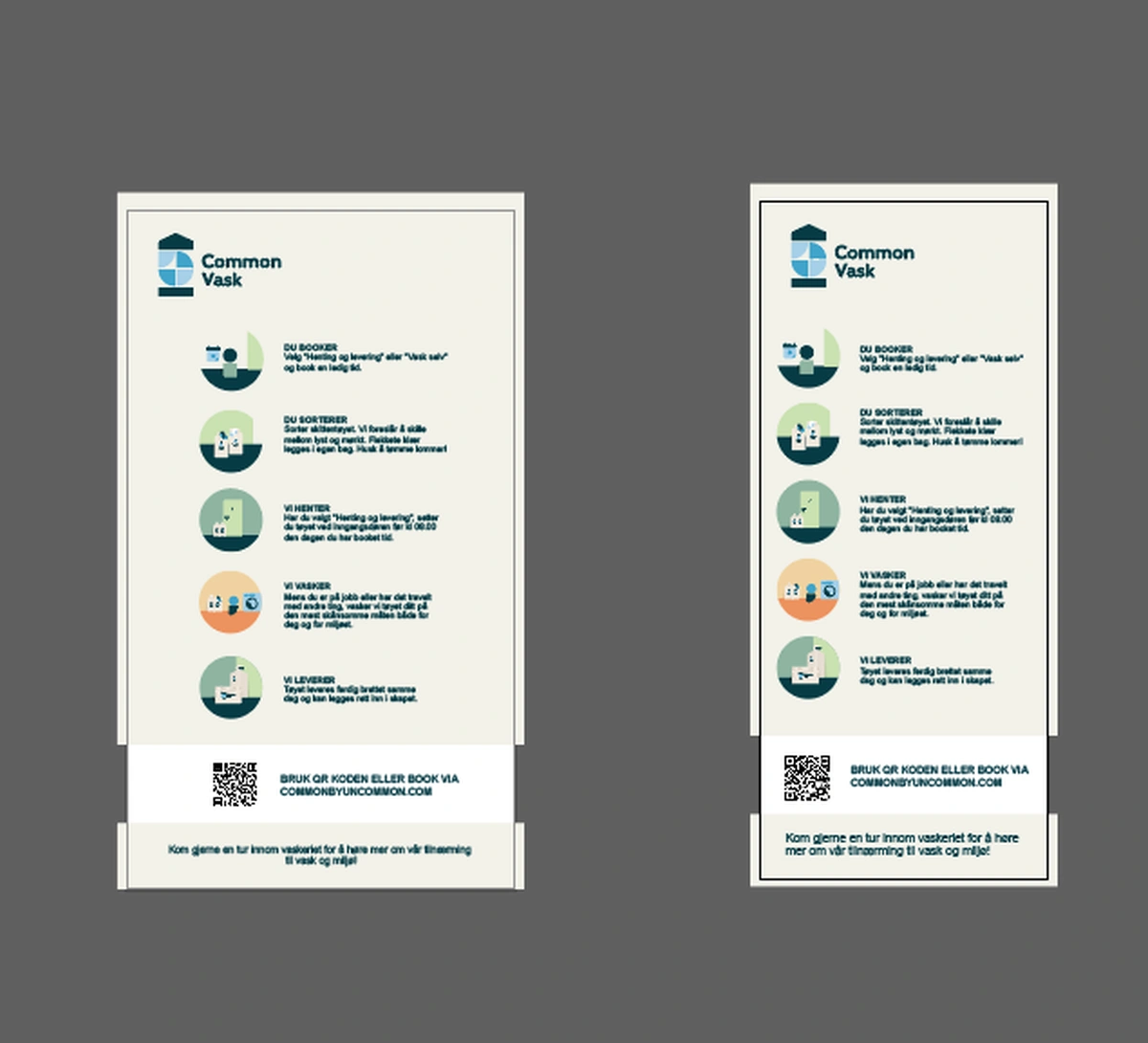 Customer journey, pick up and delivery service- By UnCommon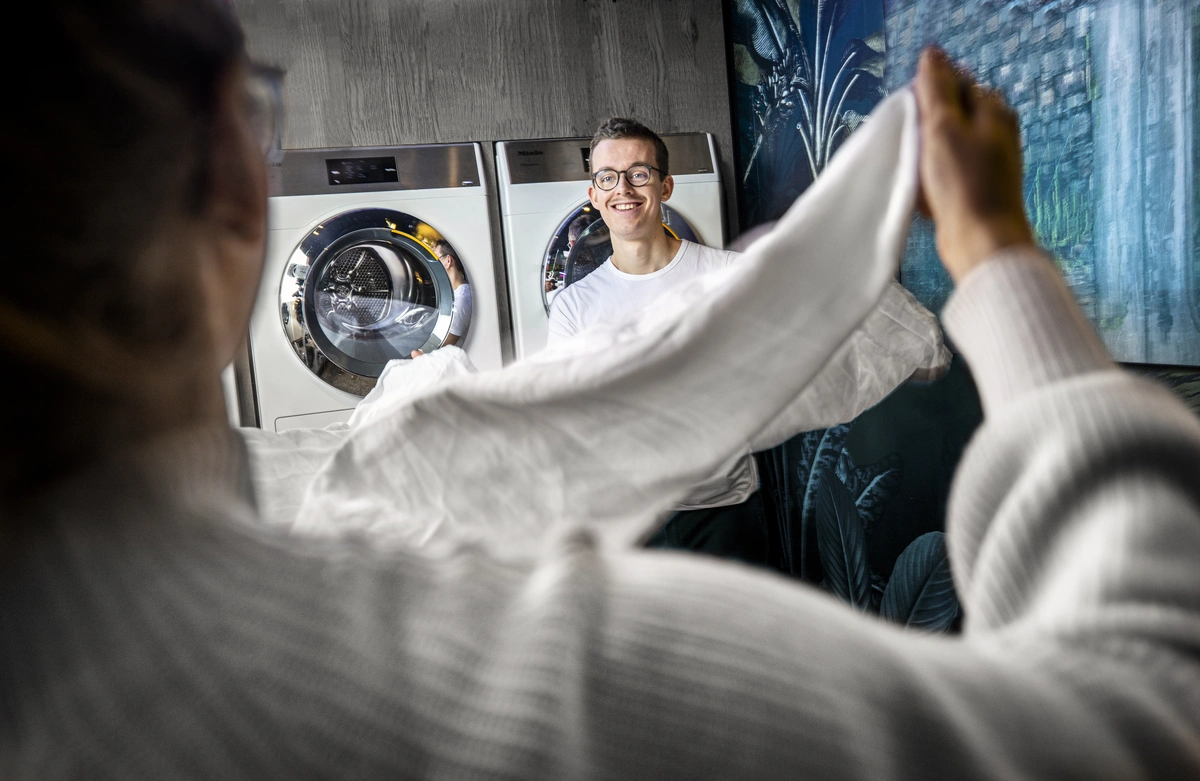 By UnCommon
With "By UnCommon" we want to convey how important it is to attract employees that think and act outside the box. We believe not fitting in can be an advantage. We call it life experience. Atypicals often have unique mindsets, approaches and working methods. Yet, atypicals are often socially excluded. As a society we can gain tremendously by enabling atypicals to shape the future through work and participation. You are more than welcome to be UnCommon!
Photo: Nye Bilder

Groundbreaking, sustainable laundry methods. At Obos Living Lab residents can choose to wash their clothes with deionized water instead av laundry detergent. Deionized water is tested to clean as well as detergents and does not harm nature or marine life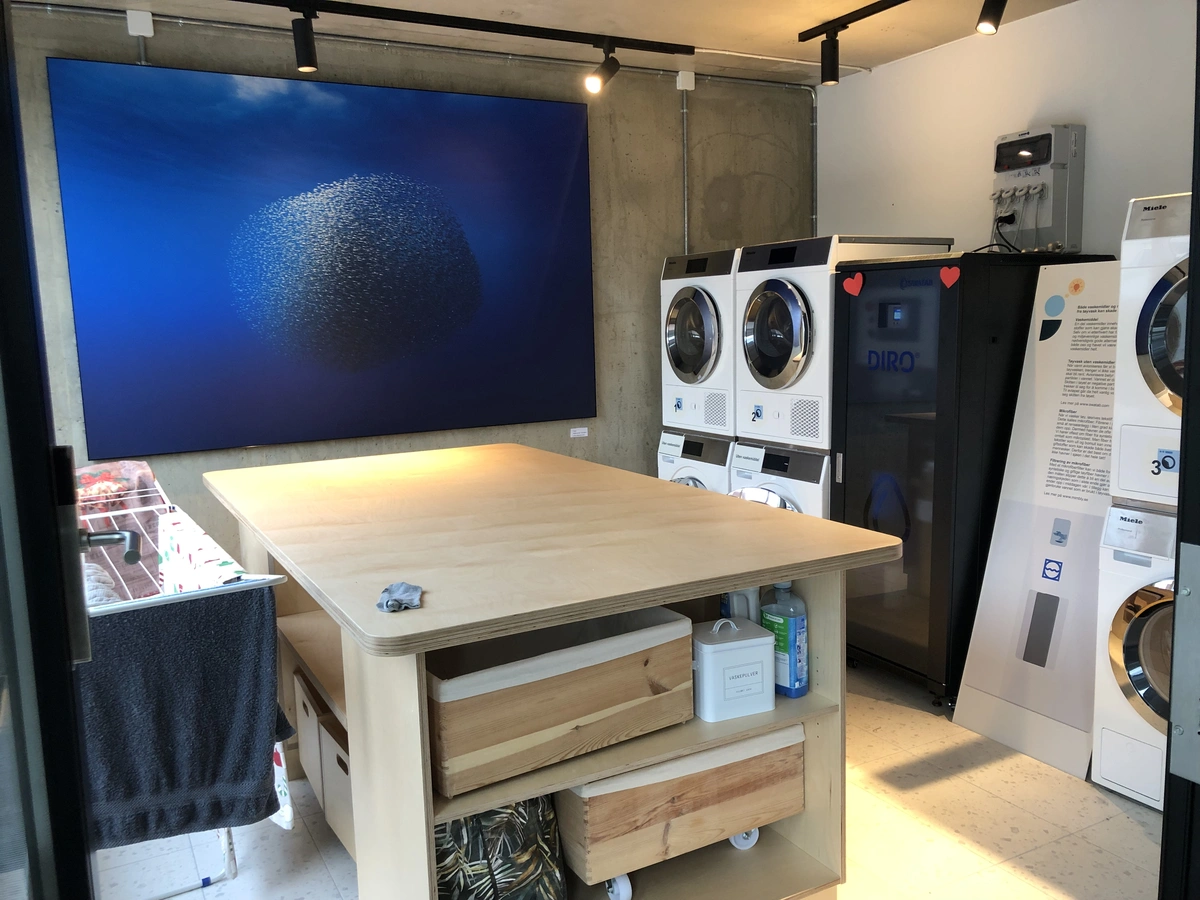 Laundry room Obos Living Lab. Deionizing filter. Micro plastic filter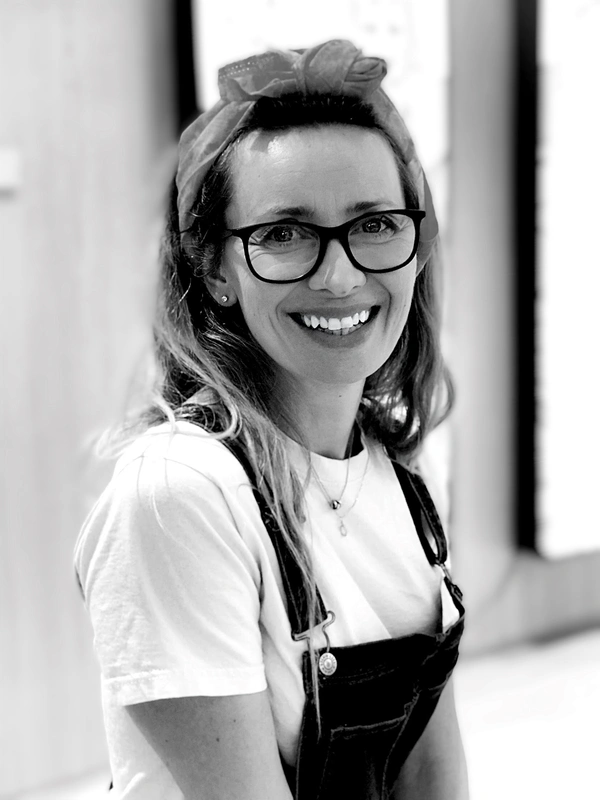 Profile picture Camilla Coward
Phote cred: Profile Me
Common
Founder and CEO of Common is Camilla Coward
To develop Common Vask, Common participated in Impact startup by Ferd Social entrepreneurs with the team Camilla Coward and Olav Helland.
Obos Living Lab team: To make Common Vask a part of Obos Living Lab the way it is today, the most important people has been architect Hilde Sponheim, LPO architects, CEO of Living Lab Ingemund Skålnes and Malin Voldberg, Obos Innovation. We have collaborated based on the partnership contract Common has with Obos.
Cross-disciplinary practice
Norway