Perspective
gruppeomp Architektengesellschaft mbH BDA Rastede, Bremen, Hannover
Wasserstadt Limmer - Fusions of green neighbourhoods
Hannover, Germany
Public plays
Transforming, adapting, reusing
Naturehood – wilder and greener
Image: Photography of the construction site Wasserstadt Limmer: Continental factory ruin and Continental tower, june 2021
In the midst of green, lined by two canals, yet close to the city centre, a new, green and sustainable quarter will be created: Wasserstadt Limmer.
Life in the country is often contrasted with life in the city. The advantages of city life are compared to the advantages of country life. Does that have to be the case in major new developments? Can't country life and city life merge in the Wasserstadt of Limmer? A rural, green, relaxed and at the same time urban lively dense structure with urbanity and lots of greenery between two canals? The new quarter can connect two more levels. The area of the future Wasserstadt Limmer was once the premises of the Hannoversche Gummikamm AG Excel-sior with impressive industrial architecture from the turn of the century. Opposite these densely built and large-scale buildings was and still is the village of Alt Limmer with a rural cluster of diverse houses around the Saint Nikolai Church. The water town of Limmer merges both systems of their creation into new urban-rural neighborhoods in the countryside between Hanover's city center and northern Lei-neauen. The basic structure of the water town of Limmer is inspired by the industrial history, the original village character, nature and the demand for lively togetherness. It merges, combines urbanity and life in the green village. On closer inspection, the town-village coexist-ence is divided into diverse neighborhoods that are laid out in the landscape like a colorful carpet. The neighborhoods combine urban granularity with village-specific qualities. Each neighborhood is made up of different building typologies, which, developed from simple systems, enable lively coexistence. Wasserstadt focuses on people as community beings. It connects people with people, people with places and people with stories that they will experience in Wasserstadt.
Diverse building structures with a colorful mix of apartments are the basis for mixed neighborhoods from which lively communities can develop. In order to enable community on different levels, a strong social network is promoted by staging, promoting and accompanying opportunities for exchange. Open spaces and neighborhoods should help to regenerate nature. Public green spaces are more than just recreational spaces for the residents of the surrounding buildings. They form complex ecosystems that contribute to climate protection, microclimate and biodiversity on site. The new town-village character of the buildings and the open spaces increases people's identifica-tion with the neighborhoods.
Impact
Central challenges to architecture as a field of action for climate-resilient cities are simpler and more robust building concepts. The living space in a lively neighbourhood for all age groups and social classes should generate its versatility from the modular system of a simple system. Preference is given to buildings that formulate compact volumes without a basement in favor of efficient floor plan design. Un-derground car parks should be avoided as far as possible in favor of neighborhood car parks. In order to relate the individual different structures to one another on a further level, and also to minimize costs, not all details should be redesigned for all buildings in the Was-serstadt. Recurring details and materials are being developed and evaluated with regard to their ecological, economic and building culture qualities for a design manual, containing criteria for sustainable urban development.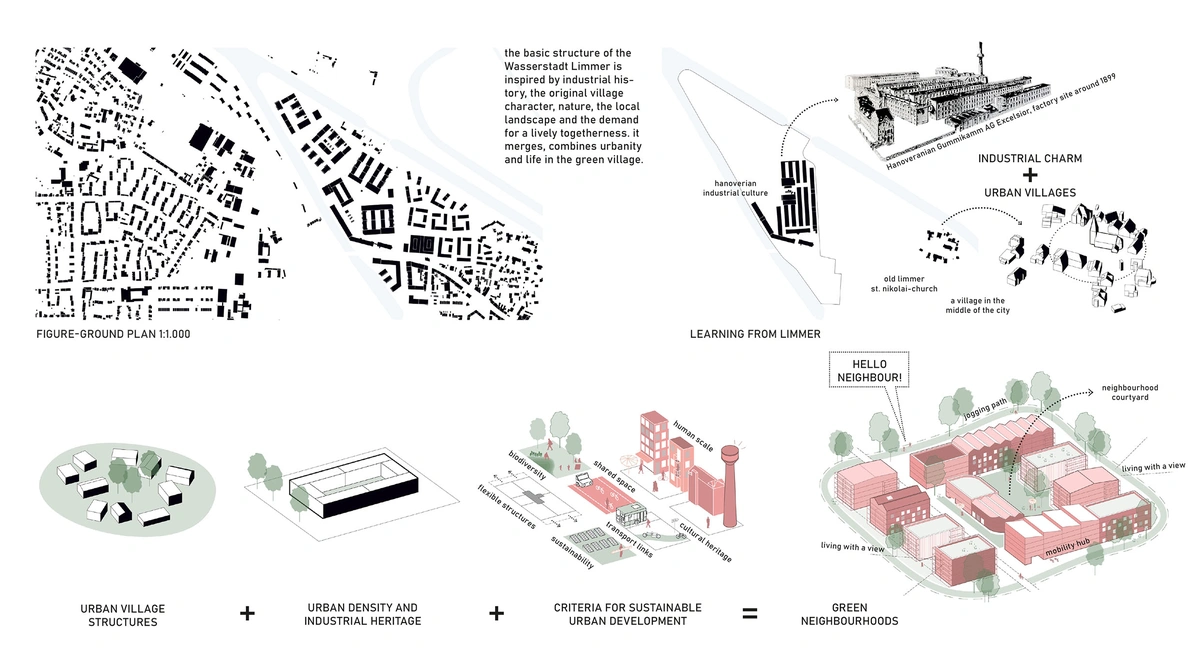 Analysis of the excisting and conceptual ideas of the new, green neighbourhoods
©gruppeomp Architektengesellschaft mbH BDA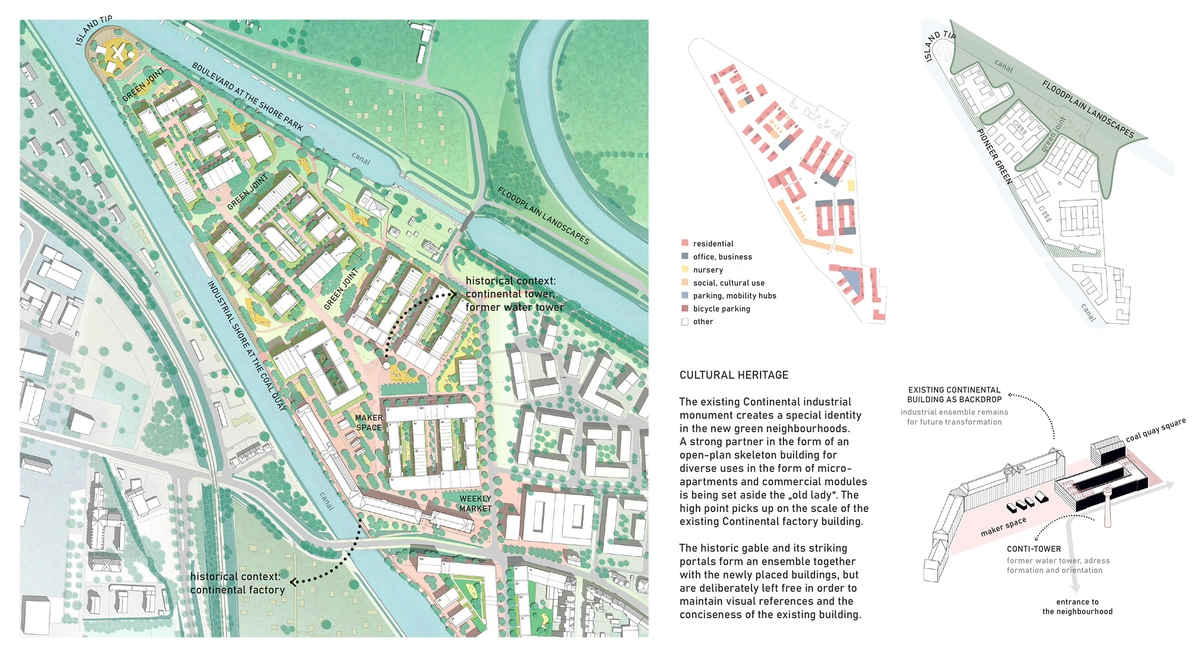 Site plan Wasserstadt Limmer, 2nd construction phase and conceptual ideas
©gruppeomp Architektengesellschaft mbH BDA / urbanegestalt / ARGUS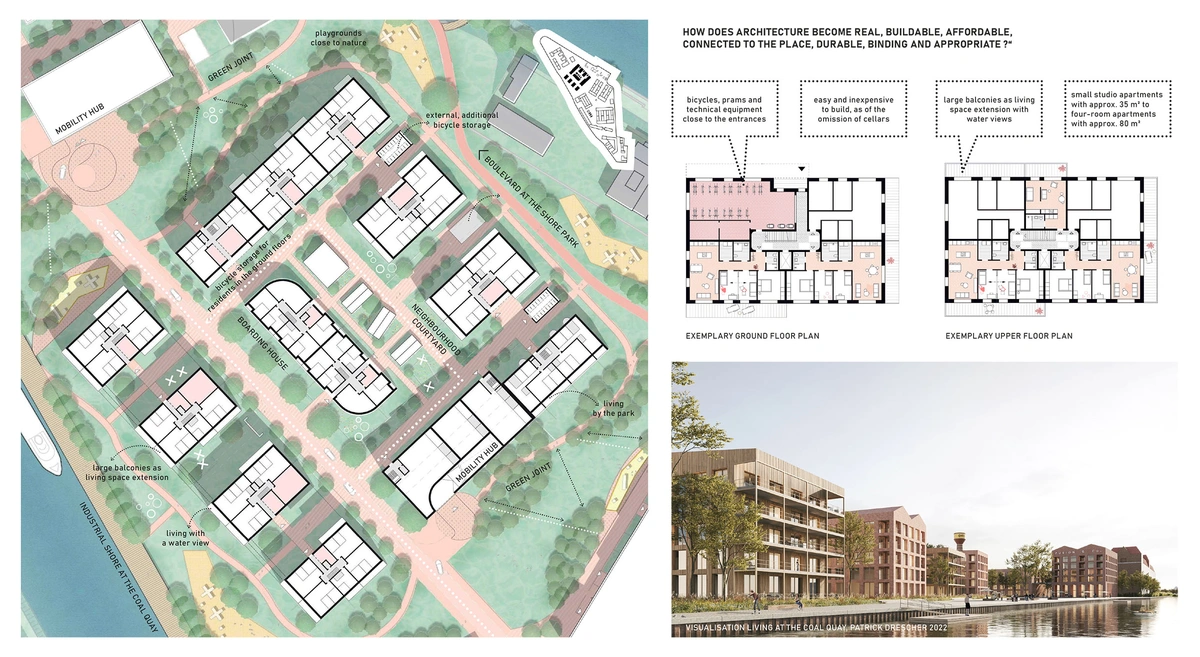 Zoom of a cluster with ground floor plans
Exemplary ground and upper floor plans (top right)
Visualization (bottom right): Living at the coal quay, Patrick Drescher, Bremen, 2022
©gruppeomp Architektengesellschaft mbH BDA / urbanegestalt / ARGUS / Patrick Drescher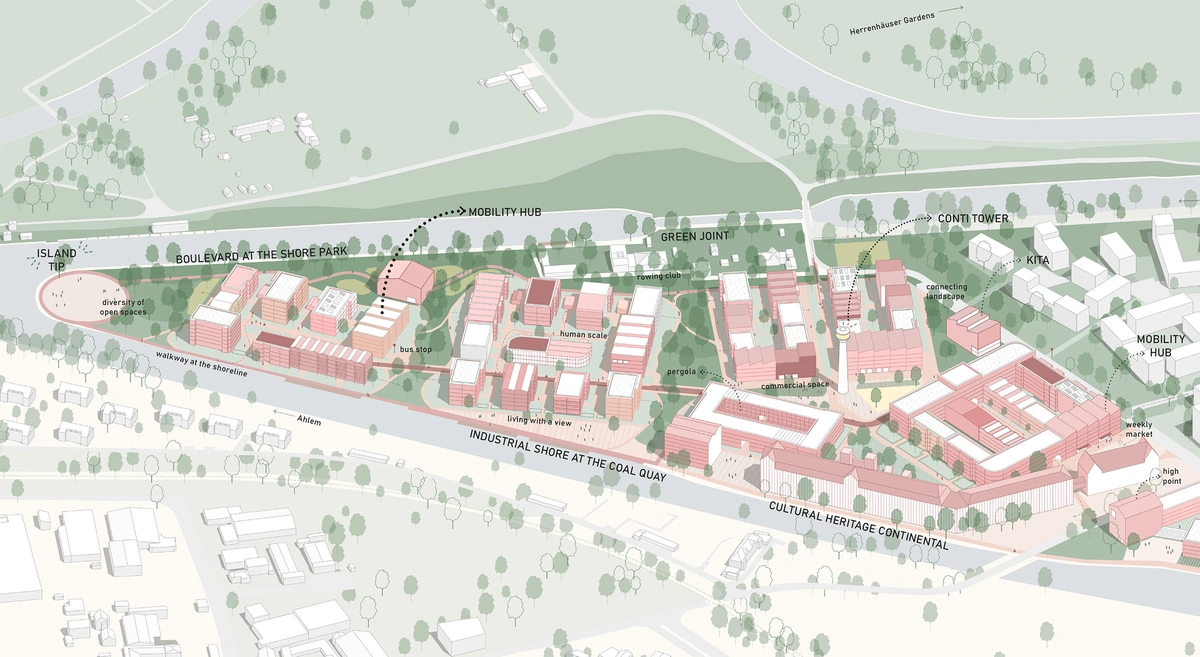 General overview of the 2nd construction phase
©gruppeomp Architektengesellschaft mbH BDA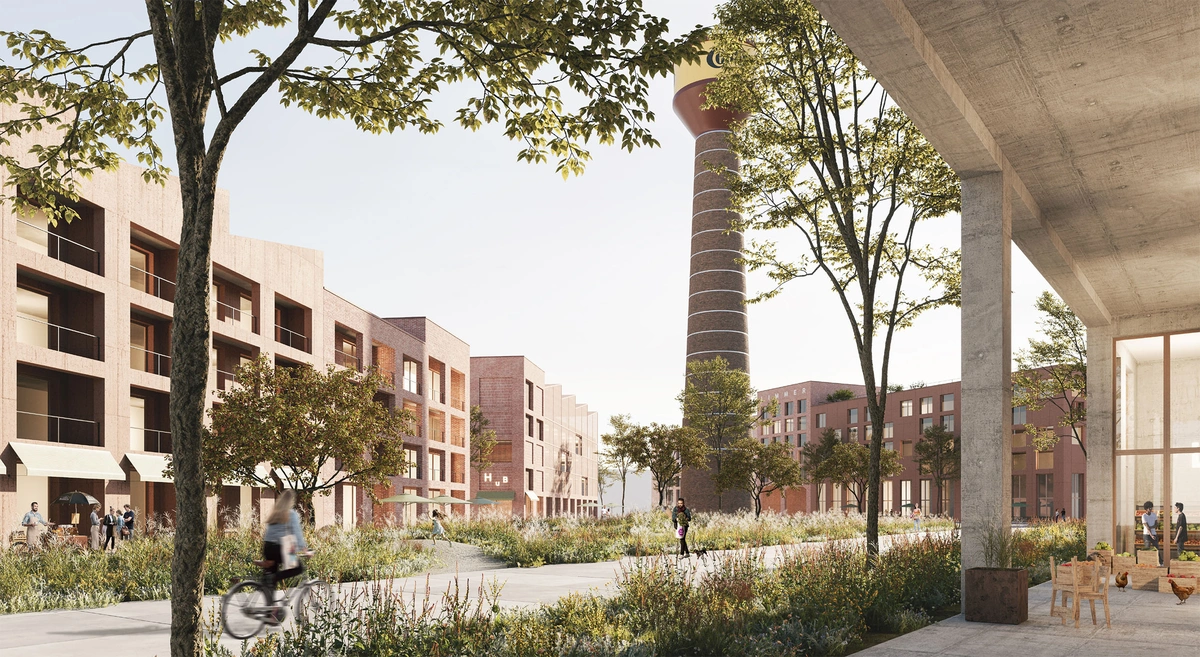 Visualisation neighbourhood square at the Continental tower, Patrick Drescher, Bremen, 2022
©gruppeomp Architektengesellschaft mbH BDA / Patrick Drescher
gruppeomp Architektengesellschaft mbH BDA Rastede, Bremen, Hannover
Architecs: gruppeomp Architektengesellschaft mbH BDA, Hannover
Lanscape architects: urbanegestalt, Cologne
Traffic planners: ARGUS, Hamburg
Visualisation: Patrick Drescher, Bremen
The competition entry for the 2nd construction phase as a non-open, single-phase, urban and open space planning, cooperative expert procedure was developed in collaboration with urbanegestalt, Cologne, ARGUS, Hamburg and Patrick Drescher, Bremen. The concept aims to reinterpret the human scale of village structures, urban density and the industrial use that characterizes the location to create new, green neighbourhoods.

Architectural practice
Germany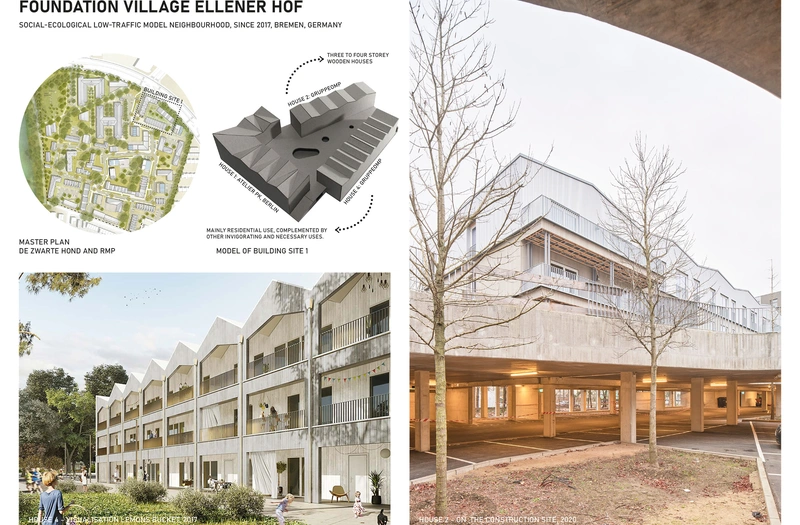 Foundation Village Ellener Hof, Project, in construction since 2019
Ellener Hof is a social-ecological low-traffic model neighbourhood. Sustainable, three- to four-storey wooden houses nestled in green surroundings are being built on the site. The main use is residential, complemented by other invigorating and necessary uses.
©gruppeomp Architektengesellschaft mbH BDA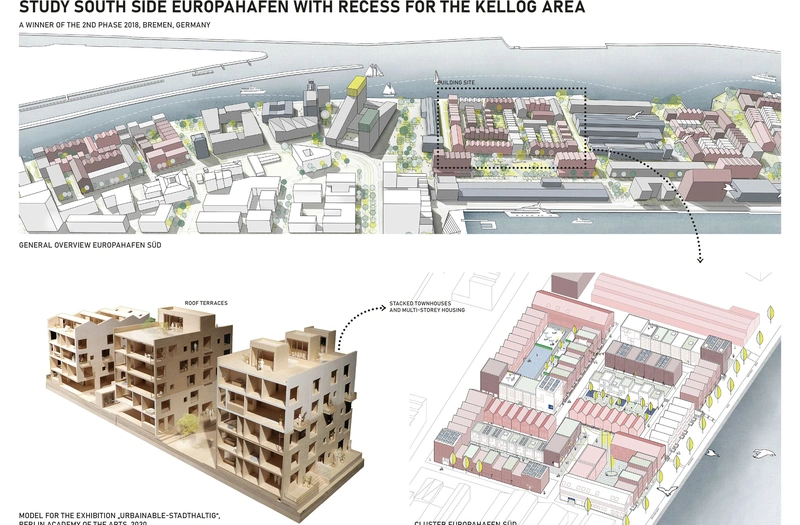 South Side Europahafen , competition and study, 2018
A relevant part of Bremen's identity as a Hanseatic city was and is written on the areas of the port industry. In a two-stage competition, new concepts were sought for the approx. 40-hectare areas. Two teams were selected for the urban planning: SMAQ with Man Made Land Landscape Architects and gruppeomp with nsp Landscape Architects.
©gruppeomp Architektengesellschaft mbH BDA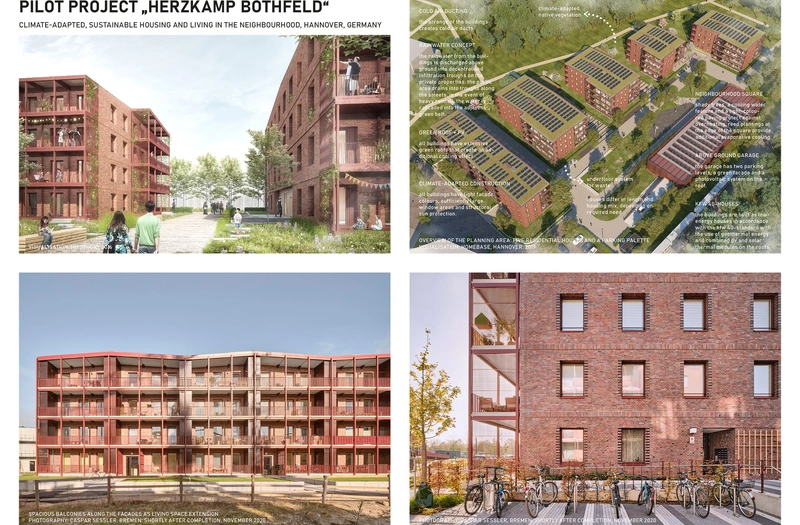 Pilot Project "Herzkamp Bothfeld"
The project aims to build a residential quarter for all age groups and social classes, with the goal of climate-adapted, sustainable planning and construction in lively neighbourhoods in Hannover-Bothfeld. The project is part of the KlimaWohL cooperation project, further information on the project and its current status can be found at www.klimawohl.net.
©gruppeomp Architektengesellschaft mbH BDA