AIR SQUARE
Multiple cities, Czechia
Image: Javier Antón
AIR SQUARE is a transportable square that activates underused urban spaces by bringing them purpose and a vibrant public life.
Cities are at the frontline of global responses to climate change, and are required to act. They are also fertile grounds for smart design, innovation and experimentation, where solutions are being developed to tackle problems such as flooding, heat stress, drought. AIR SQUARE responds to the need to alleviate climate change issues by tackling overexposed heat islands and lack of green and livable public spaces. The upper ring is designed as a large shading system that mitigates, cools, and delivers refuge from heat. At night it provides illumination to dark and less safe urban corners.
It is a placemaker improving the quality of the urban environment in a punctuated manner. As a soft measure, it contributes to building a resilient blue-green city, consequently bringing spatial quality, living environment, health, biodiversity, and property value. It facilitates and accelerates the further implementation of lengthy climate adaptation measures, such as changes in the spatial development, infrastructure, construction, services, public space, and residents' safety.
CITY NOD
Catalyst of urban connections, activates underused urban spaces by bringing them purpose and promoting a vibrant public life
INCLUSIVE
Built for diversity, inclusion, and equality, ensures barrier-free access. Open day and night, welcomes everyone regardless of their abilities, status, and religion
SPACE COOLER
Mitigates urban heat islands and, as an alternative to trees, casts shadows that deliver refuge from heat, while enchanting well-being
DIFFUSER
Absorbs sounds generated within, and softly distributes daylight through the day to improve the comfort of living in cities
ADAPTABLE
Suits multiple functions and programs such as performances, farmers markets, or serving as an all-in-one public furniture with seating, lighting, and shading systems integrated
LANTERN
Lights up in the dark providing accessibility to less safe urban corners
READY TO ASSEMBLE
Separate components are packed and ready to go, together with most hardware and assembly instructions to assist the construction process
REUSABLE
Sturdy materials and resistant joints endure multiple applications.
Impact
It is necessary to challenge the functions of public spaces, transforming them into educational, interactive, and conscious catalysts. AIR SQUARE is just that, and while we wait for new parks and better cities to be built, it might be a solution to those meanwhile spaces waiting to come alive.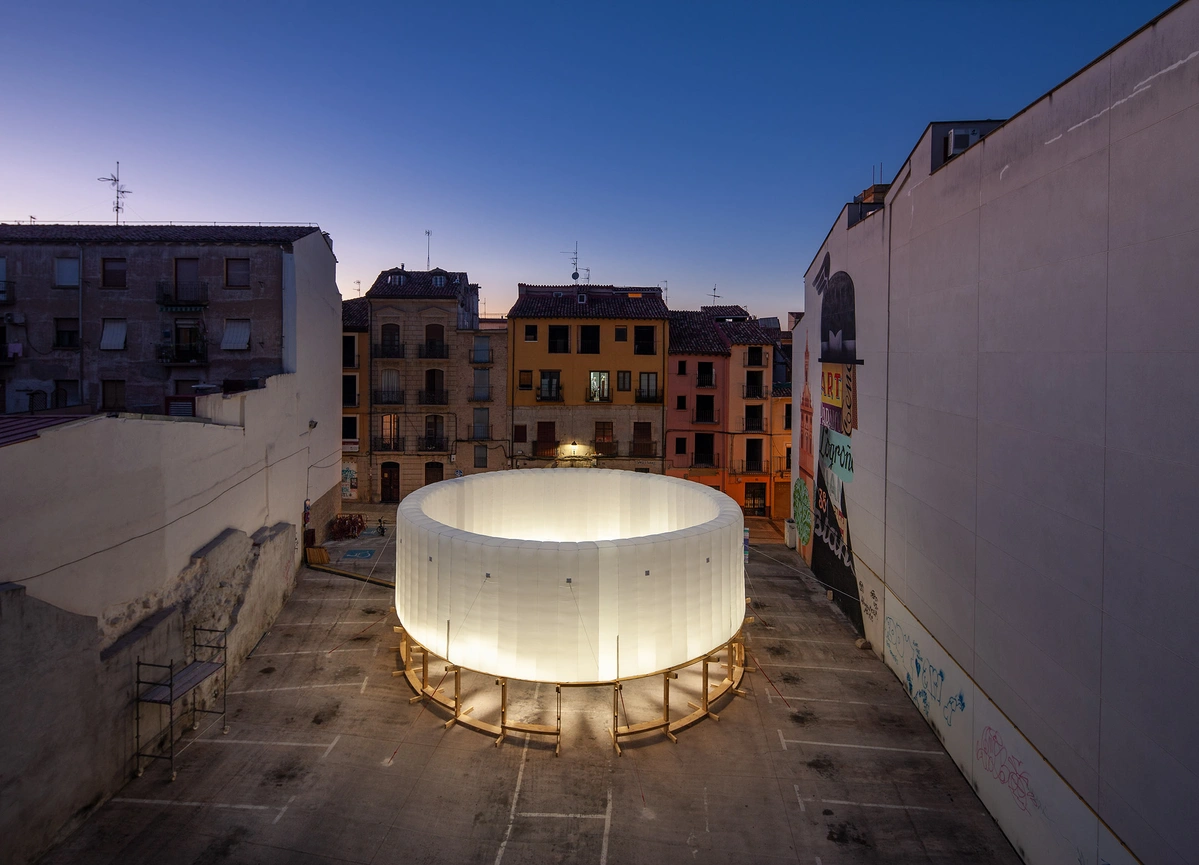 AIR SQUARE during Concentrico festival in Logrono, Spain. The baloon lights up in the dark providing accessibility to less safe urban corners
Photography by Josema Cutillas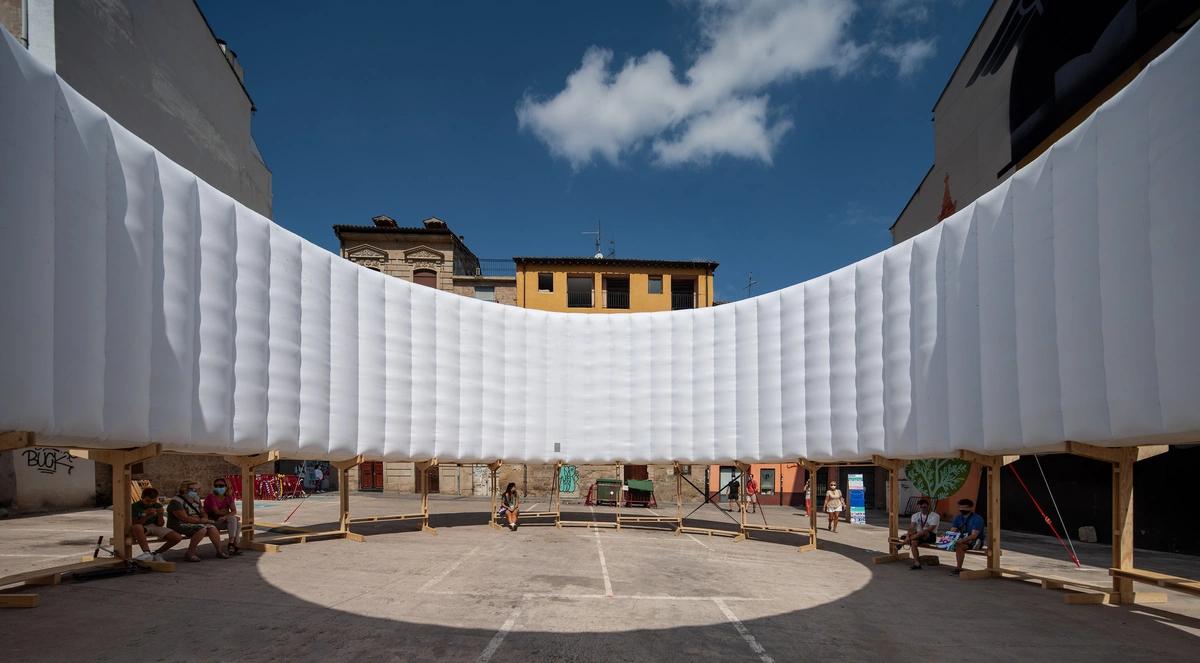 A parking lot becomes a square. AIR SQUARE explores the underused potential of empty urban spaces and their often inadequate and barren substitute functions. During Concentrico festival in Logrono, Spain. Photography by Josema Cutillas
AIR SQUARE during Concentrico festival in Logrono, Spain. Photography by Javier Antón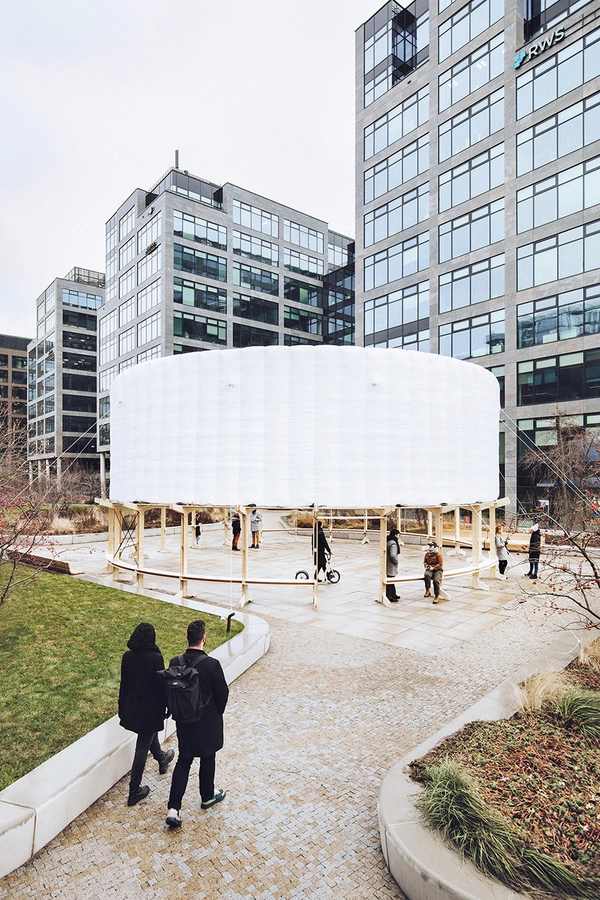 AIR SQUARE in Brno, Photo by Kubicek studio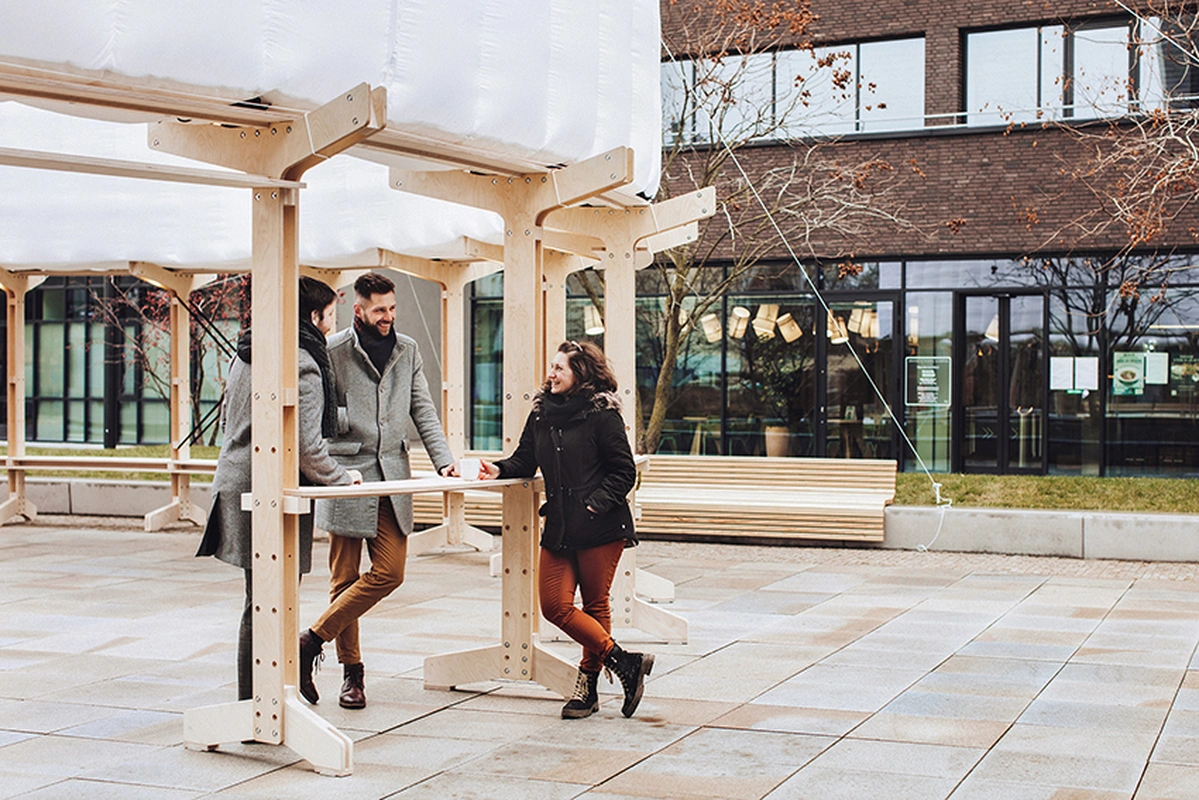 Made of CNC cut plywood planks with minimum waste in cut-outs, the foundation is designed as a modular system composed of vertical legs and horizontal benches. Components are bolted together to form a circular load bearing structure providing stability to the body. Brno, photography by Kubicek studio
KOGAA
At KOGAA we substance for the built environment, committing to projects with a positive impact on users, communities, and the local context. Through our projects, we tackle the issue of inactive structures and their adaptation into substitute functions. The Distillery, KUMST, and DADA Distrikt projects are representative examples of how vacant properties can become vibrant locations, playing an active role in the urban and economic transformation of the surrounding neighborhood and life of the city.
Based on a strong belief that the more the architect is involved in the whole process, the more efficient, coherent, and sustainable the building is, we take pride in leading projects throughout the whole process from the strategy and business plan, through concept and feasibility studies, to technical documentation and getting the permissions, all the way to construction administration, and the strategy to generate attraction.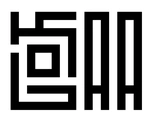 Architectural practice
Czechia
KUMST. The building is a landmark property in Brno that was built in 1929 by the architect Vinzenz Baier with administrative offices and a cinema. It later functioned as a canteen, and then as the seat of the Faculty of Fine Arts. It is being converted in phases, into a new mixed-use community facility for the creative industry, functioning as a support for the industry to grow in the region, with accelerating programs and support events.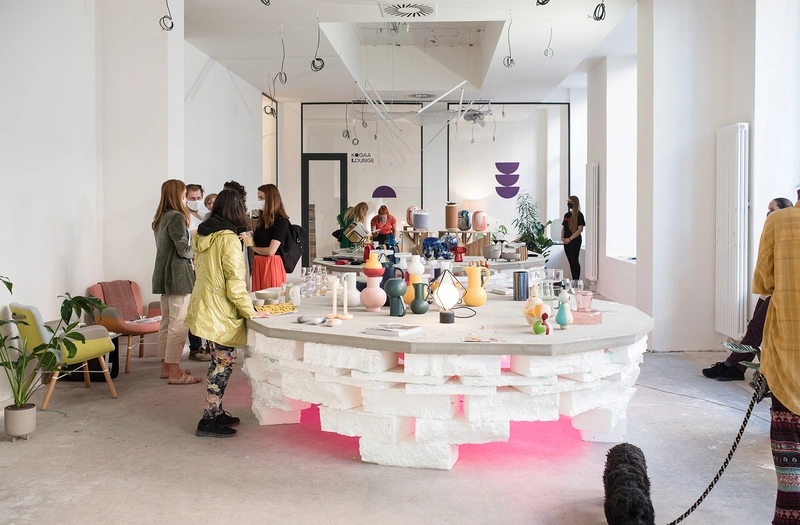 KUMST. Working within the constraints of a tight budget, the reconstruction is made to bring out the main features of the existing spaces while supporting the flexibility of it's new functions. The gypsum ceiling covering the existing light wells was removed and the light wells restored. The original travertine walls and columns are highlighted and given new importance, while new open spaces were created in order to fulfill the needs of spaces for meetings and interactions. Photo by David Korsa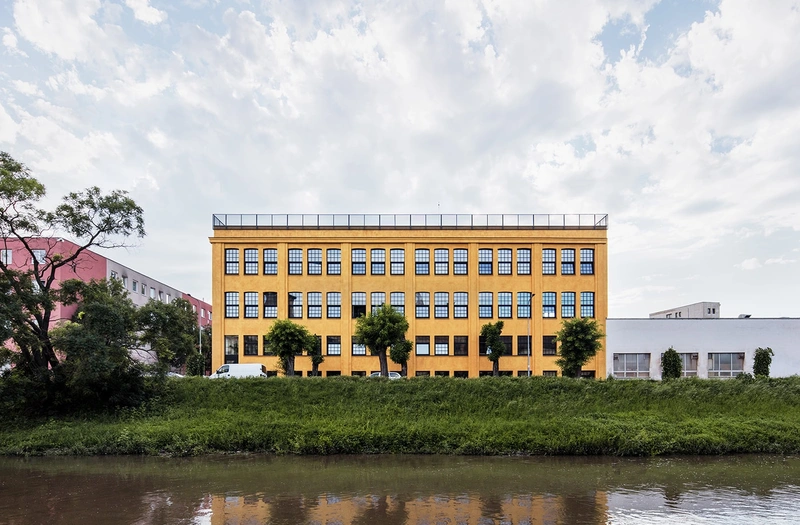 DADA DISTRIKT. With real estate prices in the Czech Republic among the highest in Europe, the local market lacks affordable housing and therefore calls for alternative development solutions that would also be able to strengthen the quality of public spaces.
DADA Distrikt provides a locally unique proposition to the problem: the previous storage facility has been adapted into a mixed-use and residential complex with a variety of shared and community spaces. Photo by Kubicek studio