Bella - Activity Rooftop
Copenhagen, Denmark
Image: Elverdal A/S
A social meeting place and activity roof in Copenhagen
Active outdoor areas, close to nature and the local urban environment are sought after qualities in big cities. The vision behind the Bella Rooftop is to create a vibrant area of the city with the same density and sense of presence as in Copenhagen's sought-after bridge districts. A district made up of a mix of residential and commercial properties, and which is characterised by a condensed urban structure with little room left for people to meet in the public space.
Large new residential areas are increasingly burdened by e.g. loneliness and inactivity, so that new urban areas must, on an equal footing with the old established areas, facilitate our need to create close relationships with other people and also be able to accommodate our leisure activities.
This need and desire for social communities, outdoor life and sports facilities was the starting point for the project.
The project is centrally located in Ørestad City, which is a newer district in Copenhagen, located on the island of Amager. The area consists primarily of apartment buildings for residential housing and offices, and the Bella Center - which is Scandinavia's largest congress and exhibition centre.
The project is a development of Bella Center's logistics centre, which by its nature is a very closed and exclusionary set of buildings in the residential area. To create space for communities – sports, play and meeting places alike, Bella Center has equipped the new industrial building with a rooftop sports arena and an in-terrain play landscape.
Impact
Urban spaces of the future
The Bella Activity roof represents a new way to use the city, a trend that has arisen from urban densification and population growth and which challenges the city's areas. When there is no more space in the local terrain to create social communities, nature, sports areas, playgrounds, etc, new thinking is required.
The activity roof is an example of how private developers can easily contribute positively to the development of sustainable urban environments when planning their non-public features. The influence of the Bella Activity Roof's social values on the area is clear to see – people either arrange to meet or meet randomly, they play ball, play, relax, make events and hopefully create the permanent communities we all need in life.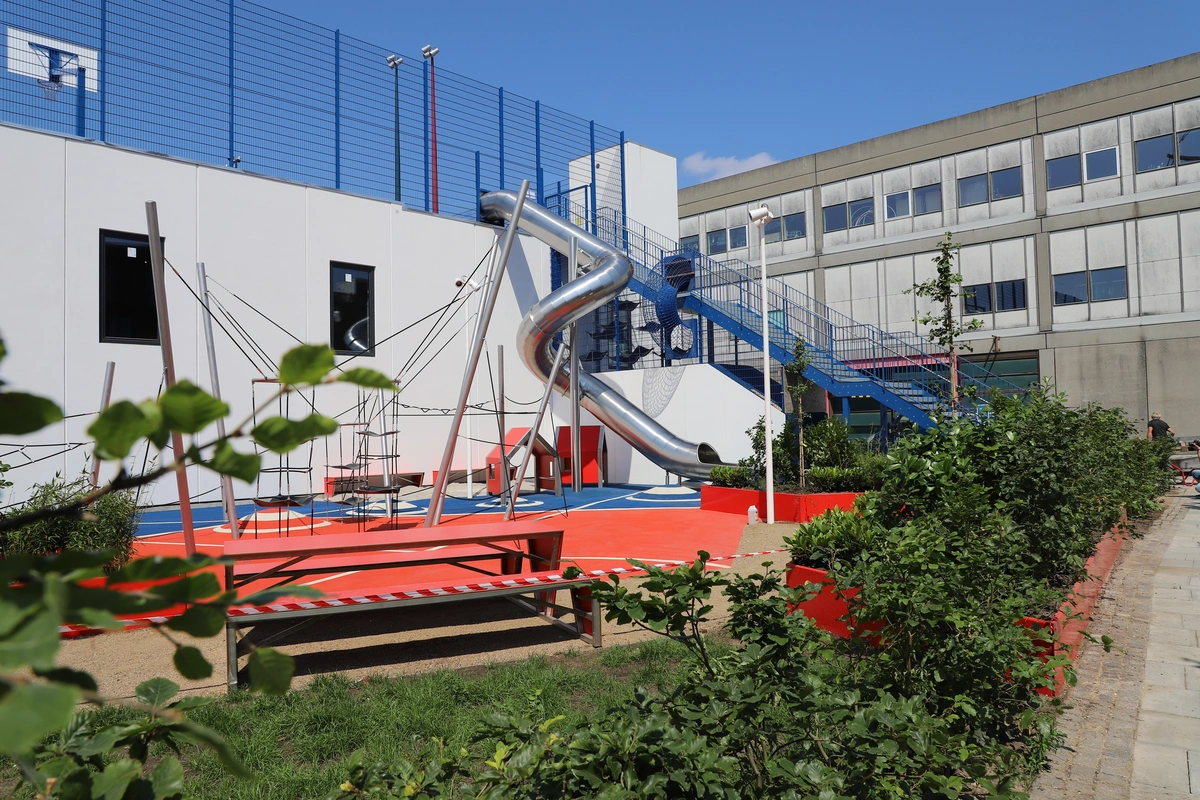 At street level there is room to play and stay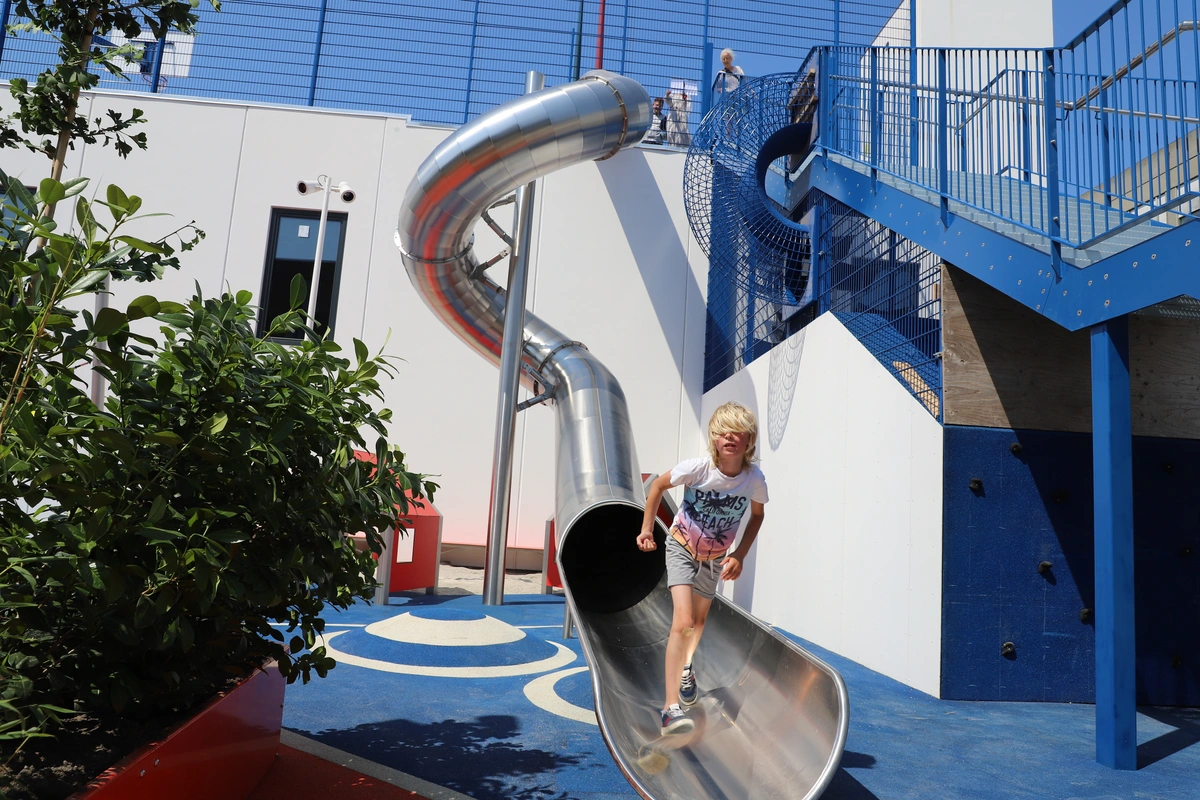 A large slide connects the activity roof with the street level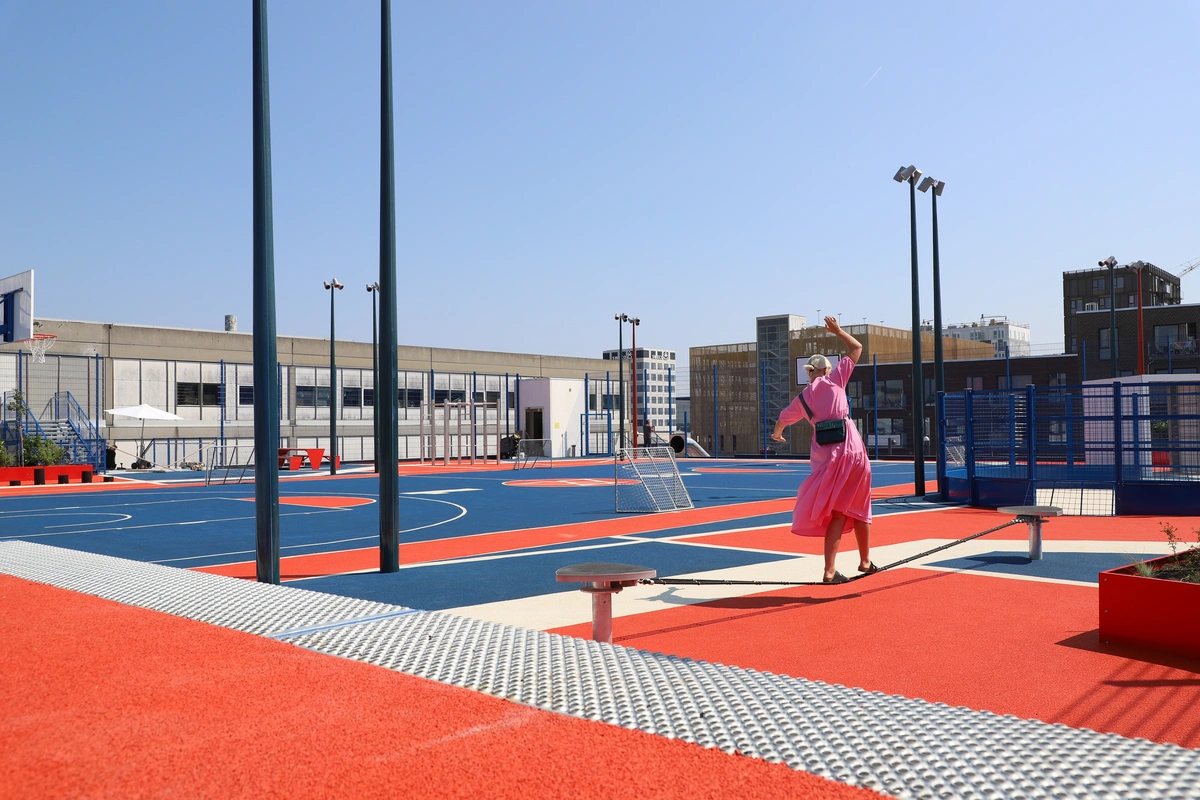 The roof is designed for many different activities - playing ball, running or exercising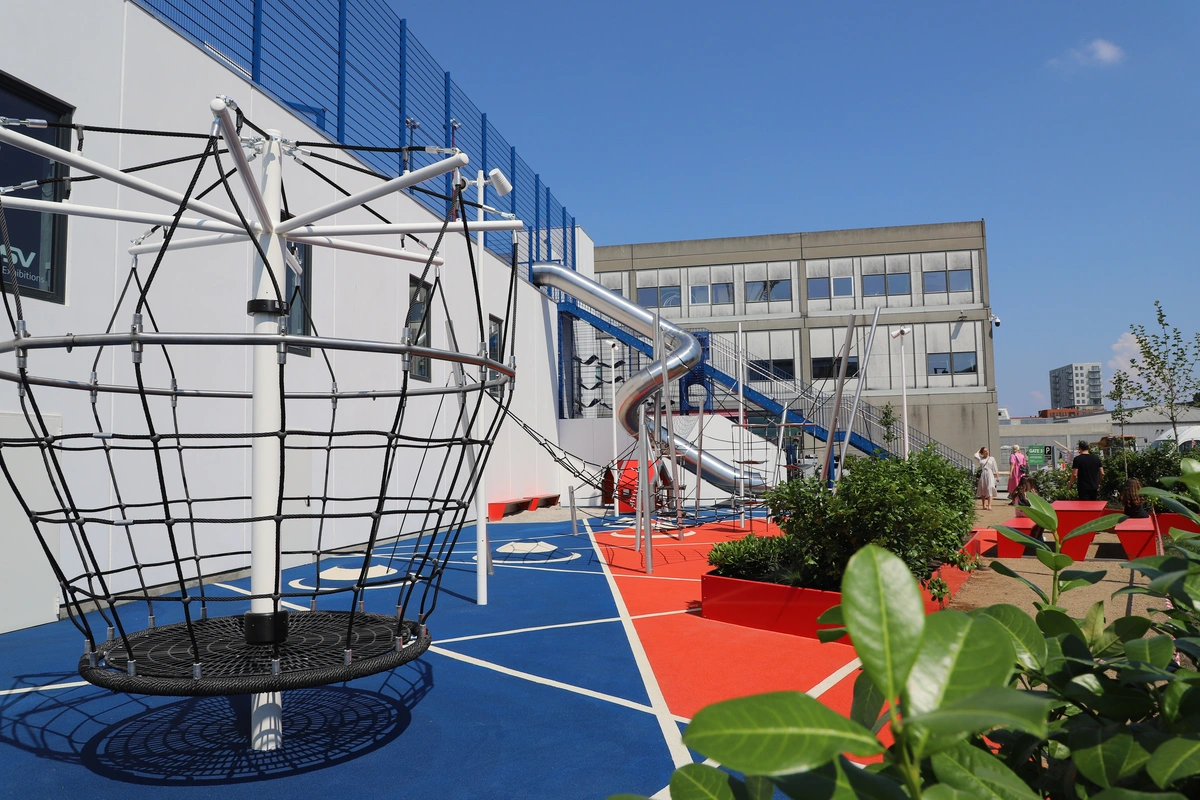 At the playground, local families can meet and play
Elverdal A/S
At Elverdal, we see ourselves as trend-setting pioneers with a focus on intelligent and innovative solutions. We do this because we dare and want to think outside the box, and because we manage to develop in line with market needs.
The users, the demographics and the environment are the basis of our proposals.
Our architects design outdoor space, whether it is one specially designed play equipment or an entire solution. We work closely together - both with our customers and internally. This means that the architects are involved from the very beginning, and they will ensure high play value, aesthetics and innovation.
Elverdal was established in 2007, and over the years we have made many thousands of outdoor space projects in Denmark and internationally.
The project has been carried out in collaboration with the Bella Center and SOLSTRA Development
Cross-disciplinary practice
Denmark