Project
KOTOAKI ASANO Architect & Associates
Streets with (new) meaning
Public plays
Social infrastructure
Image: KOTOAKI ASANO
I will propose many places in the city where people can gather in a relaxed atmosphere.
In urban life, there is a need for places where people can gather in a relaxed atmosphere. They are not large places like plazas, but smaller, more casual places. I propose a mechanism that does not force people to get together, but rather allows them to gather casually and maintain a reasonable distance between people. Moreover, they are as beautiful and mysterious as works of art. If even a few of the devices I propose are realized, urban space will be casually enriched.
Impact
The distance between people in a city, the way people gather, etc. Rather than designing spaces functionally, I try to scatter places that casually trigger people's movements and gatherings. My proposal would gently remake the urban fabric and enrich urban space.
KOTOAKI ASANO Architect & Associates
I am an architect, an artist, a designer and a poet. The spaces designed by me include many spaces suggested by poetic sensitivity. I think that I must show everybody the new vision of the world clearly sensuously.
2020, "SACO 9", Antofagasta, Chile.
2021, "Lucca Biennale Off 2021", Lucca, Italy.
2021, "10th wind art festival "bewegter wind"", Germany. 2021, "Larnaca Biennale 2021", Larnaca, Cyprus.
AWARDS:
2013, Architectural Institute of Japan Rookie of the year Awards, Japan. 2017, iF DESIGN AWARD, Germany.
2017, DFA Design for Asia Awards 2017 Silver Award, Hong-Kong. 2017, GOOD DESIGN AWARDS, CHICAGO ATHENAEUM/USA.
2018, Red Dot Award: Product Design 2018, Germany.
2018, International Design Excellence Awards 2018 Bronze, USA. 2019, ICONIC AWARDS 2019 Winner, German Design Council. 2019, Architecture MasterPrize 2019 Winner, USA.
2020, German Design Award 2020 Winner.
2020, K-Design Award 2020 Grand Prize, Korea.
2021, ICONIC AWARDS 2021 Winner, German Design Council.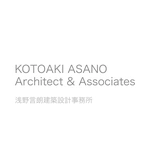 Architectural practice
Japan