Project
x.hale collective
STANDSTILL - STILSTAND
Brussels, Belgium
Streets with (new) meaning
Transforming, adapting, reusing
Naturehood – wilder and greener
Image: STILSTAND by x.hale and Josaph'Aire, photo by Mirror Films
STILSTAND transforms parking into an exhibition space, using the blueprint technique as an artistic co-creation method.
With 'STILSTAND' (STANDSTILL), we propose to amplify the contrast between 'space for stationary traffic' & 'space to stand still'. This public space intervention aims to render this tension tangible to the general public. The Josaph'Aire non-profit and x.hale worked together with other Brussels organisations to create & build an artistic installation that literally & figuratively colors the otherwise gray and rundown parking space.
STILSTAND is part of a broader range of actions that focus on the Josaphat "friche" (wasteland overtaken by nature) in Brussels, Belgium. This former industrial site of 25 hectares has been reclaimed by nature while urban development plans are made to transform it into an entire new neighborhood. Not only nature but also commons-oriented citizen initiatives found ground on this side through temporary use of part of the site. In order to make the beauty of this space for both mental and physical wellbeing more known and to address the danger of having it disappear, local organisations have worked together to activate the entrance of the otherwise hidden site. This "parvis" is currently a semi-clandestine parking space; a space where parked cars take over the public space while blocking the side-walk or entrance to the site.
STILSTAND is a process in which a temporary art installation is co-produced by citizens in and for the public space. Throughout the summer of 2021, three workshops took place for which the parvis/parking temporarily had been made car free in order to provide space for urban co-creation. The analogue blueprint technique (cyanotype) has been used as a method for artistic expression. The cyanotype technique offered a creative means to bring Brussels citizens in direct relation to space to stand still in the city. Elements such as (healthy) air, sight, wind, space were 'captured' through the blueprinting technique, implying it on large pieces of textile. These blue colored cloths form the core of the spatial installation. By working on an architectural scale, the spectators and users were able to fully immerse themselves in these blue cloths and experience a space for standstill. This installation temporarily colors the parking space, and creates space for an active parvis. In this way, the contrast between the power of nature and the space-consumption of the private car is made tangible through a concrete experience that allows to communicate beyond the many language barriers that are at stake in Brussels.
Impact
We are convinced of the power of spatial visibility and experience. Through concrete action and visual-spatial communication you can instigate an accessible conversation around complex urban issues. We believe that temporary use can lead to transitional use and lasting change. It is our ambition to gradually make the parvis in front of the Josaphat site car-free while activating it.
The project highlights the importance of the natural environment and the contribution it makes to our well-being.
It builds awareness. By using the cyanotype technique, we work with a visual language and artistic translation that requires our audience to actively look and experience what space for standing still means to them.
Participation is crucial. We are convinced that sustainable change and awareness can only manifest itself for and by the target audience.
A sustainable transition of our urban living environment is not possible without having everyone on board, inclusivity is needed.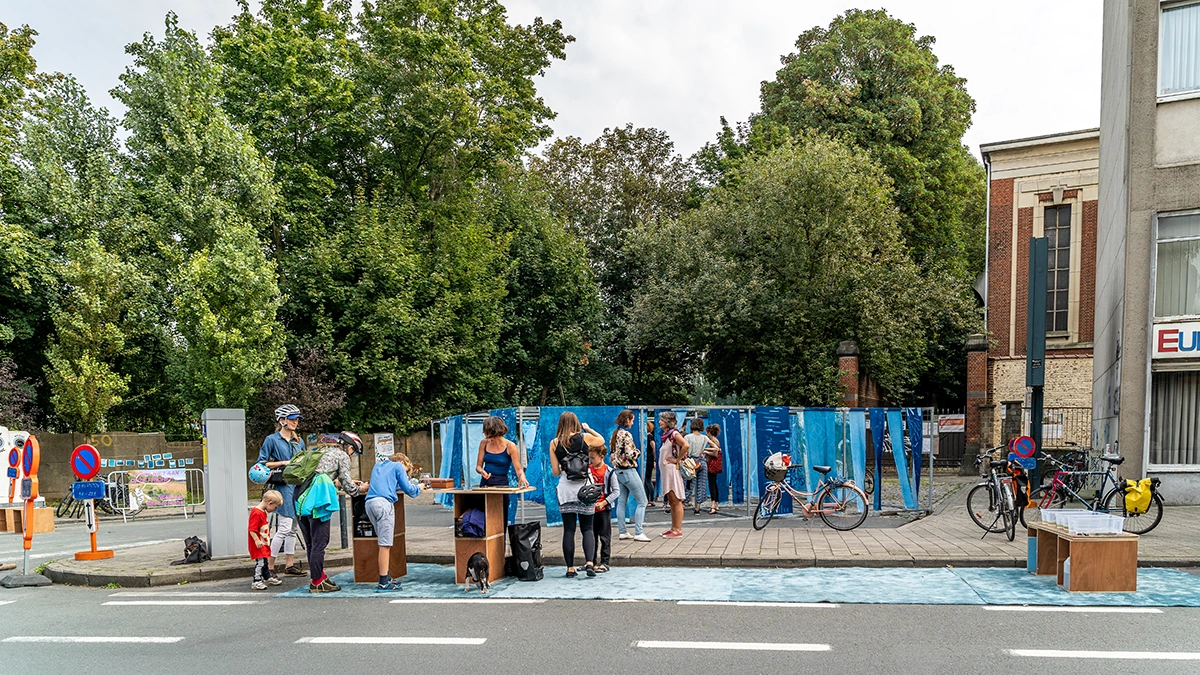 The exhibition of the co-produced art installation in public space took place during Brussels' car free Sunday and relates to the broader PARKing DAY movement, September 2021. Photo by Mirror Films.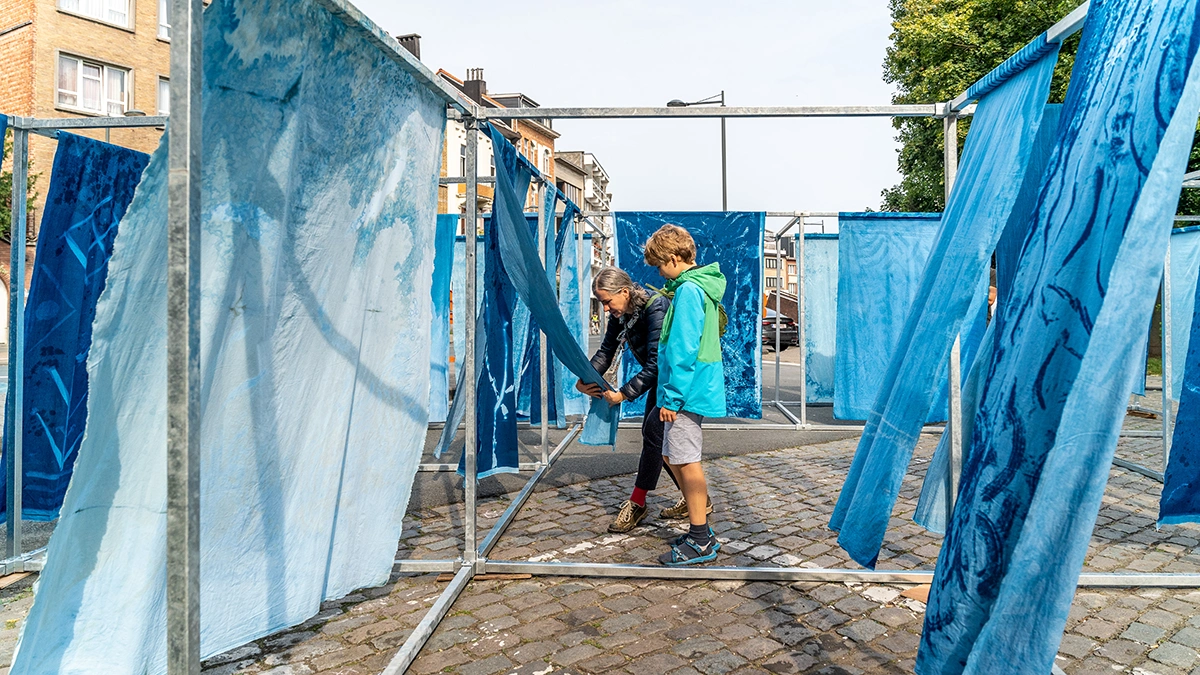 The citizens that participated in the making of the blueprint cloths, came back for the final exhibition and recognise their hand in the collectively created work, September 2021. Photo by Mirror Films.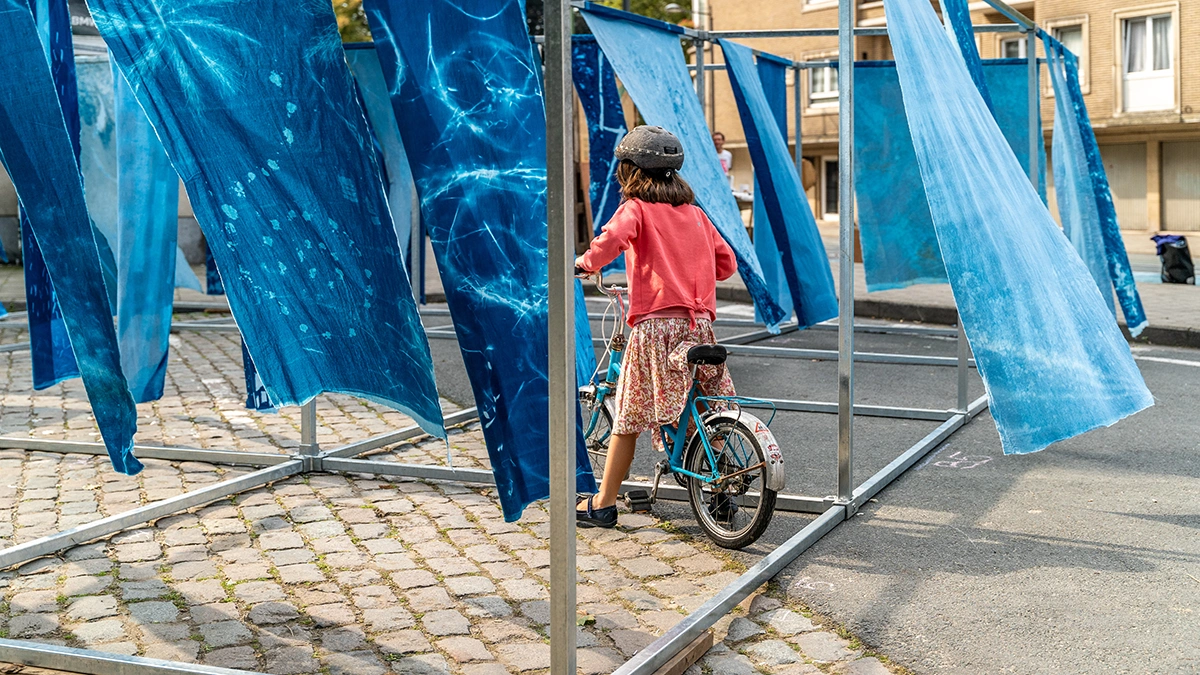 STILSTAND bridges the importance of nature, space for rest and wellbeing and sustainable mobility within a conceptual artistic framework. Several audiences, among which children, have been involved in the participatory co-production, September 2021. Photo by Mirror Films.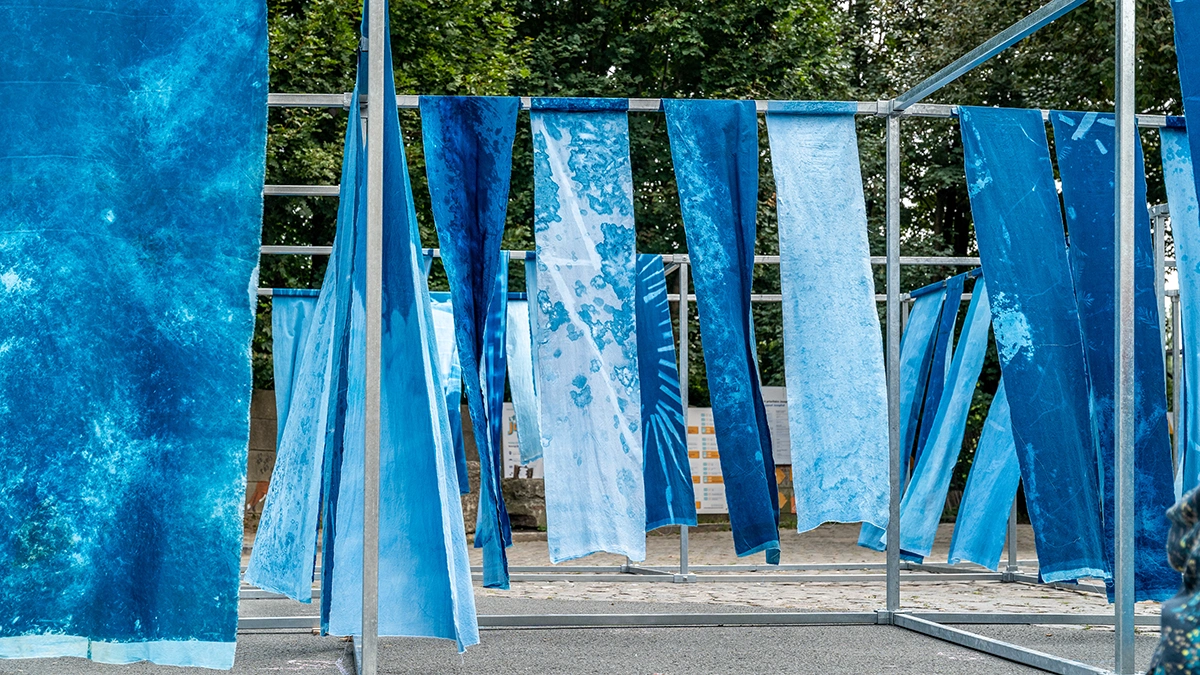 A 8 by 8 meter structure takes up the full surface of the clandestine parking space in front of the Josaphat friche. The metal framework mimics the archetypical patio structure. Carrying the cyanotype prints, the labyrinthic structure embraces the visitors into an experience of standing still in the midst of Belgium's capital city, September 2021. Photo by Mirror Films.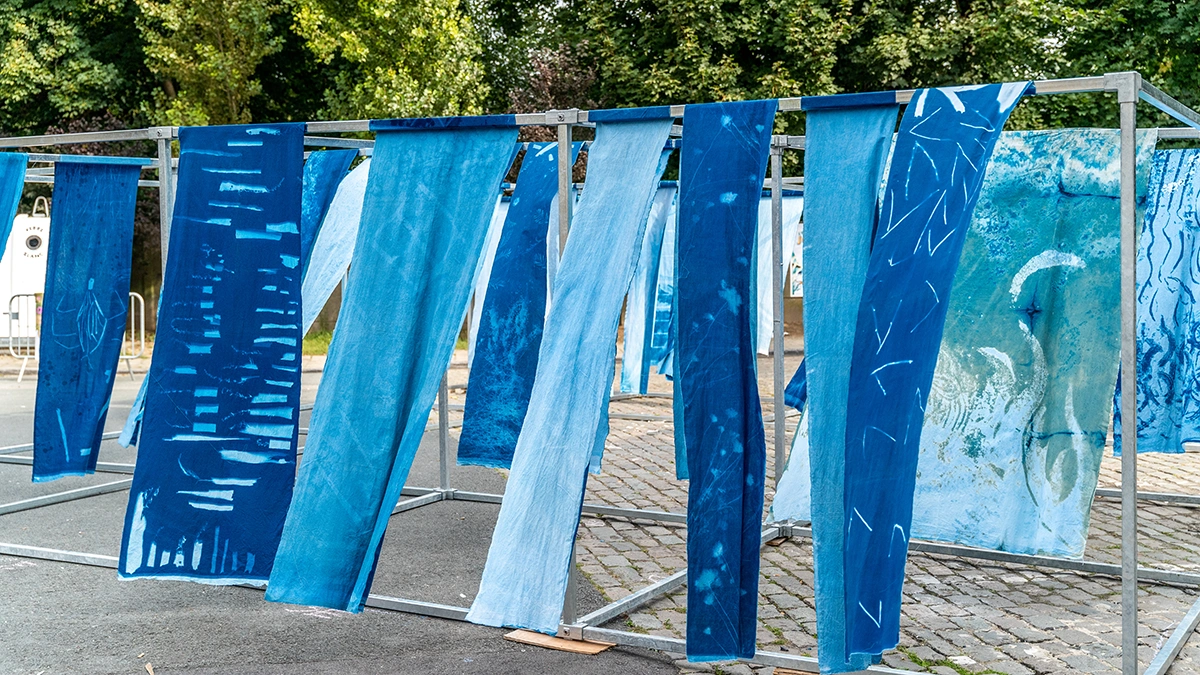 A 1:1 scale has been implemented allowing a full immersion within the prints to invite participants to be present in the silence and quiet brought about by this participatory socio-spatial installation, September 2021. Photo by Mirror Films.
x.hale collective
We are a collective of artists & socially engaged citizens living in Brussels. Hanne Van Reusel, Toha De Brant & Sigried Kellens have been actively involved in citizen-initiatives on & around the Josaphat site since 2014. It is their shared mission to embed creative & artistic work in urban matters. They advocate for more authentic communication between urban stakeholders.
For the STILSTAND project, Josaph'Aire and x.hale worked together with the Bral & Poisonnerie non-profits. The project was funded by the Brussels Capital Region.
Hanne is 'architect.e' & researcher with a PhD in participatory architectural design. She co-founded Josaph'Aire & works at Osmos. Toha is a photographer & urban anthropologist. She has experience in urban transition & has an artistic printing practice. Sigried is an urban designer & interior architect with experience in social-artistic projects & co-design. She focuses on experimentation, public spqce interventions, & facilitating makers' workshops.