Project
Ghilardi + Hellsten Arkitekter
Grorud Senter
Oslo, Norway
Ways of living, ways of sharing
Transforming, adapting, reusing
Rethinking processes and governance
Image: Ghilardi + Hellsten Arkitekter
This self-initiated proposal investigates how to upgrade post-war residential housing buildings to meet current environmental and social standards.
Energy consumption in old buildings is one of the most discussed environmental challenges these days, and there is shared understanding that reuse through refurbishment is the best strategy for reducing heating and cooling requirements.
Our study underscores how retrofitting an old existing housing block in Grorud would also meet social, cultural and historical demands, and we believe that small community initiatives like this one could gradually multiply and acquire an urban dimension. At the beginning such projects would inevitably be affected by the housing market and current financial mechanisms, but in the long run the accumulation of independent neighbourhood initiatives could inflict cultural changes on those mechanisms.
In practical terms our proposal consists of adding a secondary load bearing structure around an existing building to create additional dwelling areas. Existing window openings would be enlarged to become connective openings between old and new. The additional area could be fully climatized, semi or non-climatized, depending on the different typological configurations.
We are aware the extensive costs related such integral refurbishments; what we propose is enough m2 of new construction so its inhabitants could front renovation and building costs by renting or selling new apartment units. Initial investment would require a more active role from the municipality, through subsidies, incentives, co-investing, or presale management. New apartments could also be offered as long-time rental or other hybrid commercial alternatives which could help alleviate an ever-increasing housing demand.
Added structures consist of prefabricated timber elements, made available to comply with a variety of housing needs. Additional space would also provide much more flexibility to the inhabitants and owners for accommodating shifting needs over time.
The load-bearing timber structure would be self-supporting and could sit on new fundaments, it would also allow for a few extra top floors over the existing building. Additional areas on ground level could fit new communal spaces and neighbourhood services, strengthening communal identity and a sense of belonging.
Impact
Our project offers a speculative take on how to rethink post-war housing architecture as a tool for community development.
We believe that increase of spatial capital, and the resulting densification of existing neighbourhoods, could steer small communities towards social and environmental resilience, very much in tune with ongoing municipal plans. We see potential in retrofit strategies that could address typological evolution while ensuring local growth and local commitment, with communal entrepreneurship at the core.
We imagine Groruddalen being given priority as a case study, most likely under agreements between the City of Oslo and the Norwegian Government, agreements which would be based on stablished ambitions for more sustainable developments, better quality of life and better living conditions. Grorud could represent a kickstart, a first example.
Our investigation focuses on housing typologies from the 60's and 70's, which represent a large amount of the built environment and residential neighborhoods in Oslo. The drawing shows Groruddalen, where our case study building is located, at the Grorud Center.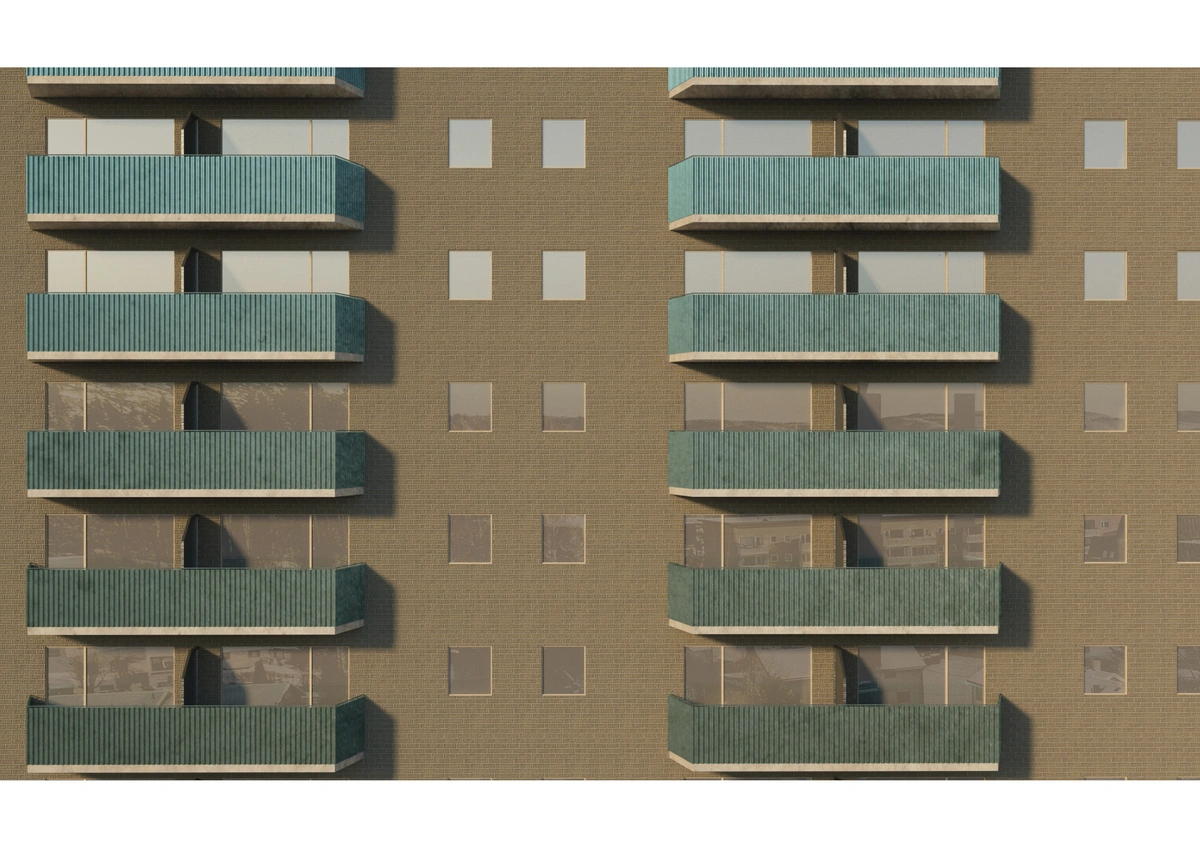 The Grorud housing block represents a typical modernistic block made of concrete elements as a main load bearing structure, clad with yellow bricks. Each apartment has a small balcony made of corrugated metal. In addition to poor energy performance, the building provides small balconies and windows, limiting the contact with the exterior and providing inadequate daylight conditions for the inhabitants.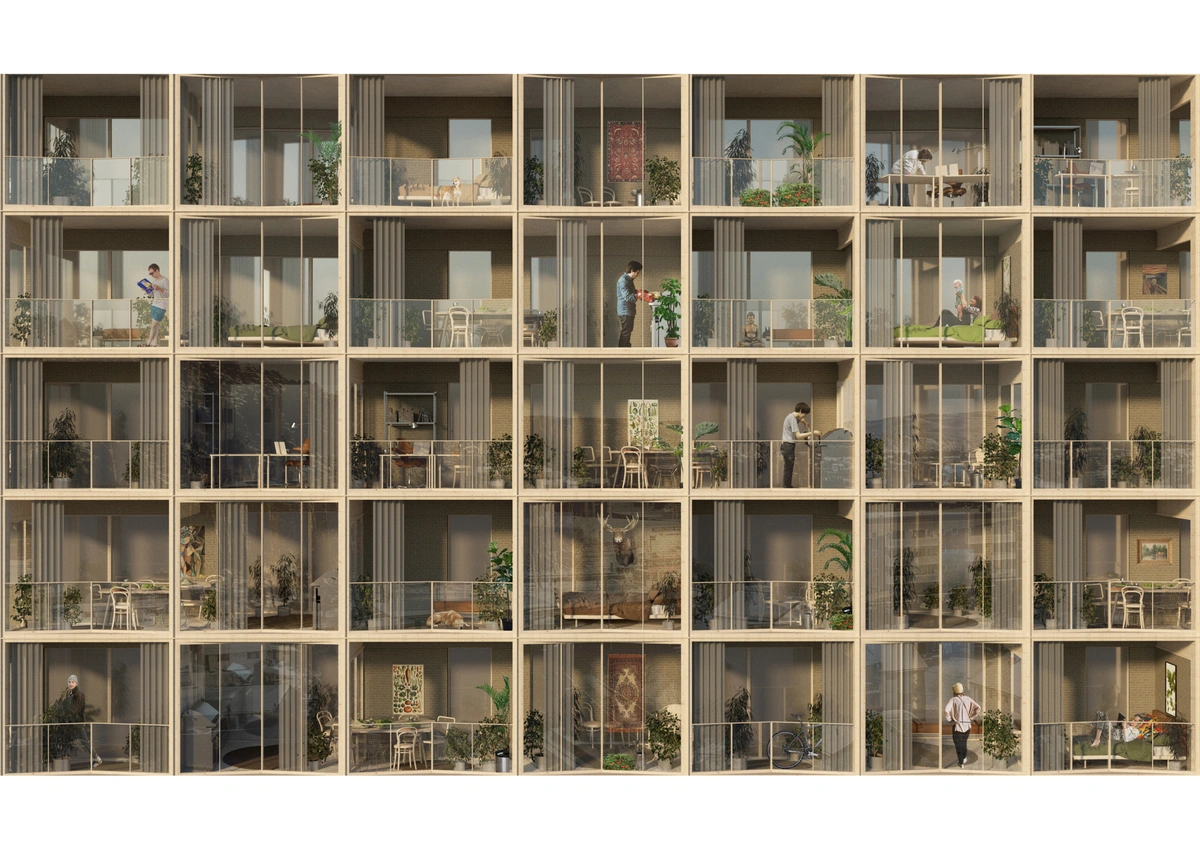 We propose to add a secondary skin offset from the original, creating new living spaces in between. The existing windows and openings are enlarged for better contact with the interior. This increases the façade performance while also changing the apartment typology. The added structure consists of catalogue of prefabricated wooden elements, including fully-, semi- and un-climatizes spaces, available for the inhabitants to fit their needs.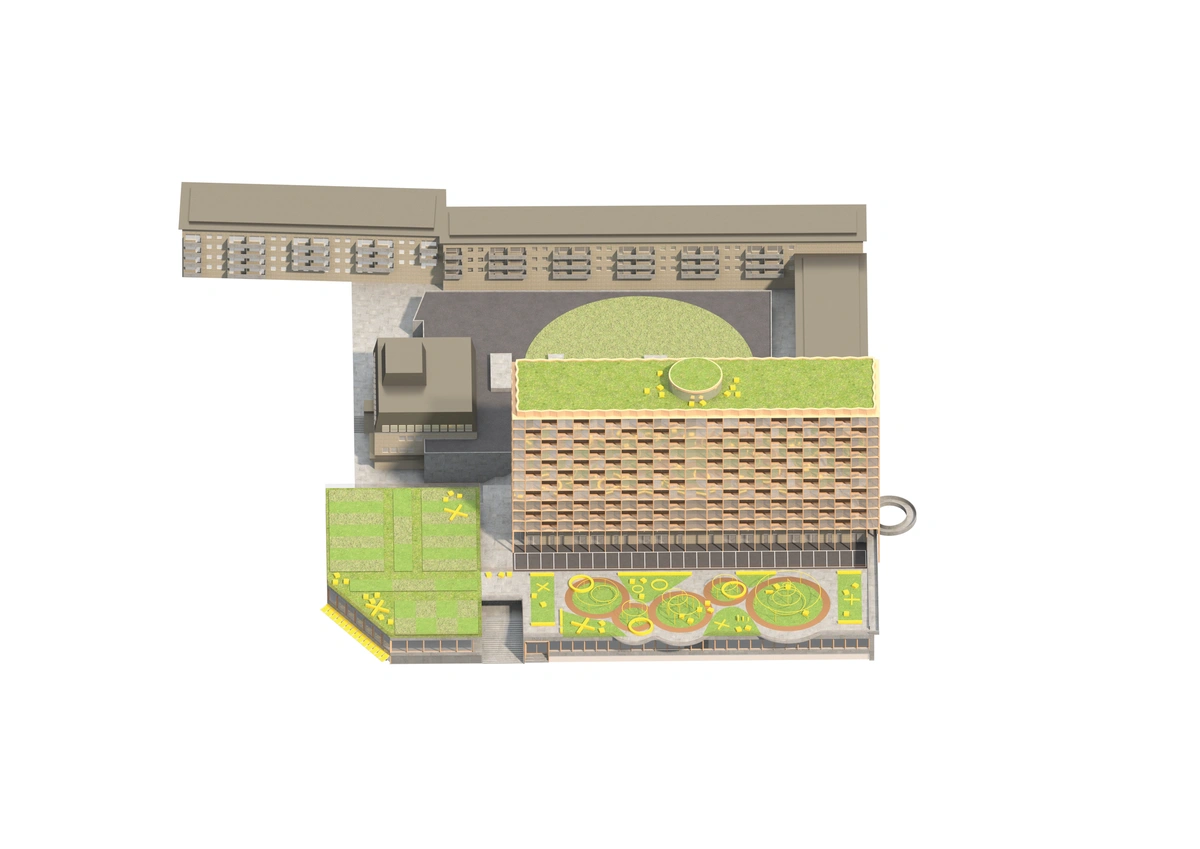 As the Grorud Senter is currently under redevelopment, there are possibilities for a potential upgrade of the immediate outdoor areas, and new synergies between the adden residential areas on the ground and the commercial areas of the Grorud Senter.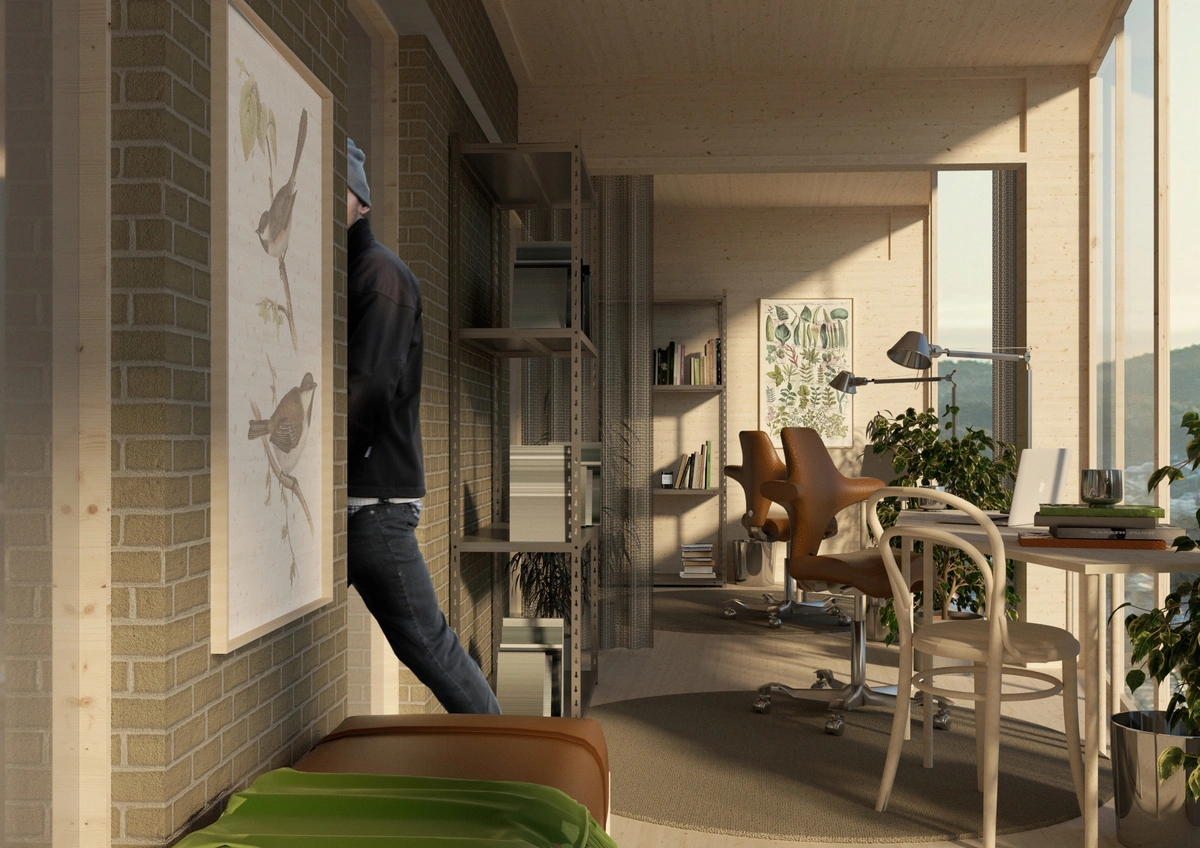 More space for living provides increased flexibility for inhabitants to accommodate shifting needs over time.
Ghilardi + Hellsten Arkitekter
Ghilardi+Hellsten Arkitekter is an Oslo based practice founded in 2005. The office is engaged in architecture, landscape and urbanism as a common discipline. We work with projects in all scales and degrees of complexity, where the ambition is to develop operative and intelligent designs, which are specific to each task and to its larger context, whether it is economic, social, and or political. Our projects are renowned for operating on a non-dogmatic and alternative ground along traditional Scandinavian design. We have a strong interest in "urban retrofitting", a systematic agenda for proposals and critical interventions on existing deteriorated or poorly planned environments.

Architectural practice
Norway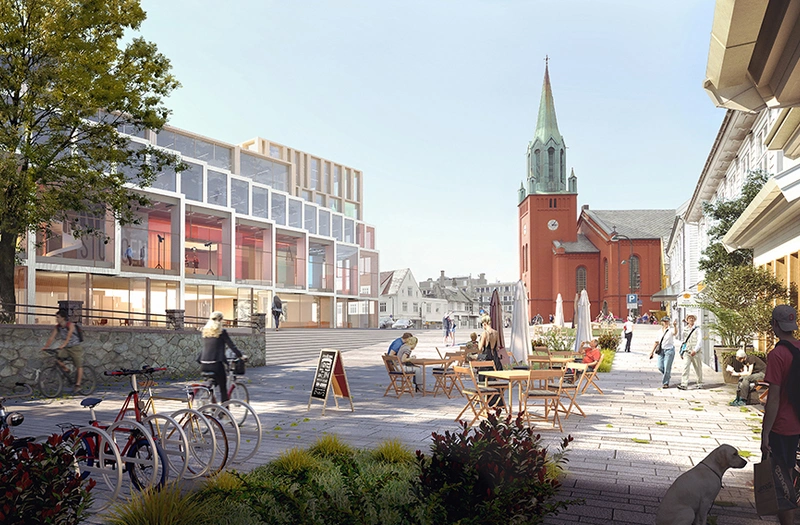 Upgrade of the urban plaza Nytorget and adjacent sites for cultural and commercial program, in Stavanger, Norway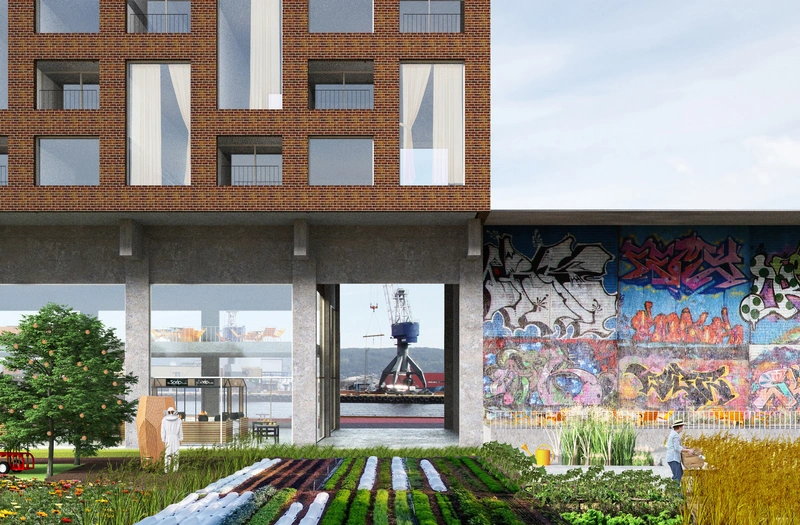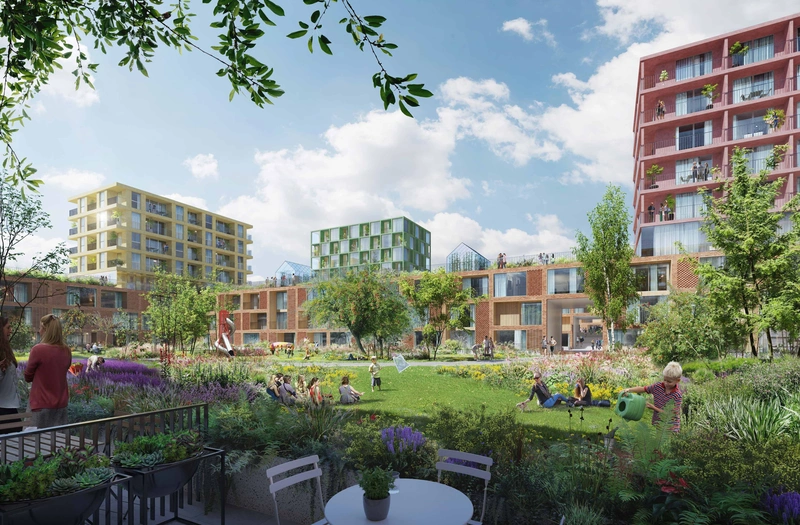 Housing development in Økern, focused on community gardens and social sustainability