Practice
Percibald Garcia
From The House To The Plaza: Narrations For Tlatelolco
Mexico City, Mexico
Streets with (new) meaning
Public plays
Social infrastructure
Image: Percibald García
The use of voice, memory, and imagination as tools to create new ways to build and inhabit public spaces with our communities during COVID19 lockdowns
During the COVID19 lockdowns, the world faced restrictions on physical interaction. Public spaces like parks and plazas were closed, making entire neighborhoods hand over areas of communal interaction. Most people sheltered in the digital world, where daily activities were transported to social media platforms in a short time.
This transition centered on the productive adult population, leaving behind collectives who need physical and social interaction to be healthy, like kids or the elderly.
I live at Tlatelolco, an ancient neighborhood in Mexico City that, in the 1950s, faced a complete transformation. Under the ideas of Le Corbusier's utopian Ville Radieuse, the Mexican Government built an Urban Complex of 102 buildings inside 100 HA, where 70% of the area is reserved for common spaces and facilities like schools, hospitals, and an archeological zone.
In this context, social distancing was even more challenging for people, and kids used to live mostly outside, encountering others.
One day, a kid came out of his window and screamed, "I'm bored." This action triggered me to think of ways to finish the distancing and encounter again on the common grounds without compromising collective wellbeing.
I thought about a solution based on a street art tradition in Tlatelolco. Every day, many street musicians play instruments at Tlatelolco's plazas for some hours, people come out of their windows to enjoy and give a small gratification. It is also inspired by the way my grandma took me on long walks to tell the story of our neighborhood, so I could root, love, and care for the place we live.
This type of performance is not intended for kids. Still, I thought to recover the action of storytelling and mix it with the musical tradition to create a space for kids to forget about the pandemics and encounter at the plazas, not physically, but through their windows with imagination and their voices.
During the lockdown, I went out every day to play songs and tell Mexican stories to kids and people of my neighborhood, helped by a portable speaker and a microphone. This action created new interactions between neighbors form all ages who started to come out their windows to imagine, talk, celebrate birthdays, and even read their favorite tales to others.
Project's social media accounts (IG-FB: @narraciones.tlatelolco) were a parallel action to create a horizontal dialogue with the community and keep many narrations available for other kids outside Tlatelolco.
Impact
1. The project became an urban ritual and a socialtool: After a year, neighbors suggested where narrations could happen and highlighted events to be still celebrated even in social distance, like b-days & holidays.
2. Architecture as an act of care and invitation to action: Kids started to come down the buildings to reclaim public space and read stories to others.
3. Spaces are built and inhabited with more than the physical body: As architects, we usually work with the tangible nature of spaces, leaving other aspects like social interactions behind. We need to make visible that sometimes what's needed, is to find new ways to inhabit and create spaces in collectivity, like telling stories or singing a happy birthday song at the plaza for someone we love.
4. The city is not just for adults: The project focused on making visible how solutions in our cities barely count how kids and other collectives feel and interact with urban environments.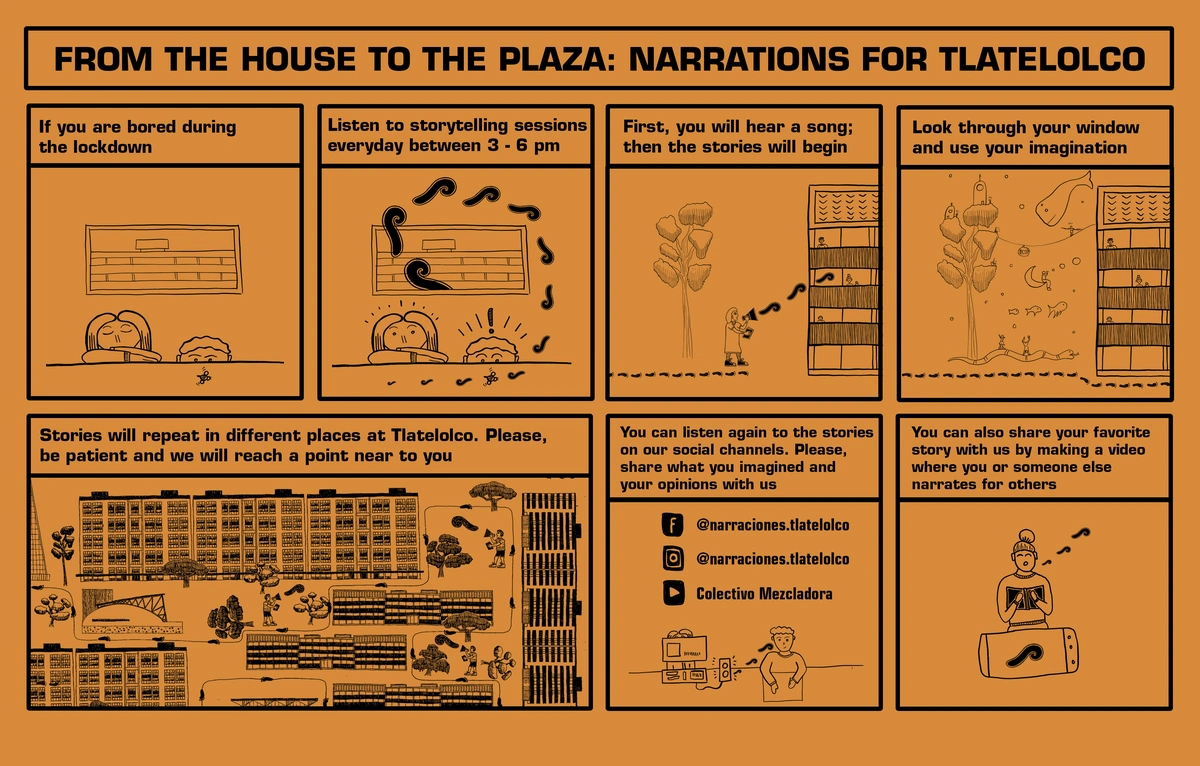 This is a comic created to communicate the dynamics of the project. It was shared through digital social networks of the Tlatelolco neighborhood to let people know about the project and to invite them to engage. It was very successful because many people shared the places where they wanted the stories to be heard, and many others started to follow the narrations on the project's social media channels.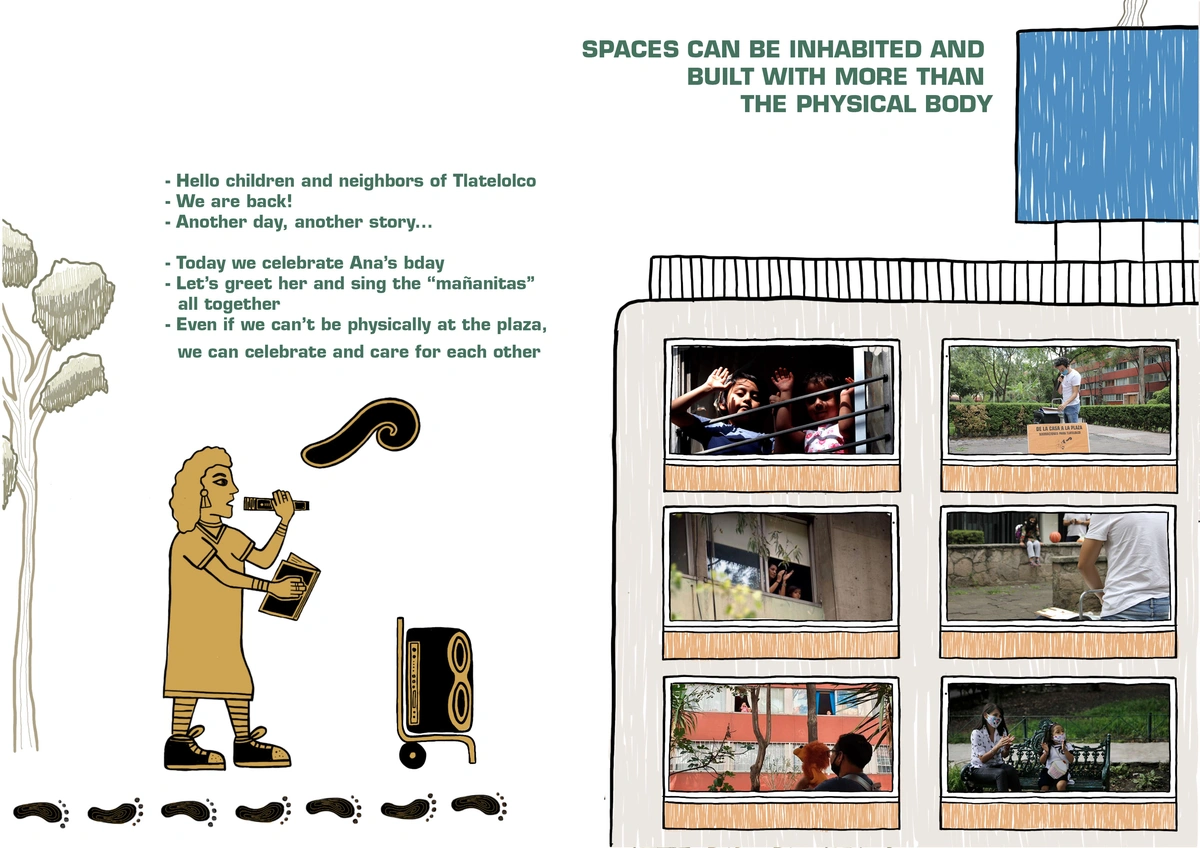 This collage shows how the project developed on a typical day. Another narrator or I would walk through Tlatelolco and stop at a plaza to greet children and neighbors, play a song and then tell a story.
Pictures of the reaction of children and adults appear on the windows to try to replicate the experience.
The dialogue explains one of the project's main ideas: that even in social distancing, we can inhabit public spaces to create community.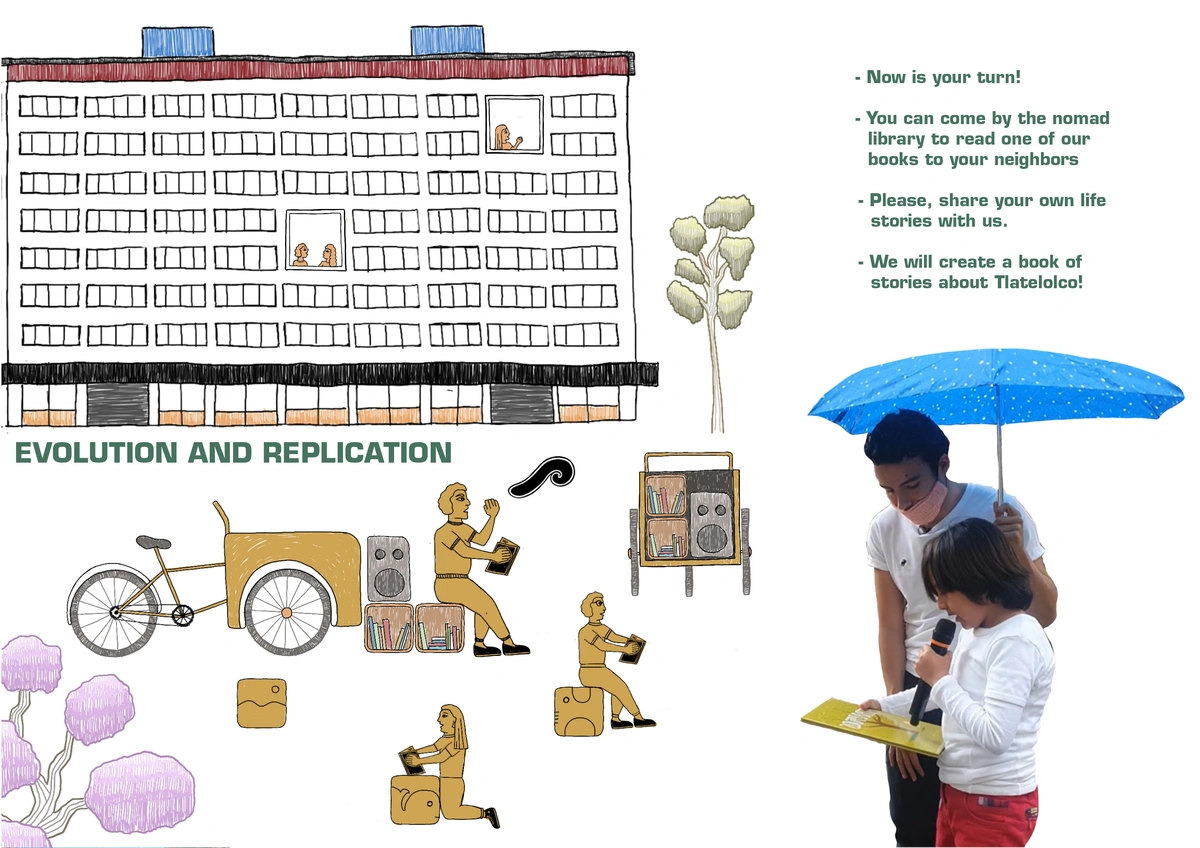 This collage shows the evolution of the project once social distancing is over. The idea is to create a nomad library that will continue to tour around Tlatelolco or other places and summon kids to inhabit plazas through reading and storytelling.
After some months, kids started to show at Tlatelolco's plazas to read their favorite books to their neighbors. I believe an excellent evolution would be to have a small library accompanying the storytelling sessions. This nomad library is inspired by
Percibald Garcia
Even when this project was a personal initiative to explore architecture and urban studies as an act of care, its survival over time its due to the support of many friends and family who slowly joined to add their personal narratives and will to take action during the hardest times of the COVID19 pandemics.
The project was supported by Colectivo Mezcladora, a Non-Governmental Organization interested in collaborating in socio-cultural projects related to the social production of habitats.

Architectural practice
Mexico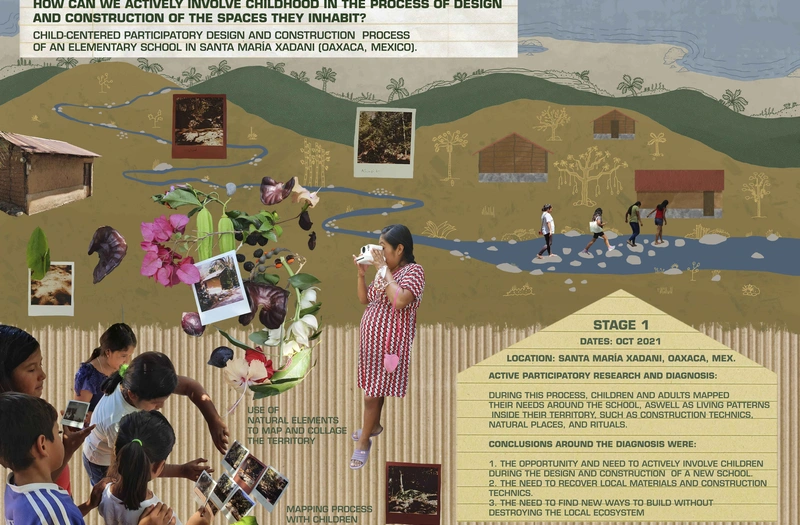 This collage is part of the graphic narrative of a participatory active research and collaborative design process done in collaboration with Colectivo Mezcladora and the community of Santa Marí Xadani, México.
The process aims to actively involve children in researching, designing, and constructing their new elementary school.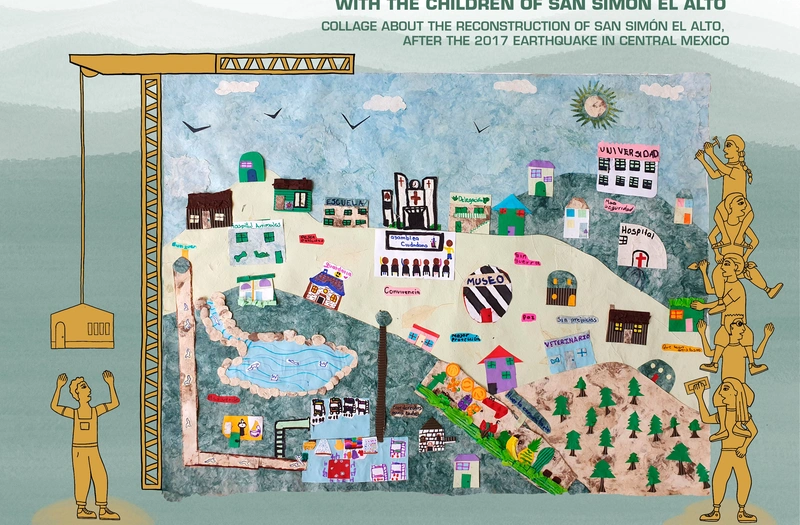 This collage is part of an active participatory research and design process done in collaboration with Colectivo Mezcladora and the children of San Simón el Alto's community.
During one year, the project explored the impact of the 2017 earthquakes on the children of the community who lost their school due to severe damages.
The collage shows how the children envision their community after the reconstruction: with facilities to ensure access to basic rights to everyone.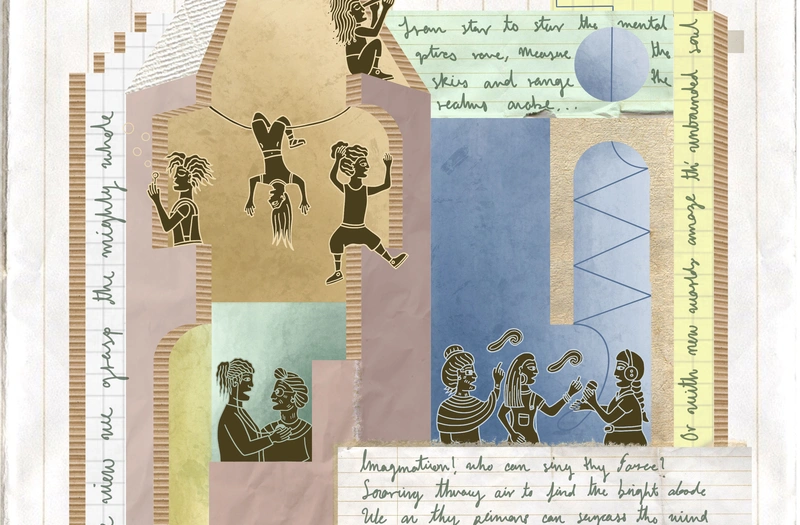 This collage was created for an action to save the last Phyllis Wheatley Home in Chicago. As part of the activities for the Chicago Architecture Biennial 2021, the Chicago Architectural Club called for ideas to save this house, inspired by the first afro-descendant author to be published in the USA. As the house served as a place of care and impulse afro-descendant women in the past, I proposed restoring that use and opening the house to talk about architecture as an act of care and support. All